If you are an avid Instagram user, an influencer, or have been using the social media site for a few years, you might be having a big list of followers. Ever felt the need to mass unfollow Instagram followers? Irrespective of whether it is your content strategy or you simply want to get rid of unwanted attention and inactive accounts, mass unfollowing on Instagram can help you through it.
However, Instagram doesn't give you the inbuilt option of mass unfollow. It does not allow users to get rid of multiple followers at once. You cannot delete them by using Instagram's in-built features. So, how does one mass unfollow on Instagram? Well, we'll be showing you how to delete followers manually but this, of course, isn't one of the best options.
But, who should be included in the list of mass unfollow on Instagram?
You can easily track the people who do not follow you, mutual followers, and fans of your social media account. At times, you might not be able to judge whom to unfollow. In that case, check out for fake users, and inactive users. You can also remove unwanted followers or ones who are not following you back.
How To Unfollow Someone On Instagram Manually
If you do not wish to use a third-party app to mass unfollow Instagram users, this is the only resort you're left with. Although the social media app is great, this option is a bit inconvenient; but the only choice Instagram leaves you with.
Let us show you how to unfollow someone on Instagram manually or one at a time.
Here's how to go about it.
To unfollow one user at a time individually you need to follow these steps.
1) Once you've signed in, tap on the profile icon. You will find it on the bottom-right side of the home page.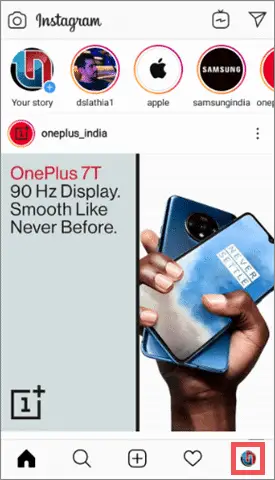 2) Click on 'Followers.'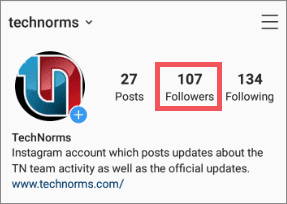 3) Use the 'search option' to look for the users you wish to unfollow.
You can also scroll through the entire list but that, of course, is time-consuming and tedious.
4) Do you see 'Following' written next to the username? Click on it.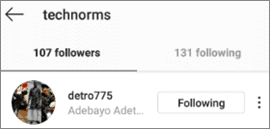 Next, click on 'Unfollow.'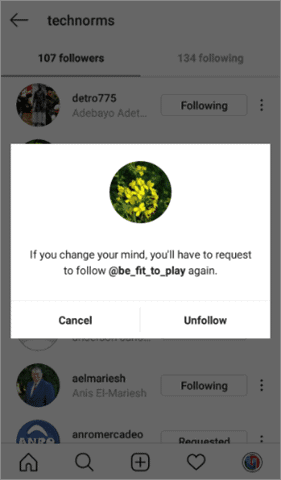 Please remember that if your profile is not locked, although you remove these names from your list; they still get to see your posts. So, if you do not want random people to view what you're posting, make sure your profile is set to private.
Related: The Complete Guide On How To Find Someone On Instagram
Top 7 Third-party apps to Mass Unfollow Instagram Users/Followers
There are a few exceptionally good apps on both Android and iOS, which allow you to unfollow in bulk on Instagram. They make mass deleting your followers easy. All of them mostly work in the same way. They show users the list of the people they are following, enable them to select multiple names at once, or even all of them, and unfollow them in bulk with only one tap.
Moreover, most of these apps are free; so a good option when you are wondering how to unfollow everyone on Instagram or mass delete. We've listed options for both Android and iOS.
1. FollowMeter
Availability: Android and iOS
An exceptional app that enables you to mass unfollow on Instagram, FollowMeter is multi-purpose. You can track the list of people who do not follow you and unfollow them instantly. The powerful analytics allows you to manage your followers well and provides deep insights like follower engagement details. 
You get to track and monitor your follower growth, check out who is watching your stories, and have a handy list of the people who secretly admire you. Track unfollowers, see your top likers every week and discover who your ghost followers are. So, install FollowMeter, mass delete followers, and get your hands on tons of other exciting features.
Download FollowMeter on Android | iOS 
2. Mass Unfollow for Instagram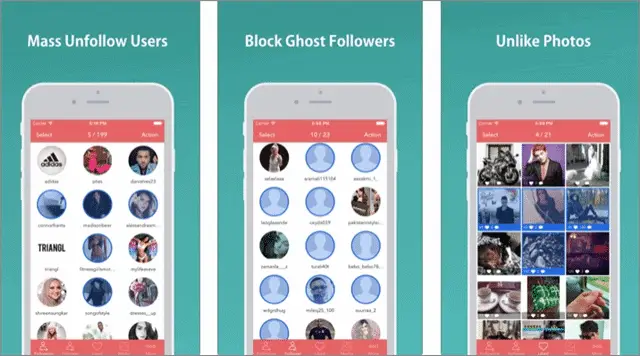 Availability: iOS
Wondering how Instagram allows you to mass unfollow? Well, it is not possible to use the built-in features for sure. One of the best tools for all iOS devices, the app is exceptional when you are looking forward to cleaning your Instagram account.
It allows you to follow, unfollow, and block users in bulk. You can also delete and unlike multiple posts at once. Mass Unfollow for Instagram is easy to use and works like a charm.
Download Mass Unfollow for Instagram
3.
 Followers & Unfollowers
Availability: Android
Followers & Unfollowers is an app for Android devices that allows you to bulk unfollow people on Instagram and other useful features. You get to see who is not following you back on the image-sharing platform and unfollow 50 of them at one go. Users can check out a mutual list called that highlights the people you follow and they follow you back.
Another unique attribute facilities you to check out the Instagram accounts that unfollowed you recently. You get a list of the people who do not follow you back called the unfollowers, the accounts you most engage with, and a favorite users list. There are multiple filters that you can apply to optimize your search further and enhance your Instagram list.
Download Followers & Unfollowers
4. 
Unfollow For Instagram Free
Availability: Android
If you are searching for a free solution to weed out unnecessary followers from your Instagram account, consider trying Unfollow for Instagram. This Instagram account management tool goes a long way in helping users sift through a particular set of followers and separate the most and least engaging followers. This in turn helps you determine which follower needs to be removed to maintain account quality and authenticity.
The Unfollow for Instagram allows you to track non-followers and unfollow those who do not follow you back. You can also mass unfollow users and get to understand your most loyal followers. Since it's free to use, you can also check whether you really need to have an account management tool given how vast your following is on Instagram.
Download Unfollow for Instagram Free
5. Cleaner for Ins
Availability: iOS
One of the best tools for iOS devices that facilitates you in cleaning your Instagram account, Cleaner for Ins is smooth, works magically, and has an easy-to-use interface. You can mass unfollow Instagram users at one go. Bulk deletion has never been this easy. The app also allows you to unlike tons of pictures and videos at once. Cool, isn't it?
You can even whitelist your favorites and remove ghost accounts. If selecting multiple accounts takes time, be patient and you'll get there. We've personally used Cleaner for Ins to mass unfollow on Instagram, and let us tell you that it works pretty well.
Download Cleaner for Ins here
6. Unfollow Users
Availability: Android
Are you all set to clean your Instagram account and unwanted content with only one tap? Unfollow Users allows all users to mass unfollow on Instagram. You can also mass unlike pictures and videos. Do you find your old posts childish? You can delete multiple of your posts and updates together with ease.
No longer connected to a certain group of people or an ex-firm and its employees? You can block all of them in bulk. The selection tools make the process of unfollowing followers in bulk quite quick and convenient. However, please note that the app does not in any way help you in increasing the number of your followers.
Download Unfollow Users here
7. Unfollowers for Instagram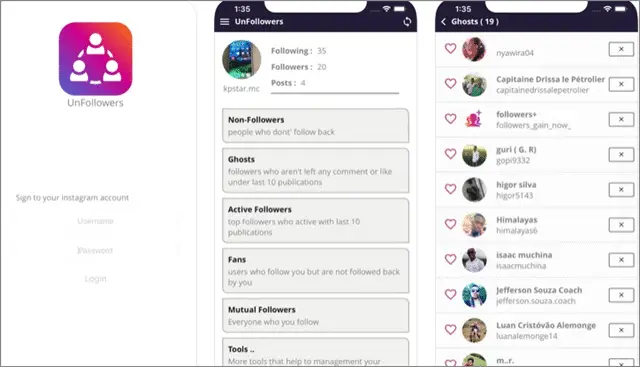 Availability: iOS
The app allows you to unfollow users by merely selecting them all at once and clicking on 'Unfollow.' Unfollowers for Instagram enables you to check who unfollowed you. Similarly, you also get to see who doesn't follow you back.
Users can track their current followers, unfollowers, and ghost followers with just one tap. You can also mass unfollow Instagram users, detect blockers, view your fans, top likes, top commenters; and much more. The app is the most accurate and fastest tool to get full analytics for Instagram. The interface is clean and easy to use.
Download Unfollowers for Instagram here
Web-based Apps to Mass Unfollow Instagram Users
Now that we've shown how do you unfollow someone on Instagram manually and unfollow users in bulk via mobile apps, let us tell you about the best web-based apps which can be used to mass unfollow Instagram users.
1. Fast Unfollow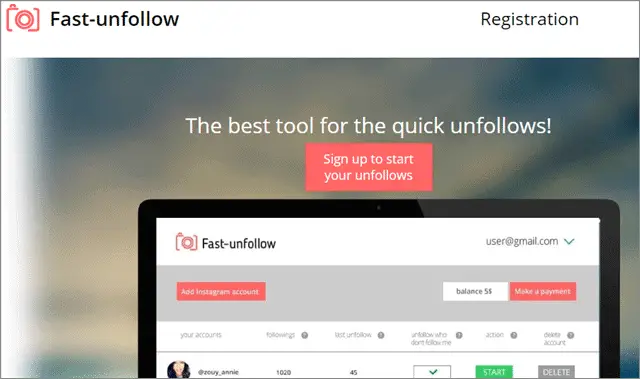 The first step involves registering. Next, you have to connect your Instagram account. Go to 'add account' and fill in your credentials. The setup process is quite simple.
It is the best platform for unfollowing multiple Instagram accounts at once. The app can automatically perform more than 1400 unfollows in one day. The limit is only put so that Instagram does not flag your account for suspicious behavior.
You can create and add your personal blacklists. It will notify the app about the accounts you wish you unfollow.
Check out Fast Unfollow
2. AiGrow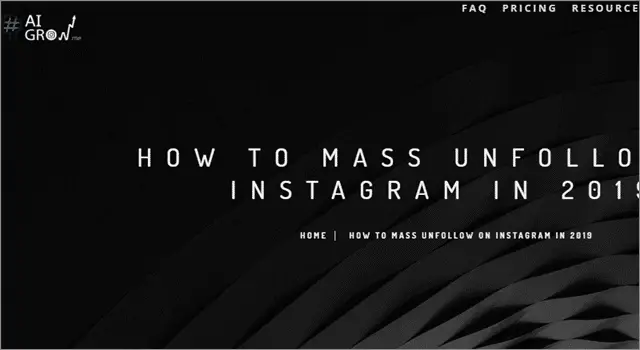 Register and click on 'free trial.' Next, sign-up by filling in the details required and you're good to go. No verification email needed. AiGrow is available to you in Spanish, French, and English.
After you've successfully signed in, you'll be redirected to your dashboard. There you'll be able to see all the Instagram accounts you're connected to; one or more. After reaching this step, you can connect your social media account to AiGrow's Google Chrome extension. Alternatively, you can also 'add account' and simply sign-in like you usually on your mobile device.
The app enables you to unfollow an unlimited number of users; that too automatically. You can also auto-like, comment, follow, and send direct messages to real channels so that organic traffic is driven back to your profile. This helps in growing your Instagram account. And, at the same time, you can indulge in unfollowing inactive members and users who do not follow you right back.
Please note that the app doesn't perform any extra actions whatsoever without your permission.
Checkout AiGrow
Conclusion
If you're an avid Instagram user and need to spree-clean your account to get rid of people you're no longer connected to or those who do not follow you back, you need to unfollow them in bulk. We've described how to unfollow someone on Instagram manually and also listed the various third-party apps for Android, iOS, and web, which will enable you to mass unfollow.
Other reasons for mass unfollow Instagram users and followers may include too many spammers, old/inactive accounts, or if you're just about to reach the social media site's follow limit.
Not only do these apps allow you to unfollow multiple people at once with ease, but they also provide you with security from prying eyes. No more having a flooded account and seeing random posts on your feed. Until Instagram comes up with a mass deletion tool, you will have to go with one of these options. Manual removal works fine only when the number isn't too huge.
(Updated on 7 May 2021)