Instagram is one of the most sought-after social media platforms to get yourself noticed. And, the Instagram search for people and users is the most sought after. Not every social media site has a "Search and Explore" tab in its app. From knowing how to find someone on Instagram, to keep an account of the people you wish to interact with or learn about, it has it all.
But somehow, when it comes to finding someone on Instagram and connection with people, users get lost and confused. With users having multiple accounts on Instagram, it is indeed very difficult to find the real handles.
What is an Instagram search?
For the ones who wish to know how to find someone on Instagram, Instagram search results is a page that shows you the top Instagram posts based on who you follow, what your followers like, and the type of content you like, save and watch.
So, if you're constantly looking for food pictures and videos on Instagram; your search tab will showcase more food posts each type you open the social app.
Indirectly, this is also one of the methods by which you learn how to find someone on Instagram.
Top 5 Ways on How to Find Someone on Instagram
We have listed all the probable ways in which you can learn how to find someone on Instagram. It includes both people you know and people you would want to know.
So, let's get started –
1. Manual Search for Instagram Users
Instagram searches for people can be done in multiple ways. The most fundamental way of finding people on Instagram is by manually searching the users by entering their name or their Instagram 'handle' as we call it.
Although easy, not a very fool-proof method since you might not know the username of all your friends and just entering the name will show a list of hundreds.
Let's check the process of how to find someone on Instagram step by step:
1. To find the 'Search' option, tap on the Magnifying glass icon at the bottom of the screen in the main interface.
2. You will find a 'Search' option at the top; tap on it.
3. Fill in the name or the username of the person you want to search for.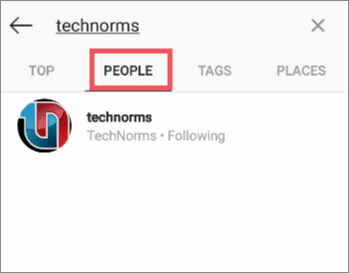 4. On the profile of the person you're looking for, click on 'Follow' to follow the person.
Tip- Ensure that your search is set to 'people,' and not 'places' or 'tags' when you are using Instagram to search users by name.
You can also use this Instagram username search process to look for famous people and popular brands. By just typing in the name of the particular brand or the famous celebrity, you will see the results. Note that the ones with a 'blue tick mark' are the official and verified pages.
2. How To Find Someone On Instagram From Phone's Contact List
You can also look for people from your smartphone's contact list and see who all have an account on Instagram. Various factors are considered on how to find someone on Instagram, such as contact number or saved email address.
Instagram syncs with your contact list, scans your phonebook and finds whoever is on Instagram.
Go to your profile page by clicking on the 'Profile' icon. You will find it in the bottom-left corner of the page.
Click on the 'three vertical dash lines' or the hamburger menu icon on the top-right corner. Doing this will give you access to the profile settings.
Note: If you are a first time user you will have to click on 'Get Started' to view the contact list.
You will get 'Contacts' here.
Click on it, and you will see your entire list of your contacts that are there on the picture-sharing website.
You can now view the number of people from your contacts that are on Instagram.
Click to 'Follow' or 'Follow All' to follow every Instagram user on your contact list.
Please note that the above-mentioned methods will help you find people you already know. And the ones being listed now will make you reach out to people of similar interests, celebrities, famous personalities and the world at large.
3. Get People Suggestions to Follow
If you are looking for ways to search Instagram users to follow, how about checking out who Instagram thinks who might like to follow?
Instagram uses a lot of factors to bring that list to you – your connections, your interests, the kind of posts you like and who all you follow.
There are great chances that you will come across someone of your interest to follow here.
Go to your profile by clicking on the right bottom icon.
Tap on the 'three vertical dash lines.' You will find 'Discover people' as one of the options. Click on it.
You will now see a list of contacts with the 'Follow' button next to their names.
Click on it to follow whoever you wish to.
4. Use Hashtags to Follow and Find Interesting People
If you genuinely want to search for Instagram users and want to know how to find someone on Instagram based on your interest, using hashtags is the most ideal way to go about it.
Hashtags act as keywords that users type in to look for photos and posts that are of similar type.
When you upload pictures, videos, and other posts, Instagram categorizes it by adding hashtags. You can find those posts by using a hashtag.
To search for hashtags, tap on the 'Magnifying glass' on the bottom tray and tap on 'Search' at the top.
Go to 'Tags' to filter your search. Next, enter the keyword. For example, if you're looking for pictures related to technology, type in 'tech' or 'technology.'
You will come across all the related tags and also the total number of posts under it.
Here's an example of how to find someone on Instagram using hashtags:
We wrote #tech to see all the posts related to technology on Instagram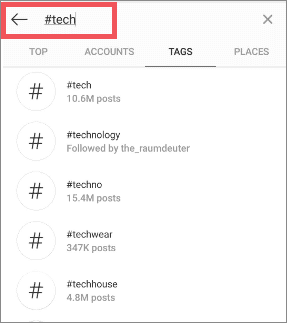 Next, we selected technology. A page opened where all the #technology posts added by people on Instagram appeared.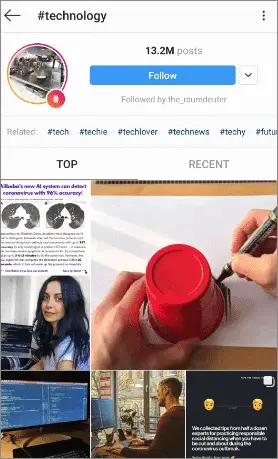 Out of these, we clicked on one picture we liked. Next, you will see a 'follow' button right next to their names. Click on it to follow them.
This method works best when you are interested in a particular category like technology, food, travel, or fashion and want to go ahead and follow people with similar interests.
5. How to Find someone On Instagram by Popular Posts
Instagram displays the most popular posts in the main search section. These are the posts that have the maximum number of likes and comments.
These posts may or may not have any direct/indirect relation with you. So, you should not expect these pictures and videos to be of interest. Popularity might be a reason why you would want to follow Instagram users and influencers.
Click on the 'Magnifying glass' on the bottom tray. You will find the most viewed and the most popular posts on the next page.
Now, scroll down the page to see more uploads and click on any of the posts to preview them. Then check all the likes and comments of the post. You will also see a 'Follow' button to follow the author of the post.
If you want to look for posts in a particular category, swipe left next to the 'For You' option and you'll see categories like 'Style,' 'Fitness,' 'Food' etc.
Click on the category of your choice, and you will see a wide range of posts.
Click on a particular post that you like and you will see a 'follow' button next to the Instagram user.
Please note: Yes, you can 'follow' people by using the above-mentioned methods. However, whether you directly start following them or send a follow request waiting for approval, depends on whether the user has a private or public profile.
If the user has a public profile, you will be able to follow them as soon as you click on the 'follow' button. Whereas, if the user has a private profile, clicking on the 'follow' button sends them a follow request. Once they have approved it, you will be able to view their profile and follow them.
Tips and Tricks to Boost Your Instagram Ranking
Instagram is a big favorite with youngsters and used as a visual and communication channel. In fact, users can now even send and check Instagram messages on a computer. But, not all users have a great ranking. Your ranking depends on the type of content you post, the visual appeal, and how you handle your account.
If you want to show up in Instagram Search or Instagram Explore, here are a few tricks to boost your ranking-
Use relevant hashtags
Increase engagement by asking relevant questions
Share video content instead of pictures only
Post at the right time- the best time being around lunch or after 7 p.m
Add location tags
Post many pictures or videos in a single post
Get more followers
Conclusion
Thus, it is not difficult to find someone on Instagram. We've covered how to find someone on Instagram manually, Instagram lookup through your phone's contact list, getting suggestions to follow, using hashtags to follow people, finding users by popular posts, and last but not the least, by using third-party tools, too.
With the above-mentioned methods, you'll be able to find whoever you're looking for. According to us, searching manually for users by typing in their names is by far the best option.
Also, check: