Phone cloning refers to copying the data and identity from one phone to another. It is an illegal practice if done with the wrong intentions. Some users clone their cell phones to have an exact backup of their data on the other phone. If you are also looking for how to clone a phone, then you are in the right place.
Cloning cell phones to have a backup is similar to having a system image in Windows. You can use that system image to recover your Windows machine whenever something goes wrong. In the same way, a cloned phone can help you recover your cell phone's data.
Sometimes, mobile phones are also cloned to share the exact copy of data with other members of the house. We have mentioned some tools to help you clone a phone easily. However, before that, let's get into the concept of sim card cloning and also know why we are not showing ways to do it.
What is Sim Card Cloning?
Sim card cloning is to clone the sim card identifiers. This is an illegal activity carried out by many hackers to get control over your phone number. Once your sim card is cloned, all the messages and calls get transferred to the cloned phone as well.
The hacker or intruder can also make calls from your phone number without your knowledge, which can increase your bills. There is no need to have your sim card cloned, as you can get your number from your network provider in case you lose it. Hence, this article does not cover how to clone your phone number.
However, it is not possible to clone all sim cards; only the sim card with the COMP128v1 algorithm can be cloned.
NOTE: Cloning someone's cell phones without their permission is illegal. The below tools on how to clone a phone are mentioned for educational purposes and hence can be used only for backup.
How To Clone A Phone?
Before you begin with the cloning process on your phone, take a backup of all essential data from your phone. If you wish to know how to take a backup of your Android phones, you can refer to our guide on Android backup without root.
You can use Google photos to save the photos from your device on the cloud or have a backup of the entire device on the synced Google account.
There are 3 tools mentioned below on how to clone a phone and help you with the cell phone cloning process. You can have a quick walk through all the tools and choose the one which suits your requirements.
1. CLONEit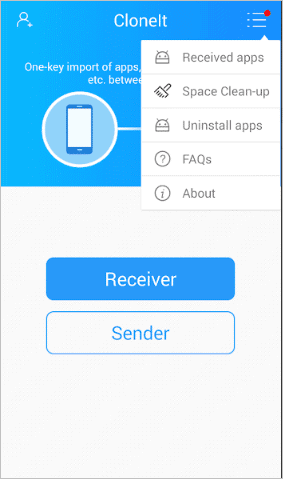 CLONEit is a phone cloning app, which can help you to clone your Android cell phone. All you need is a CLONEit app on both the phones and a strong WiFi connection. You need to make some changes in the settings before you start with cloning.
The cloning process may take time, so make sure you don't need any of the phones in between the process. You need to choose Sender and Receiver on the respected phones and then select the data you wish to clone.
If you have a weak WiFi connection, the time to clone the phones can increase. You can keep your cell phone aside till the cloning ends, as no physical intervention is required during the process.
To start using CLONEit, visit Google Play Store from your Android and search CLONEit. Install in on both the phones and enjoy hassle-free cloning.
Pros
It can work without a PC or other device in between.
Easy steps to carry the cloning process
No intervention in between the entire process
Free to use
Cons
Can clone only Android phones
Requires strong WiFi for the cloning process to speed up
2. dr.fone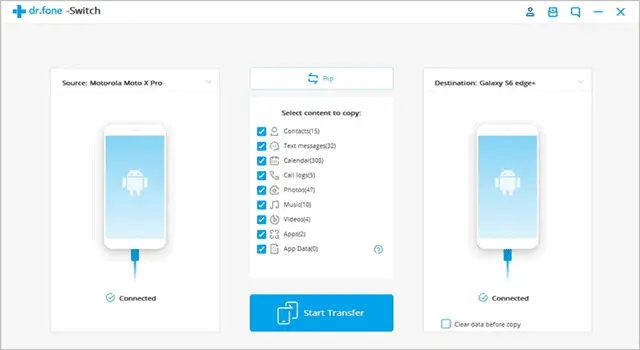 dr.fone is a cell phone cloning app, available for Android and iOS. You need a Windows or Mac laptop/PC to clone your current mobile phone. Next, connect both the mobile phones to Windows/Mac system, and then click on Switch to migrate data from one device to another.
The cloning process using dr.fone has more steps compared to CLONEit. However, if you do not have a strong WiFi signal and also want to speed up the process, then you can opt for dr.fone. As dr.fone has wired transfer between the cell phones, the process is faster.
You need to download the desktop tool of dr.fone for your laptop/computer and app for your Android and iOS mobile phones.
Pros
Do not need WiFi
Faster cloning process
Provides data recovery and wipe up features as well
Works on iOS and Android both
Cons
A comparatively longer process then CLONEit
Needs PC to act as a bridge
3. KidGuard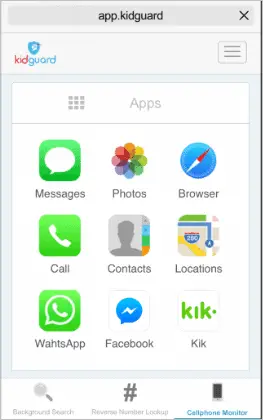 Due to an increase in the number of cyberbullying, parents are worried about their child's security. Parents use parental control settings on laptops but what about smartphones? KidGuard is a monitoring app, especially designed for parents to monitor their kid's activity on cell phones. It is like cloning your children's phones and tracking their activities.
You can view location, text messages, call logs, browsing history, and social media influences. The parent can also track the apps installed on your child's phone. One doesn't need to jailbreak or root your device to use KidGuard.
All you need to do is download the KidGuard app on the phone and start tracking your kid's activities to protect them from online predators and other dangers that lurk online. KidGuard is classified as the best monitoring service in the US.
If you wish to clone a child's phone without the wrong intention, then you can download and use KidGuard. It is available for a free trial of 10 days and then has basic plans starting from 39.99 USD/month.
Pros
Can track all the activities of the cloned phone
Free trial to test the app
Classified as best monitoring service in the US
Cons
The process to clone phone is lengthy
You need to access the other phone to start tracking
How to Check If Your Cell Phone is Cloned?
With the increase in modern technology, it is difficult to clone a phone without touching it. However, hackers and intruders have software and tools to clone your cell phones without your knowledge.
Such cloning is done with wrong intentions, to acquire control of your data or use your phone number. It is essential to detect if your cell phone is cloned. Although there is no specific procedure to find out if your phone is cloned, you can get subtle hints by going through the hints mentioned below.
Increased Phone Bills
An increase in the amount of your phone bill can be because someone else might be making calls from the cloned phone number. In such cases, you can ask your carrier to give you details about the calls made and confirm the location of suspicious calls made.
Weird Sound During Calls
If you hear any weird sounds of tapes, clicks, or distant human sounds, during calls, it may be because of the cloned phone. The hacker or intruder can clone your phone to know about your whereabouts and get some details about you.
High Battery Usage
If any spying and cloning app is continuously transferring data to the hacker's device, then there could be an increase in battery usage. The battery can also drain because of some other app, but you still need to consider it.
Suspicious App
Mostly all the cloning apps are hideous in nature, so you cannot find them in the App menu. You can still find them in your File Manager if the cloning app created any folder and files. If you see any app that is not downloaded by you recently, then that can also be a cloning app. You can check such apps and uninstall them.
Receiving Unusual Texts or Calls
If there is an increase in the number of calls or messages you receive, then there can be a slight possibility of phone cloning app on your mobile. The weird numbers on your contact list are also one of the signs of cloning
If you can see any of the problems mentioned above on your phone, you can visit the service center to perform the diagnosis on your phone.
How To Prevent Phone Cloning?
Although phone cloning is difficult with modern technologies, then too, there are chances of your phone being cloned. Hence, some prevention measures should be taken to protect your phone from hackers.
Some of the prevention measures are mentioned below; make sure you follow all of them to protect your data from invaders.
1. Always protect your phone with pins, passwords, and biometric locks. So, even if a person with wrong intentions comes in contact with your phone, he would not be able to access it.
2. If a message or call from a suspicious number tells you to open a specific link, don't do that. This link can lead you to download a phone clone app or even clone your phone with one click.
3. Turn off the Bluetooth and WiFi when not in use.
4. Do not jailbreak or root your mobile phones, as that hampers your security features as well
5. Avoid using suspicious applications from unauthorized sources.
6. Clear browsing history and cookies regularly.
7. Have a monthly check on your phone bills.
8. Keep hackers and viruses away by using an authorized security app on your phone
9. Do not allow auto-debit to any of the apps, otherwise, you may lose money.
The prevention measures can help you avoid the risk of your cell phone getting cloned.
Conclusion
Cloning cell phones is illegal if done to gain unauthorized access or without one's knowledge. Even if you wish to clone a kid's phone for protection purposes, it should be done with his/her permission. With the above-mentioned ways, you will know how to clone a phone using different tools.
If you have a strong WiFi connection and want to clone an Android phone, then CLONEit is a good option for you. If you want to clone iOS cell phones without any internet connection, then you can go for dr.fone. KidGuard is used to clone a child's phone for security and protection purposes.