As we grow more and more entwined with the internet for our daily life tasks, we stand exposed to many threats. Some of the threats are known, and some are unknown. In such cases, the best firewall software is highly recommended. So, time to know all about the best free firewall for Windows 10 that protects and safeguards your system.
A firewall is designed to protect your computer or laptop from unauthorized access. Disallowing unregistered users to use a private network also helps in securing the operating system from malware and phishing attacks.
12 Best Free Firewall Software For Windows 10
A private network is also known as an intranet. A firewall checks all the messages in the network traffic entering or leaving an intranet and blocks those that do not meet the security standards. Without further ado, let's have a look at the 12 best free firewall software for safeguarding your operating system.
1. Comodo Free Firewall
If you are looking for a hassle-free and enhanced online experience, the Comodo Free Firewall software is worth looking into. It manages all the incoming and outgoing traffic of your PC and blocks all the attacks that your computer might be vulnerable to. There are no complicated configurations, so anyone can install and use it.
Features:
The user interface is quick and simple, and it takes no time to get used to it.
The Comodo Free Firewall has Default Deny Protection that makes sure only safe applications are executed on your PC.
It stops viruses and malware in real-time so that it's never late to prevent your PC from any kind of attack.
There are Personalized Alerts, which means it knows which software is allowed to operate and changes its alerts accordingly.
The Game Mode feature suppresses operations that could interfere with your gaming, such as alerts, virus database updates or, scheduled scans.
There is also an Application Control feature that gives you the ability to lock down your PC and execute only approved applications.
It also notifies you immediately where there is a new update.
Hands down, the Comodo Free Firewall is probably the best free firewall for Windows 10 you will ever come across.
2. PeerBlock
PeerBlock is a free, open-source firewall software that blocks incoming and outgoing traffic that is included on blacklists accessible over the internet. When you install this free firewall, it asks you to select the types of websites you want PeerBlock to block; spyware or adware.
Features:
The firewall primarily uses block lists provided by iblocklist.com.
It prevents blacklisted IP peers in a torrent download from verifying your peer download connection.
PeerBlock does a great job of protecting you while you download torrents.
The Firewall updates its blocklists regularly to keep vulnerable IP addresses away from your system.
It concentrates on a single job without using much system resources and time.
PeerBlock is regarded as the best free firewall for Windows 10 for downloading torrents from the internet.
3. ZoneAlarm Free Firewall
ZoneAlarm Free Firewall is an incredibly useful solution for your PC protection. It is available for Windows 10, 8, 7, Vista, and XP. One can block all unwanted files and external exploits and effectively controls incoming and outgoing traffic. When you install ZoneAlarm, it gives you two options to select from Auto-Learn and Max Security. Auto-Learn adjusts changes as per your behavior on your PC, and Max Security lets you control every single setting manually.
Features:
The firewall for Windows 10 locks the host's file to prevent any malicious changes in your system.
It has a Game Mode where all notifications are blocked while playing.
ZoneAlarm gives you the liberty of setting the security mode for public and private networks.
It is a strong shield against hackers and other threats that make your system vulnerable.
The special feature called Stealth Mode is where you can make yourself invisible to hackers.
All in all, it guards your sensitive and personal data against hackers by providing you with an identity protection service.
4. AVS Firewall
If you are looking for a simple internet surfing experience, then AVS Firewall will work very well for you. AVS Firewall is one of the best free firewalls that identifies all the applications and programs that are trying to connect to your system and alerts you about any suspicious activity.
Features:
It lets you control your PC traffic and remove any annoying pop-ups and ads while you are surfing the internet.
It protects, secures, and monitors your connections.
You can select the best-suited security level from the different levels available.
You can customize the URLs that you want to block for ads and banners if it is not already included in your list.
AVS Firewall has a Parent Control feature, which can also be password protected for additional security.
If you are looking for a firewall with simple functions and features, this is the best firewall for Windows 10 to go with.
5. NetDefender
NetDefender is the best free firewall for Windows 10. It is an open-source firewall that can be downloaded with firewall executables. You can define a source, destination IP address, port number along with protocol to block any address on your operating system.
Features:
It has a port number scanner to inform you of the open ports so that you can choose to close them.
The firewall has all the basic settings expected from a simple free firewall.
You must have admin rights to run this program on your computer.
NetDefender prevents intruders from accessing your network without permission.
If you are a beginner getting introduced to the firewalls for the first time, this is the perfect fit.
6. TinyWall
TinyWall is a firewall for Windows10 that makes sure you are not disturbed by pop-ups or notifications, unlike other software. It blocks many viruses, worms, and trojans to protect your computer from any kind of risk.
Features:
Known to be a very agile firewall software
Easy to use, free, and lightweight.
It is well-designed, as you don't need to know about protocols, ports, and application details to install and run it correctly.
The firewall automatically modifies the settings as required to protect your system from malicious programs.
There are various ways to whitelist programs, plus it has an automatic learning mode.
You can password protect the settings to prevent any unauthorized access.
The firewall contains no fees, no ads, and no paid upgrades.
It does not install drivers or other Kernel components.
If you are a newbie to the concept of firewalls, it is the best free firewall for Windows 10 to try out.
7. OpenDNS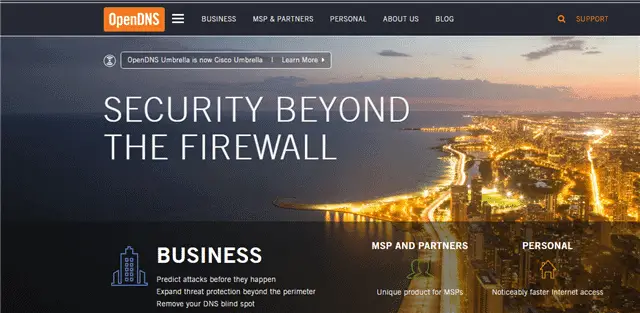 OpenDNS provides you with multiple services which include firewall protection also. You have to change your router's settings to use the firewall service.
Features:
OpenDNS is easy to use, versatile, and well-known multi-faceted software
It provides protection to the private and business information stored on all the devices that are connected to your network.
In its Home network version, OpenDNS automatically blocks unknown files.
It provides content filtering options, thereby preventing any content or identity theft.
You can also prevent your kids from accessing unwanted or violent websites.
Detailed setup guide for the installation process for every kind of device.
Apart from being the best free firewall for Windows 10 in terms of home security, OpenDNS also offers a trustworthy server that you should check out.
8. Privatefirewall
As a firewall, Privatefirewall is a multi-layer security tool with tons of features to protect your computer. Malicious programs and hacking techniques are widespread, and it is difficult to fight them with conventional tools. Privatefirewall comes to the rescue in such cases.
Features:
Privatefirewall has some new defense solutions for Windows users.
It is free to use and comes with no third-party programs, toolbars, ads, or any add-ons.
Advanced Packet filtering, Process Detection, Anti-logger Module, and Intelligent Tray Alerts
With Stealth Mode, it is regarded as the best free firewall for Windows 10 available.
You can use it to stop outbound email, block particular IPs, or disable access to custom websites.
The user interface is quite complicated, but you can take help from the guide available.
One can separately specify for internet access and network security like sharing of file and printer etc.
You can set different security levels of High, Low, or Custom for the internet and the network.
The settings and sorting through them is time-consuming, but it will get the job done thoroughly.
9. R-Firewall
R-Firewall software is the best free firewall for Windows 10 which comes with an image blocker feature that helps you remove ads that are of a specific size. This has a content blocker that prohibits browsing by keywords.
Features:
It has an ad-blocker option that can block ads by URL.
R-Firewall is developed by R-tools technology.
It is effective and prevents your computer from online dangers.
Whether it is a trojan, spyware, or any other threat, R-Firewall can protect your computer from all possible risks.
R-Firewall has an automatic configuration during setup, which allows you to surf the internet without any danger right after installation.
However, the interface is complicated and doesn't come with online instructions.
10. Ashampoo FireWall
Ashampoo Firewall is a popular and best firewall software for Windows 10. During installation, you have two options to select from, Easy Mode and Expert Mode. When a program requests access to the internet, and you manually allow it, the firewall will remember your choice in the future.
Features:
The program also has a Learning Mode, which is very useful.
Ashampoo Firewall also comes with a Block All feature that stops all incoming and outgoing connections immediately with just a click.
This is useful when you notice an attack on your system and want to stop your files from getting transferred immediately.
11. GlassWire
Glasswire is a network monitoring tool, and it allows you to block incoming and outgoing traffic. With this program, you can see all the network activity and get to know what is going on in the background of your computer.
Features:
Glasswire shows you threats and risks on the past and current servers.
It categorizes threats in a graphical format with categories like traffic type, application, and geo-location.
You can immediately block any threat before they attack your system.
The Windows Defender is quite reliable for blocking threats.
It is perfect as a monitoring tool and not an advanced firewall software. If you are looking for a trustworthy firewall, GlassWire is the best free firewall for Windows 10.
12. Windows Firewall
The name says it all! Windows comes with an inbuilt firewall feature, which you can find by going to Control panel > System Security > Windows Firewall. The program has passed all stealth and open-port inbound tests.
Features:
Windows Firewall helps you prevent hacking or any malicious attacks on your computer.
It blocks the applications that are not on the list of allowed apps.
Users can allow apps and programs to communicate through Windows 10 firewall for security
No external hardware or software is required to use this firewall
It offers the best integration with the Windows operating systems
This Windows defender may not fulfill all the requirements of a full-fledged firewall, but it's quite useful, and therefore makes it to our list of best free firewalls for Windows 10.
Conclusion
This list of the best free firewalls for Windows 10 protects your PC. Apart from various anti-malware tools and antivirus programs, a firewall is a must-have to make your computer safe from malicious attacks. Although it cannot protect your computer alone, when paired with good antivirus software, it will make your computer almost impregnable.
A firewall protects you from malicious attacks and threats. You do not necessarily need a firewall if you are using Windows since it already comes with a built-in firewall.
If you still wish to have a different choice, Comodo Free Firewall is regarded as the best free firewall for Windows 10. AVS Firewall and TinyWall are popular and the best firewall software alternatives to go for. Finally, the users can select any firewall as per their choice.
FAQs
What is a firewall?

A firewall is designed to protect your computer or laptop from unauthorized access. The firewall for Windows 10 acts as a protective shield and protects a private network from unauthorized access. Data is transferred between different devices in the form of packets, and these packets are monitored by firewalls for safety. Any packet found having suspicious files is blocked and discarded by the firewall.

How does a firewall work?

A firewall uses one or a combination of methods to protect a private network from harmful data. Packet filtering is the most basic form of firewall protection, in which suspicious packets are blocked from entering the firewall. A proxy server is an intermediary between the systems. It retrieves information from the internet and sends it to the requesting system. Stateful inspection keeps information attributes of each connection for the duration of the session in a database.

What are the different types of firewalls?

Application firewalls and Client-based firewalls are the two types of firewalls. Application firewalls are used for tracking the information traffic on that particular device. On the other hand, the appliance firewall is a hardware-based version of the firewall. It includes a device that is placed between a user's network and an outside network such as the internet.

Can a firewall be hacked?

Although it's very rare that a firewall can be hacked, one cannot deny the possibilities. The security of the system can be compromised if a firewall isn't tuned properly.

What to look for in a firewall?

Here are some factors you should take into account before choosing the best free firewall for Windows 10 your computer system:
1. Protection and prevention from threats
2. Visibility and control of your applications
3. Streamline security infrastructure
4. Real-time alerts
5. Excellent customer support