While all of us are supremely busy in your hectic lifestyles, it is essential to have something that would remind us of the tasks for the day or week. Appointments, events, birthdays, and paying bills on time; none of us want to skip these dates. Have you ever tried a reminder app for Android?
Reminders can save you from missing deadlines. They ensure you are productive and help you relax without having to fear about forgetting important events and meetings. Be it sending out emails or taking your medicine on time, a reminder app for Android comes in handy. So, let us delegate mundane tasks to our smartphones and free our mind from the worries of missing out on them.
Top 11 Reminder App for Android-
1. To Do Reminder with Alarm – Best Reminder App with Speech-to-Text Feature
2. Ultimate To-Do List – The Daily Schedule App that lets you Split your Screen
3. Todoist – Winner of the Editor's Choice Reminder App in 2019
4. Life Reminders – Customize your Categories with this Free Text Reminder app
5. Evernote – Keep your Invoices, Receipts, and Memos in one Place
6. Today Calendar Pro – Enhance and Expand the Usage of Calendars 
7. Google Keep – The Fastest Way to Record Ideas and Thoughts
8. Just Reminder – Organize Better with this Simple All-in-One
Text Reminder App
9. BZ Reminder – Set a Reminder Every Hour and Snooze Alerts
10. Any.do To-Do List – Best Daily Planner that Seamlessly Syncs with other Apps
11. aCalendar – The
Best Reminder App for Android
with No Advertisements
Details for 11 Best Reminder App for Android
There are many reminder apps on Google Play. We have put together a list of the 11 best options for a reminder app for Android to make it easy for you to pick one from the myriad options available. There are free apps for reminders and their premium versions too.
So, even if you are often distracted and tend to forget important dates, you can be at mental peace with the best reminder apps for Android.
1. To Do Reminder with Alarm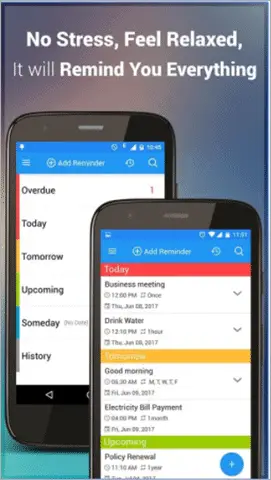 Make your life easy and never forget anything with the To-Do reminder app for Android. It reminds you of everything, from daily to-do lists, paying bills, important calls, birthdays, and anniversaries. The reminder app for Android comes with an alarm, which is a bonus point. Easy to use, you can set in-advance alerts for reminders.
One can even set a favorite song as a reminder. If you can't remember birthdays and anniversaries of your friends and family, the reminding app can sync details from other sources. These include Facebook, Phonebook, and Google calendar.
What We Like About To Do Reminder With Alarm:
Simple and effective reminder apps with great task management.
Several options to customize the task list through settings.
You can tap phone numbers in the notes section to launch the phone dialer.
What We Don't Like:
It does not have an online backup.
It cannot sync the content and edit across all devices, including PC.
Sometimes it doesn't show you the notification when the screen is off, and the notification pops up only after the screen gets active.
2. Ultimate To-Do List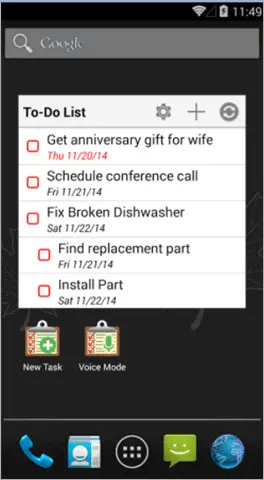 The Ultimate To-Do List reminder app for Android is simple but powerful. It has a variety of tools to organize the task list and simplify your life. For people who need to manage complex projects and have a hectic schedule, it manages your schedule and is easy to use.
Ultimate To-Do List has a voice mode to create, update, and read tasks no matter where you are. You get notifications even when you are driving a car, or wearing gloves, or simply cooking.
What We Like about Ultimate To-Do:
It is a bit different from others as the app works well in voice mode also.
You can categorize your tasks manually.
One can easily sync all devices by linking the app with Google or Tooledo.com with time tracking and calendar integration.
What We Don't Like:
You need to pay for the Android Wear app.
It is complex to use in comparison with similar reminder apps.
There is no option to export content, and you have to sync it to the cloud if you change your device.
3. Todoist – Winner of the Editor's Choice Reminder App in 2019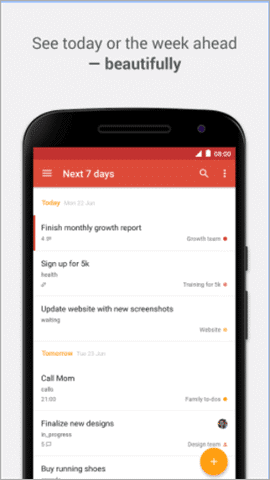 Todoist is always at the top of the list for best reminder apps when we talk about having handy to-do lists. The reminder app for Android needs no introduction as far as its popularity is concerned. It allows you to manage tasks from anywhere, even offline. Edit your reminders from your tablet, desktop, browser, email, or smartwatch.
Todoist can sync with all your devices and is seamless when it comes to task management. You can monitor your productivity by setting your weekly and monthly goals.
What We Like About Todoist:
Best app for students, as it lets them combine their tasks and calendar and be on time for submitting any project or assignment.
You can use the Google Assistant to add events.
In addition, it integrates with your email and syncs with all devices.
What We Don't Like:
Despite having great features and much appreciation from users, it is not so popular as it is a paid app.
4. Life Reminders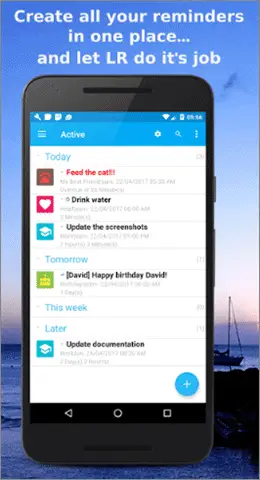 Life Reminders is a smart application and is definitely the best reminder app for Android. It has a great set of features, and the updates make it more robust every day. It is not limited to birthday, anniversary, events, and get together.
If you need to send an important message to someone at a particular time, just write the text, set the contact information, and set the time. At the scheduled time, the app will only ask you for confirmation before doing the needful. As one of the best reminder apps for Android, it is available in over 20 languages including English.
What We Like About Life Reminders:
It beats other similar apps with three of its most interesting features.
(i) Until (which lets it know when to stop)
(ii) Frequency (repeat hourly, day-wise or every x day)
(iii) Snooze feature which allows you to customize the number of snoozes you want.
What We Don't Like:
No option for backup storage if you change your phone.
5. Evernote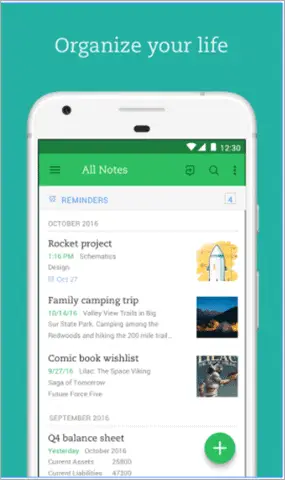 Evernote is the most robust, popular, and well-liked location and reminder app for Android. It can create reminders for you, depending on your time and location. For instance, it will remind you to buy milk if you are near a grocery store. You can sync the reminders across all your devices. You can plan weddings, parties and holidays easily with this app.
There are many users who are in a constant dilemma when it comes to Evernote vs. Goggle keep, but the sole decision comes to convenience and customer choice.
What We Like About Evernote:
The best feature of the app is its location-based reminders.
You can use it effectively as it is accessible via various devices.
What We Don't Like:
To scan business cards, you need the premium version.
It always reminds you to pay for the premium version whenever you open the app.
In case of an unstable internet connection, the notes are deleted without saving.
6. Today Calendar Pro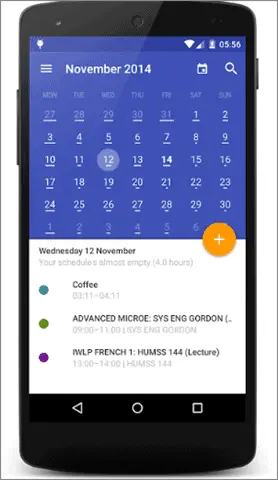 Today Calendar is the best reminder app for Android that reminds you of the daily schedule. It just takes a few seconds to make events or set reminders. Stay organized with Today Calendar with its beautiful but powerful interface. You get an All-in-One view instead of a weekly or monthly task view. One can then efficiently plan the agenda with a single view and get through the day.
What We Like About Today Calendar Pro:
You can make a monthly format calendar widget and set it as your home screen. This can remind you of your tasks daily.
Its unique feature of split and all-in-view makes it more interesting.
What We Don't Like
The app asks you to buy the premium version, which is costlier than similar apps.
But there is a free 7-day trial version to decide if it is worth your time.
7. Google Keep

Google Keep, another great app with Google Services is a multi-functional reminder app for Android and not just a dedicated to-do list application. All notes are synchronized with Google Drive. Apart from being a note-taking app, it has a feature to add reminders that are either location-based or time-based.
Add a personal reminder to your note, and it will remind you about the same popping up a notification.
What We Like About Google Keep:
Like other Google services, Google Keep offers you a reminder feature that is both location-based and time-based.
It can be a fun thing too – like you will not forget to get your favorite drink when you are near your favorite bar.
What We Don't Like:
As it is a bonus feature in the multi-functional Google App, it is a great add-on.
8. Just Reminder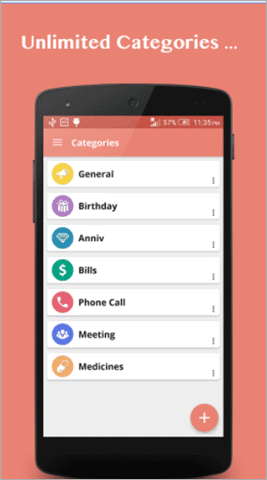 The Just Reminder app only does what its name says. The reminder app for Android is dedicated to reminding you of your tasks. As it is designed as a reminder app, it does more than just remind you conventionally. You can customize one time reminders to be recurring every few minutes, hours, day, week, month, and years.
You can personalize each reminder with an image, specific ringtone.
What We Like About Just Reminder:
You can control the app via voice commands.
In the premium version, you get phone call reminders, security pin, and enable/disable screen wake up on reminder alert.
What We Don't like:
You cannot sync it with other devices, which is a major drawback when you want to access the content while working on a PC or tablet.
9. BZ Reminder

BZ Reminder is an excellent reminder app for Android and one of the simplest to-do list applications. You can make your reminders more informative by adding a note to it.
It has customizable widgets, missed call reminders, reminders with a calendar in-built, and much more. Mark your tasks with different colors and make them more attractive.
What We Like About BZ Reminder:
It has Android wear support so you can easily snooze or complete your task right from your wrist.
You can also create reminders with voice commands.
What We Don't Like:
The location-based reminder feature is missing, which is a bit disappointing.
10. Any.do To-Do List
As the name implies Any.do To-do List app is a to-do list that helps you create tasks and set reminders. It is one of the best reminder apps for android as you can sync it with your phone's calendar, Google calendar, Facebook events, Outlook calendar, or any calendar.
Millions of users find it reliable to finish their important tasks before the deadline. The reminder app for Android is highly customizable with a variety of interesting features.
What We Like About Any.do:
One of the best reminder apps for android that is location-based.
You can sync it with your mobile, desktop, web, and tablet in real-time.
You can collaborate by sharing the list, assigning a task, and getting your work done on time.
What We Don't Like:
If you have plenty of tasks, it becomes difficult to search for the one you are looking for.
Download Any.do and know more about it.
11. aCalendar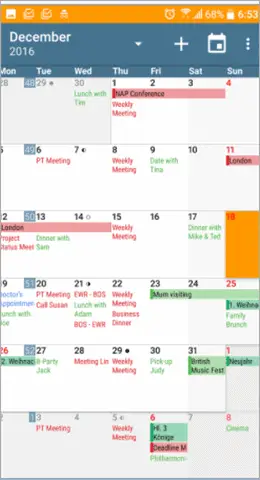 aCalendar is one of the useful reminder apps for Android when it comes to basic needs. It takes care of the events and also adds themes to calendars to make a hybrid month or agenda widget.
The best reminder app for Android, aCalendar, has unique features like sharing of events via QR and NFC barcode. You can also easily view your task in a mini month format or graphical week overview in the day and week view.
What We Like About aCalendar:
It has widget support, which many people will love.
It syncs with all your devices, which makes it portable and reliable.
You can set multiple days for an event.
What We Don't Like:
There are synchronization issues with the app, which makes it a bit disappointing.
Final Thoughts
App for reminders is a great boon to anyone with a forgetful mind. And, even if you are well-organized, it doesn't harm to be reminded of the little events and anniversaries. Our smartphones are pretty useful objects, and getting a reminder app for Android installed only adds to the functionality. We've enlisted the best reminder apps for Android that will ask you to take your medicines, wish your friend on his/her birthday, and attend an upcoming event.
If you are looking for a safe choice, then all the apps that come as an add-on service with Google assistants are super-efficient and will do their job well. If you do not mind spending a bit, apps like Just Reminder are a good bet. Almost all the apps on the list come with added features like note taking and location-based reminders.
Related: Top To-Do List Apps to Get Things Done