Before the communications world was tilted on its head by digitalization, radio waves transmitted information in the quickest way. It is no surprise that today all communications giants are now relooking at it with renewed interest. From how to use NFC to NFC applications plus all about the uses of NFC tags, there are various factors that people want to know more about.
This age-old and reliable method, christened as NFC, Near Field Communication, is nothing but simple wireless data transition. NFC facilitates communication via radio signals between devices that are in close proximity to each other within the range of 10cm. Also, it allows two-way transmission by touching devices together.
How to use NFC tags – On My Phone
NFC tags are NFC chips without power which draws power from a nearby device that supports NFC applications. These tags do not require their own battery. In the most rudimentary words, the NFC tags can be used as an alternative to the QR codes. NFC tags are as thin as paper and are designed to store information.
Their maximum capacity is 4096 bytes which are equivalent to a few lines of text. Since our smartphones are constantly connected to the internet, it is a regular practice for embedded NFC tags to remain active. You just have to hold the devices close to each other for NFC applications. Tap your phone against the NFC tag and you'll receive a notification. Sometimes the device will vibrate indicating that NFC has been activated.
22 Different Ways To Use NFC Applications
Have you ever wondered 'does my phone have NFC?' or What is NFC on Android really mean?
Devices that support NFC can be connected to the other devices which are compatible with NFC and NFC tags. You can spot them at advertisements near bus stops, NFC business cards, or NFC stickers at commercial stores. It stores details in the form of short text lines.
Here are the cool and creative ways of NFC applications that are sure to be useful in your daily lives. In addition, we guarantee that the people around you will be impressed too.
1. Mobile Payments
NFC payment apps are a rage in the US, Canada, Europe, and Asia. This technology is growing and how! Are you wondering how to use NFC for making mobile payments? We'll tell you how. Any NFC cell phone can be touched or hovered through a terminal that has NFC enabled, for facilitating payment. Just tap and pay.
You do not need to contact a person physically to ensure that the payment is made. The NFC applications will soon replace payment via credit cards.
2. Parking Lot
How about adding NFC stickers to parking lots? If the parking meters are NFC enabled, the NFC cell phone users can just put their device close to the meter to record data. In essence, no parking slips are required and you end up saving paper as well.
The NFC stickers for parking will have an NFC tag which will save the information like your parking space number and the time.
3. Transfer Data Wirelessly
In NFC applications, data can be exchanged or transferred between two devices that support NFC wirelessly. Android Beam is an Android phone feature that enables you to share all types of files. This includes pictures, audio, video, or information in any format.
This is how to use NFC to transfer files wirelessly:
Keep two phones close to each other and initiate the file transfer process.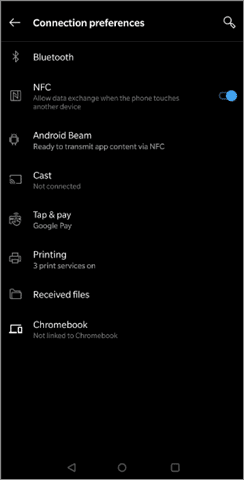 It will require Bluetooth but without the complications of pairing it with the other devices.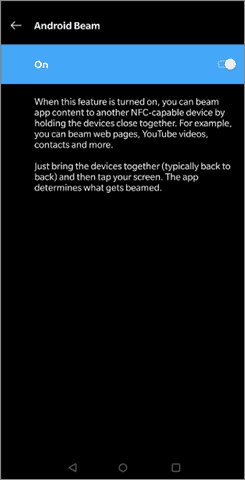 You just need to tap, and the process will be completed automatically.
4. A Content Gumball Machine
Another awesome NFC application is the Razorfish's gumball machine that supplies content and not candies. Insert a coin, turn the lever on, hold your NFC cell phone close to the machine, and tap. You will get any content of your choice like videos, music, and e-books on your device.
5. How to use NFC on Phone for Silent Mode
Do you put your phone on silent mode before going off to sleep every night? Instead of doing it manually, you can use an NFC tag. Put in on the bed-side and NFC on the phone will perform the action you configure it with.
In this case, putting the phone on silent mode automatically.
6. In The Car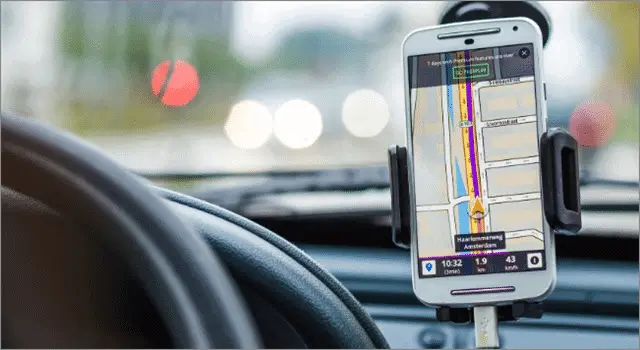 If the music system in your car works with Bluetooth, you should know how to use NFC applications in your car. NFC tags will make things easy for you. The NFC on the phone will turn on the Bluetooth and automatically connect the devices. For example, to the radio in the car or your headset and then play your playlist.
7. Tag-a-Bag
Unable to locate your luggage? NFC applications might help. If you use a baggage tag that has NFC enabled, you can track the location of your bag and find it.
If the bag reaches a person who has NFC on the cell phone, he/she can detect information about the owner by tapping against the luggage tag and send messages to the owner's device.
8. Create A Hotspot For Your Laptop
How to use NFC Tag on your laptop, tablet or their cases and letting it automatically turn on the hotspot of your device? This can be extremely useful when you need to switch on the internet connection on the go or while commuting or traveling on a train.
Let the NFC tag toggle the WiFi hotspot thereby enabling you to switch it off again whenever needed with a tap only.
9. Save Battery While On The Subway
Generally, there's hardly any signal when you're on the subway. And when your phone tries to look for one, it uses a lot of battery thereby draining the device. How do you prevent that?
How to use NFC for saving battery life? Just put an NFC tag on the bag you carry and let it put your NFC cell phone on flight mode and off flight mode.
10. At Your Workplace
NFC applications can make certain everyday errands at your office easy for you. How? Put an NFC tag on your work desk and let it switch on the WiFi, put your smartphone on vibrate or silent mode, and turn off the sound of your computer/laptop.
11. Tap For Music/ Bluetooth Speakers
Tap your smartphone to the Bluetooth speakers that are NFC-equipped and listen to your favorite songs on the playlist. Sony's Stereo Bluetooth Headset-20 is a wireless Bluetooth Headset which connects to your NFC cell phone by tapping once.
If you tap against the headset, the Bluetooth link gets started. It is a much quicker process than manually setting up Bluetooth and pairing it with the other device.
In addition, you no longer have silly excuses for not running/jogging every day.
12. Business Cards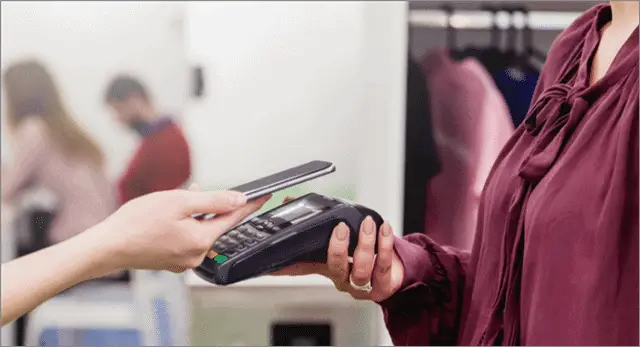 NFC on the phone gives birth to new eco-friendly business cards. You only need to tap your smart device that supports NFC against the card and everything is done. Details like contact information, phone numbers, website name and address, and more will be captured on your phone. You will end up saving paper too.
13. Tap For Information
One of the most common NFC applications for industrial and commercial zones is to have an NFC hotspot which enables you to receive information about the products they make and the company policies by a single tap. You can also check out the advertisements or the virtual brochure of the same.
14. Control NFC Devices With A Ring
Are you tired of using NFC on the phone? How about NFC applications that control devices with a ring on your finger? This smart ring comes with two inlays. There is one for storing sensitive data and locking/unlocking the door or your smartphone. While the other one is for public data like contact details or WiFi passwords.
15. NFC Tags For Business Owners
Do you own a cafe, bar, restaurant, or a newly opened salon? Use NFC applications to promote your business and spread awareness about the same. Bring in more customers by putting up posters about your venture at locations which are in close proximity to your setup.
As the people who are interested scan through the advertisement, the Google Maps on their smartphones will redirect to the location of the venture. Do you have friends and family members who are entrepreneurs? If yes, go ahead and tell them about how to use NFC for their business.
16. Set Timers
Ever tried to boil some rice or cook an egg and forgot to keep an eye on the time? Use an NFC tag next to your gas or stove and activate a set timer to get perfectly cooked food every time.
The same mechanism can be applied while you put your washing machine on for the clothes as well.
17. WiFi Access
Put an NFC tag in your drawing room or at the entrance to your home to give others who visit easy access to your WiFi. You do not need to reveal your password to them, and it also stops the strangers eyeing for your password from connecting.
Be it a cafe, hotel, or a library, NFC applications enabled WiFi will ensure no trespassing by unauthorized people.
18. Lock and Unlock Your Door
Lockitron is a smart door lock that allows locking and unlocking of your door using NFC applications. With that NFC tag, you can also control all your smart devices from anywhere.
One of the most affordable smart home systems, Lockitron can do so because it is connected to the WiFi at your home.
19. Disconnect Charger When Phone is Fully Charged
Do you want your wireless charger which is connected through a smart plug to start charging your phone automatically? It is possible with an NFC sticker. It will also disconnect the charger from the phone once the battery is full, thereby saving energy.
20. Shopping Poster
If you are left thinking about how to use NFC with shopping posters, continue reading and you'll know.
Haven't you come across digital shopping posters at the airports? How about having the same for the grocery and departmental stores? This digital payment system is pretty cool as it enables the customers to select what they like digitally, need, and directly get it delivered to their places.
Just tap your NFC enabled device on the poster and buy the product.
21. Hit the Gym
Stick an NFC tag to your gym bag, and your NFC cell phone will automatically put your phone on airplane mode.
By doing this, you will no longer be disturbed by messages and calls during your workout session.
22. Quick Dial
Don't we all have certain contacts that we end up dialing frequently? You can program NFC tags that would call that specific person only.
You can place the tags in your car as well and enjoy calling them hands-free.
How to Use NFC Applications Innovatively
1. Tap for airplane mode
How about the airports having an NFC zone where each passenger who has an NFC enabled device can switch to the airplane mode by tapping against the NFC strikers?
Airlines should consider adopting this method to make sure that the passengers are doing the needful and you no longer have to go through the settings on your phone to get it done.
2. Smart Clothing
Are you excited to be a part of the NFC smart clothing clan? Do you wish to buy clothes using NFC on android? Not a probable date but Samsung might just come up with one such brand store soon.
3. NFC Tags in Education
Schools and universities can use NFC tags to pass on sensitive information to students, for supervising attendance, for making foreign language students learn  English or for tracking the fitness levels of the kids.
4. NFC stickers for scenic regions
On a holiday and want to visit a distant place but scared of losing your way? If the tourist spots have NFC-enabled posters that will guide and navigate the travelers to nearby hotels and restaurants, won't life become easier?
5. NFC magnets to make a Grocery list
As cool as it sounds, how about making NFC magnets that would help you make as well as update your daily grocery lists? The NFC chips will automatically add items like bread, milk, eggs to the list which you can open and check directly from your phone at the grocery store.
Conclusion
Enabling interaction between the physical and digital worlds, NFC stickers, and NFC on Android are easy and economical methods to automate routine tasks. We've listed cool and innovative NFC applications that can make life fun and easy for you. Play around with the NFC Tags on your NFC cell phone and find which ones suit you the best.
Although NFC payments and other uses of the NFC stickers and tags are incredibly convenient, the only catch is that both ends should have NFC enabled devices, posters, or zones. And not to forget the rise of competing technologies like Android Beam that is compatible with many devices.