When it comes to the corporate world, Google Sheets hold paramount importance for storing different types of data. It is used by professionals as well as by private users. With cybercrime on the rise, you must know how to password protect Google Sheet and Google Docs.
Having a password protected Google sheets allows users to relax about their data being stolen. Be it essential data or graphs in Google sheets,  you can keep an eye on how many people are accessing a password-protected sheet, thus fulfilling your concern for security.
How To Password Protect Google Sheets And Ensure Data Security
There is no protection feature offered by Google for encrypting a Google Doc or a Sheet with a password; users have to follow a certain method to do it. The only security offered is your account email ID and password.
Let's have a look at how to password protect a Google Sheet and maintain security.
How To Set A Password To Protect Google Sheet
Google Sheets doesn't offer a straightforward way to encrypt your data with passwords. However, we can definitely create that system for ourselves. You can easily download a protected sheet from Skipser.com and then set your password for encrypting data. The downloaded sheet will be visible in your Google Sheets account.
To begin with, download this ProtectedSheet and enter your data in it.
Note: If you see that the Protect File tab is already visible when you download the sheet, you need not follow the steps to password protect a Google Sheet. You can directly move on to how to encrypt data in Google Sheets.
Then, Navigate to the Tools tab and click on the Script Editor. Once you enter the Script editor, click on Files, and select Manage Versions. Moving forward, click on Save a new version. After you see a new row for version 1, select Ok.
Then, click on Publish to finalize the program. Select the Deploy as web option from the drop-down menu.
You will be asked to provide confirmation for all the actions you have undertaken. Select Ok and you have been successfully set up and password protected the Google Sheet.
How To Encrypt Data In Google Sheets
After you have followed all the steps mentioned above, you will see that a new tab 'Protect File' appears on the menu bar. It's this tab that you have to work with for the process of encryption and decryption.
Once you have entered your data, navigate to the menu bar, and click on the Protect File option. Then, click on the Encrypt File option.
For the first time, it will ask permission to access your Google account to encrypt your document. Click on Continue. You will have to authorize only once before you are encrypting the data for the first time.
Then, you have to create a password for the Google spreadsheet.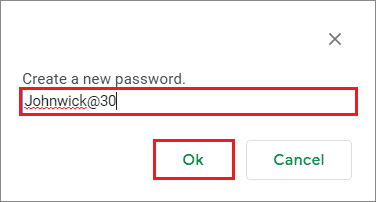 After you have done that, you will see that your datasheet has been encrypted.
The method for encryption of data might appear to be a lengthy task, but it is an effective one, nonetheless. Secondly, since we do not have another way to password protect Google Sheet that holds our confidential data, this method remains the only way to go with.
How To Decrypt Data In Google Sheets
Decrypting the data in a password-protected document is the easiest thing to do in this entire process. To begin with, open the document from your Google Drive and select the data that you want to decrypt in the sheet.
Now, navigate to and click on the Protect File option, and then select Decrypt Data.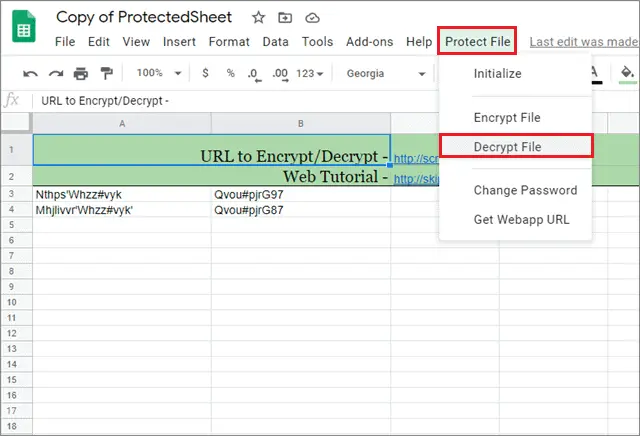 A pop-up window will appear on your screen, asking you for a password. Click on OK after you have submitted the password.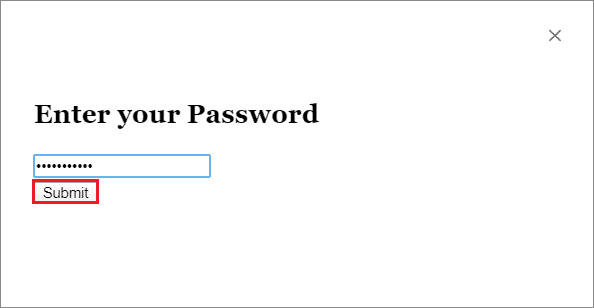 You will see that your data has been decrypted, and now you can access sensitive data without any difficulty.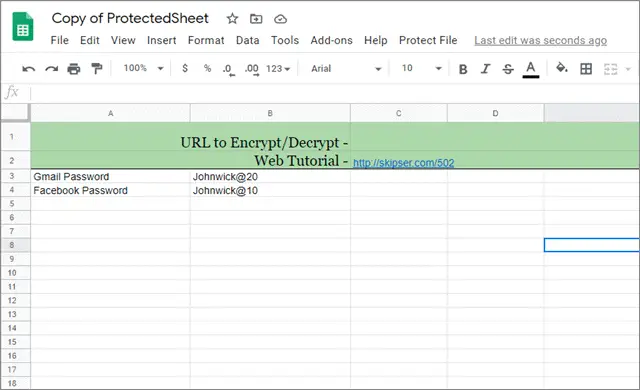 After you have checked whether this method works, you can encrypt your data again by clicking on the Encrypt File option in the Protect File tab.
How To Change The Password Of An Encrypted File
Now that we have learned how to password protect Google Sheets, let's move on to know how to tweak a password. Changing passwords in regular intervals is also a good practice for maintaining the security of your confidential files. Users can change their passwords as many times as they wish to, using this method.
To change the password, go to the Protect File menu. Then, navigate to and click on Menu options and select the Change Password option.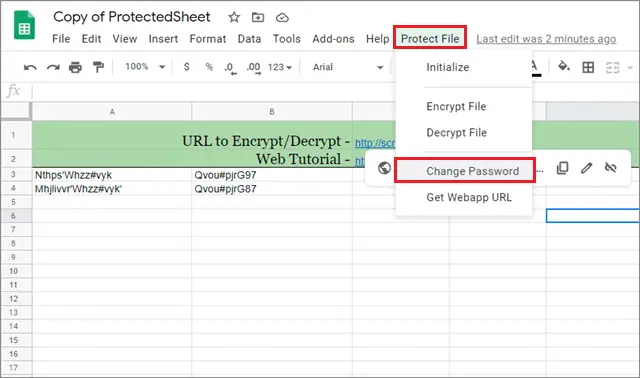 Click on the Save button after you have entered the new password, and your credentials will be set until the next time you change them.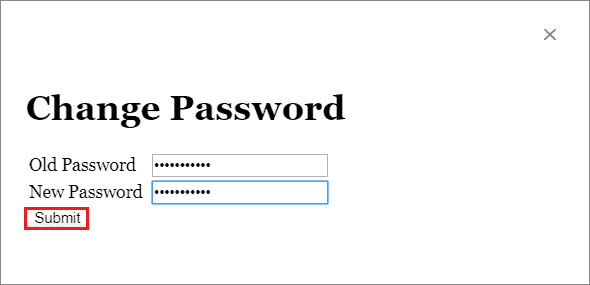 Users should always make sure that they remember the changed passwords; not doing so might cause you to lose the data and look for a secondary method to retrieve it.
Conclusion
Google Sheets are extensively used to store data in corporate organizations. It is also used to store sensitive and confidential information in a document. However, data security always tends to be a major concern when it comes to storing sensitive information. Hence, we need to know how to password protect Google Sheets because document password protection is mandatory in such cases.
There is a simple way to make sure that your information is protected with a password. It involves downloading a spreadsheet that has a program to encrypt the data stored in it. Users can also change the sheet password routinely to maintain the security manually, provided that they remember the changed passwords. Since there is only one way to encrypt data and password protect Google Sheet, it remains the only choice for all those who wish to ensure password protection for their data.
(Updated on 7th January 2021)