Is your system secure with the antivirus software you are using? All antivirus software claims that they are best when it comes to security. Still, you cannot trust any antivirus or security software without proper tests and a respectable track record. There are antivirus testing labs to help you with the appropriate testing of antivirus software.
Antivirus testing labs test antivirus software by implanting different types of malware, viruses, and other threats into the virtual system. And then, the antivirus software is ranked based on their response to the infected system and performance. You can use best malware removal tool for your PC by using Antivirus testing labs.
The antivirus testing labs do these tests monthly, quarterly, or yearly and prepare test results for the same. If your antivirus software is not making it to this list from the last 2 or 3 tests, it might be time to switch to another antivirus option. We have listed some testing labs to help you find the best antivirus software.
List of Antivirus Testing Labs
You can get more than 20 different antivirus software tested at one go with the antivirus testing labs' help. The decision-making process becomes easy when you have test results from 5 different antivirus testing labs.
1. Virus Bulletin

Virus Bulletin has been testing anti-malware software for the last two decades. They are considered to be world leaders in security software testing. With their team of expert testers, they provide regular public certification that covers security threat protection of all types and enterprise-level anti-spam solutions.
Virus Bulletin provides three different certifications under testing –
VB100 Certification – This certification is awarded to products and software that meet the necessary standards required to be a legitimate and proper functioning anti-malware solution. The certified products can detect at least 99.5% of malware samples and generate no more than 0.01% false positives. The tests are done every other month on Windows 7 and Windows 10.
VBSpam Certification – This certification is a test of enterprise email security solutions. It provides performance reports for spam-filtering technology. The anti-spam solution should block large numbers of spam mails to get certified by Virus Bulletin. The test for VBSpam is conducted quarterly.
VBWeb Certification – This certificate from VB measures web filtering technologies' effectiveness when it comes to blocking access to dangerous sites and pages. However,  web filtering technologies should make sure that useful resources are not blocked in the process. There is a test report for spring 2020 for web filtering technologies, but Virus Bulletin has suspended this certification and tests from now on.
You can get the latest as well as old reports for the anti-malware solutions, spam filtering, and web filtering technologies on their official site. With this antivirus testing lab, you will know which are legitimate and useful technologies and solutions to secure your system from malware and threats.
Additional Features
There is a Bulletin where the latest research papers related to security are published to share the knowledge with the community.
You can also attend the VB Conference, which is running from 29 years to know the IT security-related topics.
They also provide enterprise level solutions for organizations, depending on infrastructure.
2. AV Test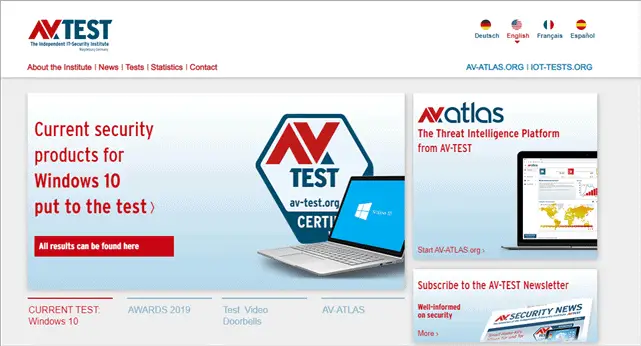 AV Test provides test reports for antivirus for home and business users and other security products like IoT. The tests are performed on Android, macOS, and Microsoft Windows platforms, as well as the most publicly available versions of the software and tools.
Their focus is on realistic test scenarios. And the product should be ready to face real-world threats and deliver the best possible response. The test results are based on performance, protection, and usability. The test for the Windows platform is conducted every other month. The update is possible even when the analysis is performed, making it possible for antivirus software to fight with the latest features.
AV Test also gives awards to the security products which prove themselves in protection, performance, usability, mobile security, and repair categories. The award is based on multiple tests and intensive research from AV Test Institute. You can opt for the best antivirus based on the awards.
Additional Features
You can subscribe to their newsletter and remain well-informed about the security aspects.
AV Test also provides test results for smart cameras and watches, IP cameras, along with smart home products.
3. AV-Comparatives

AV-Comparatives provide independent tests for antivirus software on consumer and enterprise level. The tests are performed on antivirus available on Android, Windows, and macOS platforms. There are 15+ different types of tests done on the original antivirus software, ensuring a better test result to make decisions.
The antivirus software is tested with default settings to work under real-world scenarios. The tests are performed to check the performance, malware protection and removal capabilities, false positives, anti-spam and anti-phishing features, and many more. The AV-Comparatives also give awards to the antivirus software based on some of their features and capabilities.
If you are looking for specific features like malware removal, anti-spam, anti-phishing, or mobile security, then that specific test report can help you make a better decision.
Additional Features
Get the static analysis of Android apps on the AVC UnDroid app provided by AV-Comparatives.
The survey and fact sheet will give you useful information about IT security.
The blog on their site also provides security-related information.
Check AV-Comparatives Website here
4. SE Labs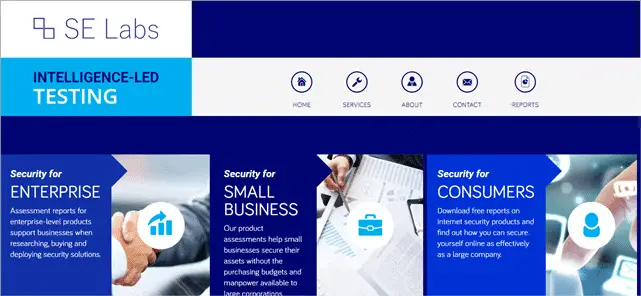 SE Labs tests security products specifically designed for computers and mobile devices. The testing is intelligence-led and can help consumers, small businesses, and enterprises make better decisions when it comes to security.
The products tested by SE Labs are antivirus solutions, Endpoint Detection and Response (EDR) applications, cloud-based protection services, and Intrusion Detection and Protection Systems (IDS/IPS). The cutting edge testing methodology ensures proper and legitimate test results. There are public reports available on the site.
The test reports and quarterly. There is also a September to September annual report available. The home users can check their anti-malware reports before purchasing any anti-malware software. SE Labs is an antivirus testing lab that can help you with reports for enterprise, consumers, and small business levels.
Additional Features
The private testing report can be asked for your products.
They provide reports for some other important services like Email Security services and Network protection appliance tests to name a few.
5. ICSA Labs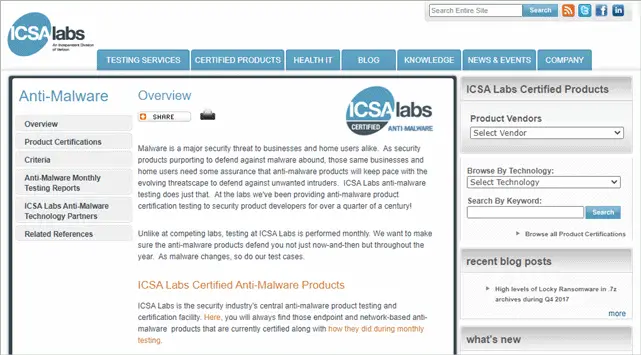 ICSA Labs has 25+ years of security testing experience. It provides testing and certification for security products to ensure the users rely on legitimate and proper functioning security products. The testing of firewalls, anti-malware, network-attached peripherals, and many more products is being carried out by ICSA Labs.
The anti-malware solutions are tested every month against all the latest types of malware. You can browse its certified product category to know which product satisfies the criteria. They provide testing solutions to the enterprise, organizations, and government to ensure the security of their users.
You can find anti-malware product reports on their site. The other reports are not available for consumers. ICSA Labs gives out awards to the outstanding performers in the world of security. The ICSA Lab site contains some outdated information; hence be careful and check the dates before reading through the information.
Additional Features
You can read blogs and news to get the latest news related to IT security and ICSA labs.
The custom testing feature can be beneficial to the organization that wishes to have it.
Some antivirus testing labs work on testing for the enterprise level and not on the consumer level. You may not find the test reports for antivirus software or anti-malware solutions for individual use.
West Coast Labs provides services like functionality testing, performance, platform security, and InfoSec consulting on the enterprise and industry level. It became an independent company and announced enterprise-level testing.
West Coast Labs focuses more on enterprise-level testing, and there are no public reports available on their sites for any antivirus or anti-malware software. If you are looking for enterprise-level testing of your infrastructure, you can check out West Coast Labs.
The other antivirus testing labs for enterprise-level testing or reports for endpoint security testing are NSS Labs and MRG Effitas. You can find reports on their sites which can be helpful for infrastructure with more than one system.
Note: We have not listed and mentioned the other antivirus testing labs that provide outdated information. As the number of new threats is increased day by day, providing the old or outdated report does not help consumers in any way.
Conclusion
Testing with a variety of malware samples and threats on the consumer end is not possible. Therefore, we need antivirus testing labs to do these systematic tests for us. The labs generate test reports on a monthly, quarterly, or yearly basis based on the tests they conduct on different antivirus, anti-malware, or security products.
The list mentioned above of antivirus testing labs can help you with the public test results to finalize a security product for you. You can select or ditch any one antivirus based on the last 2 or 3 reports. Some labs also provide enterprise-level testing.