With our lives and work dependent on computers, there is an increased risk of cyberattacks on our systems. It is now more important than ever to have the best malware removal tools or antivirus software to protect your systems. If you are already using anti-malware or antivirus software, there is less reason to worry about malware protection, security, and cyber threats.
It is equally vital to know whether the product you are using is protecting you or not? As every malware removal tool claims to be best, it is essential to understand how the tools work to protect your systems. There is a need for research about the anti-virus product if you opt for free malware removal software.
As the famous quote says, 'If you are not paying for a product, then you are the product.'
Luckily, there are some reliable free malware protection, antivirus, and security solutions that don't tamper with the user's information and data. So all you need is the right software to be safe and secure with your system and data. To simplify this choice for you, we have done the research and tested some of the best malware remover software available today.
How To Select The Correct Antivirus Or Anti-malware Software?
People often misunderstand antivirus software and anti-malware remover software as the same. Although these words are used interchangeably, there is a difference between them. Hence,  before opting for any security solutions, you need to check its features and functionality to know what they provide.
Antivirus can provide you protection against viruses and some malware. You should opt for anti-malware tools if you want security against all types of threats, ransomware protection, and security against Trojan, viruses, and malware. A good deal of antivirus software nowadays has anti-malware features to provide overall protection.
For the best malware removal tool, you should look for malware software that is lightweight, consumes fewer resources, provides overall protection against all types of malware, phishing, and spam attacks, and better customer and tech support. The value for money is also something you should look for in any product. Lastly, the most important thing is you should be careful that your data or information is not leaked or sold by the antivirus provider. (Avast is a well-known and good quality anti-malware software not included in the list for this reason).
You can opt out of VPN and firewall options if you are already using it from other providers. Once you finalize what you are looking for, the search becomes easy.
Difference Between Free, Freemium, And Paid Security Tools – What to choose?
When it comes to security products, you always want the best one. However, the pricing factor will play a significant role in your selection. With several available options, especially between free and paid software, it becomes difficult to opt for one.
Free – You get several features of the software for free.
Freemium – You get access to some features of the software for free.
Paid – You need to pay to use any feature of the software.
The free malware remover or antivirus software is a good option economically, but do they help protect you? Even if they do, there are chances that the product no longer gets new security updates. Or they might be putting user data and information at stake as security products need constant updates to fight new types of malware and viruses. You cannot trust free antivirus unless you handle and care about sensitive data.
The freemium products won't provide you with 360-degree protection. Some features are blocked, and this can hamper the security of your devices. However, you can still opt for a freemium one if you have device usage that goes with the features, and you are confident that you will navigate the web securely.
The paid version of anti-malware software is what we generally recommend. These provide the best overall protection. The users use their system without worrying about any cyber threats.
It's a well-known fact that if you are not paying for the product, then the companies will make up the difference by sharing your data with third parties. It's best to use Freemium or Paid solutions for complete peace of mind.
Best Malware Removal Software
We have shortlisted the best malware removal tools based on the features, research, and tests. Our team of experts analyzed test reports from different antivirus testing labs and tested some software on the systems.
Some malware removal or antivirus software has not made it to our list because either they were into selling users' data or didn't have features like others on the list. There are different variants of each tool listed in the list, and we recommend them based on the features, value for money, and need.
1. Malwarebytes – Crushing Malware With Technology
Malwarebytes gives your system overall protection against malware, scammers, threats, and viruses. It is certified by CNET, AV-Test, Checkmark, and PCmag for excellent performance in security. You can use Malwarebytes easily with its simple, clean, and easy-to-use user interface.
Features:
PC Cleaner – Cleans malware, viruses, threats, and also programs that can slow the system
Protection using technology – Uses artificial intelligence and machine learning to protect your computer from new emerging threats
Web Protection – Blocks malicious links and infected sites and also protects you from online and phishing scams
Ransomware Protection – Protects your computer from the malware that blocks your PC and takes control over your files and photos
Uses fewer CPU resources for scans
Customizing protection is possible with Malwarebytes.
Platforms Available – Windows, Mac, iOS, and Android
Pricing Options – (14 days trial) Premium 1 device – USD 39.99/year, Premium 5 device – USD 79.99/year, Premium + Privacy 5 devices – USD 89.99/year
What do we recommend?
If you are looking for a security and protection aspect, you should only opt for the premium edition. The Premium + Privacy version offers VPN features. So if you need a VPN for your devices, then it is something to go for. There is a free version available for Malwarebytes. However, we don't recommend it because it only cleans your infected PC. The other protection and security features are not available in the free version.
2. Norton 360 – Multiple Layers Of Security From Cyber Threats
Norton 360 Standard provides you 360 coverage when it comes to security and protection. You get multiple layers of protection and online security with this security product. Besides being the best malware removal tool, it also provides other security features worth paying for.
Features:
Real-Time Protection – Protects against existing and emerging malware using artificial intelligence technology
Dark Web Monitoring – Monitors and notify in case your personal information in on the dark web
Password Manager – Create, store, and manage your passwords and other financial information in a safe and secure manner
Cloud Storage – Store and manage your important files and data on the cloud for backup
Safe Cam – Blocks cybercriminals from using your webcam
Secure VPN and Parental controls
Platform Available – Windows, Mac, iOS, and Android
Pricing Options – (60 days money-back guarantee) Norton 360 Standard – USD 39.99/year, Norton 360 Deluxe – USD 49.99/year, and  Norton 360 Lifelock Select – USD 99.99/year
What do we recommend?
We recommend Norton 360 Standard if you want the best malware removal tool with password management and VPN for one device. However, it does not have a parental control feature. For parental control and VPN for five devices, you need to opt for Deluxe or Lifelock Select. The Standard version provides 10 GB cloud storage while Deluxe and Lifelock Select provide 50 GB and 100 GB of cloud storage.
3. Bitdefender Antivirus Plus 2020 – Overall Protection
Bitdefender was awarded as a product of the year by AV-Comparatives in February 2020. It is a lightweight antivirus but provides all the necessary protection to your Windows 10/8/7 PC. They make use of innovative technology to prevent, detect, and even predict the latest threats.
Features:
Ease of Installation and Use – You can configure and personalize Bitdefender as per your requirements and choice
No impact on system performance while protecting you from threats
Provides a dedicated browser to prevent banking frauds and phishing attacks
Fast and secure VPN – 200 MB/day
Web security, network threat protection, and password manager
Game and work mode – To stop notification pop-ups in between
Social Network Protection – Protect you from malicious links and online threats passed via social networks
Platform Available – Windows
They have security products for different operating systems, but antivirus plus 2020 is only available for Windows.
Pricing Options – 3 devices – USD 29.99 annually
What do we recommend?
If you are looking for parental control features, then you should opt for Bitdefender Total Security or Internet Security. However, Bitdefender Antivirus Plus 2020 is the best malware remover software for Windows. It has everything you need to secure your device.
Buy Bitdefender Antivirus Plus
4. AVG Internet Security – All-round Protection For Devices
AVG has been in the security world since 1991 and has many awards for providing real-world protection. You get ransomware protection, anti-malware, firewalls, and much more with AVG Internet Security.
Features:
Antivirus – Scans your system for malware, viruses, ransomware, and spyware
Behavior Shield – You are notified if any program in the device behaves suspiciously
Blocks and identifies new malware and threats using AI detection mechanism
Prevents you from downloading malicious software and email attachments
Secures your passwords and protects your files, data, and photos from hackers and intruders
Webcam protection
Protects from fake websites
Platform Available – Windows, macOS, Android, and iOS
Pricing Options –  (30 days free trial) 1 PC Windows – USD 3.29/month and ten devices Windows, Apple devices, and Android – USD 3.99/month
What do we recommend?
You can buy it for one month, and then if you are satisfied with the services, you can take up their yearly subscriptions. If you want to secure multiple devices, you can take up the plan for ten devices. These plans are for family and personal use only. Their plans do not have VPN services and parental control. If you are looking for these features, you can choose any other malware removal software from the list. You cannot use them for business or family purposes.
5. McAfee Total Protection – Defense Mechanism Against Latest Viruses
McAfee Total Protection is an award-winning antivirus very well suited for full family use. It is a combination of antivirus, privacy, and identity features and tools. They offer 30 days free trial without any credit card credentials. Hence you can know how it can protect your devices and then only pay for it.
Features:
Premium Antivirus – Protection against the latest virus, malware, spyware, and ransomware
Anti-Spam – Spam filtering capabilities
Encryption of sensitive files
Erases digital footprints to protect your privacy
Secure VPN and password manager
Home network security
Identity theft protection
24/7 security experts support
Platform Available – Windows, macOS, Android, and iOS
Pricing Options – 1 Device – USD 29.99/year, 5 Devices – USD 34.99/year, 10 Devices – USD 39.99/year
What do we recommend?
The one device plan does not offer identity theft protection and parental control. If you have kids at home and wish to secure their browsing experience, you should opt for ten devices plan from McAfee. Most of the features in all plans are the same; the only difference is identity theft protection and parental control. The five devices plan doesn't have a parental control feature.
6. Total AV – Great Security At Affordable Price
Total AV has one of the best malware removal tool capabilities to keep you safe from the latest malware threat. It also has a range of features that offers security and protection at a reasonable price for all your devices. The Virus Bulletin has certified Total AV for its malware detection rate.
Features:
Anti-Malware, Anti-Spyware, Anti-Ransomware, and Anti-Adware
Real-Time Protection – Checks installs, exe files, and downloads every time to protect against malicious software and programs
Remote Firewall
Safe Site – Blocks the site which is malicious and not safe, also protects from phishing and other scams and provide a safe environment for internet activity
Device Optimization –  Improves device performance
Easy to use and install
Lightweight
Password vaults, Adblocker, and VPN
ID Protection – keeps your IDs safe from hackers and cybercriminals.
Platform Available – Windows, macOS, Android, and iOS
Pricing Options – Total AV Antivirus Pro 3 devices – USD 29/year, Total AV Internet Security 5 devices – USD 39/year, and Total AV Total Security 6 devices – USD 59/year
What do we recommend?
We recommend the Antivirus Pro version, as it offers security and protection and works as the best malware remover software. However, it does not provide VPN, Ad-blocker, and password manager. If you wish to have a VPN along with security and protection of antivirus software, opt for Internet Security. And for ad-blockers and password managers opt for Total Security. All the versions have 30 days money-back guarantee.
7. Avira Antivirus – Multi-Platform Protection From All Types Of Malware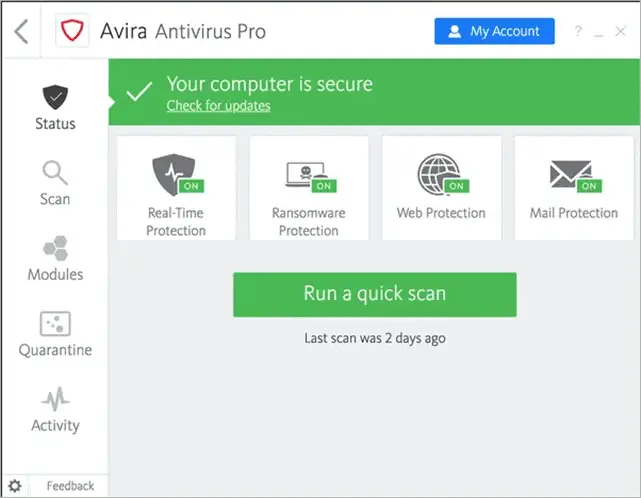 Avira is a multi-award winner security solution available for all platforms. It comes in different versions with the single motive of providing security and protection for your device. The comprehensive and professional level of cybersecurity features can help you stay away from malware, threats, and viruses.
Features:
Antivirus Protection – Blocks malicious websites, malware, and threats
Speed Boosters – Improve your device's speed and performance
Password managers to secure your accounts with strong and unique passwords
Protection against phishing attacks on social networks
VPN and Firewall
Updates drivers and software for you
Wipes digital traces from browser and apps
Alerts you about data breaches
Platform Available – Windows, macOS, Android, and iOS
Pricing Options – Avira Free Security for Windows – Free, Avira Internet Security for Windows 1 device – USD 57.99/year, Avira Prime for all devices – USD 99.99/year for up to 5 devices
What do we recommend?
The free version of Avira provides many features compared to other free antivirus solutions. However, it does not protect you from advanced ransomware attacks and malware, which is a must today. So, we recommend Avira Internet Security for Windows 10/8/7 as it protects you from all the advanced threats and ransomware and also alerts you about data breaches. And a plus point it is light on the pocket too compared to its Prime version.
8. Emsisoft Anti-Malware Home – Simplify Your Security
Emsisoft Anti-Malware Home can provide you security from all the emerging threats and malware. It only supports Windows systems, so if you are looking for security solutions for multiple platforms, then this is not the right choice. However, it provides the best security features and protection when it comes to Windows.
Features:
Browser Security and Web Protection – Blocks access to malicious websites
Real-Time Protection as File Guard – Scans the downloaded file with the dual scanner and machine learning technology
Behavior Blocker – Alerts if suspicious activity is detected on the system
Ransomware Protection – Blocks ransomware attack before it encrypts any file
Provides a web browser extension for Chrome, Edge, and Firefox to block harmful websites
Provides remote security management from any device with its cloud management feature
Platform Available – Windows
Pricing Options – (30 days free trial) USD 29.99/year for one device
What do we recommend?
The price mentioned above is only for home users. If you wish to use it on a small business or enterprise level, you need to visit their sites for more details. As mentioned above, if you are looking for something only for Windows operating systems, this is one of the best options.
9. Microsoft Defender – Backup Security For Windows Users
Many of you might be knowing that Windows 10 now comes with a built-in security and protection solution called Windows Defender, now known as Microsoft Defender. Windows security can protect you from viruses and threats. You get a firewall and network protection as well as device health with this.
All these features at no extra cost because they come built-in to your Windows 10 system. You can use this as your backup option until you find the proper antivirus software. Windows Defender is disabled on its own once you install any third-party antivirus. Microsoft updates this defender regularly. However, to have good features, you will need third-party antivirus software.
You can find Microsoft Defender by searching for 'Virus and threat protection' in the start menu and opening it from the search result. You can check for threats and issues here.
Conclusion
People tend to look for the best free spyware and malware removal tools. However, with increasing cyber-attacks and threats, we need a robust security solution. There are so many options out there, and hence finding one of the best becomes difficult.
We have listed some best malware removal software that can provide malware protection, security against ransomware attacks, and viruses. The bottom line here is to look for the antivirus tool that contains all the features.
You will also know the difference between the best free, freemium, and paid, along with the reason to go for freemium and paid software. The features and recommendations can help you make a better choice of malware remover software.
FAQ
1. Are Viruses and Malware Same?
Malware is the malicious content created to damage the network, computers, devices, or server. There are many kinds of malware like viruses, trojans, worms, ransomware, spyware, and many more. Computer viruses are a type of malware that infects your system and then multiplies. So a virus and malware are not the same. Though the intention is to harm your system, they have different meanings technically.
2. How do I get rid of malware?
You can use any of the best malware removal tools to get rid of malware in your system. The list can help you with choosing the best one as per your needs and our recommendations. And once you remove malware from your system, make sure you have updated anti-malware/antivirus software to avoid getting the system infected again.
3. What should I opt for - an anti-malware software or antivirus tool?
Anti-malware and antivirus words are used interchangeably. There are many antivirus software that provides you anti-malware features. Before making a choice, check out the features section and see if they protect against ransomware, adware, spyware, and all emerging types of malware. The name doesn't matter unless you have all the required features.
4. What are the best virus and malware protection apps?
The anti-malware software that doesn't sell your data provides protection from new emerging malware before they infect your system, and removes already present malware is best to secure your devices. You should also check system requirements when choosing an anti-malware tool so that you get something that fits your system perfectly.
5. Does my antivirus have malware removal features?
Many antivirus software also provides malware protection. You need to browse through the features actually to know what features it offers. You can also contact customer care to know about the antivirus features.
6. Is there a truly free malware removal tool?
The free malware removal tool will not be able to give you complete protection. It is always said you get what you pay for. So, unless you pay something, it becomes difficult to update and maintain the malware database to provide real-time protection from emerging malware.