If you are an MBA-aspirant, you know the value of having a good GRE score. GRE stands for Graduate Record Examination, and it evaluates your aptitude as a B-school applicant. The exam ascertains whether or not you will be able to complete the graduate program with flying colors. So, it is ideal to avail of the best GRE prep course online and increase your chances of landing in your dream business school.
The GRE score predicts your academic performance and has an impact on your admission. Therefore, getting your hands on GRE classes to improve your skills and ace the exam is suggested. Online courses have made it easy for you to prepare for any exam. They offer flexibility and teach you the tricks to master the exam from the comfort of your homes.
Factors to Consider Before Selecting a GRE Prep Course
Most of the MBA programs require an excellent GRE score before admission. If you get hold of handy tips from experienced professors, you will be able to sail through the exam. But, how do you pick a GRE prep course from the plethora of options available? Here is a list of the criteria:
Improvement needed: You should first take a GRE test for free. This depicts where you stand how much improvement is required. If you do not score that well, opt for a GRE online prep class and increase your potential.
Need for encouragement: An excellent instructor encourages you to perform well. If you lack motivation and are skeptical about your performance, sign up for a GRE prep course online, receive feedback, and improve the areas needing special attention.
Study discipline: If you are among those bunch of students who find it challenging to maintain a proper study schedule, you must take GRE test prep classes and never lose sight of your ambition.
Budget: An essential factor to consider when selecting the best GRE prep course is the amount of money you wish to spend. GRE prep courses can be expensive, so you have to take a call accordingly. A pocket-friendly alternative is self-study GRE prep books.
How Online GRE Prep Courses Help
Well, let's face the fact that self-study is not a feasible option for most of us. Apart from the discipline factor, it is ideal to have experienced and knowledgeable instructors who guide and teach you the tricks of the trade from personal experience. Here are the advantages of taking up online GRE prep tutorials:
Score improvement: Best GRE prep course guarantees a significant increase in your scores.
Identify strengths and weaknesses: A GRE preparation course uses advanced diagnostics to ascertain specific areas that need extra attention. You come to terms with your strengths and weaknesses and work out the study plan accordingly.
Comprehensive study plans: GRE prep classes allow you to develop a customized preparation structure that works best for you. You need not follow a mandatory set pattern.
Quality instructors: Live video lessons enable you to develop efficient strategies. You are motivated throughout with the help of active participation and live feedback sessions.
Simulates actual test: While appearing for the GRE might feel intimidating, the best GRE courses make you practice the real scenario through mock exams. So, no more jitters.
12 Best GRE Prep Course Options You Must Consider
The internet is full of websites that prepare you for the GRE. We've scoured through the vast expanse and brought you the top 11 choices. These are from world-class learning portals, and the class instructors bring in their knowledge and expertise.
You start by figuring out your strengths and weaknesses, and they help you create a customized study plan to improve your skills. Getting your hands on professional exposure becomes mandatory at this stage as your GRE score might make or break your chances of getting into your dream B-school.
1. GRE Online Prep from The Princeton Review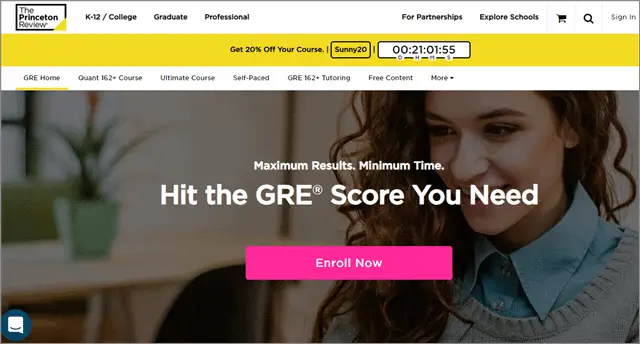 Undoubtedly, the best GRE prep course is by The Princeton Review. They include top-notch test-taking strategies to ensure all students get excellent scores. The experts see to it that everyone gets an ideal study environment and becomes GRE-ready by the end of the tutorial.
You can choose to opt for classroom learning, which facilitates comprehensive preparation or go for self-paced learning. The instructors make sure they leave no room for error and prepare you well for the kind of questions that will be asked during the actual exam. You participate in adaptive drills and understand the test pattern thoroughly.
Practice questions enable you to judge your level of difficulty and speed. The website uses various online tools and prep algorithms to ensure that you are prepared. The explanations are easy to understand. What more? There is an intuitive dashboard that maintains your scores and keeps track of your progress.
Price: Starts from $399
Check out GRE Online Prep from The Princeton Review here
2. GRE Prep Course Online from Magoosh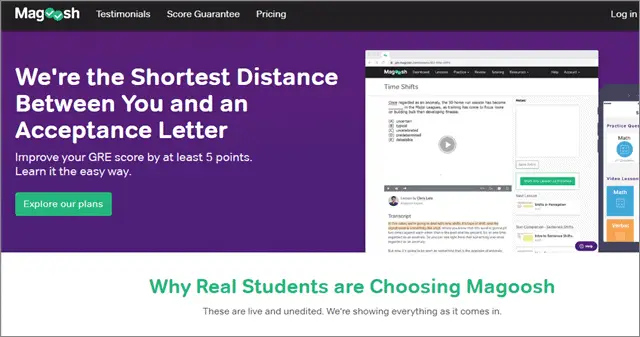 Magoosh offers the best GRE prep course you must opt for to improve your score. As soon as you send an application to get yourself enrolled, you receive the acceptance letter. The video lessons cover teaching you every concept in detail and make available tried and tested materials. You learn how to overcome pitfalls and stay motivated and focus on their weekly plans and schedules.
They have a quick feedback process where you receive suggestions about the areas that need improvement. The progress tracker keeps an eye on your strengths and weaknesses. The course content is updated continuously. Magoosh undergoes careful analysis and submits in-depth reports to every student incorporating details about their plan of action.
There is assistance 24×7 to clarify your doubts. You get your hands on 250 video lessons and full-length practice tests. The adaptive technology ensures you sit for a mock exam, which is very similar to the actual one. The intuitive dashboard enables you to compare scores with fellow students. What more? You get access to 1200 questions. So, are you ready to start learning?
Price: Starts from $149
Check out GRE Prep Course Online from Magoosh here
3. Modern GRE Test Prep with Achievable GRE
Achievable GRE is a complete online self-study GRE course. Achievable's GRE course includes our easy-to-read online textbook, unlimited quant review questions, robust vocabulary drills, instant essay grading, and full-length practice exam sections. Best of all, you can study from any device, any time. Achievable GRE is for those who learn by doing.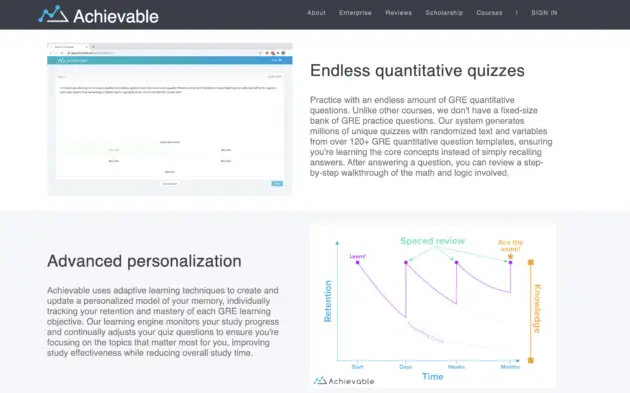 You start by studying from an online textbook created by Orion Taraban, one of the best GRE tutor in San Francisco. For practice, you have access to unlimited questions. Their system generates millions of randomized unique quizzes from over 120+ GRE quantitative question templates.
You also have access to 200+ crafted verbal reasoning questions for practice and over 1500+ words to boost your vocabulary. Hesitant to just cram words for the exam? No worries – these words are taught efficiently though 'semantic clusters' that teach words and their meaning in sets of five, making it easy to learn and remember new words.
Lastly, their system instantly grades your essays using AI and machine learning – making Achievable GRE a complete prep and evaluation platform as you prepare for your exam.
Check out the GRE Prep platform from Achievable GRE
4. GRE Prep Online from examPAL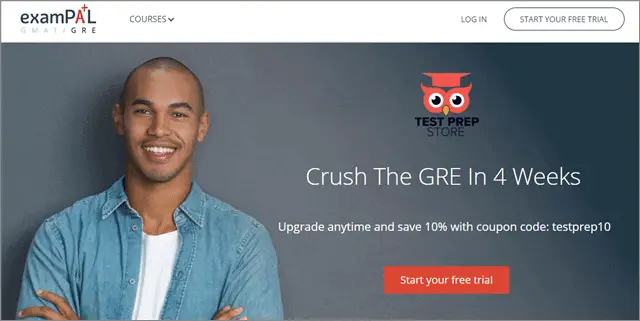 ExamPAL offers the best GRE prep course that follows an organized structure and can be made to suit every student's needs. You can personalize your study plan to match your preferences, thought patterns, difficulty level, and schedule. The website makes tons of sample questions available, and you understand the solutions to all of them with the utmost ease.
You get real-time feedback that helps you in concentrating on specific areas to improve your overall score. You learn the art of solving difficult questions quickly and get access to cumulative knowledge. Time utilization strategies ensure that you use the minimum amount of time for every question. Acing the time hack is extremely useful while appearing for such competitive exams.
Real-time stats make the learning process more fun. You also get your hands on animations and interactive videos. The adaptive course teaches you time management techniques and prepares you well for every stage of the exam.
Online course duration: 4 weeks
Ratings: 5
Price: Starts from $239
Check out GRE Prep Online from examPAL here
5. GRE Test Prep Online from ETS GRE
ETS GRE is well-known for being one of the best budget options that prepare you thoroughly well for your GRE. The website receives positive reviews from students worldwide who credit it to ETS GRE to help them come out with flying colors. Their preparation strategy is unique, and they make various low-cost tools available.
You get expert guidance and purchasable study materials. There are various free materials and sample tests, as well, that can be taken to evaluate your score. Students get to know the common mistakes most applicants make and learn how to avoid them. You sit for mock exams and receive your score within minutes. This helps in quickly deciphering the sections that need special attention.
You also get straightforward explanations for all the correct answers to make you understand how to work around similar questions. Test-taking strategies, sample essay responses, and authentic preparation make this the best GRE prep course. You also get access to problem-solving solutions with detailed steps and quantitative reasoning.
Duration: Self-paced
Price: Varies location-wise, some study materials are available free of cost
Check out GRE Test Prep Online from ETS GRE here
6. GRE Prep Course from Kaplan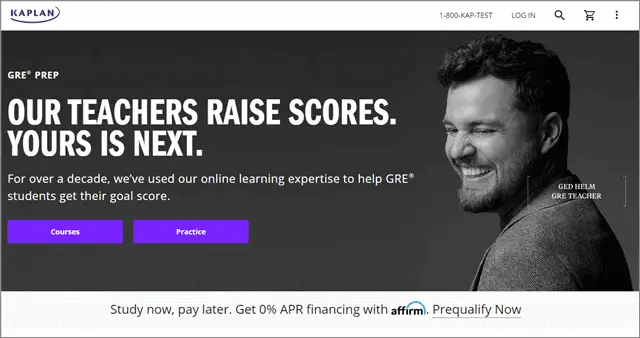 Kaplan gives you a variety of options to choose from, and you can opt for a self-paced tutorial or live online mentoring. Other options include in-person tutoring and extensive preparation. You answer three simple questions, and the website recommends the type that best matches your requirements. Irrespective of which study method you choose, Kaplan builds your foundation strong enough to crack the exam with excellent scores.
Once you go through the fundamentals, you understand the complex concepts, and there is an increase in the difficulty level that progresses naturally. The instructors share their personal experiences and give you the best advice. They ensure that you get an optimal score. You can customize your quizzes by picking your choice of questions, preferred subject, and difficulty level. You can clarify your doubts anytime.
There are one-to-one sessions to answer your questions. What more? The best GRE prep course makes you experience the final exam day by creating a very similar mock environment.
Online course duration: Varies
Ratings: 4.5
Price: Starts from $499
Check out GRE Prep Course from Kaplan here
7. GRE Prep Online Classes from Manhattan Prep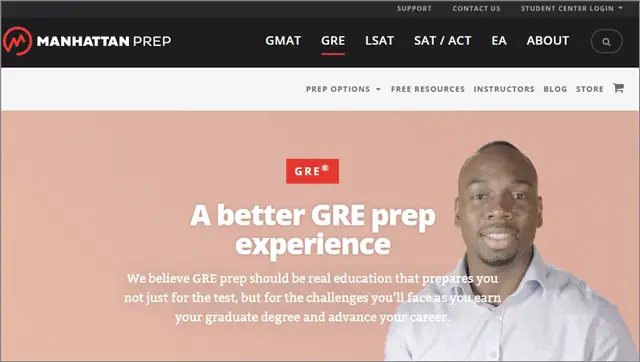 Manhattan is an excellent website for students who wish to explore more about the GRE and build upon skills they already possess. They provide you with updated blogs, forums, and some free events and classes. There are also practice tests, mock exams, and challenging problems that evaluate your understanding. The official guide tracker tracks your progress and is an impeccable judge that helps you ascertain your weak and strong areas.
Apart from preparing you exceptionally well for the exam, Manhattan Prep also guides you to face the challenges you might encounter while in the graduate degree program. They assist you in advancing your career. The best GRE prep course updates its curriculum regularly and makes effective strategies available at your fingertips. You can either choose to follow learning via your path or with an instructor.
The website boasts several complete courses taken by experts. They also teach you how to avoid making common mistakes. The video lessons are detailed, engaging, and fun. There are exciting workshops that you can get your hands on and subject-specific learning options.
Ratings: 4.9
Price: Free workshops available, buy the complete course for $1199
Check out GRE Prep Online Classes from Manhattan Prep here
8. GRE Training from PrepScholar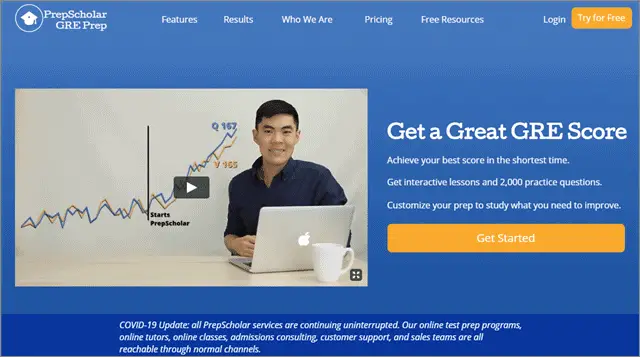 Do you wish to get a high GRE score? Well, this is the best GRE prep course that will help you in achieving so. The website focuses on every student individually and ensures that they get optimal scores in the GRE. They claim that enrolling for a tutorial with them is the fastest way of achieving success.
Students get their hands on handy shortcuts, which helps answer complex questions that take a long time. They have smart programs that emphasize on your skillset and optimize growth. Including integrated teaching methods, PrepScholar gives you holistic training that guarantees a good score. The curriculum and teaching strategies are updated continuously.
There are mini-lessons and interactive feedback sessions, and you get to avail more than 2,000 adaptive questions and two full-length mock exams. With customized interactive classes and smart diagnostics tools, they decipher your strengths and weaknesses to create a study plan.
Price: 5-day free trial/ complete course starts from $38
Check out GRE Training from PrepScholar here
9. GRE Course from Veritas Prep
If you wish to pursue a degree in MBA, getting an excellent GRE score is mandatory. Veritas Prep helps students in learning the critical skills required and makes them exam-ready. They offer three-course options; self-study, private tutoring, and live class. You can choose the best GRE prep course that matches your requirements and start learning.
The expert instructors see to it that the basics are well-explained, and advanced concepts are clear. You develop higher-level abilities and techniques that make answering questions easy. Veritas Prep builds its curriculum around three core ideas, which are remembering, applying, and creating. You master new skills at each of these levels, all of which take you a step closer to your final goal.
Are you ready to get your hands on effective time management techniques and refresh vital skills? Be it reasoning or comprehension expertise, with Veritas Prep, you master them all. So, let's build upon our knowledge and achieve the highest score. What more? The website allows students to retake the same tutorial without incurring any additional costs. Great, isn't it?
Ratings: 4
Price: Starts from $599
Check out GRE Course from Veritas Prep here
10. GRE Prep Online from TestMasters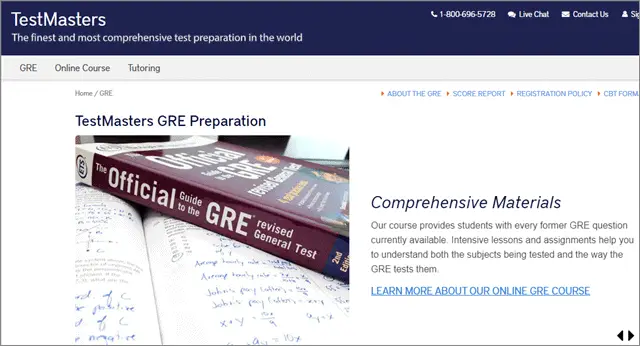 TestMasters prepares you for the GRE via various formats, including learning through reading, listening, and watching. Thus, they incorporate multiple multi-media formats beyond the traditional text-only. Every student gets extensive study materials. There are comprehensive and interactive lessons that start with teaching you the fundamental concepts and go on the advanced techniques. The practice drills and in-depth explanations ensure you understand all the topics well.
TestMasters offers interactive games, instructional videos, and animated whiteboard exercises. It helps you in focussing better and learning faster. The best GRE prep course makes available live one-on-one tutorials that are taken by industry experts. They bring in their experiences and share common mistakes you must avoid making. The instructors also monitor your progress and regularly give you handy tips on sections that require improvement.
You take four diagnostics during the entire stretch of the course, out of which two are paper-based and two computer-based. Depending on your current level of performance, a plan of action is curated. The in-depth curriculum tests your skills and improves your knowledge. The course is multi-device compatible and vows to give you a fantastic score.
You can choose from the three-course options available – telephonic, in-person, and online.
Price: Starts from $1250
Check out GRE Prep Online from TestMasters here
11. GRE Online Preparation from TargetTestPrep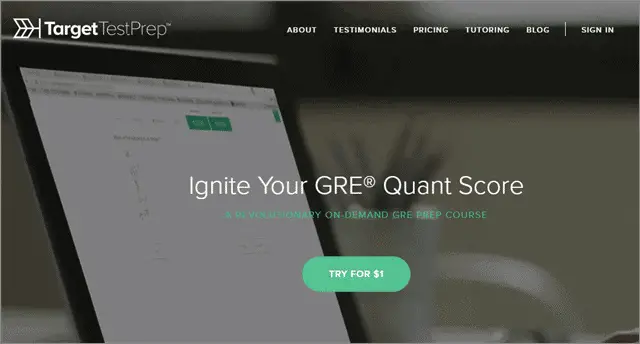 You understand how to get a high score in the GRE with the help of masters. They share their experiences, tips, and tricks. One can learn by watching them and hearing them out. Be it the quantitative section or mathematics; there are more than 800 video lessons and solutions that guide you. TargetTestPrep also boasts free webinars and additional live help to all the students.
You can pay $1 and check out the teaching methods in a 5-day trial. You can then decide whether or not to pay for the entire tutorial. They guarantee an increase in your GRE score or will refund the amount paid. The live tutors track your progress and assist you in the sections that require more attention.
The best GRE prep course uses actionable analytics to predict your performance and ensures that every student follows a flexible preparation schedule. Do not forget to get your hands on the free videos that include in-depth explanations, especially about the quantitative section. So, are you ready to have a personalized study plan and learn from the best?
Price: Avail of the 5-day trial for $1/buy the monthly subscription starting from $99
Check out GRE Online Preparation from TargetTestPrep here
12. Premium GRE Prep Course From Udemy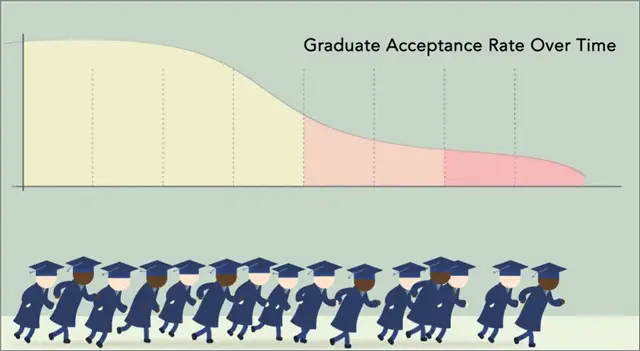 The last tutorial to make it to our list is the premium GRE prep course from Udemy. The whole class significantly improves your GRE score and teaches you tricks that help you in acing the exam. The video lessons are fully-animated and engaging.
In 3 hours, you are guided about the nitty-gritty of the exam under expert instructors. There are hundreds of practice questions and test-taking strategies that enhance your skills. The best GRE prep course structure is created by a team of experienced individuals from top universities.
The tutors analyze your potential first and then recommend the plan of action. You get your hands on time-saving techniques that are extremely useful while you appear for the actual exam.
Key Highlights
Avail of tips and tricks that will help you in mastering the GRE
Get your hands on test-taking strategies and time-saving techniques.
Understand complex concepts via straightforward explanations
Improve your GRE score and be thoroughly prepared for the exam
Online course duration: 3 hours
No. of students enrolled: 4,500+
Ratings: 4.2
Completion certificate: Yes
Best suited for – Student and MBA aspirants.
Check price and sign up for Premium GRE Prep Course: Improve your GRE Score
Final Verdict
If you aim to get into your dream B-school, a good GRE score only increases your chances of landing into one. Various online learning portals offer excellent courses and training programs that teach you any given subject. We have researched and enlisted the best GRE prep course options offered by top websites under expert guidance. These pledge to improve your GRE score and guarantee a significant increase in your knowledge of the exam.
Competitive exams like GRE require patience, practice, dedication, and hard work. These tutorials help you in coming up with a personalized study plan which is tailored-made to suit your requirements. You learn at your own pace and grasp details shared by the experienced instructors. You can ask questions, clear all your doubts, and be well-prepared to get a high score. So, let's start learning.
(Article updated on 3rd June 2021)