If you wish to make it to your dreams' law school, it is crucial to have an excellent LSAT score. The Law School Administration Test score decides whether or not you will be able to study in a common-law school or ABA-accredited law school. If you are an aspiring law student, you must avail of the best LSAT prep courses online and prepare well for the exam.
Online courses offer flexibility, and you can learn at your own pace. They can also be customized to match your preferences. Since LSAT preparation takes hours of practice and dedication, it is best to avail of the same from renowned sources. With so much at stake, you need not risk your score and miss being enrolled in your dream law school. Be it reading and analytical reasoning or comprehension and logical thinking; you learn it all.
Factors To Consider For The Best LSAT Prep Course
The LSAT is a standard entrance exam that decides your eligibility. The LSAT score is accepted worldwide, and the certificate programs can be time-consuming and burdensome. We've listed the criteria you must consider before zeroing on the best LSAT prep classes.
These are the factors you must consider:
Study discipline: Students and aspirants who have trouble maintaining and following a strict study discipline, must get their hands on LSAT classes online.
Need for encouragement: An excellent LSAT prep course will give you the right kind of support and motivation required. Constant feedback helps in learning and understanding better.
Budget: Before you fix the best online LSAT prep course, make sure you have a budget in mind. LSAT courses are expensive, and depending on how much money you wish to shell, the choice should be made.
Improvement: If you had appeared for an LSAT before and did not fare well, you must avail of an LSAT prep course with top-notch instructors to get a better grade.
Learning style: If you have a history of preparing exceptionally well via self-study, it speaks volumes about your dedication and hard work. Therefore, picking an LSAT tutorial that combines studying on your own combined with video lessons is a great idea.
12 Best LSAT Prep Courses To BookMark
Law school aspirants who wish to refresh their knowledge on the topics covered in the exam must get their hands on the best LSAT prep courses online. You also avail of the new learning materials as the tutorials are updated frequently. It leads to holistic preparation under expert guidance and an overall improvement in the LSAT score. Let us check out the top options to ace the exam.
1. LSAT Online Prep from Magoosh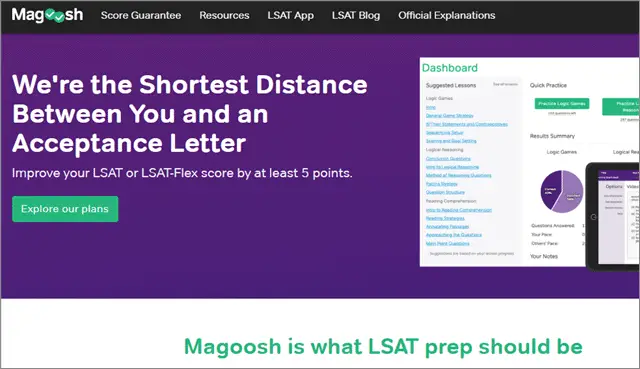 If you are looking for the best LSAT prep courses, Magoosh should be your go-to choice. You understand every concept in detail and get your hands on some handy shortcut tips that save time. The website guarantees a significant improvement in your score and makes available the latest learning materials. You also become aware of the possible pitfalls and learn how to overcome them.
There are targeted study schedules and weekly planners that keep students active and motivated throughout. The instructors take regular smart feedback sessions. The progress tracker ensures that you acknowledge your strengths and weaknesses and prepare accordingly. Adaptive technology simulates the actual exam to give you the feel. In case of doubts, there is email assistance 24/7.
The intuitive dashboard maintains your score and also enables you to see how the fellow students have fared. It also tracks your learning, compares the pace with others, and predicts your final LSAT score. So, are you ready to get your hands on the explanation videos and practice questions?
Price: Starts from $229
Check out LSAT Online Prep from Magoosh here
2. LSAT Classes from LSAC
Students hunting for the best LSAT prep courses to ace the exam must check out the certificate program offered by LSAC. LSAC is the official website for LSAT, which prepares millions of students for the competitive exam. LSAC boasts a section which facilitates students to take a free LSAT mock and check if they are ready for the actual exam or not.
You get a digital version of the preparation books and become familiar with the exam pattern. Every topic in the syllabus is thoroughly covered, and you are well-acquainted with the kind of test questions. Every student gets used to the exam environment and learns how to use the calculator for solving complex problems.
The preparation materials that you receive are personalized and tailor-made to match your needs. You also understand how to avoid making common mistakes. LSAC gives you tips to crack the multiple-choice questions and boosts confidence that helps you in succeeding on the exam day.
Price: $200
Check out LSAT Classes from LSAC here
3. LSAT Prep Classes from Kaplan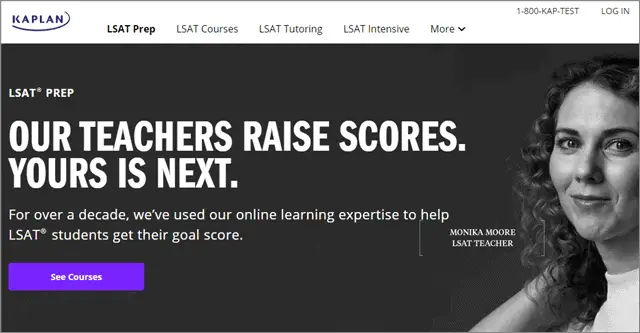 Anyone who selects Kaplan to get LSAT training is given a plethora of choices. You can opt for self-paced learning or personal tutoring, live online class, unlimited prep, and in-person coaching. The first step is to undergo a diagnostic test that determines your skills, current level of aptitude, and understanding level. Depending on the result of the test, you will be given special attention to weak areas that require more work.
One of the best LSAT prep courses, Kaplan, ensures that every student thoroughly brushes up all the necessary concepts to excel. You are provided with apt resources and online video lessons with detailed explanations. Some of the essential sections covered in the LSAT training include reading, comprehension, and logical reasoning. There are also exciting lectures on strategy review and sequencing.
Students start with the fundamentals and go on to learning complex concepts gradually. The pace is good enough to match your needs. Expert instructors share valuable advice and give tips that help you in acing the exam. You can clarify your doubts anytime and also sit for mock tests. The full-length practice tests are an excellent way to check how proper your preparation is.
Ratings: 4.5
Price: Starts from $700
Check out LSAT Prep Classes from Kaplan here
4. LSAT Prep Course from The Princeton Review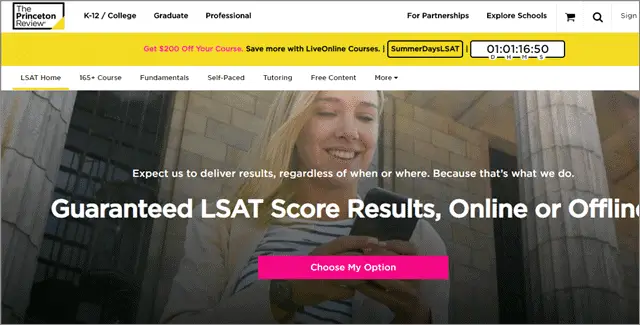 One of the best LSAT prep courses, The Princeton Review, has been doing the rounds for more than three decades now. The website's test-taking strategies are world-class and guarantee a significant improvement in your LSAT score. The platform boasts a panel consisting of the top LSAT scoring experts. They train the students thoroughly to ensure everyone does well in the final examination.
You can opt to learn at your own pace where you can pay attention to details and concentrate on your weaknesses. You also go for classroom learning and indulge in holistic training and comprehensive preparation. The online teaching content is of exceptional quality, and you get continuous guidance and feedback. You also avail of handy tips, strategies, and tricks that take you a step closer to getting a high score.
The LSAT training program includes proctored practice exams, tons of practice questions, mock tests, and hours of lessons. You choose an optimal strategy and study plan, depending on your strengths and weaknesses. The personalized study plan can be modified as per your convenience, and there are bundles of preparation resources available.
Price: Starts from $799
Check out LSAT Prep Course from The Princeton Review here
5. Online LSAT Course from TestMasters
Robin Singh is one of the most accomplished LSAT teachers in the world. This online LSAT course boasts of having Robin Sign as an expert instructor in the panel, and there cannot be a better source of mastering the exam than learning from him. The instructional videos are well-curated and explain complex concepts in simple layman terms. There are questions very similar to the ones asked in the actual exam to make practice papers well.
One of the best LSAT prep courses that offer complete training, TestMasters instills confidence in students that help them in acing the exam. You get your hands on methodologies that can be adopted to solve questions. The website also makes available proven techniques and thousands of written explanations. If you are stuck anywhere, the instructors are ready to help.
Students appear for mock tests with instant scoring. It helps them in ascertaining their preparation and getting an in-depth analysis and performance report. The scoring also indicates the weak areas that require extra efforts. What more? You get tips and tricks that facilitate answering questions correctly and quickly.
Price: $1150
Check out Online LSAT Course from TestMasters here
6. LSAT Prep Courses from PowerScore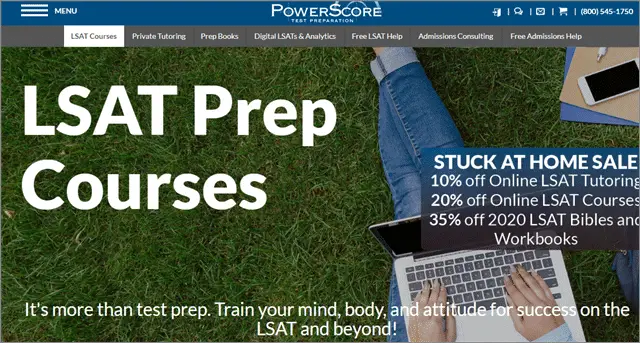 PowerScore offers a comprehensive LSAT training program, and you can choose from the three options available – live online tutoring, on-demand, and in-person. The website also gives you a choice to pick advanced courses and accelerated tutorials if you do not have time to enroll for a full-fledged one. Those who are already well-versed with the exam's nitty-gritty can resort to this option, as well.
You get your hands on excellent-quality online resources and study material that is carefully crafted. If you are unsure about selecting a training course, you can ask the experts to guide you through. The authorities help you in opting for the right LSAT class depending on various important parameters, including your readiness level.
The video lessons lay the foundation strong and give you detailed explanations of crucial topics. The lectures are engaging and fun. You avail of handy tips that teach you the dos and don'ts of the LSAT. One of the best LSAT prep courses that see to it that you deliver your best performance on the exam day, PowerScore is an incredible choice.
Price: In-person for $1595, Live online for $1116, On-demand for $195 per month, and advanced courses for $280
Check out LSAT Prep Courses from PowerScore here
7. Online LSAT Prep Course from Alpha Score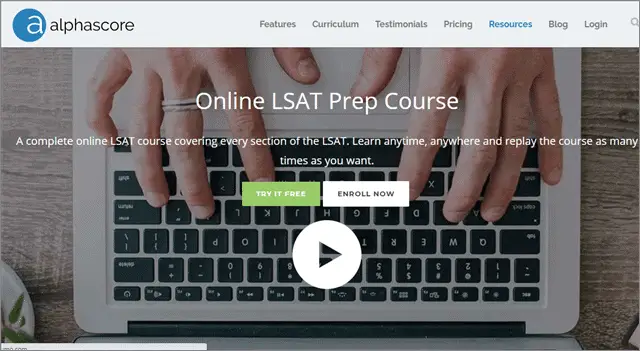 One of the best LSAT prep courses, Alpha Score, brings you video lectures that are interactive and enjoyable. The teaching resources include comprehensive study materials, fun videos, engaging explanations, and various animations. The instructors show you shortcut techniques to answer complex questions and also tell students why a particular answer is wrong or right. You get your hands-on practical strategies and essential tools that prepare you well for the exam.
Students can avail of personalized one-to-one help from the expert instructors. They ensure you sail through your weak areas and provide additional guidance as and when required. The course is self-paced, and you can reduce or increase the speed of videos. You master the logical reasoning section in no time and also get to participate in logic games. Alpha Score prepares you well for the reading and comprehension section thoroughly and makes multiple practice tests available.
Price: Free trial/buy the course for $389
Check out Online LSAT Prep Course from Alpha Score here
8. LSAT Preparation from LSATMax
One of the best LSAT prep courses that offer a lot of free learning content, all law aspirants must check out LSATMax. You can participate in logic games and explore daily drills. There are various whiteboard video lessons, and the practice model is updated regularly. You can customize your study plan as per your preferences and get access to as many practice questions as you want.
The website calculates your overall performance and displays the results. You receive a detailed analysis of how you fared in each section. This helps in determining the plan of action since you become aware of your strengths and weaknesses. So, students can personalize their preparation schedule and assign more time to the problem areas. LSATMax also gives you the option of filtering the practice questions by type. Therefore, you can focus on the weak sections that require more time and attention and eradicate questions from the sections you excel in.
LSATMax claims to refund the money you invested in the LSAT course if there is no significant improvement. The self-study materials and modern structure make tutorials from LSATMax a very convenient option. With high percentile instructors, more than 100 hours of training, and 90 mock tests, LSATMax is currently considered one of the top LSAT prep courses.
No. of students enrolled: 3,00,000+
Ratings: 4.5
Price: Lifetime access courses start from $799.99, Pro course for $1299, and a monthly subscription for $199
Check out LSAT Preparation from LSATMax here
9. LSAT Online Course from Blueprint
Blueprint is one of the best LSAT prep courses known for significantly increasing the students' scores. They boast data which consists of impressive details, including 95% of their students showing excellent results. You can choose from the two tutorial options available – online anytime and live classroom.
The website gives you a catalog of learning resources. It is accessible to anyone who has enrolled for a tutorial program with them. The catalog solves all your queries by explaining complex concepts in layman terms. The instructors also provide you with additional hours of LSAT training, if required, by charging some extra fees. If you pick the online anytime tutorial option, you get a 2-hour learning session for free.
There are interactive sessions, constant feedback, customized practice tests, and detailed score analysis. You do not find an educational website with proven data and statistics to back all its claims, this being Blueprint's biggest USP. If you are a law student wanting to improve your LSAT score, sign up for Blueprint, and achieve success.
Ratings: 4.5
Price: Starts from $233 per month
Check out LSAT Online Course from Blueprint here
10. LSAT Course from 7Sage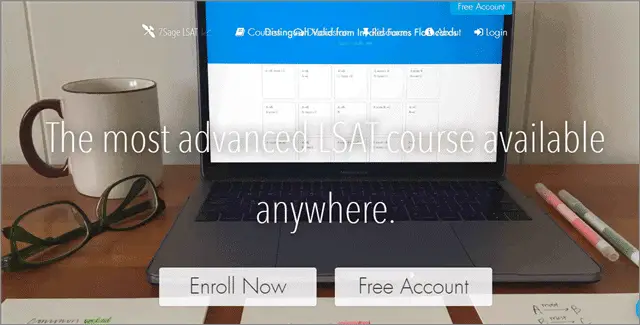 7Sage is an excellent website that prepares every student thoroughly for the LSAT. The training program includes more than 50 hours of video lessons covering all the concepts, sections, and topics well. You get access to 7500+ explanations, answers, and practice questions. This enables the students to check out the questions that were asked in the previous LSAT question papers and thus prepare accordingly.
One of the best LSAT prep courses that offer the maximum number of practice tests, 7Sage, allows students to appear for more than 75 mock exams. This makes them very comfortable with the test pattern, the kind of questions asked, and they learn how to time themselves better. The students can also come up with customized question sets to especially emphasize on something that needs more attention.
No. of students enrolled: 1,00,000+
Ratings: 4.9
Price: Starts from $69 per month
Check out LSAT Course from 7Sage here
11. LSAT Tutorial from Manhattan Prep
Manhattan Prep gives law students an online self-paced LSAT tutorial, which they can complete for over six months. The course includes interactive sessions, updated study material, homework explanations, engaging videos, and challenge sets. Students also have access to all the LSAT questions that have been asked in the exam so far.
One of the best LSAT prep courses that make additional tools available for students, Manhattan Prep, includes practice books, practice drills, and various strategy guides. The strategy guide reviews every section of the exam and gives handy tips to master the competitive test. The website uses interactive technology to keep you engaged.
Students can navigate through the lessons in ways that suit them. It is a welcoming change compared to the traditional teaching methods where there is no option to skip to a different online chapter and simply follow what comes next. You can sign up for a free trial before buying the LSAT prep course.
Price: Starts from $700
Check out LSAT Tutorial from Manhattan Prep here
12. Free LSAT Prep Course from LSAT Center
Well, the last one to make it to our list of the best LSAT prep courses is unique because it is the only tutorial that trains you for free. LSAT Center has been successfully preparing students to master the exam for over two decades now. There are 65+ bite-sized video lessons logically organized and cover every topic. You get your hands on more than 200 practice questions that give a fair idea of the actual exam pattern.
You sit for a sample diagnostic test, which determines if you are prepared well for the LSAT or not. The website also offers you a set of questions officially released by the LSAC, which is the best form of learning. Their teaching pattern includes using video games to ensure students understand the most difficult concepts in a fun and engaging manner. It also gives a clear picture of abstract concepts. Isn't it a unique learning module?
At the end of the course, you can check out the tips given by expert instructors who talk from personal experiences. So, let us avail of the 300-page course and more than 150 on-demand videos for free and start learning.
Price: Free
Check out Free LSAT Prep Course from LSAT Center here
Advantages Of Signing Up For An LSAT Prep Course
While self-study is always a convenient option, individual sections in the LSAT require expert guidance. Therefore, it is best to choose one tutorial from the multiple options available online and get a step closer to getting a high score. Here are the benefits:
Identifies strengths and weaknesses: The best part about LSAT classes is that you come to terms with your strengths and weaknesses. It helps in paying particular attention to the areas that are not up to the mark.
Simulates actual test: You get the feel of the actual LSAT with a similar environment, timer, questions, and format.
Quality instructors: To learn from people who have experience and decades of practice always works. They speak out of knowledge, guide you well, and ensure you come out with flying colors.
Score improvement: The ultimate goal behind signing up for the best LSAT prep courses is improving your score. Credible LSAT prep courses guarantee a significant increase in your grade.
Conclusion
Getting an excellent LSAT score is not a cakewalk, and it requires months of practice, hard work, and dedication to ace the competitive exam. Therefore, it is ideal to resort to the best LSAT prep courses online and pick the one that matches your requirements.
The courses are taken from online learning portals that are known to have successfully trained millions of students worldwide. All of these websites guarantee a significant improvement in your LSAT score and thoroughly prepare you for the exam by making you sit for mock tests replicating the actual environment. The review judges the academic potential of law aspirants, and you surely do not want to risk your chances.