Most users are familiar with chatting apps like Whatsapp and Facebook Messenger, isn't it? When we use these applications to talk with our recipients, we can check if the messages are being delivered and read. But, can the same be done in Gmail? Of course! That's precisely where the Gmail read receipt comes in.
Using this feature, you can keep track of the emails sent to your mailing list. It helps users to sort out contacts who have replied or taken action regarding their emails. When you get a Gmail read receipt, it means the recipient has opened and read the information in the email you sent him.
Gmail Read Receipt: Track Email Status And Get Notified
An email read receipt can be used for various purposes, albeit there are restrictions on who can use it. The process to set up a Gmail read receipt is plain and simple. Without further ado, let's look at how we can add read receipts to our list.
What Is A Gmail Read Receipt?
Gmail read receipts are notifications that will let you know whether your sent emails have been read or opened by your recipients. These receipts are used in marketing to measure the effectiveness of email marketing campaigns. In the corporate world, Gmail read receipts are used for follow-up communication.
There are two types of read receipts in Gmail that you must know before setting up this feature in an email account.
1. Request Receipts
The recipient send these receipts to you. When he or she opens your email, you will get the notification regarding the same in the Gmail read receipt.
2. Return Receipts
These are the receipts you receive from a sender. When you open the email, the sender is notified about your activity.
Who Can Use The Gmail Read Receipt Feature?
The Gmail read receipt is only accessible to G Suite users. Normal Gmail users cannot use this feature. G Suite accounts are usually used by organizations such as offices or schools by subscribing to Google's email services.
G Suite administrator can enable both the request and return receipts for all the users; allowing return receipts to other users is optional. In this case, Gmail will want to know if you wish to send a read receipt. Using both return and Gmail request read receipt enables clear communication between users and the administrator.
How To Setup Gmail Read Receipt In Gmail As An Administrator
If you are a G Suite administrator, you have to set up the read receipt feature for other users in your organization. The process is relatively easy and straightforward to execute.
First, open the G Suite account and click on the three vertical lines in the top left corner of the window.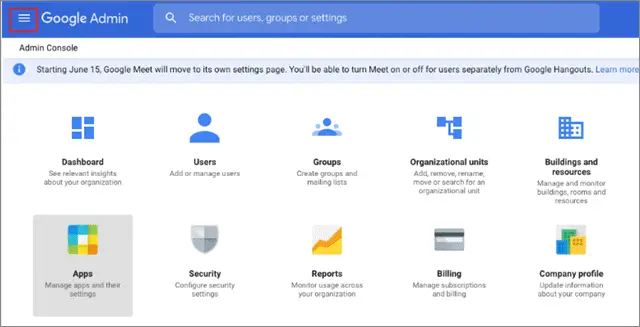 Then, select Apps from the drop-down menu and click on Gmail. Doing this will open the User Settings window.
Then, click on User Settings.
In the User Settings window, click on the Email Read Receipts option to enable the feature.
In the next window, you will face four options; you can select these options as per your preferences. After you have selected the option as per your preferences, click on the Save button.
1. Do not allow an email read receipt to be sent
This is the default option selected in the list. It disables the email return and request receipts of the users in your organization.
2. Allow an email read receipt to be sent to all addresses in my organization and the whitelisted email addresses
If you enable this option, the users in your organization can send and receive read receipts. Additionally, you can also send the read receipts to the email addresses that are not connected to your organization.
3. Prompt the user for each Gmail read receipt request
If you choose this option, Gmail will ask if you want to send read receipts to your recipients. If this option is disabled, users can send return and request receipts automatically.
4. Allow email read receipts to be sent to any email address
Users can enable requests and returns of read receipts from any email ID. The recipients are always prompted with a read receipt request if this option is used.
Keep in mind that the changes made to these settings take at least an hour to come into effect. They can be viewed in the Admin console audit tab.
How To Request A Gmail Read Receipt
Requesting a read receipt in Gmail means sending a receipt to the recipient. As mentioned above, a user can only avail of this feature if he has been granted permission to send receipts to other users.
To begin with, open your Gmail account and click on Compose to write a new email. Fill in the entire details and the addresses of the recipients.
Click on the three horizontal dots in the right bottom corner, and select Request read receipt from the drop-down menu.
Next, add your email signature and send it to the recipient.
Once the recipient opens the email and clicks on 'Send receipts,' you will immediately be notified about the activity.
How To Send A Return Read Receipt
We have already seen how we can send a receipt to our contacts. Now let's go to the other side and see how to send a return Gmail read receipt.
When you open the sender's mail, you will see a small pop-up asking you to send a return read receipt. Click on Send receipts.
Doing this will notify the sender about your activity. A receipt contains information about who opened your mail and the time of opening the mail. In this manner, organizations can do a follow-up communication with ease and clarity.
Why Email Read Receipts Could Be Troublesome
Although Gmail read receipts are a boon when it comes to official communication in an organization, it would be a mistake to turn a blind eye towards the feature's shortcomings.
1. Read receipts cannot be used with a regular account
If you are a regular Gmail account user, you cannot use this feature. The read receipt in Gmail feature is only available to users who have a G Suite account.
2. Administrator permission is required
Even if you have a G Suite account, you still need the administrator's permission to use the Gmail read receipt feature. Also, the G Suite administrator decided the scope of use, meaning you can only use the read receipt feature up to the extent the admin wishes to.
3. No guarantee of receiving a receipt
After you have managed to get permission from the administrator to use the read receipts, it still does not guarantee that the option will work successfully. You can only send a request receipt, but your recipient needs to approve your request and send a return receipt to get the required details. If your request receipt isn't accepted, you won't get the information you want.
4. Not a Right choice for email marketers
Using the Gmail read receipts is the biggest mistake you will probably make if you are an email marketer. True, marketers can sort out cold leads and warm leads using the read receipts Gmail feature, but it depends on the recipients to accept the request receipt.
In case of a mailing list, a recipient might be annoyed if he receives constant marketing emails with read receipts, and possibly mark your emails as spam.
Alternatives For Read Receipt
Using a Gmail read receipt is possible only if you hold a G Suite account and have the admin permission to use the feature. There are options available in the form of plug-ins and extensions for those who do not fit in the criteria.
1. Boomerang for Gmail
Boomerang for Gmail is an elegant alternative to using the Gmail read receipt feature. This plug-in shows the date and time when the message with a request receipt was opened. Beyond that, it also reminds users to follow up with the contacts, and much more. You can use the mail read receipts feature in the free version, but if you want the additional features, you can subscribe for as little as $4.99 per month.
2. Mailtrack
The name itself will give away what the plug-in is all about. Mailtrack is used for email tracking and specializes in sending and receiving read receipts for the same cause. However, if you use the free version, the plug-in adds its branded signature to your emails. You can pay $9.99 per month or $59 per year to cancel the signature.
3. Mailtag
Mailtag is precisely similar to Mailtrack. However, the pricing makes it a better option to choose between the two extensions. You will have to shell out $2.10 per month or $18 per year to remove the extension's brand signature in your emails.
4. Yesware
Now, this isn't a tool precisely for maintaining the transparency of communication in an organization. Yesware is specially designed for email marketers; it is used to track emails sent by marketers to potential customers. Using Yesware, you can add a tracker to your email and know when the recipient opens it. Unlike the read receipts, Yesware doesn't require the end-user to confirm sending the details about read timing. You can read the information on how to track if the recipient reads your emails.
Conclusion
Read receipts in the email is a fine way to know if your emails are being opened and read or not. They help users in keeping track of the emails sent to the recipients and also measure their effectiveness. However, there are certain limitations to using Gmail read receipts.
Users with regular Gmail accounts cannot send a Gmail read receipt; you need to have a G Suite account to use this feature. Furthermore, you should also have permission from the G Suite administrator to use the feature.
Although read receipts in email can help email marketers to gauge cold leads and warm leads, they aren't suitable for mailing lists. The constant marketing emails filled with read receipts might irritate the recipients and cause them to mark the emails as spam.