Every one of us has tried singing, be it in front of an audience with a guitar in our hands or singing alone in the bathroom. While the dream of becoming a sensational singing star takes years of practice and hard work, you could become a mini singing icon by using a singing app. These singing apps teach aspiring singers the basics of recording, mixing, and mastering a song.
Why exactly should we get a singing app? How is it supposed to help us? Well, having a singing app has benefits for all types of singers. For beginners who love music, it can be a great way to practice their vocals and strive to become better at the craft. For advanced singers willing to build a good portfolio, you can have a bunch of videos singing duets with unique singers on thousands of songs.
You can also learn singing at your convenience, saving the trouble of having to hire a singing coach. While a singing app cannot teach you the art entirely, it will help you get acquainted with the basics and polish your skills.
16 Best Singing App To Hon Your Talent
With the advent of technology, there are various singing apps on the Play Store and the App Store. They serve as a platform for all those who wish to gain worldwide recognition for their singing talent. They also offer a broad and like-minded community where you can share your recordings and appreciate your work. Check out the 16 best singing apps.
1. Smule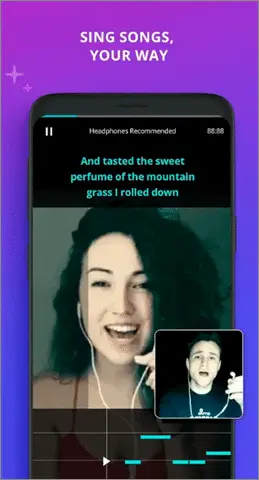 Smule is the best singing app you will come across. With a worldwide user base of over 40 million and counting Disney and Warner Music amongst its partners, this application can ignite your interest in singing karaoke songs as it offers loads of exciting features.
To start with, you can sing songs along with your friends and even the top artists. Share your recordings on the platform, get noticed worldwide, and experience how it feels like a star. The performance you post on this app is available for listeners worldwide, so there's no limit to the amount of feedback you can receive for it.
Smule has millions of songs you can play and various audio effects to polish your recorded audio. The results make your voice appear professional with the required studio effect. You can also do live sessions for your followers and friends.
Smule has weekly, monthly, and annual subscriptions, which allow users to enjoy the app with its advanced features. The fact that Smule has featured on Entertainment Tonight, Forbes, and Google Play's Best Apps also tells you why it is the best voice singing app.
Download Smule for Android/ iOS
2. The Voice – Sing Karaoke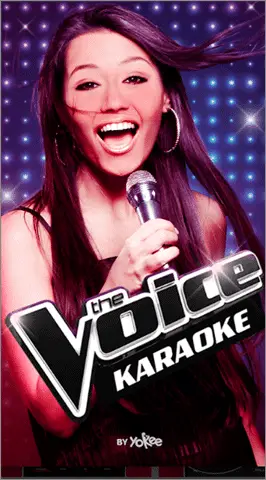 Every one of us is well aware of The Voice music show, right? The hit TV show also has its karaoke app where you can record and share songs on the platform. There are millions of songs to select from, and if you are unsure about what to sing, there's a curated playlist of different genres that will help you choose a beautiful song for yourself.
The voice singing app boasts having a community of 100M+ singers from all around the world with whom you can share your recordings. Like Smule, The Voice also offers several audio effects to polish your recordings and options to share them on social media. Make sure you are good enough for the judges to turn chairs and have a look at you!
Download The Voice for Android/ iOS
3. StarMaker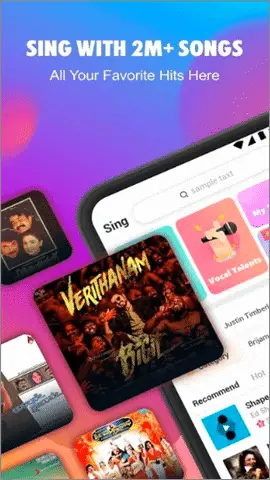 If you are taking your baby steps into the world of karaoke singing, you should try out the StarMaker singing app. It works similarly to the two apps mentioned above.
There are heaps of popular songs to sing over a vast number of genres in several languages. The best thing about this application is it rates your recording based on your notes' accuracy and whether you are singing at the correct tempo. Users also receive a musical score after they have finished recording a song, which gives them an idea about their progress.
You can always strive to improve your singing skills by trying to surpass your best scores. You can sing duets, do live sessions for your friends, and share your recording on social media. Have a happy time crooning the songs closest to your hearts!
Download StarMaker for Android/ iOS
4. AutoRap
AutoRap is a product of Smule, made especially for Rap genre lovers. The singing app has a Talk Mode which records whatever you talk and converts it into a Rap song in the blink of an eye! You can select from over 100 beats from world-famous artists like Nicki Minaj, Tupac, Eminem, and Snoop Dog. Also, it has many studio effects and presets that enhance a user's recorded sound and polish it.
With AutoRap, you can compete with AutoRappers from all over the world by participating in Rap battles. You can autotune your freestyle verses to correct lousy rapping. You can also share your rap via social media platforms like Facebook, Twitter, and message services like SMS and emails.
Download AutoRap for Android/ iOS
5. Vocalizer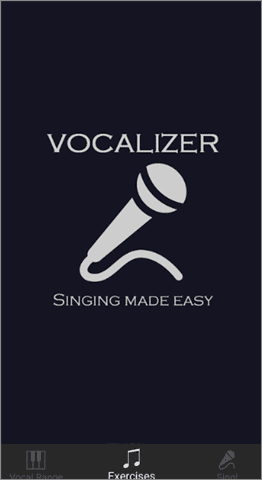 Sometimes, it so happens that one cannot sing harmonies on the original scale. Vocalizer has proven to be one of the best apps for singers in such cases. It offers exercises that can help singers improve their vocal range.
With this singing app, singers can choose their scale and start practicing on it. If they do not know their range, they can let the app choose it for them. There are 50 exercises to practice, and they are organized into categories such as major, minor, pentatonic, and chromatic.
Using Vocalizer will not make you a complete singer, albeit it will teach you the singing basics. If you are a novice to singing, make sure you install Vocalizer and get acquainted.
Download Vocalizer on Android/ iOS
6. Voloco
Voloco is an autotuning application that can adjust your notes according to your needs and requirements. You can choose any song from your music library or Voloco's collection of tracks. The singing app will recognize the song key of the track and set it to tune to your voice.
Voloco also allows users to share their recorded soundtracks in audio and video to share them on social media platforms like Facebook, Twitter, Instagram, and Tiktok. Regarded as one of the best singing apps in the market, Voloco also offers eight vocal effect preset packs that enhance your recorded voice.
Now that you know everything Voloco offers, just download the application and start singing!
Download Voloco on Android/ iOS
7. SingPlay Karaoke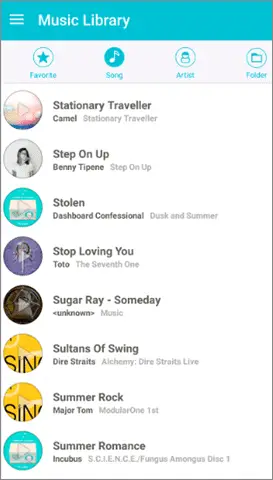 Downloading a karaoke of your favorite song and then recording over it requires a lot of hustle. Instead, it is better to use the SingPlay Karaoke singing app to record a song in your voice with the original music playing in the background.
In this free singing app, you can either sing karaoke of an entire song or parts of it, depending on your interests. The application offers millions of karaoke tracks to choose from, so you never have a shortage of options but a selection headache.
In SingPlay Karaoke, you can make pitch corrections, control the tempo, and reverb your voice. The best thing is, you don't require an internet connection for recording or using this application unless you wish to share your mp3 file on social media.
Download SingPlay app for Android
8. Yokee Karaoke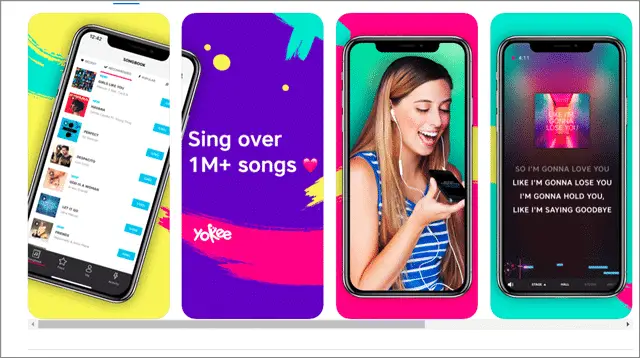 Yokee Karaoke is almost similar to the likes of Smule, StarMaker, and The Voice in terms of modus operandi. You can sing karaoke on your favorite tunes with the utmost ease and save them to share with your friends later.
Yokee Karaoke can also help you arrange a karaoke session or competition at social gatherings or celebrations. Just connect your phone to an external speaker device and get going. The singing app has a database of millions of songs and features that can help you make your sound appear professional. Add the fact that you will find almost every famous and hit music number on this app, which makes Yokee Karaoke a must-try application.
Download Yokee Karaoke for Android/ iOS
9. SingIt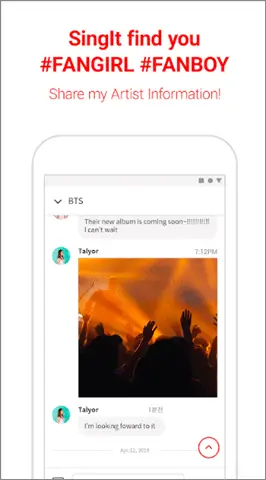 When it comes to SingIt, there are unlimited possibilities in which you can record your voice over your favorite songs. With this singing app, you can croon the soulful numbers closest to your hearts with noteworthy audio effects, save them on your mobile phone and share them on social media platforms.
There are millions of songs to choose from; you can either sing harmonies in solo or duet mode as per your interests. In SingIt, you can also follow and talk to your favorite users and artists, which helps in building a large community with a single interest.
To make it enjoyable, this voice singing app also offers various events such as Challenges, Auditions, and Today's Mission Song to engage the users. SingIt will make sure you have the time of your life singing your favorite tunes and sharing them with like-minded individuals!
Download SingIt for Android/ iOS
10. iSing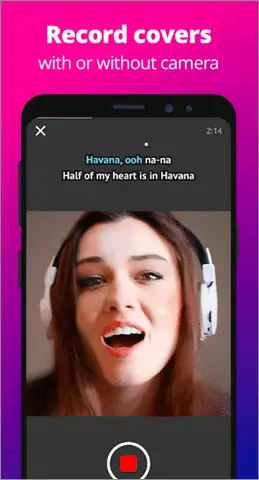 iSing is one of the oldest singing apps for singers you will come across on the Play Store, and it has a modus operandi similar to Smule and StarMaker. You can record voice over your favorite tunes and publish them on your profile to get appreciated by other users. Users can also follow your favorite artists and other users and build a community by texting them.
There are thousands of songs to choose from, and the database of the application gets updated every Friday. So, you will always have new releases on your fingertips, and you can quickly make your version of a new song that you have fallen in love with. In iSing singing app, you can sing harmonies in two variants – in Beginner mode with a guiding melody or a Pro mode only with your voice. Have fun crooning your favorite numbers!
Download iSing for Android/ iOS
11. BandLab Music Recording Studio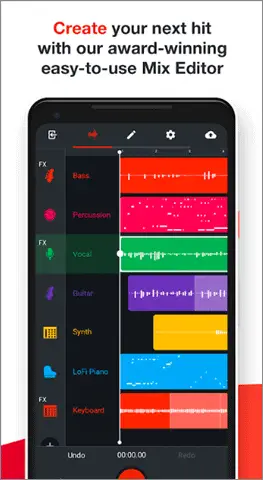 If you are a novice, BandLab Music Recording is not for you as it caters to an audience of advanced and learned musicians. One of the best singing apps, you must be acquainted with music terms and various other features such as presets, loops, and much more.
In BandLab Music Recording Studio, you can record millions of songs and add special effects to your voice to make it sound professional. You can curate playlists with your favorite songs and also collaborate with fellow musicians to start a band. How cool would that be to have a group on an app?
There are 100+ guitar, bass, and audio effects for audio enhancement and virtual MIDI instruments like the guitar, piano, and drums to compose and record your music.
Download BandLab on Android/ iOS
12. Karaoke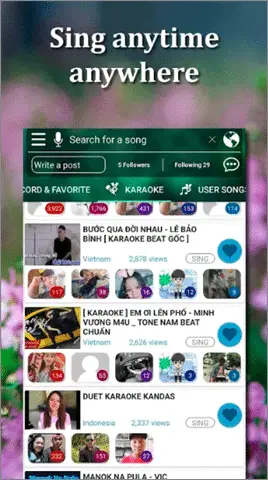 Like many of the applications above, all you have to do is find a song that you like, record it, and share it with your friends on social media. It is one of the best singing apps if you are looking out for beginner Karaoke apps on.
With Karaoke, you can record your voice with high quality and edit your vocals to make them sound professional. There are various features such as echo, reverb, bass, mid-treble to improve your voice quality and vocal tone.
Karaoke is a kind of a music social media platform where you can post your audio and video recordings, comment and follow your favorite musicians, and collaborate with them for singing duet songs. What else would you not have in a top karaoke app?
Download Karaoke on Android
13. SingAlong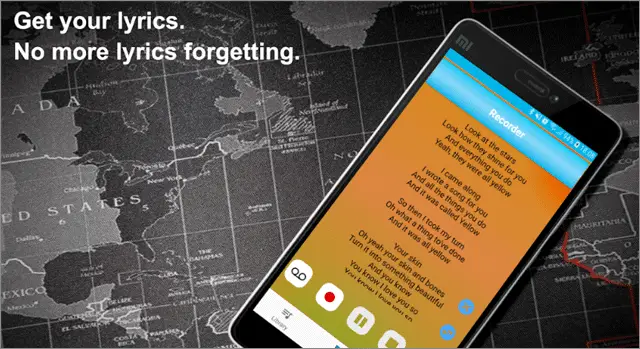 If you are an aspiring singer who wishes to learn and master the art of singing, SingAlong will help you massively in your cause. The singing app offers a slew of audio enhancement filters such as echo, reverb, equalizer, and much more.
You can change the pitch of your recording as well as alter the chorus effect to suit your requirements. You can also sync karaoke with your vocals and manage track playback speed.
With SingAlong, you can save your audio in three formats: MP3, WAV, and AAC. You can also select recording parameters by changing the audio source, quality, and channel of your recording.
Download SingAlong on Android
14. Nana
nana is a music SNS application that provides instant online sessions to all the music lovers. With this voice singing app, you can record and share your favorite songs and get noticed by the audience. You can also collaborate with other musicians from all over the world to create a song. The singing app also offers unique effects such as Chipmunk, Monster, Echo, Chorus, etc. to spice up your recorded voice.
In nana, you can connect with artists from all over the globe and comment on their work. You can also share your recordings on social media platforms like Facebook and Whatsapp to get appreciated by the audience.
Download nana on Android
15. KaraFun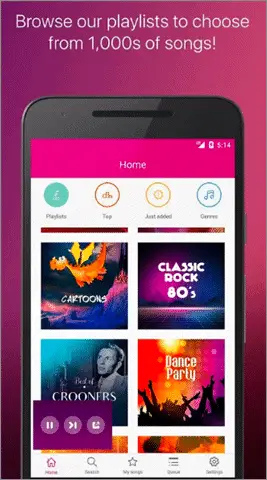 KaraFun is another of the best apps for singers that lets you enjoy the bliss of singing your heart out. The singing app offers thousands of songs to select from and record accordingly. In KaraFun, users can control each track individually and also operate in offline mode. The application also gets updated weekly, so you need not worry about not finding the latest hits.
Users can adjust the song keys and pitch according to their requirements in KaraFun. You can also import your songs and create your tracklist using this application. If you are a newbie in karaoke, KaraFun is one of the excellent singing apps to start with.
Download KaraFun on Android/ iOS
16. Vanido: Best Singing App for iOS users
If you have had enough with karaoke singing, you can consider switching to Vanido. The singing app stands out amongst its competitors due to the noteworthy personalization features that it offers as well as karaoke, solo plus group. Three singing exercises are delivered to your phone every day so that you can practice them. These exercises are tailored to your pitch and vocal ability and cover a range of skills such as foundational singing technique, head voice, chest voice, and much more.
Added to that, Vanido also delivers excellent feedback that contributes to aspiring singers' self-improvement. You can track your progress, set goals and challenges, and practice accordingly using this voice singing app.
If you wish to have more than three daily exercises, you need to buy an annual subscription of USD 39.99, which includes a one-week trial.
Download Vanido for iOS
Final Thoughts
A singing app is necessary for a singer to practice the art and other aspects of it. Such an application helps singers get acquainted with singing on a particular pitch and tempo and teaches them the dynamics of singing in front of a microphone.
There are many singing apps you can choose to go with on this list. Smule and StarMaker are the best apps to start with, given their massive database of songs and song sharing options. AutoRap is an app specially made for Rap genre lovers that will teach you the basics of writing and singing a rap song. Regardless of the suggestions made above, users can install and use any app from the list that matches their demands and requirements.
Related: Best Websites That Give You Access To Free Creative Commons Music