Teamviewer is the most popular remote desktop software used for online meetings and collaborations for corporate purposes. It helps a user connect with his team members in different locations, thus eradicating physical presence. However, the connection security issues, coupled with sky-high pricing, has forced users to look for a suitable Teamviewer alternative.
Best Teamviewer Alternatives
1. Splashtop – Best For Personal Use
2. Zoho Assist – Best For Top-notch Connection Security
3. Supremo – Best For Increasing Brand Awareness
4. Remotepc – For Transferring Files During Live Sessions
5. Anydesk – Best Free Teamviewer Alternative
6. Parallels Access – Alternative For Mobile Experience
7. Logmein Pro – Best For Medium-sized Businesses
8. Mikogo – Best For Small Businesses
9. Dameware Remote Everywhere – Alternative For Multiple Language Support
10. Vnc Connect – Alternative For Secure And Encrypted Sessions
11. Chrome Remote Desktop – Open-source Teamviewer Alternative
12. Lite Manager – Affordable Teamviewer Alternative
13. Webex Meetings – Best Alternative For Video Conferencing
Why should you use a Remote Administration Tool (RAT)?
RAT, like Teamviewer, offers a bunch of benefits that cannot be ignored. In circumstances where you cannot commute to your office, a desktop remote software helps you connect with your colleagues from any point in the world. Here are a few of those benefits.
1. No need to travel
In case if you are confined to your homes due to heavy rains, snowfall, or any other such purpose, the Teamviewer can help you connect to your colleagues. It eradicates the unnecessary need to commute, while the user can enjoy working from home.
2. Collaboration
A RAT allows multiple users to access and collaborate a computer and start work simultaneously; if any issue occurs in the work tasks, users can solve it together.
3. Saves you money
If you run a business without an office, and all your employees are working from home, you need not set up a remote access network for them. With a RAT and a LAN connection, you can easily connect with your subordinates.
4. File sharing
Users can also share files and documents with their colleagues; distance doesn't stand to be a hurdle when it comes to file transfer over remote access programs like Teamviewer.
Why do you need a Teamviewer alternative?
Back in 2016 and 2017, Teamviewer faced a significant backlash from its customers due to its security hacks on their network. It resulted in many Teamviewer users losing money from their bank accounts. Conditions worsened furthermore when the company blamed the customers for careless and haphazard use of the software.
Teamviewer is the best remote software for remote access and management for specific reasons; it offers a wide variety of functionalities, and it also provides a free version. Added to that, Teamviewer works with every major operating system for both mobile and desktop, and also doesn't require any extra software for functioning smoothly.
Details for The Best 13 Teamviewer alternative
Now that the software's network is far from being labeled as 'trustworthy,' you need to find a good alternative for Teamviewer to carry on with your job. That being said, let's take a look at the best Teamviewer alternatives.
1. Best For Personal Use – Splashtop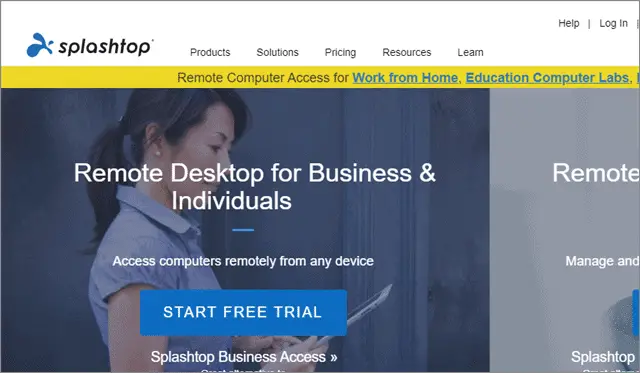 If you search for a Teamviewer alternative for personal use, there is no need to look further than Splashtop. The Remote Administration Tool provides multiple security levels to the sessions, thus eradicating users' privacy concerns.
Splashtop offers a 256-bit AES encryption, making sure that your data doesn't get leaked or hacked due to unauthorized remote access. Device authentication, two-step verification, and 2nd level password options also play a part in securing remote access to the software.
If you are continuously indulged in audio and video conferencing with your team members, Splashtop can help you in your cause. This alternative to Teamviewer provides high-quality audio and video streaming services, thus ensuring seamless communication between the collaborators. Another exciting feature is that you can unlock or access your PC remotely through a smartphone using this tool.
Splashtop's free version is only for non-commercial use. For corporate purposes, you need to pay $60 for every user per year.
What do we like about Splashtop?
256-bit AES encryption ensures top-notch security of private data
Multiple levels of security
Free for personal and non-commercial use
Users can access remote PCs through smartphones.
Where can Splashtop be better?
CPU usage increases while using this tool
2. Best Alternative For Top-notch Connection Security – Zoho Assist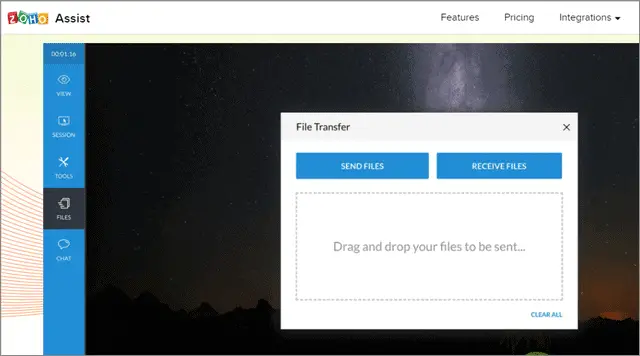 Teamviewer users often experience lag after they establish a remote connection with a computer. That issue is well taken care of when you are using Zoho Assist. Additionally, this alternative to Teamviewer offers multiple monitor support and detects them automatically, allowing users to control various devices remotely.
Armed with an SSL AES 256-bit encryption, Zoho Assist makes sure you have no security issues while operating this software. Users can also initiate file transfers during live sessions, one of the unique features this Teamviewer alternative offers. It is also a cross-platform software compatible with all the major PC and mobile operating systems.
The voice chat feature also helps you interact seamlessly with your subordinates. If you are looking for good alternatives of Teamviewer for IT remote support, this is a tool you shouldn't miss out on. The basic premium version of Zoho Assist starts from $10 per month.
What do we like about Zoho Assist?
Establishes fast and lag-free connections
File transfer can be done during live sessions
A good alternative to Teamviewer for controlling PCs in the IT department
Friendly user interface
Where can Zoho Assist be better?
It has a steep learning curve.
3. Supremo – Best For Increasing Brand Awareness
Not many programs like Teamviewer offer customization options as Supremo does. If you are a large business, this tool certainly won't disappoint you. First, it provides the trademark 256-bit encryption to ensure the security of the users' private data.
Next, you can customize Supremo's display interface and use your brand logo instead of that of the software. This feature will help you in increasing brand awareness. Users don't need to install or patch anything to use this tool, except just one small executable file that requires no installation.
Supremo also supports Usilio, the IT Management Console that is widely used in corporate organizations. The data transfer protocol is powerful and requires no router or firewall configuration; you can connect with your fellow collaborators in just a few clicks.
Supremo is free for personal and non-commercial use and supports a variety of operating systems. After a 21-day free trial, the paid plan starts at $6 per user per month.
What do we like about Supremo?
Integrated address book
Allows interface customization
Great Teamviewer alternative to increase brand awareness
Needs no installation
Where can Supremo be better?
Remote voice support is unavailable.
4. RemotePC – For Transferring Files During Live Sessions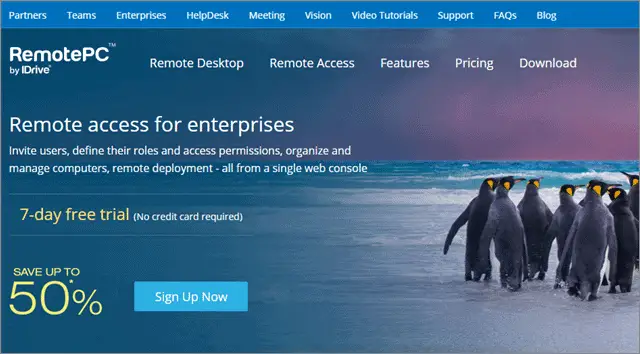 RemotePC may not be as well known as its competitors, but this Teamviewer alternative has a bunch of features at an affordable price, and that's pretty much all that we have been looking for. For both personal and professional purposes, RemotePC is a reliable software for controlling remote computers.
You can add users by sharing the secure access ID and key. Since it's a cloud-based tool, all you need is a web browser to get started with. RemotePC also provides file transfer feature; users can drag and drop any file and share it with their subordinates.
The AES-156 bit encryption eradicates all the doubts regarding the security of the shared files. With the helpdesk plan, RemotePC users can provide remote support to their customers directly. With yearly pricing of $69.50, it is one of the best cost-effective Teamviewer alternatives.
What do we like about RemotePC?
Affordable pricing
Drag and drop feature for file transfer
Helpdesk plan
Where can RemotePC be better?
Users can experience lag after making connections.
5. AnyDesk – Best Free Teamviewer Alternative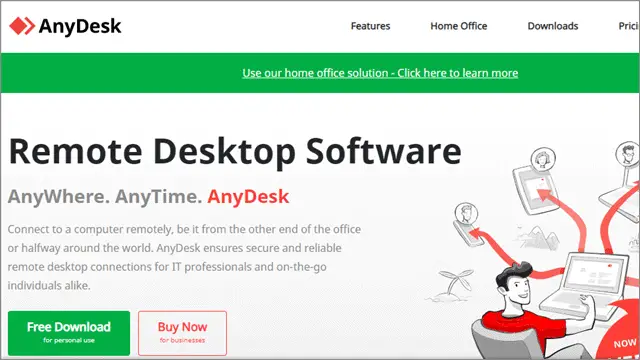 AnyDesk is one of the most popular Teamviewer alternatives used for controlling computers remotely. It offers oodles of features that are expected of the best remote desktop software. You can access any device remotely from any location using AnyDesk.
AnyDesk offers the fastest data transmission rate of 60 FPS. You can also use any of the graphics or image processing tools on a remote computer using this RAT. Also, AnyDesk is an easy-to-use tool, and one of the best options for beginners to consider.
The TLS 2.1 technology used by this Teamviewer alternative ensures your connected sessions are securely encrypted and protected from unauthorized access. The recent update has added multiple features like custom alias, terminal server support, file browser mode, and session recording.
AnyDesk has a free version for personal users, but you need to shell out cash to use it for professional purposes. The paid plans start at $79 per year.
What do we like about AnyDesk?
Packed with many features
Supports many operating systems
Requires little space for storage
Offers fast data transmission
Where can AnyDesk be better?
Response time can lag a little.
6. Parallels Access – Alternative For Mobile Experience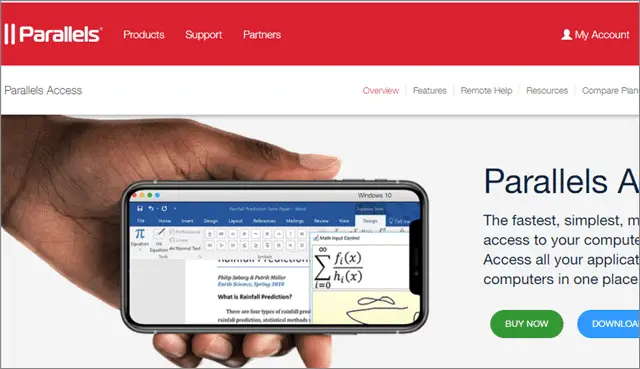 Parallels Access is one of the best alternatives to Teamviewer to go for if you are searching for a good mobile experience. While most of the Teamviewer alternatives focus on the desktop experience, this software aims at providing a seamless mobile experience.
First, it offers a strong and secure remote connection service that can match any of the other tools listed in this article. You can control computers remotely through your mobile. It uses Applification technology that allows users to access and control desktop apps as mobile apps.
This tool is compatible with Windows, Android, macOS, and iOS. Parallels Access is free for personal use. For professional purposes, the pricing plans start at $19.99 per year. If you have a small business setup, you can easily use this Teamviewer alternative for controlling PCs remotely.
What do we like about Parallels Access?
Desktop apps can be controlled through smartphones
Affordable pricing for small businesses
User-friendly interface
Apps run in full window mode.
Where can Parallels Access be better?
Doesn't offer desktop-to-desktop control
7. LogMeIn Pro –  Best For Medium-size Business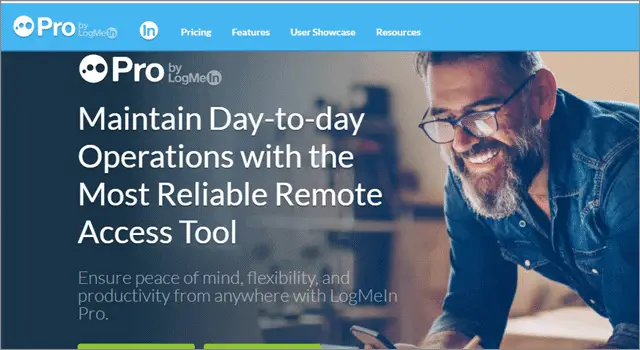 LogMeIn Pro is an excellent choice to go for if you are searching for a cost-effective alternative of Teamviewer. This tool offers a secure connection to its users, not to mention the large space of 1 TB that helps in storing all the files and applications in a centralized location.
LogMeIn Pro is a cross-platform application that works on every major operating system. Public Key Infrastructure (PKI) is used to identify the user's identity. The host is then determined through a secret key. SSL/TLS systems secure connections.
You can access up to 10 computers using LogMeIn Pro; this software also allows you to access printers remotely. The software has three pricing plans; Individuals, Power Users, and Small Businesses. Pricing starts at $30 per month.
What do we like about LogMeIn Pro?
Storage space
Secure connections
Good Teamviewer alternative for small businesses
Where can LogMeIn Pro be better?
Sound and chat quality can be improved.
8. Mikogo – Best Teamviewer Alternative For Small Business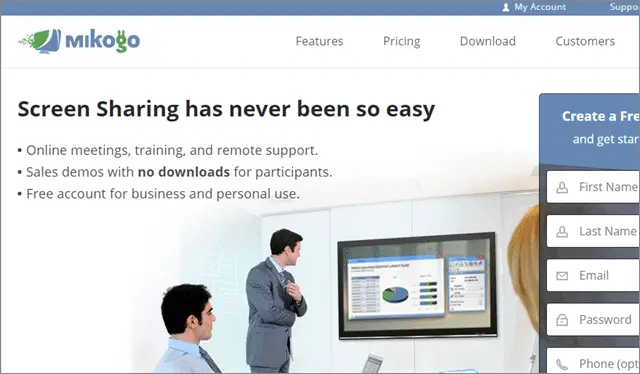 Mikogo is one of the best Teamviewer alternatives to go with if you are looking for a trustworthy RAT option. One of the best features of this software is that you don't need to install it on your PC; You can access Mikogo through web browsers on Windows, macOS, and Linux on iPads, tablets, and smartphones.
The HTML-based viewer allows 25 users to access a computer simultaneously; users can also switch their roles easily during collaborations. You can also record your sessions and chat with your collaborators while working on Mikogo.
Coming to its pricing, Mikogo offers a 14-day free trial for single users and $48 per month for five single users' licenses.
What do we like about Mikogo?
Basic substitute and alternative to Teamviewer
HTML-based software that requires no installation
Works on all primary OS and devices
Where can Mikogo be better?
Users experience occasional lags.
9. Dameware Remote Everywhere – Alternative For Multiple Language Support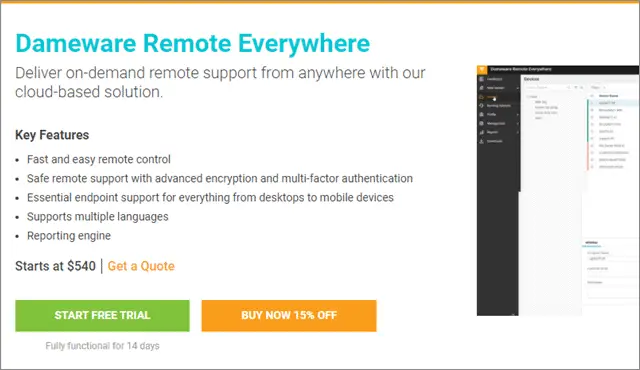 Dameware Remote Everywhere is a powerful Teamviewer alternative designed to suit the needs of collaboration. It offers complete control to the administrators; users can reboot frozen computers remotely, chat with end-users, and take screenshots with a click.
Dameware Remote Everywhere is the best remote desktop software for Windows, macOS X, and Linux computers. It is also well-known as a cloud-based solution that is easy to use and setup.
Coming to its pricing, the Dameware Remote Everywhere starts at $540. It might not be the best solution to Teamviewer considering its expensive pricing, but Dameware is one of the most secure remote control software out in the market.
What do we like Dameware Remote Everywhere?
Provides ease of use for set up
Supports multiple languages
Adds top-notch security to connected systems
Friendly user interface
Where can Dameware Remote Everywhere be better?
Remote chat support needs improvement.
Get Dameware Remote Everywhere
10. VNC Connect – Alternative For Secure And Encrypted Sessions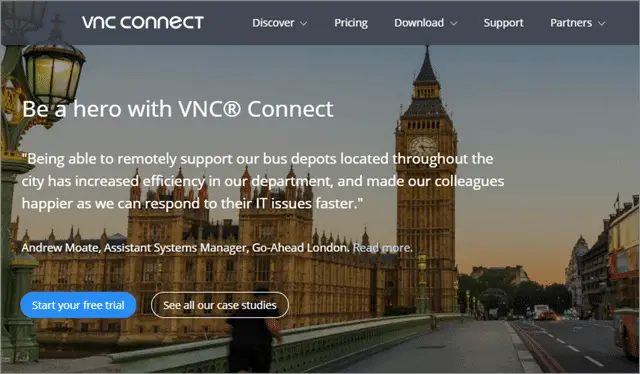 One of the most crucial reasons users look for a Teamviewer alternative is that the former has had many security issues regarding the users' privacy. VNC Connect aims to eradicate that with its top-notch security features.
To begin with, this alternative to Teamviewer has password-encrypted sessions to offer to its users. VNC Connect has applications for both the serving and viewing devices; you don't need any special firewall to discover these applications.
VNC Connect has three editions: Home, Professional, and Enterprise. All three editions allow users to control an unlimited number of devices remotely. Features such as chatting, data transfer, and remote printing are available.
What do we like about VNC Connect?
Sessions are encrypted and password-protected
Offers chatting and data transfer
Where can VNC Connect be better?
The mobile application is clunky and unintuitive.
Get VNC Connect
11. Chrome Remote Desktop – Open-source Teamviewer Alternative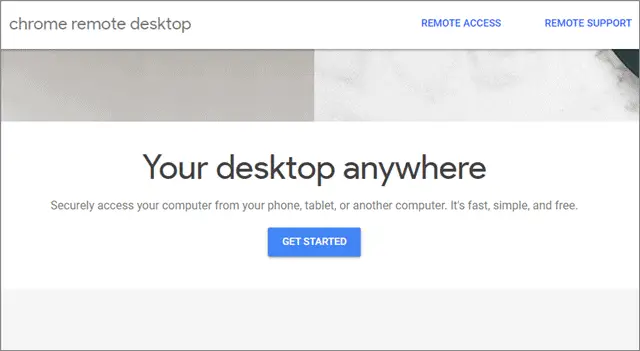 Teamviewer allows users to control computers remotely without needing to operate them physically. If you are looking for a good option to substitute Teamviewer's remote computer control function, Chrome Remote Desktop could easily come to your aid.
Chrome Remote Desktop isn't a software per se; it's a Google Chrome extension that helps users control desktop computers remotely. Regardless to say, you can use this option on every operating system Google Chrome is compatible with.
The only drawback of Chrome Remote Desktop is that it doesn't offer additional features like screen sharing, chatting, or video calling. It is also open-source and a great free Teamviewer alternative for basic use.
What do we like about Chrome Remote Desktop?
An excellent alternative to Teamviewer for the basic remote computer control function
Free of cost
Works as an extension rather than a complete software
Where can Chrome Remote Desktop be better?
No multi-session handling
No remote chat support
Runs only on the Chrome browser
12. Lite Manager – Affordable Teamviewer Alternative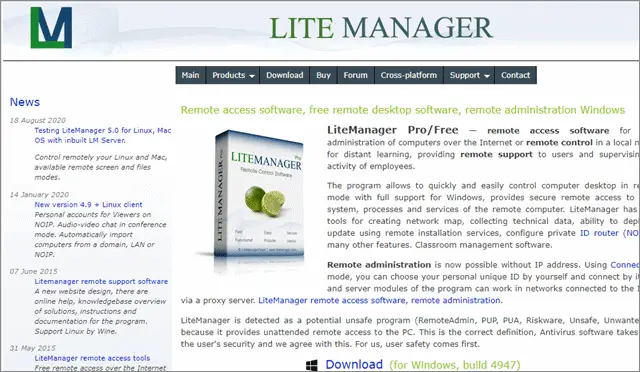 Lite Manager is an excellent free Teamviewer alternative to go for if you are on a shoestring budget. This remote desktop software is also a great cross-platform alternative for distance learning or remote support and control for personal use. It works on Windows, macOS, Linux, Android, and iOS.
WIth Lite Manager's free trial, you can control up to 30 computers from a remote distance. The best thing about Lite Manager is it offers a one-time paid plan of $10 per license; you can easily test it first and then opt for the paid option.
With Lite Manager, you can control remote PCs, record sessions, and start live chats while working with your subordinates. It is one of the best cheap alternatives of Teamviewer, albeit it doesn't offer as many features as the latter.
What do we like about Lite Manager?
Great tool for personal usage
Cross-platform support
The free version enables users to control 30 computers
One-time paid plan
Where can Lite Manager be better?
Needs to update more features
Has a steep learning curve
13. WebEx Meetings – Best Alternative For Video Conferencing
Distributed across CISCO's cloud servers, WebEx is a Teamviewer alternative that focuses primarily on video conferencing. The servers can also back-up and create a cache of your data. This tool is available on the CISCO WebEx Cloud.
If you are using WebEx Meetings Free, you can set up video conferencing with two users at a time. If you want to connect with more people in a meeting, you need to purchase the premium version that allows beyond 100 users in a conference.  WebEx Meetings has three plans apart from the free version: Starter, Plus, and Business. The plans start from $13.50 per host per month.
What do we like about WebEx Meetings?
Focuses primarily on WebEx Meetings
WebEx can backup data and create a cache
Where can WebEx Meetings be better?
It doesn't allow remote control of desktops.
Conclusion
Teamviewer is a Remote Administration Tool(RAT) used to control multiple computers from a remote location. It can be used for professional or personal purposes, depending on the needs of the users. The only difference between the free and paid versions of this remote access software is that you can use the free version for personal use. For business purposes, you need to buy the premium version.
Given its issues with security and high pricing, users often lookout for cheap and affordable Teamviewer alternatives. AnyDesk and Lite Manager are the best free programs like Teamviewer for personal usage; Splashtop is a good upgrade on these tools if you wish to have more features.
The Parallels Access software offers the best mobile experience for controlling remote PCs, while Supremo allows users to edit the interface and helps in brand awareness. Zoho Assist provides commendable security for established connections. In all, the choice of Teamviewer alternative depends on a user's needs, requirements, and purpose.
Related: Remote Utilities: Most Comprehensive Remote Support Software Available Today