Having two monitors is an excellent way of expanding the Windows desktop. It makes various tasks easy for you. Whether you are into gaming, animation, or IT, a 2-monitor setup is beneficial. Dual monitor tools allow you to drag the software windows and cursor across two monitors. It is as good as having two Visual Display Units (VDUs) connected, thus providing you with an expanded display.
However, Windows 10 does not give you huge configuration settings when it comes to dual monitor or multi-display. You often have to struggle with multiple functions, such as moving an app from one window to the next or issues with stretching an app across both the screens.
Best Dual Monitor Tools For A Wide Viewing Experience
To tackle these situations, you can add dual monitor software to Windows and make the most of multiple VDUs attached to a single desktop. There are various third-party dual monitor tools for Windows that give you new customization options, fully extend the taskbar to the additional VDUs, and add extra title bars to software windows.
We've listed the best dual monitor tools that are feature-rich and enhance your experience.
1. UltraMon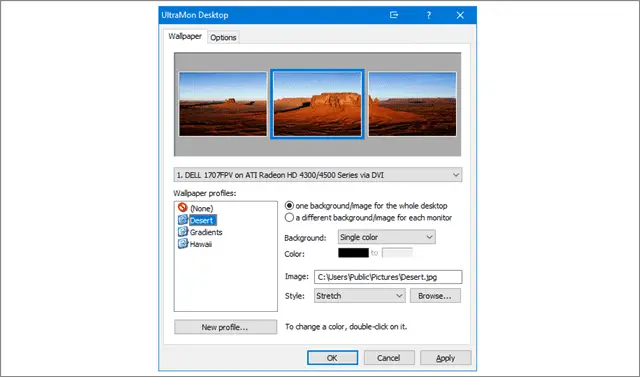 UltraMon gives the users a massive set of tools for facilitating a multiple monitor setup. It works on 32 and 64-bit Windows versions ranging from XP to 10.
Regarded as the best dual monitor setup, UltraMon for Windows 10 is loaded with features that can be put to use effortlessly. It includes a taskbar extension that stretches the taskbar to the next screen. You can configure all the monitors to include only those open apps within its VDU or all of the open apps in all the VDUs. You can also choose alternative screensavers and wallpapers for each monitor.
The dual monitor software adds a useful Maximize desktop button to window title bars. It enables you to expand the windows across both VDUs. You can also clone displays on both monitors using its mirroring tool. You can avail of the free trial for 30 days and buy the single-user license for $39.95.
2. Actual Multiple Monitors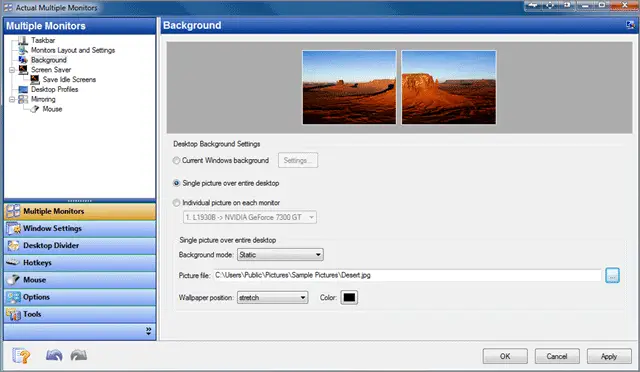 Actual Multiple Monitors provides users with a taskbar, system tray, Alt + Tab switcher for the extra monitors, and Start menu. This multi-monitor software works with both 64 and 32-bit Windows platforms across all versions.
Actual Multiple Monitors fully copies your Windows taskbar on the second monitor. Therefore, the second VDU taskbar consists of a notification area, Start menu, clock, and Show Desktop button. You can configure it with the tool's mirror, individual, and mixed-mode settings.
The secondary taskbar includes a context menu that is used to select multiple windows. You can also move the gathered windows to the primary taskbar. Users can put different wallpapers on the VDUs or expand the same one across both monitors.
The Desktop Divider is a new addition to this dual monitor tool. It allows users to divide their screens into smaller tiles for obtaining maximized windows. The Desktop mirroring also enables you to clone the primary VDU in the secondary monitor.
You can avail of a free trial for 30 days and buy the software for $24.95.
Download Actual Multiple Monitors
3. DisplayFusion Pro
DisplayFusion Pro consists of numerous tools and options for a multiple-monitor setup and comes in free and pro versions. You can customize your lock screen, expand screensavers across all VDUs, and save your desktop's icon layout.
The DisplayFusion free version does not include multi-monitor taskbars or screensavers, Alt + Tab Handler, and Windows lock screen customization settings. The paid version consists of numerous customization options for dual monitor setups. It allows you to use different wallpapers on monitors and stretch the same background across two screens.
DisplayFusion Pro for Windows 10 gives you a multi-monitor taskbar. The taskbar retains the window thumbnail previews, and Show Desktop and Start buttons on the second VDU. It also provides you with a handy Alt + Tab Handler, remote control apps for Android and iOS devices, and additional Windows 10 customization settings. You can either use the free version or buy the pro license for $29.
Download DisplayFusion Free and DisplayFusion Pro
4. Dual Monitor Tools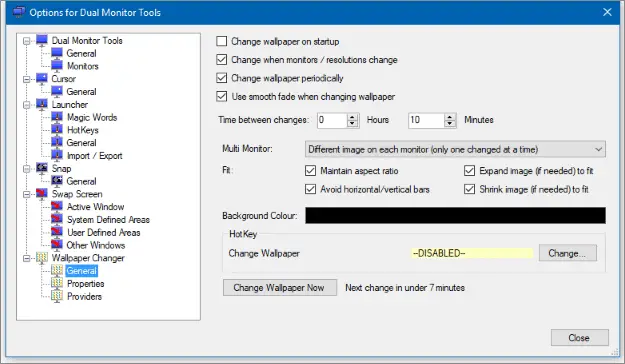 Dual Monitor Tools (DMT) is open-source software that is available for free. It enables you to set up multiple monitors. The program is lightweight and runs on all versions of Windows.
The software includes five primary modules – Cursor, Snap, DMT Launcher, Wallpaper Changer, and Swap Screen. Dual Monitor Tools Launcher is this tool's most unique feature. It allows users to launch any program or application by filling in custom magic words inside the text box.
You can configure the software to change the wallpaper on both VDUs at regular intervals. You can also create your customized hotkeys that will enable you to shift windows between two monitors. How about minimizing, maximizing, and supersizing them to expand the windows across both screens? Snap again is a handy DMT tool. You can capture a screenshot on one screen and display it on the next.
5. MultiMon TaskBar Pro 3.5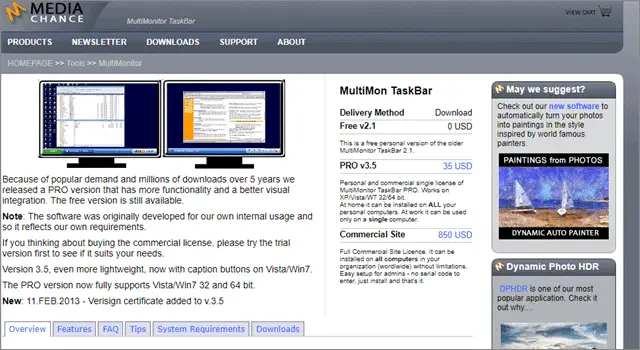 MultiMon is lightweight and runs through 32 to 64-bit Windows platforms across all versions. It supports three monitor setups. The Taskbar 2.1 is free and adds a second and third taskbar to the additional screens. However, it lacks the system themes that are present in the pro version. The free version (taskbar 2.1) does not give you anything more than extra VDU taskbars.
Both versions consist of a Clipboard Extender tool that is quite functional. This tool saves all the text copied to the clipboard, thus facilitating users to select various items from the secondary taskbar's combo box.
Additionally, the pro version can expand windows across two monitors, select different taskbar themes, and move windows to another VDU with arrow buttons. You can either avail of the free version or buy MultiMon Taskbar Pro 3.5 for $35.
Download MultiMon TaskBar Pro 3.5
6. ZBar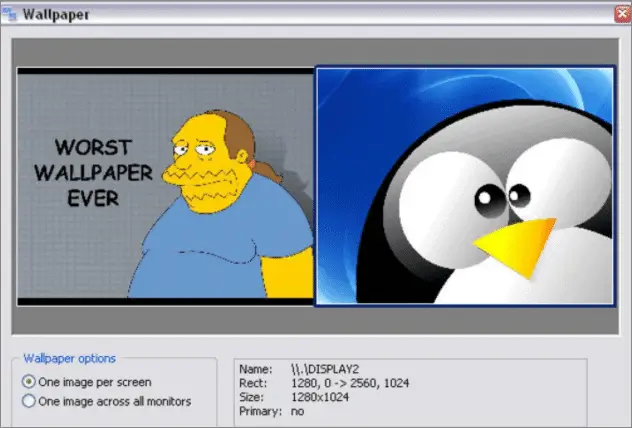 ZBar is a free and open-source program. Although it is compact, this tool offers a powerful solution for people looking to work on multiple monitors. The software places a taskbar at the top and bottom of the secondary VDUs. The taskbar includes either one or two rows of buttons.
The controls are available in six different styles. Regarded as one of the best dual monitor tools, ZBar comes with keyboard shortcuts that enable users to shift windows across the connected VDUs. It features an optional clock and shows a six months calendar.
You also get various customization options with ZBar. They include choices for usual or double-height, eight different skins, and special effects, such as mirror and glass. Users get to select other wallpapers for each of the monitors since ZBar allows you to extend the Windows taskbar to multiple screens.
7. MurGeeMon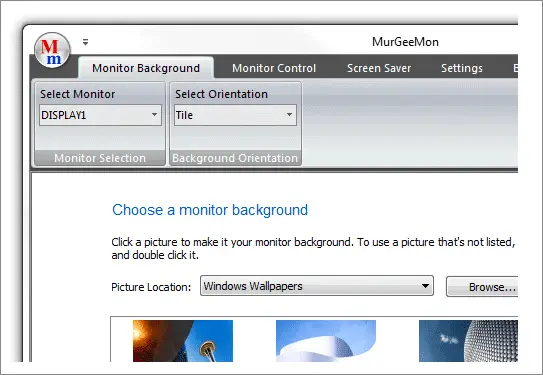 The best dual monitor setup, MurGeeMon allows you to manage multiple VDUs without much effort. The software swaps the primary screen with the external screen that is linked to the desktop. It also helps users in enabling and disabling connected displays.
MurGeeMon allows you to change the theme of a display conveniently and provides various options for the same. You do not have to force a wallpaper on the entire screen covering all the monitors.
You can also change the resolution of the different VDUs with a single click or a desktop shortcut. This function comes in handy while saving the power of all the screens linked to the main Windows screen. You can either avail of the free trial for 20 days or buy the software for $5.
8. NVIDIA nView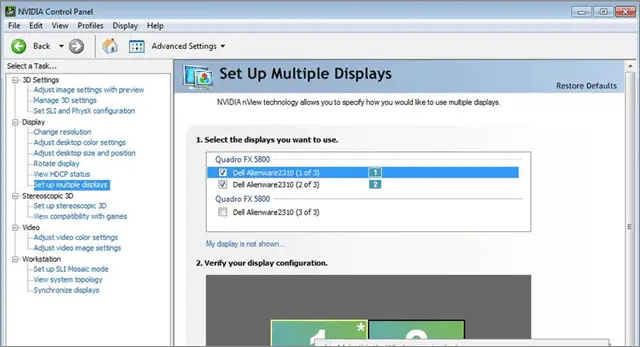 NVIDIA nView is a multi-monitor software that enables you to manage your desktop effectively. It is a highly-used and supremely efficient desktop management tool. This tool provides professionals with flexibility and control over single or multiple VDUs.
NVIDIA nView makes the right set of tools available to navigate your system's information, decrease lost time, and increase productivity. It has an intuitive interface that facilitates easy display management. You get a customizable desktop and robust IT management tools that come in handy for effortless deployment and maintenance.
The software boasts of tested compatibility with the industry's leading business applications and has successfully proven its stability over millions of enterprise installations. It includes all the top features you'd find in any of the best dual monitor tools.
9. MultiMonitorTool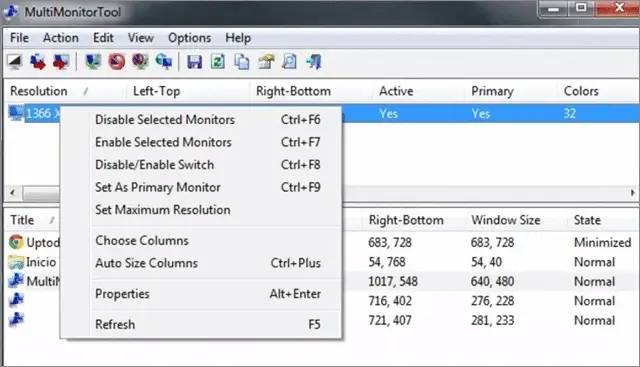 MultiMonitorTool is a small software that enables users to perform a few actions related to working on multiple monitors. You can enable and disable monitors, save and load all the screens' configuration, and set the primary VDU. You can also shift windows from one monitor to the other.
Users can perform these actions from the command-line without displaying the user-interface or directly from the user-interface. The program also provides you with a preview window. It enables you to watch the preview of every screen on your system.
10. Input Director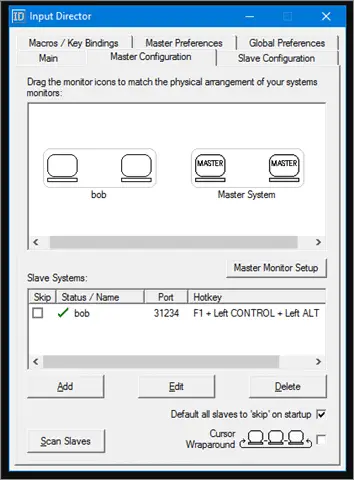 We cannot have a list of the best dual monitor tools and not include Input Director.
This tool enables you to control multiple Windows systems by using the mouse or keyboard attached to one PC. You can switch control between the monitors by using hotkeys. Users can also do the same by dragging the cursor to the edge of the display on one PC for it to show up on the next one.
Input Director's most striking feature is a shared clipboard. You get to copy and paste between PCs by copying on one computer, switching control, and pasting on the other. You can do this with files as well. The software is compatible with all versions of Windows, and the systems need to be networked. It is free software available in the public domain.
11. Synergy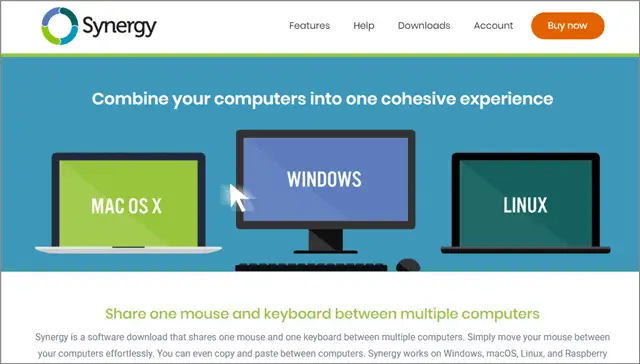 Regarded as one of the best dual monitor tools, Synergy allows you to share one mouse and one keyboard between multiple screens. You simply need to move the mouse, and it will go from one PC to the other effortlessly. You can also try your hands on effortless copying and pasting between monitors.
Apart from Windows and Mac, Synergy works on Linux and Raspberry Pi as well. You only require a WiFi connection or the regular ethernet, and no specialized hardware. The Screensaver Sync enables you to activate screensavers for all the PCs at the same time. Synergy also provides users with hotkey functions.
Customizable key combinations can be set and used for various actions. You can buy the basic version for $29 and the pro version for $39.
Conclusion
So, what are you waiting for? Quickly allocate windows between visual display units (VDUs) and improve the look and feel of your PC with the multi-monitor desktop screensaver and wallpaper.
We've listed the best dual monitor tools that will make your life easier. Apart from offering some great features, they are pocket-friendly as well. By using the software, you can quickly move the Windows display between two screens or extend the wallpaper of your choice to multiple connected VDUs. The robust tools enhance your dual monitor setup experience and enable you to configure how you want your taskbar to act.
The multi-monitor software that we've listed provides you with the best support required for you to manage more than one screen precisely. Grab one, and do let us know if it worked for you or not.
Related: How to Set Different Wallpapers on Multiple Monitors in Windows 10