Personal finance is a vast domain, and it is crucial to get your hands on the right sources to ensure your financial needs are met judiciously. Quicken is undoubtedly an industry favorite. However, due to ownership and expansion changes, various users are now looking for Quicken alternatives based on their predecessor's same lines.
Whether you are hunting for superior Quicken alternatives for personal use or a small business, we have some great tools that will flawlessly manage your bills, investments, and other expenses.
14 Top Contenders As The Best Quicken Alternatives
Switching your financial software to a more reliable is a sensible choice. The Quicken alternatives offer better features, perform better services, and are very competitive with their pricing too. If you have decided to jump to some other ship, our list will help you out. The software options that we have listed offer bill management services, give handy tips to manage your finances better, and assist in personal finance.
1. GNU Cash
GnuCash is a free alternative to Quicken. It is designed to be useful for personal or small-businesses and handles all financial accounting. The tool is licensed under GNU and supports multiple platforms, including Windows, Mac, Linux.
Keeping it simple and basic, GnuCash is smart enough to track bank accounts, stocks, income, and expenses. One of the most useful Quicken alternatives, Gnu Cash, gives you a touch of using a checkbook register with its quick and intuitive interface.
2. Mint
People looking for business-oriented financial software might have to look at other options in the list as Mint is a more of a personal tool to handle financial assets of your daily routine.
One of the best Quick alternatives, Mint, gets all the bills and money together and helps you to know what's pending and how you can avoid any overdue charges. When your account is charged with some unusual amount, you get an alert with some helpful custom tips.
Once you have set up the tool, sit and relax as Mint makes sure your information is secured with 256-bit encryption. Mint is cloud-based and makes it easy to access the tool anytime and anywhere without relying on a single PC or device.
3. Personal Capital
Personal Capital is a good Quicken alternative if you want to replace the latter with no regrets. You just have to link all your accounts once and then keep an eye on the entire financial routine's real-time view.
Whether you want to see your net worth, analyze the investment, and spot the hidden fees, Personal Capital is the tool that will help quickly. If you know your today, you can plan well for tomorrow, and that's what Personal Capital does by calculating the future college cost and telling you the possible "what ifs."
4. YNAB – You Need A Budget
Those looking for the free-only ones will not find this credible as it's a paid financial tool. Although you have to pay to get this tool work, it is worth purchasing it due to its sleek user interface and nifty features.
Suppose you are a professional and looking to invest in one of the most reliable Quicken alternatives. In that case, YNAB may not be an ideal choice for them but a good pick for personal users. They have four basic rules that deploy every dollar to a job, hold your real expenses, adjust your budget, and age your money.
According to YNAB, you must control every dollar you expend while ensuring what you want your money to do before you spend it. Second, you must realize that some amount of your money must be used for large expenses. Third, when you need to change your budget, just do it. Last but not least, the YNAB rule says, spend the money today that you earned a month ago.
5. MoneySpire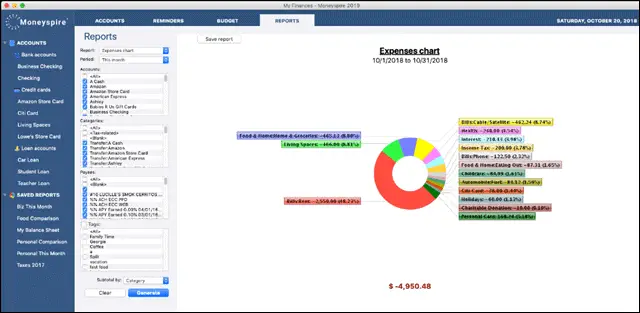 No doubt, MoneySpire is one of the best Quicken alternatives that every personal and professional user will look forward to acquiring at a reasonable cost. MoneySpire will not save you money while replacing Quicken, but it's a viable paid option for professionals.
You can set an unlimited number of accounts where account types include Bank, Cash, Credit Card, Other Assets, Other Liability. It features various reminders to set whether it is about getting notified about a Standard deposit/withdrawal or days due and past due.
Everything is unlimited in the tool; the number of categories, parent-child categories relationships, number of payees, number of tags, and budgets. Users also get an optional Online Banking option that automatically downloads transactions, pays bills, and imports files from the financial institutions by drag and drop.
6. Tiller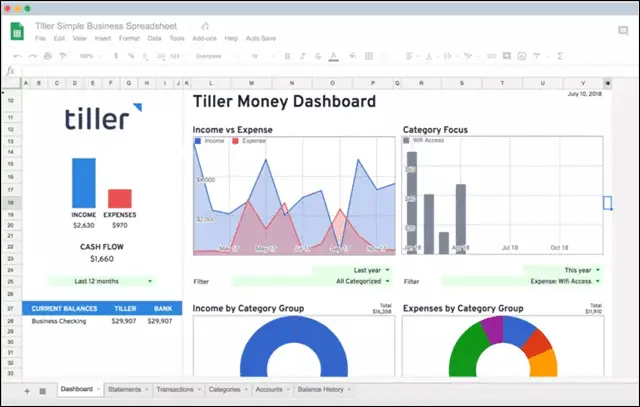 Tiller comes with a 30-days free trial version, and you can have it for just $59/year to make the best out of this financial software. Spreadsheets are never a good option when you want to pull all the data manually. Tiller connects your financial accounts to the spreadsheets and updates your daily transactions and balances automatically.
You don't have to give a second thought while linking your accounts to Tiller as your data is protected with bank-grade 256-bit AES encryption. Whenever you want to see your spendings status, open your Triller template, and view all the up-to-date transactions and balances.
If you are not comfortable putting your data on the cloud (Quicken is now cloud-based), Tiller is your best companion that keeps your data with you on your device locally. When it comes to reliable Quicken alternatives, Tiller can be trusted.
7. Status Money
Status Money lets you compare and analyze your interest rates, spendings, debts, and assets. You can even compare your finance with other people like you to see how you perform compared to your peers and National Average.
It is a cloud-based Quicken alternative that lets you save and earn better. Just like other tools, Status Money also tracks your accounts, monitor your credit. It also sends you notifications about every transaction that ultimately helps you manage your finance in a better way. Since it provides everything for free, ads help them make money.
8. Count About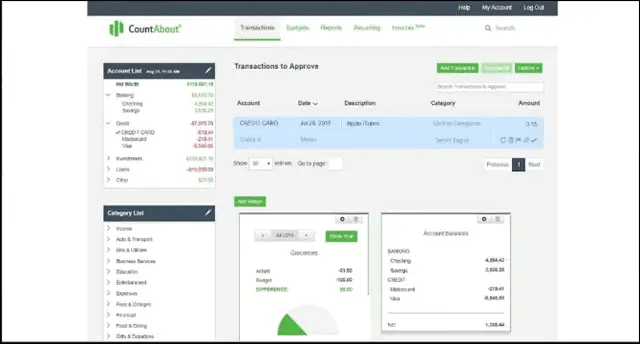 CountAbout is purposely made as one of the most trustworthy Quicken alternatives that help you manage your money anytime and anywhere. You can sync your data from banking, credit card, or retirement accounts.
CountAbout imports data from Quicken and Mint. It is almost similar to Quicken in terms of its bundle of features and data accuracy. It features multi-factor login protection that assures security. Despite being a Quicken alternative, it is not free and costs $9.99 for the basic version and $39.99 for the premium. You can try the free trial version for 2 weeks and if you like the software or not.
9. Moneydance
You may not find it very popular like other names in our list, Moneydance is worth mentioning as it is not cloud-based and keeps your data out of the danger of being leaked online. You can link your accounts online so that it can fetch all your transactions automatically. All the transactions will be stored only on your computer.
If you don't want MoneyDance to automatically pull your transaction to keep your data away from being online, you can manually enter transactions without linking any of your accounts. Its visual reports let you analyze your income and expenses all at once. You can say the tool is free to use but only up-to 100 manual transactions.
After you are done with 100 transactions, you are charged $49.99. One of those Quicken alternatives that give you plenty of options to explore, Moneydance is a must-try.
10. Every Dollar
If it's getting hard to meet your money goals, EveryDollar has got you covered. Money stress is the past if you are equipped with EveryDollar. This budgeting tool can be your best decision while spending your dollar so that it goes to the right place. The customizable template for budgeting your monthly expenses lets you frame the plan in less than 10 minutes.
The tool is free and paid both and works across all your devices, whether on phone, tablet, or PC. The paid version ($99/year) offers mobile support and automatic import of transactions that ultimately saves a lot of time. An exceptional pick when it comes to Quicken alternatives, Every Dollar is here to stay.
11. Good Budget
If you are tired of carrying paper envelopes, GoodBudget is all you need to keep track of your finances by following a virtual budget program. The tool is helping thousands of people to track their budget while saving for significant expenses. Goodbudget is based on the envelope budget system that is available on the web, Android, and iPhone.
Envelope budget is nothing but a pre-decided amount that you set for different categories of spending. Once you have set an amount for a particular category, the tool will track your expense and watch it as it reaches the prescribed limit. When needed, you can share your budget with your close ones with its cloud sync-enabled apps. Are you ready to try one of the best Quicken alternatives?
13. Dollarbird
DollarBird is a simple Quicken alternative with no unnecessary or extra features. The tool uses AI while categorizing the transactions. You can track everything either on mobile or web or just mix it up. The balance is calculated automatically, no matter daily, monthly, or weekly, helping you understand your money goals smartly.
One can add a partner or a family member to help you set up your financial goals (only in paid version). The free version comes with one calendar and basic features, while the paid option ($39.99/year) allows you to collaborate with your family members or freelancers (3 team members and 20 calendars).
13. Pocket Smith
PocketSmith is a paid alternative to Quicken that understands your money potential. Once you have got this tool on your system, you will never have to worry about your cash flow. You can achieve a diary-like feel by categorizing, labeling, and annotating your transactions and see them anytime in the future.
'What if' scenarios help you get some basic answers, like the result for what happens once you stop spending on fast food, or how to survive on a low income? One of the best Quicken alternatives, PocketSmith, is perfect for personal use that helps you make day-to-day decisions smartly and evenly.
14. Banktivity
Banktivity is not for Windows OS and is a personal financial tool for Mac users. It connects all your accounts at a single place so that it becomes easy to make smarter financial decisions.
The tool makes sure you are living within your means and set up for those more considerable expenses. It follows envelope budgeting to make sure you are proactive with your money. Instead of checking every single bill, you can get all the paid and unpaid bills and dues in one place. It shows you exactly where you stand when it comes to your expenses and money matter.
Eventually, it directs you to a way where you can cut out unnecessary spending, which is like finding free money in your bank. Banktivity is an all-in-one software and an incredible choice for Quicken alternatives for Mac and iOS users.
Conclusion
Before the web-based tools for finance management became popular, Quicken was everyone's go-to option. As new companies brought in lucrative offers over the years, personal finance software came to the forefront. Quicken is also infamous for breaking a lot. It sometimes fails to sync across other accounts as well.
Whether you are looking for a full-fledged financial tool to handle your business finance or a basic one that meets your personal needs, we have pretty enough options for you in our list of best Quicken alternatives. The software is available in the market today and includes both free and paid picks. So let us choose one of these alternatives and aim towards better management of our financial resources. After all, who does not want seamless integration with other enterprises and a tool which runs smoothly?