Plex is a media server that allows you to integrate all your media, including video, audio, images, and other online services, and enjoy it from any place you go. Plex plugins and channels will help you add functionalities to your media server. The internet-enabled device is an exceptional media player for people who want to watch content from the comfort of their couches.
The client-based server keeps you thoroughly entertained and allows you to access the library from anywhere. Plex plugins superpowers the already existing features and makes the media server even more useful.
25 Best Plex Plugins And Channels You Must Install
Plex is a great app. If you add to its functionalities by customizing the interface as per your needs, it will become no less than any other mainstream app of this niche. We have listed the top Plex plugins and channels that make the software richer, more useful, and better.
Note: The first section consists of the must-have Plex plugins, and the second one displays a list of the best Plex channels.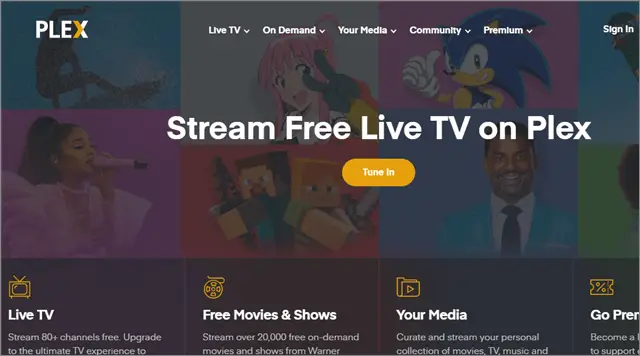 17 Best Plex Plugins
1. Plex-Trakt-Scrobbler
Trakt.tv is one of the best Plex Plugins that synchronizes everything you have watched in terms of history, ratings, and playback progress. Whether it is a TV show or movie, Trakt.tv tracks everything. You can also synchronize the data between Kodi, MediaPortal, Emby, Infuse.
2. IPTV
Those who know what IPTV can do can simply install this add-on and let it do its job. Many TV networks broadcast shows via IPTV. This plugin comes in handy to get access to all those content provided they are not geo-blocked. It reads live stream URLs from an m3u file and sends them to Plex in a compatible format.
It is a good idea to read up on IPTV before you install and use it.
3. Transmogrify
If you are using Plex from a web browser, Transmogrify is among the most useful Plex plugins. It is a browser extension that comes with multiple features. These include the solutions to view the movie trailers, missing shows and episodes, and the Rotten Tomatoes page for films. You can add a 'Can I Stream it' widget to the movie pages.
If you are keen to know everything about your favorite actors, then this add-on lets you explore the actor profile and cast members of a movie.
4. Tautulli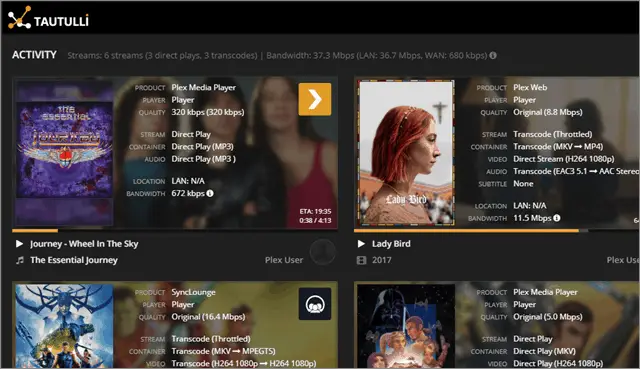 Once known as PlexPy, Tautulli is a handy Plex add-on for people who share their Plex library with family and friends. It renders statistics of your Plex server, and the stats are about the shows you watch. These include details like the time and the number of times you watched. When you enable the notifications, it gives updates to all about the content or new additions.
The statistics are presented in a clean interface in the form of tables and graphics. Tautilli is one of those perfect Plex plugins that monitor the server activity, view statistics, and keeps track of content.    
5. WebTools (Unsupported AppStore)
WebTools is one of the most useful and popular plugins for Plex. The modules currently available in WebTools plugin are UAS (Unsupported App Store), TechInfo, and PlayList. When it comes to installing this add-on, it may be a bit complicated, depending on the OS that you use.
You must go through its online manual before getting started with WebTools. If you need some efficient tool to manage and organize your Plex Media server, WebTools must be there in your Plex plugins list.
6. Sub-Zero
One of the best Plex plugins, Sub-Zero, handles creating subtitles for your media library. It is a metadata agent ad interface-plugin for Plex Media Server. It scans ten individual subtitle provider websites and APIs and selects the best matching and download site for you.
The matching is done after looking at your media files' file names and assigning a score to every subtitle using an algorithm. The subtitle with the highest score is picked up for you. You can even set where the Sub-Zero should store the subtitles.
7. Plex2Netflix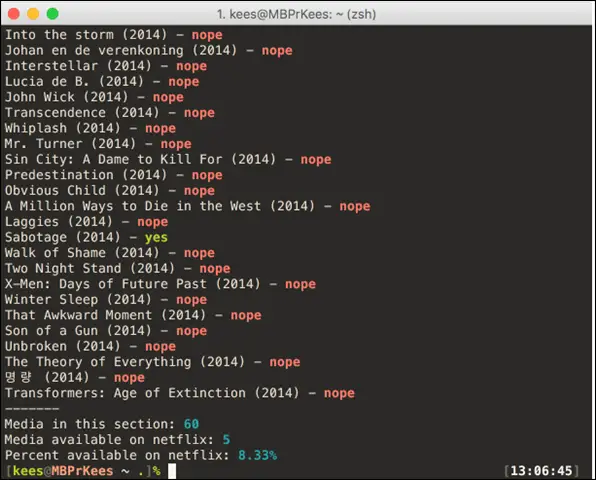 If you happen to run out of space, Plex2Netflix  plays a crucial role here. Although you cannot watch Netflix content on Plex, you can still find out the amount of media from Plex leftover while watching Netflix.
It uses the Plex Web API to get a list of all the media from the given library section. You can also delete some unwanted content from the media content for more space.
8. Plex Export
It produces an HTML page with information on the media contained in your Plex library. The page can be shared publicly without access to the original server. Using a click, you can view additional information. There is live filtering in each section available.
One of the best Plex plugins, Plex Export, allows you to lazy-load images and get additional information, for instance, ratings and year of release.
9. TheaterTrailers
TheaterTrailers is an excellent Plex Plugin for all the movie buffs who do not want to miss movie trailers. TheaterTrailers downloads the trailers from YouTube using youtube-dl automatically. This add-on gives you a movie theater feel by adding unreleased movie trailers to your Plex library.
10. Plex Sync
Plex Sync is one of the best Plex plugins and a must-have if you run multiple Plex servers in different locations. It syncs all devices that the user has. It syncs watch stats between other Plex users.
If you are watching something with a family member on a single server and later on plan to watch from somewhere else, then use this plugin. It will ensure that different servers are synced to resume from the same point where you left off from any device.
11. Kitana
One of the most popular Plex plugins, Kitana, came to the forefront as an answer to Plex's decision to remove plugins from the server's front-end and media player apps. Kitana has made it exceptionally easy and convenient to install, delete, and manage all the other plugins. The plugin enables users to automate the sideloading process using the web-based interface.
12. Ombi
Ombi enables users to share Plex media with whoever you want and is one of the must-have plugins for Pex. It also lets you request content that is otherwise currently unavailable. The Plex plugin works as a self-hosted app. It connects users to a web portal that can be used for sending requests. So, you can check out all the requests via the web portal whenever you wish. Those who made requests will receive notification alerts in the form of emails when the content they asked for is available.
13. Manga Here
Are you a fan of reading Manga and watching anime? Not many users are aware that a Plex plugin enables them to stream their favorite Manga books and novels. One of the best Plex plugins for people who wish to cast the graphic novels on the big screen and read them, Manga Here is a blessing.
You can hunt for titles by entering the names in the search bar from your Plex server. The books are streamed from the website called Manga Here, and you get access to all the content without having to deal with annoying advertisements.
14. Film On
Film On is an excellent Plex add-on that makes your content streaming experience even more beautiful. It integrates with various TV channels that are available for free. The channels range in variety and cover almost every genre. Horror, sports, comedy; you name it, and they have it. You will be able to view channels that are not available in your region originally but stream in other countries, thus surpassing geolocation barriers.
Simply register on Film On's official website page and sign up using the same credentials via your Plex server, and you will be good to go.
15. Ice Films
If you are a Roku-user, Ice Films is one of the must-have Plex plugins for you. It redirects all the films and series from your Roku TV channels to your Plex server. You can add your email id to the plugin, and it will send you alerts and notifications in your mailbox updating you about the newly added content and latest shows available.
The plugin brings you a wide variety of content, and you can hunt for videos either alphabetically or according to the time of release. Ice Films enables you to indulge in hours of quality entertainment and is unmissable.
16. OpenPHT
OpenPHT is a useful Plex plugin which provides an intuitive and fresh front-end to your Plex server. The third-party add-on works seamlessly on all operating systems, including the rare ones like OpenBSD and Debian. Plex does not include an in-built app, making it difficult to add new content or check server updates. This issue is resolved by the Plex plugin OpenPHT. Once you have installed OpenPHT, you can directly stream your choice of video content on the server instead of signing in to the web portal.
17. Organizr
Do you run multiple Plex servers simultaneously? Managing and keeping track of all of them at once is not an easy task. This is where Organizr, one of the most useful Plex plugins, comes in. It enables you to set up and add new tabs with various individual servers. These tabs ensure that all the Plex servers are managed separately hassle-free.
You can go to the settings option and add more than one user to handle and look after the Plex servers. If you do not like the default interface theme, you can go ahead and change it to something of your choice. You can also manage and get access to your Plex server from any device and from anywhere across the globe.
8 Best Plex Channel Plugins
18. BitTorrent
BitTorrent is packed with some fantastic content, including TV shows and movies. The content is well-organized and comes in 720p and 1080p HD video quality. Since the BitTorrent protocol bounds it, some users may not be able to use it. Yes, BitTorrent channels use BitTorrent Protocol; hence some ISPs do not allow it to stream.
However, with a good VPN, you can easily bypass those restrictions and enjoy the content. Stream films, shows, and series and stay thoroughly entertained by installing this Plex plugin.
19. Crunchyroll
If you are an anime buff, make sure you don't miss out on Crunchyroll. If you subscribe to this plugin, you can watch oodles of anime and manga titles in subbed and dubbed versions. The add-on is unofficial, but it lets you stream the content in HD quality if you have a premium account.
20. cCloud TV
cCloud TV is a Plex plugin used for Live TV, Movies, TV shows, and radio shows. You can choose from a large bank of channels for streaming Live TV. Do keep patience, as some TV channels may take time to load. You can explore a wide variety of well-categorized content based on language, country of origin, and genre.
Moreover, this Plex plugin also allows you to stream some channels using m3u and cCloud TV-style URL/file.
21. FMoviesPlus
With FMoviesPlus, you can view all the indexed content by the website FMovies(.se|.to|.is), G2G, FMovies.io, YesMovies, Primewire in a single interface. It offers you an easy method of watching films with a resolution of 1080p in HD quality.
One of the most different Plex plugins to install, FMoviesPlus, gives users exciting facts about the content that can help you decide what to watch instantly. You can also create a list, add in your favorites there, and bookmark it for viewing later.
22. SS-Plex
Imagine how wonderful it will be to have all your favorite movies and shows streaming in one place. This would save you from the plight of scanning multiple websites to look for your preferred choices. The SS-Plex plugin is an official Plex channel that gets inside your server and does precisely this. The content is automatically updated, and you can watch it on any Plex-supported device.
23. NHL
If you subscribe to the NHL website, which is famous for hosting hockey matches, we've got some news that will get you excited. Add the Plex plugin to your Plex server and get your hands on NHL GameCenter's entire library of content. You can view any hockey match that you wish from your internet-enabled device. One of the best Plex plugins for sports enthusiasts, NHL, also allows users to replay content on-demand.
You can avail of all the previously played National Hockey League matches and games at any given time. If you are a die-hard hockey fan, we are sure you cannot contain the excitement just like us.
24. CBC
CBC has recently come up with its Plex channel for meeting all your sports needs. The add-on streams various types of sports content instead of focusing on just one. Every Plex user can avail of the CBC plugin's high-end functionalities, which goes beyond just being a regular sports broadcasting channel. Apart from sports updates, you get to immerse yourself in world news as well.
View live sports, check out match highlights, get your hands on the latest TV shows, watch on-demand channels, and get access to tons of other content with this superlative Plex plugin.
25. BBC iPlayer
If you love to watch British films and shows, you must install the BBC iPlayer, one of the best Plex plugins. The streaming service is unparalleled when it comes to the quality of the content it hosts. BBC iPlayer is accessible to anyone who uses Plex. Plex users can get their hands on anything they wish to view on the BBC every day. You can even hover to the 'Channels' section and add this channel plugin to your Plex server. If you are a resident of the United States or Canada, you can also check out the Britbox service for watching high-quality British dramas.
Conclusion
Plex is an exceptional media server, and adding the best Plex plugins and channels increases its utility. Whether it is to meet your gaming needs or sports updates, these plugins serve all purposes. From making high-quality content available to providing daily news, Plex plugins range in variety, and there is something for everyone. You can read Manga comics and avail of rare classic cinema as well. You will find almost any movie genre, music, TV shows, and a lot of their entertainment content.
Quite similar to Kodi, Plex has also gained a lot of popularity in the recent past as more people are resorting to this medium to meet their digital content-viewing needs. Most of the smart TVs that we have in the market today come with Plex support. Plex is the right choice for people willing to keep all their media in one place, and the plugins will keep you glued to the screen and hooked to the couch.