The copy-paste functionality is most used whenever you use the PC, especially if you are working around content. You copy all the possible digital data to paste it into documents, files, or folders. However, the inbuilt Windows 10 clipboard manager does not have anything more to offer when it comes to copy-paste.
There are third-party clipboard managers who offer many exclusive features along with standard copy and paste. The developers, content writers, and designers look forward to these third-party alternatives to work efficiently. You can have the entire history saved in some clipboard managers, instead of only the last clip. It, thus, makes it easy to use any clip that was previously copied to the clipboard. It also works as the perfect alternative when copy paste is not working.
Best Windows 10 Clipboard Manager
We have shortlisted some best clipboard managers for Windows 10 to avoid confusion. You can choose the one that best suits your needs and work.
1. Comfort Clipboard Manager
Comfort Clipboard Manager is one of the best options for Windows 10. It comes in a paid version, but offers a lot of features. You can save unlimited history in the clipboard; the default is 500 fragments.
Highlighted Features
Provides 448-bit Blowfish encryption to protect your data from unauthorized access
You can paste multiple fragments at once
Supports multiple formats
You can apply the required filters for the fragments.
Have your favorite fragments handy
Access it conveniently from the Windows 10 taskbar
Price: Single user license for USD 19.95 (One time purchase), offers a free trial
2. Ditto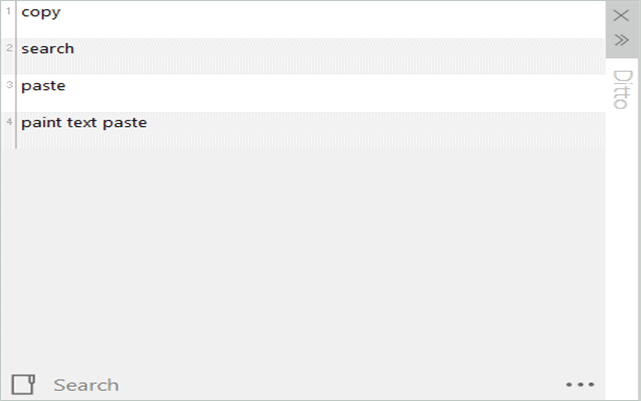 Ditto is an extension to Windows 10 clipboard manager, rather than downloadable software. It is a free and open-source application that can help you with many clipboard functions. The data is encrypted whenever it is sent over the network, which gives your data secure access.
Highlighted Features
Saves history of previous entries copied to the clipboard
Syncs multiple computers in sync
Uses SQLite database
See thumbnail for the copied image.
Access the extension easily from the taskbar
Price: Free
3. ArsClip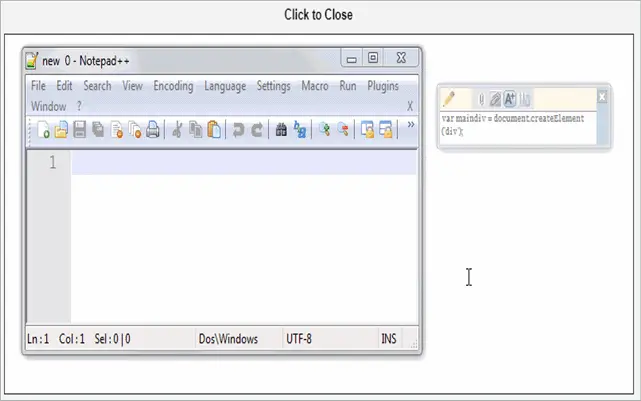 ArsClip is a free Windows 10 clipboard manager that supports image, rich text, file copy, Unicode, and HTML. You can set hotkeys to open this clipboard manager whenever it is required.
Highlighted Features
You can configure it the way you want
Supports copy-paste automation
Provides optional global clipboard for sharing the clips with other Android and Windows devices
Price: Free
4. ClipboardFusion
Clipboard Fusion comes in free and paid versions. You get all the basic features in the free version as well, so if you don't wish to spend money on clipboard manager, you can opt for the free version of this application.
It removes the formatting from the copied text, such that it becomes easy to paste it in the desired location. You also have an option to replace the text in the copied string with a predefined string.
Highlighted Features
You can create the powerful macros in C#
Sync your clipboard with Apple iOS, Android, Windows 10 devices
Provides 256bit encryption for syncing features so that your data is secured
Options for hotkeys and triggers
Price: The pricing starts from 7.50 USD
5. Ethervane Echo
Ethervane Echo is a useful Clipboard extender for Windows XP or later. It makes your task of gathering information and preparing a doc easier. This application can be really helpful to editors, journalists, programmers, technical writers, translators, or anyone who works around texts more.
One of the major drawbacks of Ethervane Echo is that it cannot copy images, files or non-text formats, it only manages texts in different formats. So, if you are looking for a Windows 10 clipboard manager that can help you copy-pasting images and text along with documents, and folders, this is not the right tool for you.
Highlighted Features
Provides an option for instant search
Supports hotkeys for function access
Price: Free
6. CopyQ
CopyQ is a free and open-source Windows 10 clipboard manager that can help you do a lot more than a simple copy-paste. Along with the user interface, it has powerful commands and a scripting interface.
Highlighted Features
Cross-platform support
Allows to browse and filter items stored in the clipboard history
You can customize the tool the way you want
Supports vim like editor and keyboard shortcut
Saves text,  HTML, images as well as custom formats in the clipboard manager
Sort, edit, create, remove, drag and drop, and copy/paste items in tabs
Price: Free
7. CLCL
CLCL is another option for Windows 10 clipboard manager under the free and open-source category. It provides support for all clipboard formats and menu customization options. You can also use plug-ins to extend the functionality of the application.
Highlighted Features
You can register the template
Thumbnail is displayed when the image is copied
You can set up a different paste key for every individual window.
Price: Free 
8. ClipBoard Master
The ClipBoard Master offers more than simple copy-paste functionality, that too, for free. It comes with some interesting features like ready Text Templates, Screenshot Tool, Password Safe, Flexi Keys, and Hotkeys. If you are looking for something that is beyond just a simple clipboard manager, then Clipboard Masters wins in every category.
Highlighted Features
You can store up to 10,000 entries in this tool.
Text templates include predefined salutations and greetings.
Option to save text with and without formatting
Screenshots are stored in the clipboard manager.
Supports all Windows program
Price: Free
9. Clipjump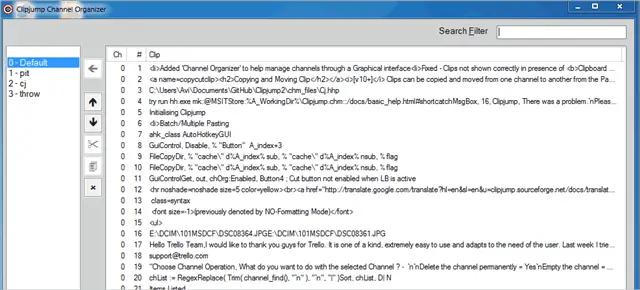 ClipJump is the best way to save clipboard history in Windows 10. It helps you manage all the clipboard activities and stores them for further use.
You can manage multiple clipboards with ease using this application.
Highlighted Features
The changes in the system clipboard are tracked and saved for future access
It needs no extra or special keyboard shortcut; you can use the default ones, including Ctrl+C, Ctrl+X, and Ctrl+V.
Sets an icon for the extracted files for easy access
It uses less RAM, and hence there is less load on your system.
Price: Free
10. 1ClipBoard
1Clipboard is the solution to everything that you need while copying and pasting any content. It synchronizes the content you copy that you can access from anywhere on any device.
Highlighted Features
Saves clipboard history for future access
Allows you to mark favorites
Synchronizes with Google Drive
Uses open-source and modern web technologies
Price: Free
11. ClipMate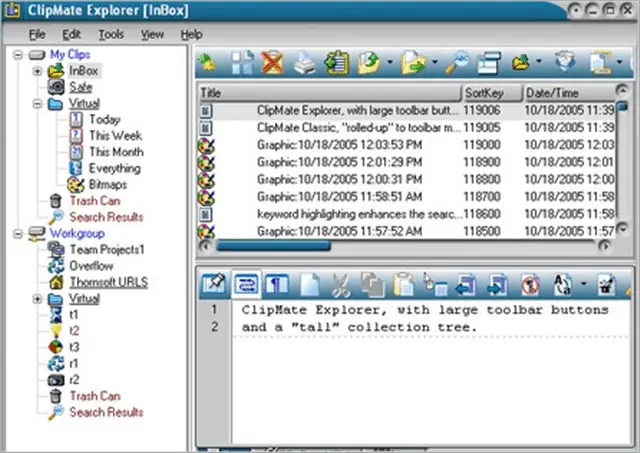 ClipMate is used by tens of thousands of users worldwide as Windows 10 clipboard manager. You can add more than just copy-paste to your Windows 10 PC with this tool. With the help of ClipMate, you can save thousands of clips on your PC. It comes in a paid version but offers a 30 days trial.
Highlighted Features
Offers reformatting and spell check
Capture and share clips among multiple monitors
Provides powerful drag and drop
Integration with the taskbar on Windows
Price: Single user/2 computer license costs – 34.95 USD
12. ClipClip Clipboard Manager
ClipClip can help you find, capture, organize, and share information you frequently wish to access. It gives you an option to sort the copied content in multiple folders. You can also have the content translated into any language.
Highlighted Features
Provides drag and drop feature
Easy to use
You can customize the hotkeys with the way you want
Offers an option to upload clips to the cloud, which makes it easy to copy text from one PC and paste it to another
Keep your clips secure by adding passwords to the created folder.
Stores search history
Price: Free
Download ClipClip Clipboard Manager
Conclusion
We use copy and paste on almost all windows that are open to access the content from one application window to another. Windows 10 offers fundamental functionality when it comes to clipboard manager and copy-paste. And therefore, people who deal with content more opt for third-party clipboard manager tools.
The Windows 10 clipboard manager listed above comes in paid and free versions. Each tool offers some different functionalities, but all tools can be of good help when it comes to copy-pasting content. You can opt for the one that suits your needs as well as your pocket.