Music is something that immerses you in a divine world where you can de-stress and heal up your soul to become more active and fresh. However, listening to your favorite songs does not always mean plug-in your earphones and get started with your playlist. As some vital music visualizer tools, not to worry, will help you create some breathtaking and vibrant visuals.
Music visualization tools often get ignored by music creators, making them think why their music is a flop on Youtube and Vimeo platforms. Your music is blameless, but the way of presenting it before the viewers is not. Yes, your presentation is somewhere lacking, and that's the reason you are not getting excellent views. 
The Best Music Visualizer To Set The Mood
Sometimes, music visualization video also plays a significant role in uplifting your mood. It feels better when you watch something appealing and vibrant visuals on the screen while listening to the songs. It engages and pushes you to dive deep into the sacred music. 
Also, accomplished and polished music makers want their music to get viral on social media while offering some good music to the audience. It's always better to have some dazzling visuals on the screen rather than putting up a steady image. On that note, let's have a brief look at these best music visualization tools.
1. MilkDrop 2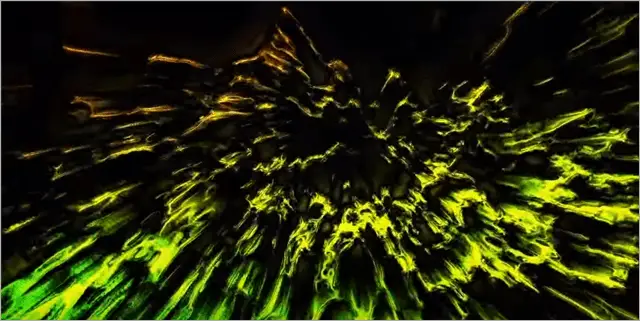 MilkDrop is a popular and the oldest music visualizer that is a plug-in for the Winamp music player. It is open-source software originally developed by Ryan Geiss in 2001. You get a huge bunch of presets, which are stored in .milk file format. It runs on presets, and you can't tweak the presets' behavior unless you know some sort of coding. 
It uses beat detection and DirectX to produce significant visual effects that take you through a musical journey with a rich visualization. Despite being old software, it runs tremendously even on new computer systems. Milkdrop is also regarded as one of the best music visualizers for Spotify.
2. Resolume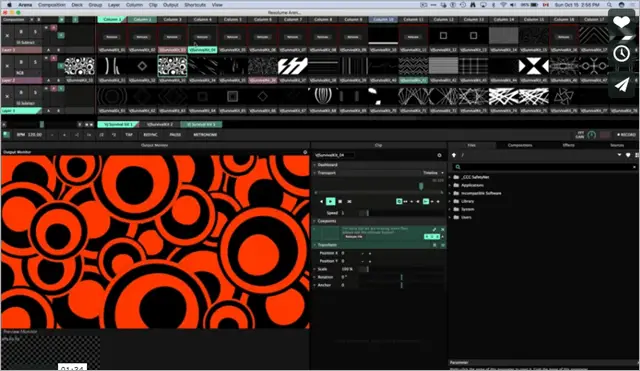 Resolume music visualizer comes with two versions: Avenue and Arena 6. It is an extensive software that works beyond just being an audio visualizer. It plays both music and video files. You can animate pixels, drop beats, and combine the video file with any sound file in Resolume. 
There is no limit to using this tool as it has both sound and video effects, and you can combine them to create special audio-visual effects. Resolume helps you make animated clips and effects. You can switch from one scene to another seamlessly with any required parameter adjustments.  
3. VSXu (VSX Ultra)
VSXu Audio Visualizer is an all-new way to listen to and visualize music that is beyond your imagination. It is the perfect music visualizer that displays graphics for your music. 
VSXu is a modular visual programming language that you can easily build and explore real-time music visualization graphics effects and designs. It is an OpenGL-based (hardware accelerated) programming language that bridges the gap between programmer and artist while creating something inspiring and lively.
4. Kauna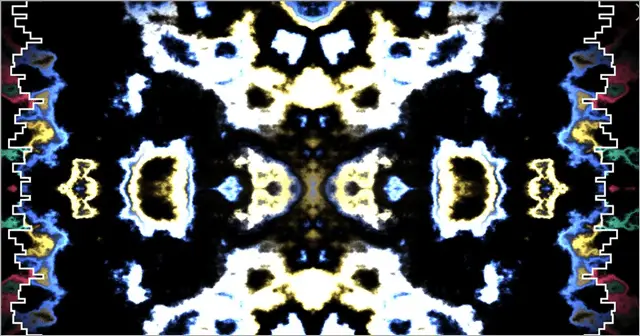 This tool is primarily for Windows 10 users. Kauna is a free music visualizer that provides sound reproduction for any genre. It is blended with stable features, including Wave, Confetti, Bars, Burning Clouds, Plasma, and much more. 
The wave frequency is displayed as beautiful fine lines. The bars representing rainbow spectrum analyzers are too good to take the music visualization to the next level of perfection. It works both as a music visualizer and audio player where everything is highly customizable, including the background photo and visualizations.
5. Plane9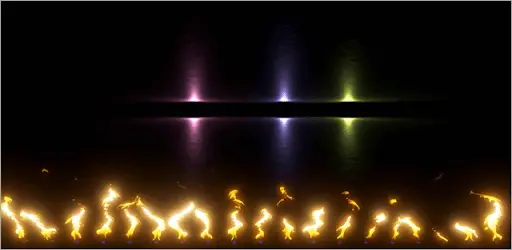 Plane9 is probably the most powerful and best music visualizer on our list, as it never lets you settle for one view ever again. It comes with 250 predefined scenes to choose from, and the scenes can be combined with each other to form an endless array of views. There are 39 transitions to use and form a continuous experience when moving from scene to scene. 
You can use Plane9 as a standalone window, screensaver, oculus rift, or HTC Vive VR visualizer. If you are stressed and want to make your mood up, play your favorite song with Plane9, and you are charged up well. You can also have great views on your music content once you post it on video platforms using Plane9. This sound visualizer is sound sensitive and works according to what you are listening to. 
6. Morphyre
Morphyre is a tremendous 3D music visualizer with thousands of unique 3D scenes that will make you go wow with the graphics quality and synchronizing music. You have the control over which scenes to be displayed, and different effects. 
To run this software, you must have a processor faster than 1GHz plus a graphics card that supports OpenGL 2. Although the software is tested well, it is not guaranteed that Morphyre will run on every computer. If this tool causes a problem in your computer after installation, simply uninstall it and try some other software on our list. 
7. DROP VR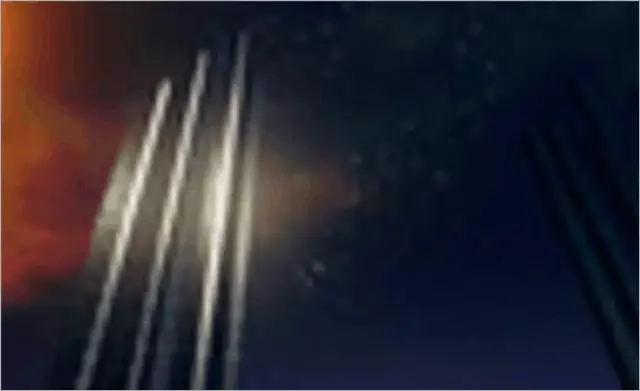 It is tough to decide on how the screen should be visualized while playing a beautiful audio track. Hence, DROP VR allows you to explore some fantastic visuals that look like you are diving deep into another world. 
It works on the real-time scenario, and the visuals are synchronized entirely and dependent upon the type of music you are playing with DROP VR audio visualizer. And guess what? This software also lets you stream from incredible sources like YouTube and Dailymotion easily. What else you need from a free music visualizer app?
8. Magic Music Visuals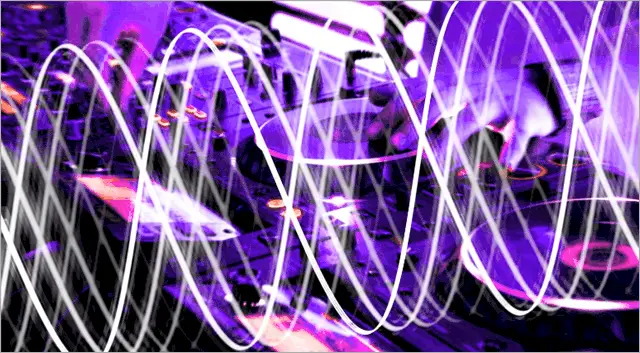 Magic Music Visualizer is a stunning application that renders you an intuitive way of creating interactive and real-time animation effects for events, clubs, theater, movies, parties, advertising, education, and much more. Magic Music Visuals reacts instantly to live sound or any playback and lets you export videos in mp4 and mov formats. This visualizer software is used globally due to its features like geometric patterns that dance and spin according to the song's frequency. 
The other useful features of Magic Music Visuals are real-time video manipulation, GPU-accelerated 3D graphics that move and rotate with the beats. This tool works with all types of audio, MIDI, and OSC (Open Sound Control) sources. 
Download Magic Music Visualizer 
9. PotPlayer
PotPlayer is regarded as one of the most straightforward tools to use if you try out a music visualization software for the first time. The controls are simple and lucid to understand, which makes the software a fine alternative for beginners. One of the standout features of PotPlayer is the tool's ability to allow you to make music videos in almost no time.
With this music visualizer, you can make slo-mo and time-lapse videos of your favorite songs. There are many other editing features for polishing the visualization videos; you can edit your videos' contrast and brightness and choose various visualization templates to set the video's look and feel. PotPlayer is also regarded as one of the best music visualizers for Spotify listeners.
10. VLC Media Player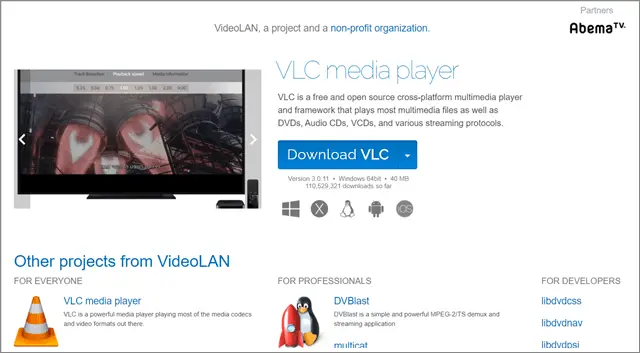 VLC Media Player needs no special introduction; the traffic cone icon is the popular choice of use for millions who wish to devour their favorite songs on the PC. However, very few people are aware of the music visualization tools that VLC Media Player offers. 
What's more, this free music visualizer and listening tool also allows users to convert their files into any format, create bookmarks, and add watermarks. If you don't wish to download a special software just to visualize music, VLC Media is your best bet, without a doubt. It's a familiar tool with a smooth learning curve that will produce the best visualizations for your favorite tunes. 
11. Winamp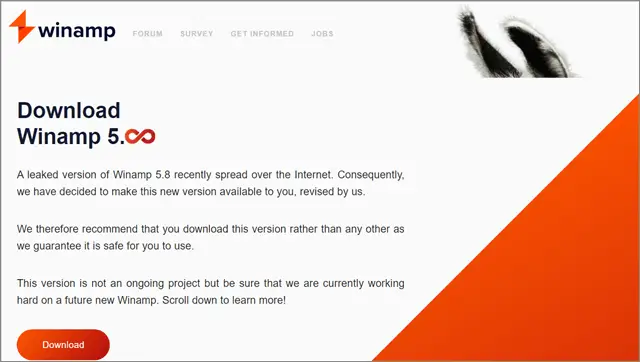 Using Winamp in the present times will surely give you a nostalgia for the older times when the software was the best option for listening to songs on a PC. However, it's also worthy to note that Winamp has excellent music visualizer facilities that can wow you.
Winamp accepts and plays multiple music files. If you want to create audio imagery, you can do so by choosing different categories like Album, Art, Battery, Library, etc. With a clear UI, this audio visualizer software makes it a cakewalk for users to create visualizations in no time. The ability to change the skin of the software and match it to the visuals adds to the look and feel of the music.
12. Videobolt Music Visualizer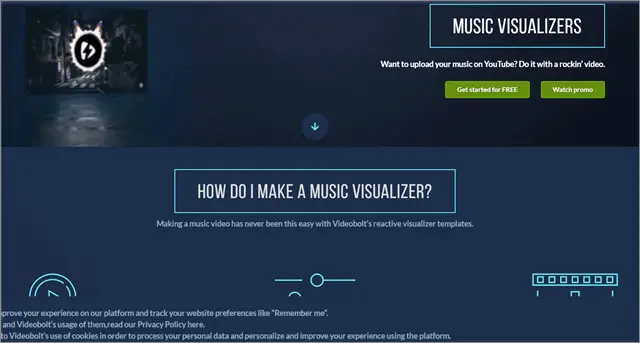 Videobolt music visualizer is an online music player and audio visualizer software that provides various templates for the listeners to choose from. Premium version music visualizer templates are also available in substantial numbers. This tool also lets you add cover art for your music files.
Videobolt music visualizer operates is known for simplifying the music visualization process. All you have to do is select your favorite template, select the Edit button. Upload your files and start adding effects to your audio files to create the visuals. Videobolt isn't a free music visualizer. You have a limited amount of options available for testing in the free trial period, post which you need to pay to enjoy additional simple music visualization features.
Use Videobolt Music Visualizer
13. Media Monkey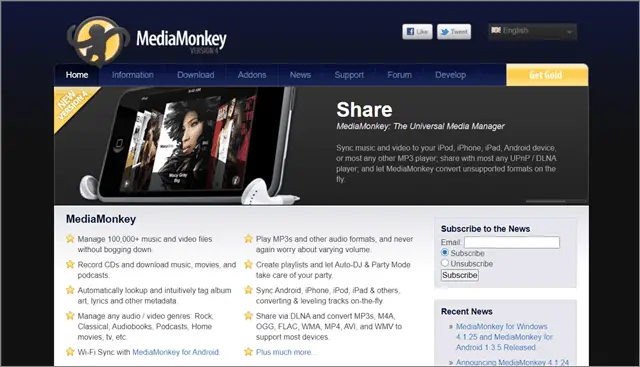 Media Monkey is another easy audio visualizer tool for beginners to try out. This music visualizer software comes with a range of editing functions; it has the ability to manage over 100,000 audio and video files. 
Media Monkey also allows the users to download or record their favorite songs and add visualizations to it. The process for adding visualizations is straightforward; you need to add the audio file to the music library and then select the preferred visualizer. Users can also add the missing album art for better sorting of the audio files in their music library.
14. Renderforest Music Visualizer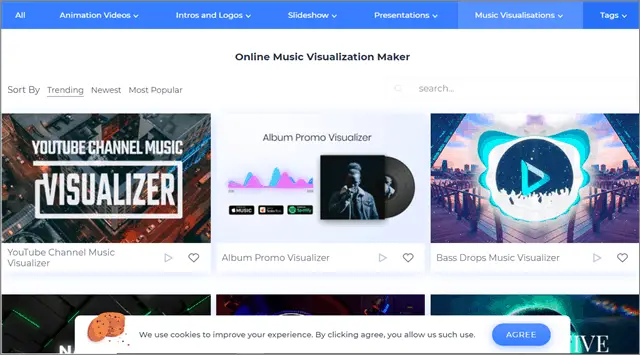 Renderforest is similar to Videobolt; it is an online music visualizer software that allows users to create exciting visualizations for their favorite audio tracks. It is both freemium and paid and has oodles of cool visualization templates to choose from. 
This visualizer software also allows users to build an entire website online, apart from offering other services like creating animated videos, intros, slideshows, presentations, graphics, and logos. You need to have an account on the Renderforest website to have access to music. Once you have that, it's all about choosing your favorite color range and uploading the audio input you want to use in the music videos.
Use Renderforest Music Visualizer
15. After Effects – Audio Spectrum Effect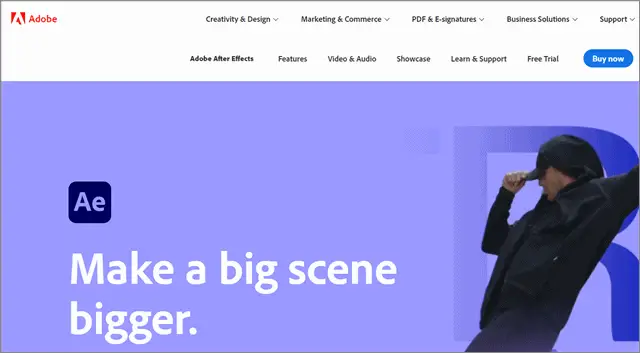 After Effects music visualizer, built by Adobe, is regarded as one of the best music visualizers. It has a smooth learning curve, albeit you do need to know the background on using Adobe software.
After Effects is a premium based music visualizer software, but that doesn't mean you can't experiment with the limited number of available templates in the free trial. The premium version offers a plethora of visualization options, apart from providing services related to motion graphics, video editing, animation, and much more. 
All you need to do is create a new composition and add your sound file to it. After setting the audio duration, just leave it on Adobe to create music visualizations easily that will enchant you to the core. 
16. VSDC Editor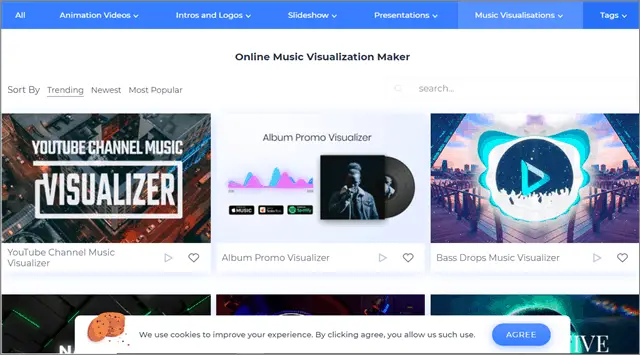 Imagine having a music visualization tool in which you could for editing videos, enhancing colors, exporting videos of high resolution, and visualizing music; VSDC Editor is that perfect all-in-one software you are searching for.
Music visualization is just one of the oodles of services VSDC Editor offers for use. You can create amazing visualizations by using their favorite color range and use the Audio Abstraction feature that selects colorful abstract shapes according to the music you select. 
You can use these exported videos for social media purposes. The only hurdle is if you are a beginner, you might take some time to know how this tool works. However, once you learn enough, creating engaging music videos will be a fun process for sure.
Conclusion
Having a music visualizer running on your screen pays great dividends; audio imagery helps in reflecting upon the mood of the song you are playing on the screen. Although it's not necessary to have an audio visualizer on your PC, it always helps in adding a fresh visual touch to the activity of listening to music.
You can turn your monotonous presentation of music into a more lively and vibrant creation with these awesome and simple music visualization tools. They allow you to blend your music with some stunning visuals and animation graphics that put life into it. You can use any of the tools for building music visualizations, provided they fit the bill of your needs and requirements.