Stores and eCommerce businesses require inventory management and warehouse management services. People can plan accordingly for incoming sales by knowing the inventory data accurately. Alternatively, the absence of real-time data can lead to heavy losses for the business. Having an inventory template for Google Sheets or Microsoft Excel helps users make essential business decisions by keeping track of inventory.
Google Sheets is a flexible tool for tracking inventory since you can work with multiple collaborators on a single Google sheet. That way, everyone on the team can stay updated about the current status of the inventory. Also, you can keep an eye on how the inventory affects your cash flow and profit margin. Inventory management is also possible using barcode scanning technology. Finally, use the Google Sheets calendar template to make a professional calendar so you know when to purchase or reorder office supplies.
6 Inventory Template For Google Sheets
Having a Google Sheets inventory template is a great way to start with inventory management. You can check more about it at Technorms.com, especially if you are running or stepping into a small business. It will help you avoid stock overflow, combat stock shortage, and be less prone to human error in accounting. In addition, it will assist with accurate, real-time stock information.
Let's check the best inventory template for Google sheets. 
1. TradeGecko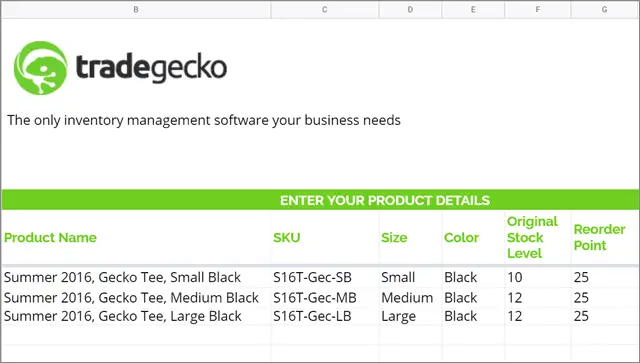 If you have recently started a business, TradeGecko won't disappoint you regarding successful inventory management. TradeGecko is an automated inventory software that provides this comprehensive inventory management template for users who want to track inventory items and availability in their business.
The first spreadsheet explains how to navigate and work throughout the document when you open this inventory template for Google Sheets. You can list down your products and the respective SKU as well. For example, in the Purchases sheet, you can enter all the purchases you make from your suppliers and add other related details about raw materials. Users can also document their sales and create reports in other spreadsheets. Users can track details using this template, such as the minimum stock quantity and order quantity.
If you like the TradeGecko system, you can create a .CSV file and upload it to their inventory management software, and then use it for inventory management along with automation features. If not, the free Google Sheets inventory template is still a great way to reduce inventory management costs and maintain frugal spending.
2. Basic Inventory Template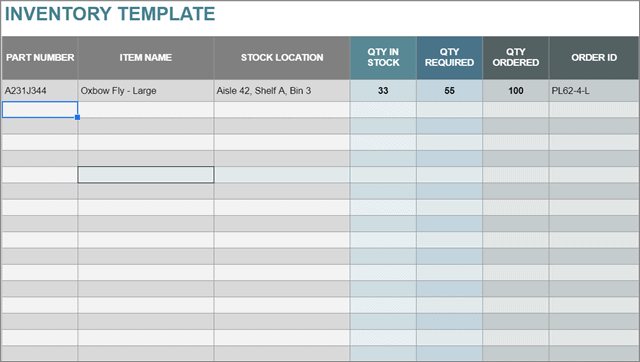 If you aren't interested in detailing stuff, the basic inventory template Google Sheets provide the best alternative. It is very simple to understand, and you can add as many accurate records as you want. In addition, you can measure the minimum and maximum quantity in stock using the basic inventory list template.
The raw materials inventory template for Google Sheets is tailor-made for small warehouses that need to keep an inventory of stock or orders regularly. You can create an itemized list using this template. To get this template, you must click on the link below and create a copy of the Google sheet for personal use.
Access Basic Inventory Template
3. Sheetgo Inventory Management Template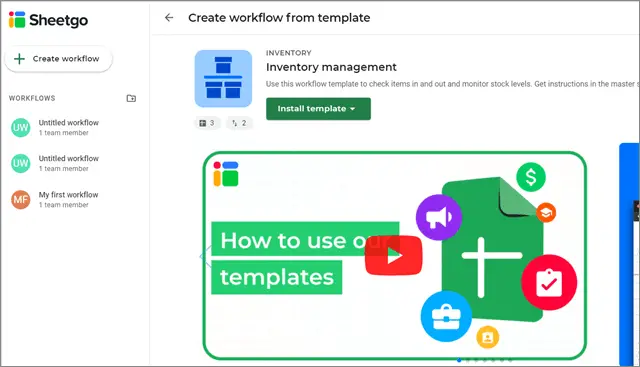 The standard Google Sheets inventory template would consist of a single sheet with multiple columns used for different purposes. However, the Sheetgo inventory template for Google Sheets takes things up by syncing multiple inventory sheets to create an interconnected custom inventory management system.
This workflow template allows the inventory managers to collaborate simultaneously on different spreadsheets for inventory tracking; it syncs the inventory data between different files, thus ensuring every user gets the updated data version. So you can easily keep track of the current inventory level.
When you download the Sheetgo free template, you will get three spreadsheets – Check-in, Check-out, and Master Sheet. The Check-in sheet registers the items that enter the inventory, while the Check out sheet registers those that leave the inventory. The Master Sheet contains dashboards that let you know the current stock quantity.
You will get an initial 7-day free trial, and Sheetgo will offer you the inventory template for Google Sheets customized to your business needs.
Access Sheetgo inventory management template
4. Indzara Inventory Management Template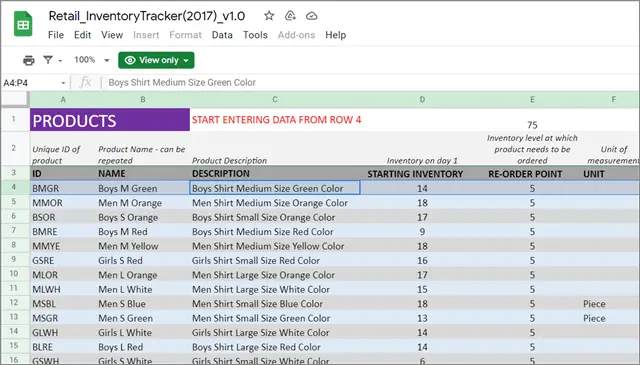 The Indzara inventory sheet is tailor-made for all retail business owners to simplify complex business. It focuses on retail inventory availability and makes sure users are updated about the same from time to time. Unfortunately, using this inventory management sheet is a cakewalk since Indzara provides instructions on using it in the first sheet itself.
The Indzara inventory template for Google Sheets allows users to determine which items in the inventory list need to be reordered; in a nutshell, it helps keep an eye on the inventory levels and track key metrics. You can also determine which product sells the best and make critical marketing decisions. One thing that separates the Indzara template is that it handles tax calculations and records billing info. It also helps massively in maintaining the current inventory calculations.
Access Indzara inventory template
5. Restaurant Inventory Template
Restaurant managers do a great job serving the best food to make people happy. But, many behind-the-scenes activities must be managed efficiently to make this happen. From the ingredients to their cost and purchase, every detail must be perfect for running a restaurant business successfully. A restaurant inventory template pattern in place is a wise business move that will give you an outline of what things have to be recorded regularly. 
The itemized list has headers like inventory item name, in-stock, cost, and reorder time. The inventory of stock gives an idea of stock levels, and you can reorder items from time to time as and when necessary. There are two sheets in the basic template where one can be filled with stock data. The second is like a daily inventory sheet to understand the daily consumption pattern. The simple inventory template for Google Sheets lets you manage the budget, so there are no last-minute budget constraints.
Access Restaurant Inventory Template
6. Book Inventory Template
Bookworms love spending time in libraries and bookstores, but have you thought about how the people there manage the book collection? Here is an all-inclusive book inventory template for google Sheets that keeps track of all your paper and digital books. It can also be made part of the classroom equipment inventory that manages classroom equipment. Using the template makes you capable of making a corrective action plan when necessary.
The books inventory tracker template has multiple columns to add the book item details, from title and author to quantity and price. You can remove unnecessary columns or add new ones depending on the inventory situation. For example, if you use it for household purposes, you may want different column names or need less detailed input. In that case, the entire inventory will differ from the one used by business operators.
Access Book Inventory Template
Create Inventory Using Google Sheets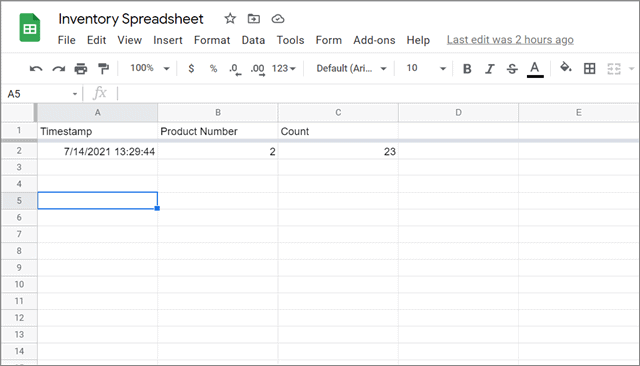 If you don't want to enter inventory details manually, you can set up a small automated system using Google Forms and Google Sheets. The idea is to create a form that contains all the columns you want to keep track of. Then, you need to create an inventory Google sheet to record the responses. You can also use this as a home inventory template to keep track of your kitchen stock.
When you enter the inventory details in the Google form and submit it, the response will be recorded in the inventory spreadsheet template. So, to begin with, create the Google form with all the required fields. Then, go to the Responses tab and create a sheet. This Google timesheet will record your responses and help measure the minimum and maximum quantity of items. In this sheet, you can also add the cost per unit and 'sale price' columns to track inventory turnover.
Conclusion
Inventory control and current stock level information help business owners avoid incurring losses. Oodles of inventory and invoice management tools help businesses remain updated about the goods stored in their inventory. However, if you are a small business owner, a subscription to an inventory management app or tool might add to the cost and disturb your frugal budget.
An inventory template for Google Sheets can help you track the inventory turnover of your business and manage customer demand efficiently. Of course, you have to work manually to update the inventory, but these sheets can help you keep track of all the goods and make essential decisions. Users can download any Google Sheets or Excel inventory template as per their choice. Also, using these templates on a PC rather than the mobile device app is better.
FAQs
How do I make an inventory template in Google Sheets?
You can make an inventory template for Google Sheets by making using the free templates mentioned above. However, to do it manually, you need to create a new spreadsheet and enter the header names of all things you wish to track in your inventory.
Does Google Sheets have a template for inventory?
Yes, there are multiple templates available to suit your needs and requirements.
Can you make a Google Sheets inventory sales template?
Yes, it's possible to make an inventory sales template.
Can you make a Google Sheets pantry inventory template?
Yes, it's possible to make a pantry inventory template.
(Updated on 6th September 2022)