Google Slides is predominantly used for making attractive and enchanting presentations for different topics. There are many visual elements we can add to entice our audience. However, when it comes to symbolic elements, especially math equations, many people are stuck because they don't know the precise way to add equations in Google Slides.
Adding chemical or mathematical equations to a Google slide or a Microsoft Powerpoint presentation is essential if you use the tool to teach Mathematics. Likewise, it's also necessary for students to know how to insert equations if they are using Google Slides as a tool for doing their math assignments. If you are one of the two, there's no escaping from learning the various techniques of inserting Google Slides equations.
If you want to adjust the display settings while presenting the equation slides, you need to know how to change slide size in Google Slides.
A Quick Guide On How To Add Equations In Google Slides
Having a quiz or assignment for your students will increase their interactiveness in the sessions. You can also have a math Google Slides activity for your class to make sessions more interactive. That being said, let's check out what methods we can use to insert a math equation in Google Slides.
How To Add Equations In Google Slides
1. Open Google Slides on your Chrome browser.
2. Open the presentation.
3. Create a text box from the Insert menu.
4. Click on the Insert menu and select Special characters.
5. Click on a symbol of your choice and insert it in the slide.

Note: These basic steps will give you an idea of navigating through creating equations and making interactive Google Slides presentations. Let's check the details to add equations in Google Slides with images.
How To Insert Equations In Google Slides Using Special Characters Feature
The Special Characters feature in Google Slides is similar to the Character Map in Microsoft Word. Apart from the usual keyboard math symbols, it contains several symbols absent on a keyboard. Also, it allows a teacher to create an equation on a slide and present it in their math classroom in distance learning.
To start with, open Google Slides from your Google Chrome browser window.
Click on the presentation in which you want to enter the equation. You can also click on Blank to create a new Google document and insert Google Slides equations in it.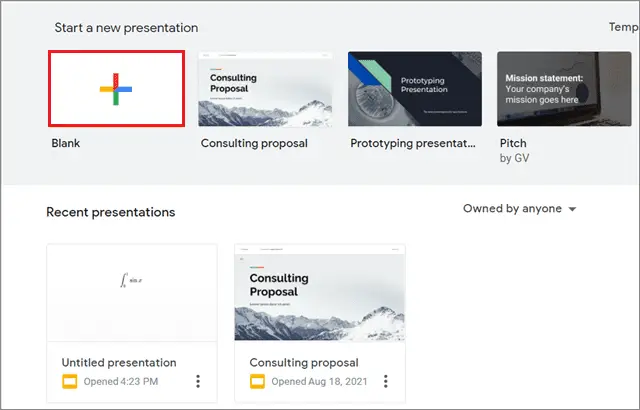 Once the presentation file is open, create a text box on any slide in the slide deck by clicking on the text icon. You can also click on the Insert tab and choose Text box from the drop-down menu. This text box will be used as an equation box.
Next, click on the Insert tab and select Special characters from the menu.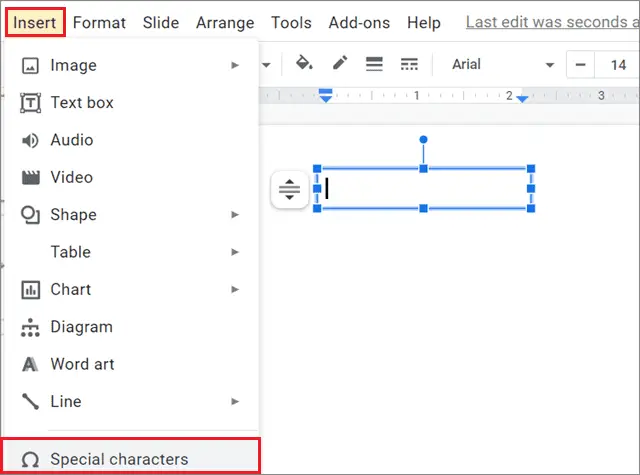 Now, a dialog box will appear on the screen. Select 'symbol' from the left drop-down menu and 'Maths' from the right drop-down menu.
Choose the math expression you want from the given list. You can also search for the special character and then click on it to enter it in the slide.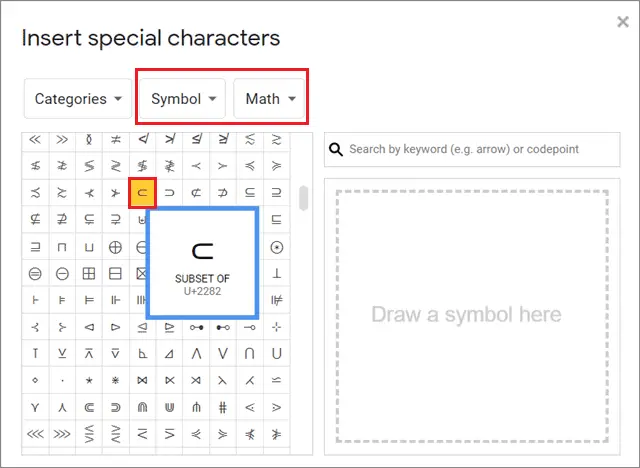 Once you click on the symbol, it will appear on the slide.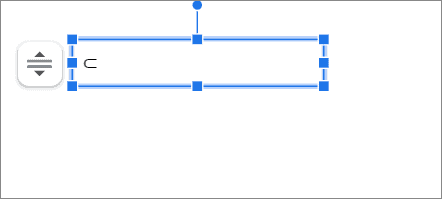 You can add different types of symbols and Greek letters using the Special characters box. This is the fundamental way to add math operators and equations in Google Slides for your Mathematics presentation.
How To Add Equations Using Google Drawing
Google Drawing is an acceptable alternative to create Google Slides equations. However, since this is a lengthy process, it's up to the users whether they want to continue using this method.
The process of using Google Drawing is very much similar to the previous method. You have to access the Special characters window in the Drawing sheet and create your equation. Once that is complete, you can simply copy and paste the Google Slides equation in the presentation for your math class.
How To Insert Fractions In Google Slides
Inserting fractions is another task that seems daunting at first for beginners in Google Slides. Fractions contain a numerator and a denominator separated by an oblique.
Once you insert a text box in the slide, enter the numerator first. Here, we have entered 3 as our numerator.
Then, place the oblique sign; you can find it on your keyboard to the left of the right Shift key. Finally, enter the denominator after placing the oblique sign.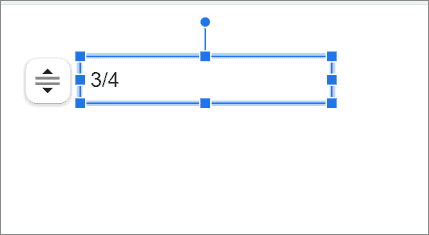 Once all the terms are entered, press Space and then, press the Enter key to convert the terms into a fraction.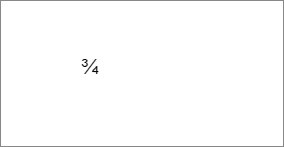 That's how easy it is to generate a fraction in Google Slides.
How To Use Add-Ons To Insert Google Slides Equations
If you aren't satisfied with the basic methods, you can use add-ons to resolve the issue. Many add-ons can help you insert the correct educational content in your slide. The add-on we will see now is ideal for teachers and students alike.
To begin with, click on the Add-ons tab and select Get add-ons from the drop-down list.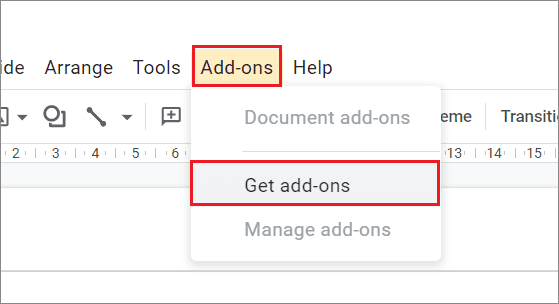 Once the Google Marketplace dialog box opens, search and click on Hypatia Create.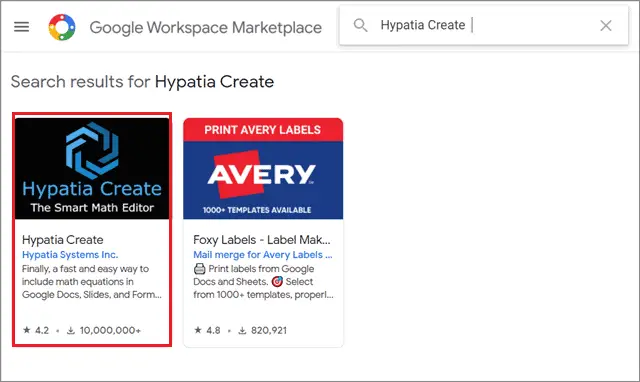 Then, click on Install in the next step. Make sure you grant the required user permissions to Google for installing the add-on.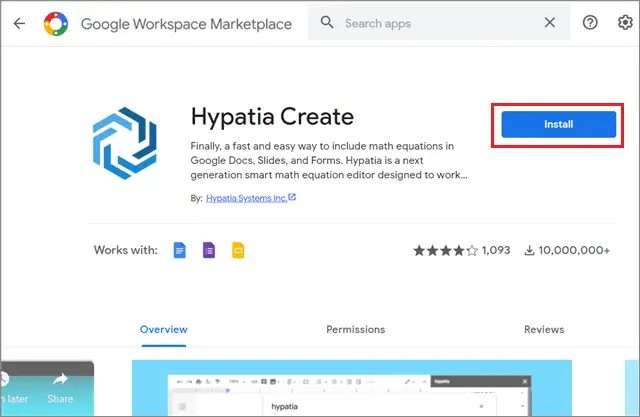 Once the installation of the equation plugin is complete, go back to the Add-ons tab and select Hypatia Create. Next, choose Insert/Edit Math from the nested menu.
Type the equation of your choice in the editor window and click on Insert.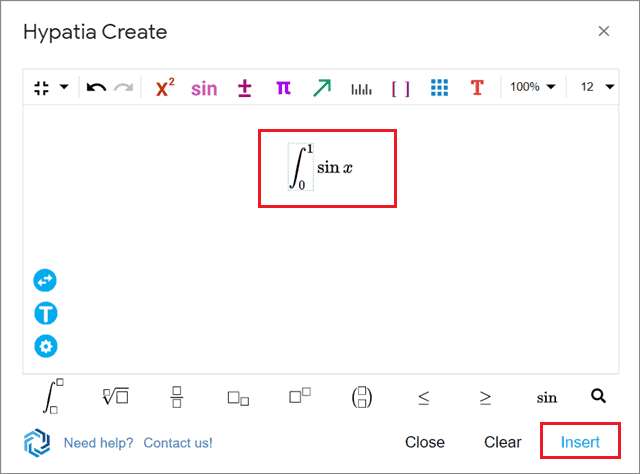 The equation will appear on the selected slide. You can change the size of the equations in Google Slides as per your requirements using this math equation tool.
You can add hundreds of equations like these in the slide and also use LaTeX commands for this purpose. They will look like any handwritten equations drawn by a human.
How To Write Chemical Equations In Google Slides
We have already seen how easy it is to insert and create mathematical equations in Google Slides. Now let's see how to insert chemical symbols and chemistry formulae in Google presentations.
You need to install an add-on called MathType for this purpose. This tool works for a Google Slide as well as a Google Doc. However, it's a paid tool, and you need to buy a subscription worth 39.95 euros per user per year from the WIRIS store. For further information on using this add-on, you can visit this page.
After you open the MathType add-on, go to 'Insert/edit chem formula.' You will see a bunch of chemical formulas and symbols in the dialog box. These mathematical symbols are sorted into different types like Symbols, Arrow's tab, Matrices, and elementary tab, etc.
The first tab has a dedicated periodic table. You can use the periodic table and the MathType equations and symbols to create appropriate math lessons for students. That's all about adding chemical equations and chemistry symbols to your Google slide.
How To Add Equations On Mobile
The Google app for Slides offers no special functions to enter complex equations. As a result, the best you can do is enter basic mathematical functions or copy and paste complex equations from other sources.
Simple equations involving basic symbols like addition, division, subtraction, and multiplication can be added using the app. However, aspects like subscript, superscript, exponents, linear equations, and other math manipulatives cannot be added directly. This makes it more tedious to create equations on a slide.
Since there are too many limitations while adding equations in Google Slides on mobile, we recommend using a PC to create a Geometry or Algebra lesson for your students in the classroom. You can opt for the Google Slides app only when you wish to make some minor changes to an equation.
Conclusion
Inserting equations in Google Slides is a cakewalk only if you know the right ways to do it. It may seem to be an uphill task for beginners, but it can be accomplished within split seconds by following the steps and methods mentioned above.
You can insert any equation using the Character Map in Google Slides. That is the best and the only way to go if you wish to avoid installing an add-on for this purpose. Also, there are no keyboard shortcuts for inserting equations or mathematical symbols. The choice of using any method depends upon the user's demands.
FAQs
Is there a built-in equation editor in Google Slides?
No, there is no built-in feature called equation editor in Google Slides.
Where is the equation button in Google Slides?
There is no specific button for equations. However, you can open the Special characters window to insert symbols or install add-ons like Hypatia Create or MathType to add equations.
How do you write chemical formulas in Google Slides?
You can use the MathType add-on to insert chemical equations and formulas in Google Slides.