Microsoft officially released Windows 11 on 5th October 2021. After Windows 11 demanding system requirements, the most talked about is its features. What new Windows 11 offers is a question on every Windows user's mind. You can check out Windows 11 features to know if it is worth upgrading or not.
If you like Windows 11 new and exciting features, you can upgrade to Windows 11 from Windows 10 on compatible PCs. Unfortunately, the chances of older PCs meeting the minimum system requirements are too less; however, you can still upgrade to Windows 11 on unsupported hardware using different ways.  
Best Microsoft Windows 11 Features to Check Out
We compiled a list of some of the best features of Windows 11 that can get anyone excited about it. Then, you can go through the list and make a choice.
New Start Menu and Taskbar Design
The new Start Menu is one of the first things to notice after upgrading to Microsoft Windows 11. The recommended apps on hovering over the search menu are beneficial. Also, an option to pin apps in the Start Menu is a great way to increase productivity.
The pinned apps and Start menu are moved into the taskbar's center instead of the lower-left corner. This was something very different to get used to as our muscle memory will move the mouse to the left corner of the screen. If you are not getting adjusted to the changed interface, there is an option to move the apps and Start Menu to the left corner of the screen.
The Windows 11 Start Menu is faster and smarter compared to Windows 10 operating system.
The New Experience With Microsoft Store    
The Microsoft Store in older versions of Windows was not at all interesting. But with Windows 11, you can find more apps, themes, and even extensions for the Microsoft Edge web browser in one place: Microsoft Store. In the future, this store will also have Android apps, thus more excitement on its way to Windows 11.
Snap Layout and Snap Assist to Maximize Productivity
One of the Windows 11 features is Snap Layout. You can arrange the app Windows on your Windows Desktop as per your wish. The Snap Layout feature allows you to select the location for the app window when you maximize or minimize it. It gives you the freedom to access and see multiple windows together. When you hover over the maximize button on the app window, it gives you different layout options. You can optimize the screen space and make the most out of it.
New Context Menu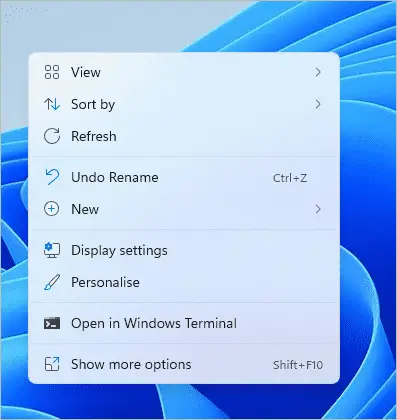 The context menu of Windows 11 is slightly different and improved. For example, you can undo rename and open the PowerShell terminal directly from the context menu. Also, the context menu has rounded corners, thus giving a pleasant look to it.
Microsoft Teams Integration
The Teams app is integrated right on your taskbar. You can chat, call and have conference calls with anyone directly from your Desktop app.
New Action Center
The minimalist design of the Action Center is something that amazed us. You can add toggles to it as per your wish and access it by simply clicking the volume or WiFi icon on the taskbar.
Faster and Smaller Windows Update
Microsoft has introduced a background installation mechanism, thus making it convenient to update Windows. Now, the updates will be 40% smaller compared to Windows 10, and therefore it will take less time to download and install them.
Focus Session
Focus assists or Focus sessions is something new to this version of Windows. You can prioritize the notifications to focus on your work and be more productive. In addition, it reminds you to take a break in between the long working hours. You can also add a Microsoft To-do list to your Windows 11 PC.
New Lock Screen
The lock screen looks like one similar to mobile devices. However, it has a minimalistic approach that displays date and time on screen.
Improved Windows Apps
The MS Paint, Photos, Your Phone, File Explorer and many other apps are improved in Windows 11 operating system. For example, the Paint application, which was the same for over the years, now has a new look and logo. The Your Phone app is also improved compared to the Windows 10 version.
Improved Gaming Experience
Microsoft has taken the gaming experience to another level with Windows 11. Finally, you can play your way with this Windows version. Whether playing on a console or using different peripherals, the gaming experience will be a notch higher with Windows 11. This is one of the most talked-about Windows 11 features.
Uncompromised Security
With TPM 2.0 compulsion, Windows 11 provides hardware-level security to its users. In addition, the data encryption and authentication services are better with this operating system version. Businesses can use Windows Hello in a better way with TPM 2.0.
Final Thoughts On Windows 11 Features
Kudos to Microsoft for bringing such amazing features with Windows 11 to improve the overall user experience. You can improve your productivity, enjoy a fresh new user interface, improve your gaming experience, and multitask in a better way without compromising the security aspect with Windows 11.
The above list of Windows 11 features is something we observed when we upgraded. So if the above list tempted you to upgrade to Windows 11, you can do it for free from your eligible devices running Windows 10. The only prerequisite is your PC must meet Windows 11 system requirements.
FAQs
What are major changes in Windows 11?
There are many major and minor changes in the Windows 11 operating system. The user interface is changed, Microsoft Store is better, the old inbuilt apps are improved, the security aspect is a notch higher, new features to increase productivity are added, and the overall gaming experience is improved.
Does Windows 11 improve the gaming experience?
Yes, Windows 11 improves the gaming experience for gamers.
What Windows 10 features are missing in Windows 11?
Taskbar alignment cannot be moved to top or side, tablet mode is missing, some apps like Paint 3D that came inbuilt need to be downloaded separately, Cortana is no longer on the taskbar or Start menu, and Internet Explorer is no longer available in Windows 11. These are some of the features present on Windows 10 but are missing on Windows 11.
What is so great about Windows 11?
Improved user interface, security, gaming experience, applications, Microsoft Store are some of the things that are great about Windows 11.