Key Takeaways:
Book templates in Google docs can be easily edited, adjusted, and customized to meet your needs.
Books created with book templates in Google Docs assist you throughout the authoring process.
One can maintain a consistent format throughout the book by using Google Docs templates.
Templates are a pre-formatted structure that users can utilize to save time and effort while creating their documents on Google workspace. Writing and publishing a book begins with creating a book outline. Each step of the book-writing process, from the book idea to the book title, chapter titles, table of contents, book cover, and the content of the book, must be meticulously planned. In such cases, book templates in Google Docs make it easy to cover many of these aspects.
For an author, writing should be their primary focus. Formatting can be a time-consuming process and one can save time by using book templates in Google Docs. The look and feel of each book must match the genre in which it is written, which requires a different book template for each category.  So, go beyond Google drawing, and use the book template in Google Docs. Just select the template document, make a copy of it and start writing your book.
10 Best Book Templates In Google Docs
Publishing a book can be a lot of work on its own. From food authors to architects to photo journalists, from motivational speakers to a business magnate, each type of author wants the book cover to speak about their ideology.
A brochure template, newsletter template, lesson plan template, cover letter template, PowerPoint template or Google slides template, Google document template gallery consist of so much more. So, let's check out the best book templates in Google Docs.
1. A Photo Book Template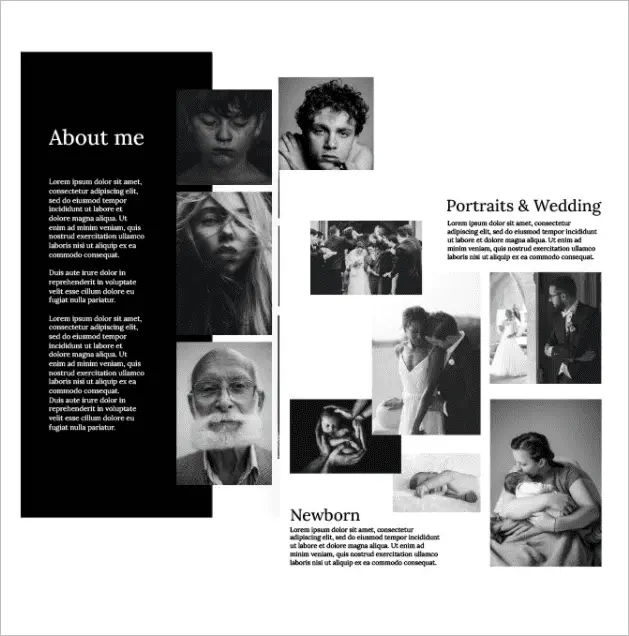 Photo books can either be made by professionals to showcase their work or by individuals to preserve and cherish their memories. Presenting your photos using a photo book templates in Google Docs can save you both time and money.
This black and white Google docs template will enhance the look of your photos. Due to the openness of this template, you can mix, match, and remix the design in any way you like, not just for one book but for many more to come in the future. Plus, it's a completely free template.
Check out the Photo Book Template
2. The Marketing Strategy Book Template
The most important element of branding is to create a marketing strategy. And this is possible through the free Google Docs templates. When you write a book on your marketing method, you need a good strategy and correct foundation that helps you in the long run. The cover page has to tell the consumers how your brand can fit into their lives successfully.
The custom book template in Google Docs will help you present your ideas more professionally. It is one of the best business templates to showcase all your statistics, strategies, and enterprise services too.
Check the Marketing Strategy Template
3. The Keto Diet Book Template
The keto or ketogenic diet is a fad diet as it promises quick weight loss with better health. And most people look out for ketogenic diet recipes. If you are writing a book on keto diet recipes, what you need is a good recipe template. The Keto Diet book template has correct graphic elements that will help you achieve your goal.
You can share your healthy living style across the globe with this book template in Google Docs. The recipe book template is attractive and looks perfect!
You can also work around the original design and also add your elements to the book cover templates. These attractive booklet templates can be a compendium of the secret recipes you want to share with the world.
Check the Keto Diet Book Template
4. Stylish Novel Book Template
In this age of technology, we take the help of the internet for everything. If you are a nonfiction book writer, about to finish your 30,000-word book, then use an online template with the book design elements. Why? Well, the trend of using a book outline template is increasing as everyone wants something that can be easily printed.
There are many book template outline that you can choose from. Our personal favorite is the stylish novel book template in Google Docs because of the built-in styles and attractive dark colors.
Check the Stylish Novel Book Template
5. Motivational Book Template
Everyone can grow, and a motivational book is a low-risk way for people to think about their life objectives. As you flip through the page numbers, each lesson makes you learn new skills and strategies, and you start applying what they've learned. Motivational thoughts, self-help books help the users to sail through this life effortlessly.
Using this motivational book template in Google Docs will help you write your book with ease. Just sign in to your Google account or Google app, and use the new templates. Simple, isn't it?
Check out the Motivation Book Template
6. Airbnb Welcome Book Template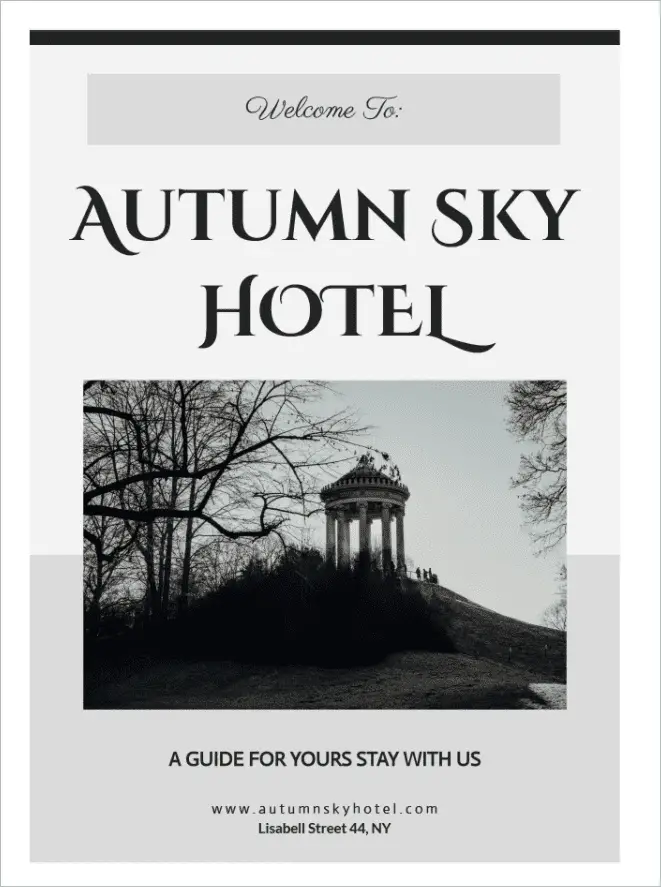 As a travel host, a welcome book is a great way to impress the guests. It showcases the guests your property highlights. It is also a way of showing them that you want their stay to be comfortable and hassle-free. Since a guest is new to the place and every rental is different, a welcome book helps them a lot.
This beautiful book template in Google Docs will help you to impress your guests and make them come back again. The custom template allows you to add all your homestay details and will assist your guests.
Check the Airbnb Welcome Book Template
7. Digital Notebook Template
Are you a student struggling with MS word assignments? Or a teacher who wants to work around something different in your Google classroom? Well, imagine using the interactive notebook to understand your content. No copying, cutting, or coloring on regular notebooks or Microsoft word. Interactive digital notebooks are the future, as they help both students and teachers decrease clutter in the classroom and in their personal lives.
It is possible for pupils to be organized by having them take all of their notes, practice, and reflect in this book template structure. From page setup to adding page break to page number, just click insert and you are done. By using the clean and well-designed digital note book template in Google Docs, you can now learn more easily. This fabulous template makes learning fun!
Check the Digital Notebooks Template
8. Social Psychology Book Template
Social psychology assists people in managing stress, depression, and other social disorders. It also helps to improve decision-making and accurately predict future behavior based on past conduct. If you are someone who is looking beyond and planning to write a book then this book template is best for you.
The Social Psychology book template in Google Docs comes with a completely black background which is interesting. With free standard Google fonts, you can use this template on Mac OS and Windows. It supports Google Doc, Google sheet, and book printing can be done at your home and office.
Check the Social Psychology Book Template
9. Art Book Template
An artist is beyond the world map boundaries. Writing a book is a way to get your art in front of people and increases your professional credibility too.
With a beautiful template showcasing the art world, you can print your art and ideas. With a black-and-white style, it is one of the best Art book templates in Google Docs and will help you portray your ideas in an elegant way. With basic formatting, a table of contents, and a classic book layout template, it will very well appeal to art lovers.
Check the Elegant Art Book Template
10. The Cook Book Template
The advantage of using recipe templates for your DIY culinary book is that you'll get a head start. Also, it is one of the cook book templates in Google Docs that includes text and design elements which you can use in the writing phase too.
The awesome book template will help your entire book. Rather than starting from scratch, this saves you so much time that your cookbook will be finished before you know it. You get a book cover and page background which can be used in various ways.
Check the Fantastic Recipes Book Template
Final Thoughts On Book Templates In Google Docs
Book templates in Google Docs are a useful tool for structuring and organizing your writing. From Academic book template to address book template, from ancient architecture book template to wedding book template, all templates look like they've been created by a professional designer. And with everything available in your Google Drive, getting a finished book becomes easy.
Book templates improve the appearance of the writing and make it suitable for publication. So, be it a resume template or an invoice template, the solution lies in the G Suite. It also aids writers and book lovers in better time management and organization. The whole book publishing process becomes simple if you use any of the book writing templates.