It is quite natural that most users want to download the YouTube video they liked. However, if you just want to download the audio, you can use a YouTube to WAV converter to do the job. Many websites offer online converters and software to convert video files without losing quality. If you know which is the best, converting videos from the biggest video posting platforms is simple.
WAV is a popular format that stores audio files of the highest quality and can be played on devices like computers and mobile devices. When you search for converters, you will see many that either let you get the task done for free or levy a charge. An MP4 to MP3 converter can be tried if you want good-quality MP3 files. Before going to some of the best converters, take a look at what WAV files are.
What are WAV files?
An audio file that has a lossless format is called a WAV file. Created by Microsoft and IBM, it has become the go-to format and a benchmark for digital audio. Any simple YouTube to WAV converter can easily convert YouTube video files to WAV using the interface they provide. The original video's sound quality is retained in the WAV file, whether the former was compressed or uncompressed.
WAV files contain sample rate, bit rate, track numbers, and audio data. Owing to this extra information, these files are large with a 32bitrate file size header. Even then, people prefer having music files in WAV format as it is way better than the lossy compression of the MP3 format. Furthermore, the audio file format is suited for CD-quality audio files.
11 YouTube to WAV Converters
If quality is your primary requirement, we recommend that you should go for a YouTube to WAV converter. When you check online, you will get many converters that convert Word to PDF, PDF to JPG, and many more. Choose the right converter for your varying requirements depending on your budget and file size.
1. YouTubeTo Video to WAV Converter
YouTubeTo is a YouTube to WAV converter with a reputation for being tested regularly to discover and eliminate flaws. The UI is straightforward; any ordinary person can grasp the process at first glance. Copy the link of the YouTube song you want to convert and paste it into the textbox named URL. Next, select the WAV format and click Download. Wasn't that simple?
Features:
The video converter tool promises safe and fast conversion of videos from many social media platforms, with the users' privacy given prime importance.
Converts to a wide range of audio formats like WEBM, MP4, and MP3 apart from WAV
The output file is of the highest quality
Ads and lags are completely avoided
Pricing:
You get to convert content using the video converter free of cost.
2. Ontiva Youtube to .WAV Converter

Finding an online YouTube to WAV converter is easy, but finding a premium tool can be tricky. Ontiva is an excellent option that allows conversion and online video sharing. You can do unlimited downloads, convert and listen to them even when you are not connected to the internet. Compatible with many operating systems in the market, the tool supports most audio formats available.
Features:
The video conversions occur at lightning speed, thus reducing the waiting time.
It enables making GIFs out of YouTube videos.
The UI is user-friendly, with no ads to distract the users
It is possible to do batch download and then convert them
No registration is required for performing conversions
3. Wondershare Filmora YouTube WAV Converter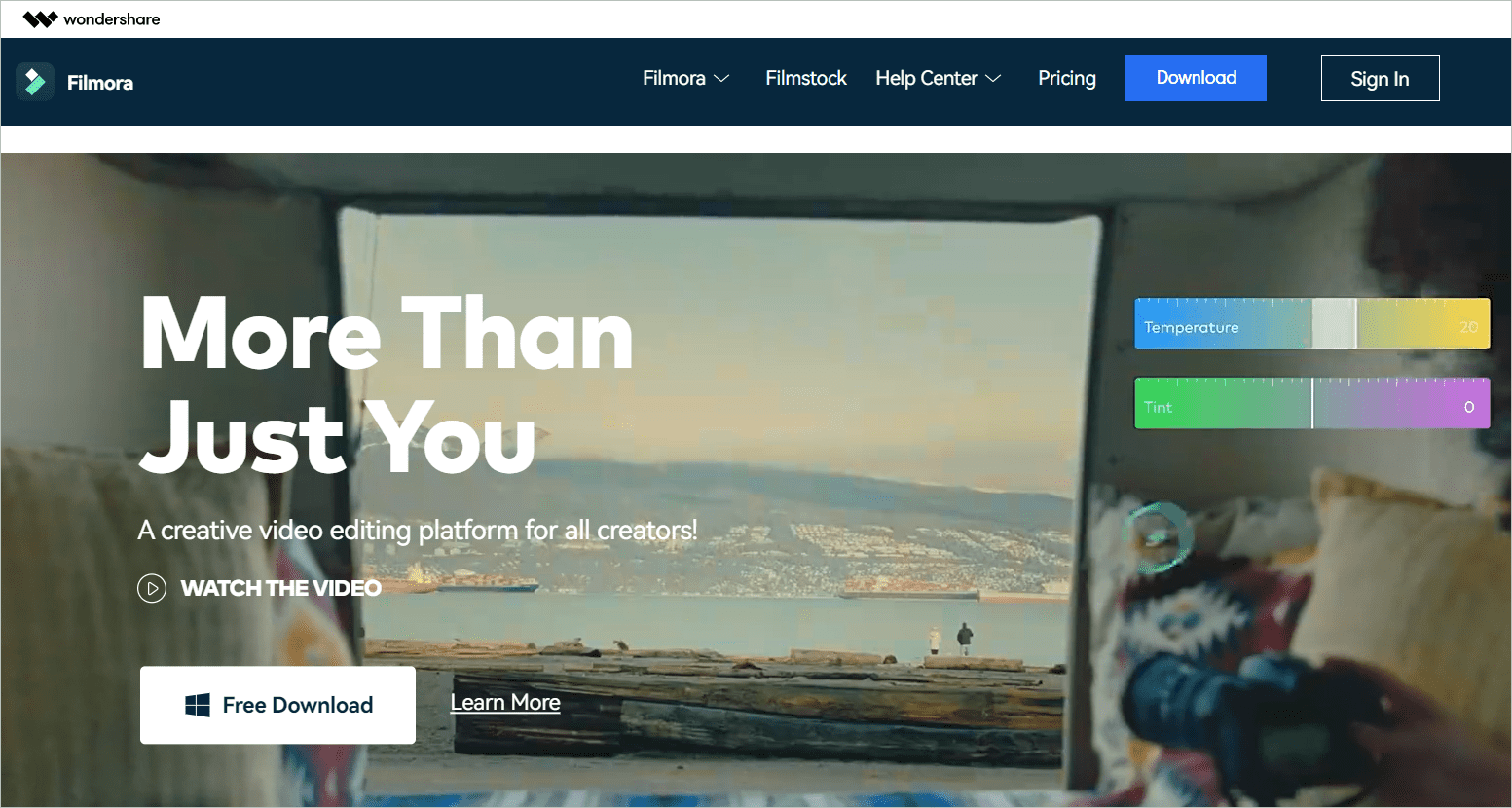 Showcasing your creativity and, performing high-class professional editing, applying video effects, Wondershare Filmora is much more than a mere YouTube to WAV converter. You have to first download Filmora on your Mac or Windows machine, import the YouTube file to be converted and export the video in WAV format. Then, configure the bit rate in the settings tab, and your file is ready! In addition, Filmora offers an array of features for users.
Features:
Batch downloading is possible, where you can initiate the download for all the files simultaneously and wait for them to finish.
Premium features ensure the highest audio quality.
The advanced video editing tools are an add-on to the online video converter
The split screen function lets you play the video and audio on the same interface
Pricing:
Monthly plan – $19.99/month/PC
Perpetual Plan – $79.99/PC
Annual Plan – 49.99/year/PC
All the plans come with a 30-day money-back guarantee window.
4. iTubeGo YouTube to WAV file Converter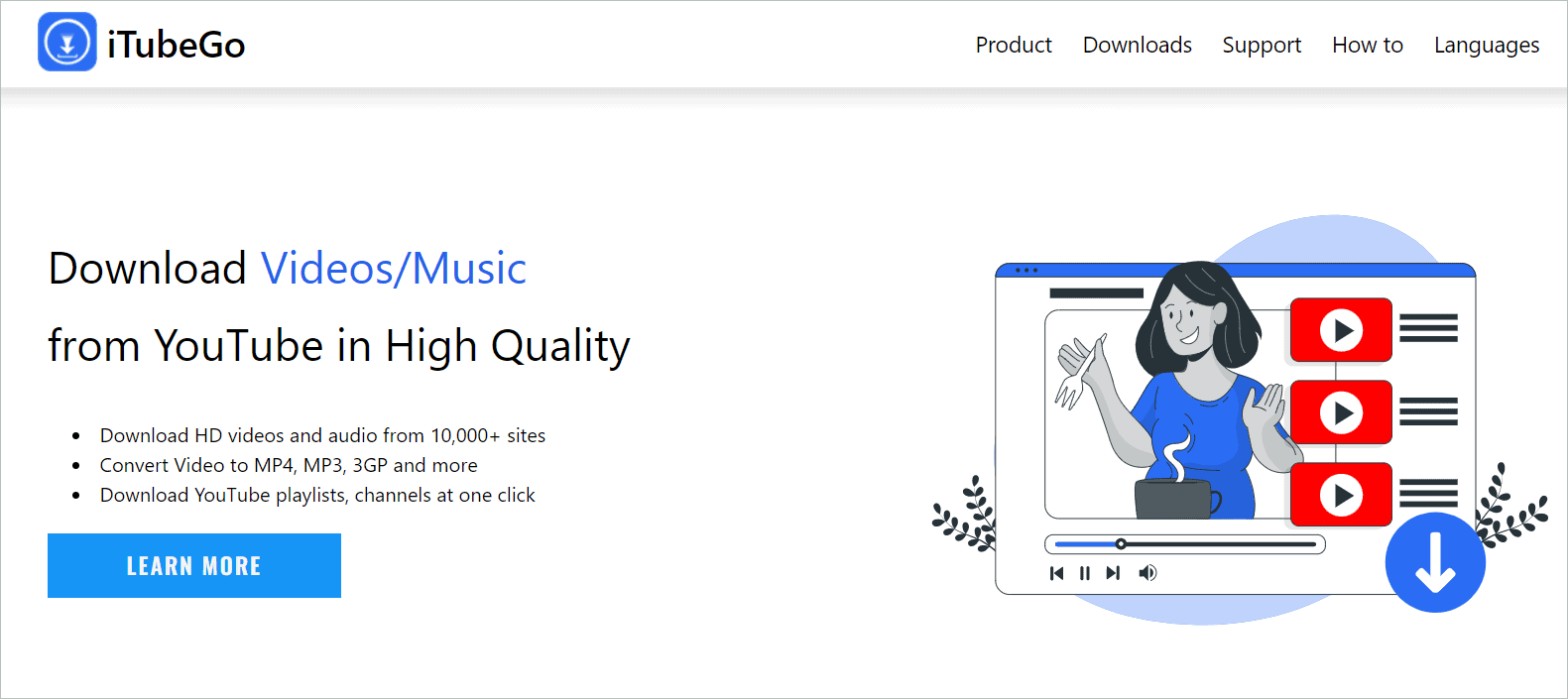 iTubeGo is special because it is a companion in all your downloading and converting procedures. Apart from being a YouTube to WAV converter, it functions as an audio converter that supports many audio formats. It can download from many streaming services, and the speed is incomparable to many of its counterparts. Another considerable advantage is that you get free customer service when using the service.
Features:
iTubeGo can download from around 10,000 popular websites, including private videos from streaming sites, and perform conversions within seconds
You can process your videos in batches, meaning downloading and conversions can be done in batches by providing all video links.
It can convert videos and save them as WAV, MP4, and MP3 files
It exhibits 10X faster downloading, thanks to Turbo-fast mode
Pricing:
1-Month Plan (1 month/1PC)- $9.95
1-Year Plan (1 year/1PC)- $24.95
Lifetime Plan (Lifetime/1PC)- $29.95
Family Plan (Lifetime/2-5PCs)- $39.95
5. VideoProc Converter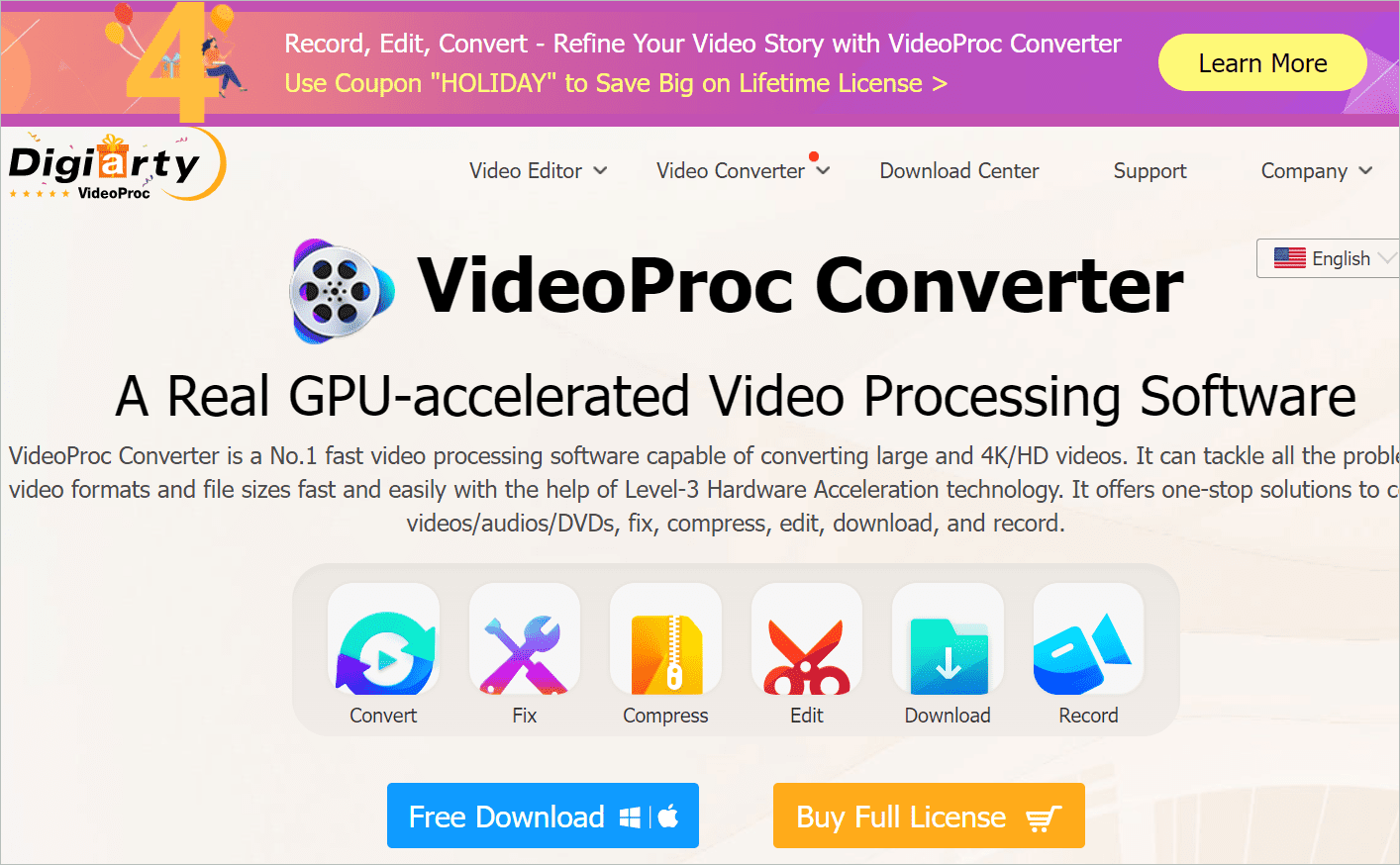 An all-in-one media solution for all your conversion, compression, editing, and downloading endeavors, VideoProc is ranked as one of the fastest video-processing software. Using this YouTube to WAV converter, you can easily convert large and 4K/HD videos. Moreover, batch conversion of videos is possible with a single click to download the tool on your device. To avail of the basic features, you can click the button for free download.
Features:
It features Level-3 Hardware Acceleration Technology that takes video processing to a different level.
Your favorite songs can be played on a range of devices, be it iPhone, iPad, Android, or HDTV
Retaining the original quality is the specialty of files converted by VideoProc.
You can download videos from more than 1000 websites and convert them effortlessly.
Pricing:
Premium 365 (1yr/3 PCs) – $25.95
Lifetime License (Lifetime/PC) – $39.95
Family License (Lifetime/3-5 PCs) – $57.95
6. Leawo Prof. Media 11 YouTube Videos to WAV Converter
Leawo Prof. Media 11 is an all-in-one solution for tasks related to DVDs and video. The YouTube to WAV converter is a small part of the site that enables you to back up DVD movies, watch online videos, and much more. The videos can be converted to over 180 formats using the 11–in-one media converter. Excellent media compatibility and conversion speed up to 6X faster than competitors make it a versatile converter.
Features:
It lets you pause the conversion process and resume whenever you want
The excellent tool has a top-notch video ripping capability
You can convert your videos to MP3, WAV, and many other formats with a single click
You can convert many files at the same time using the batch conversion capability
Pricing:
1 year – $29.95
Lifetime – $39.95
Leawo Prof. Media 11 Converter
7. YT YouTube to WAV online Converter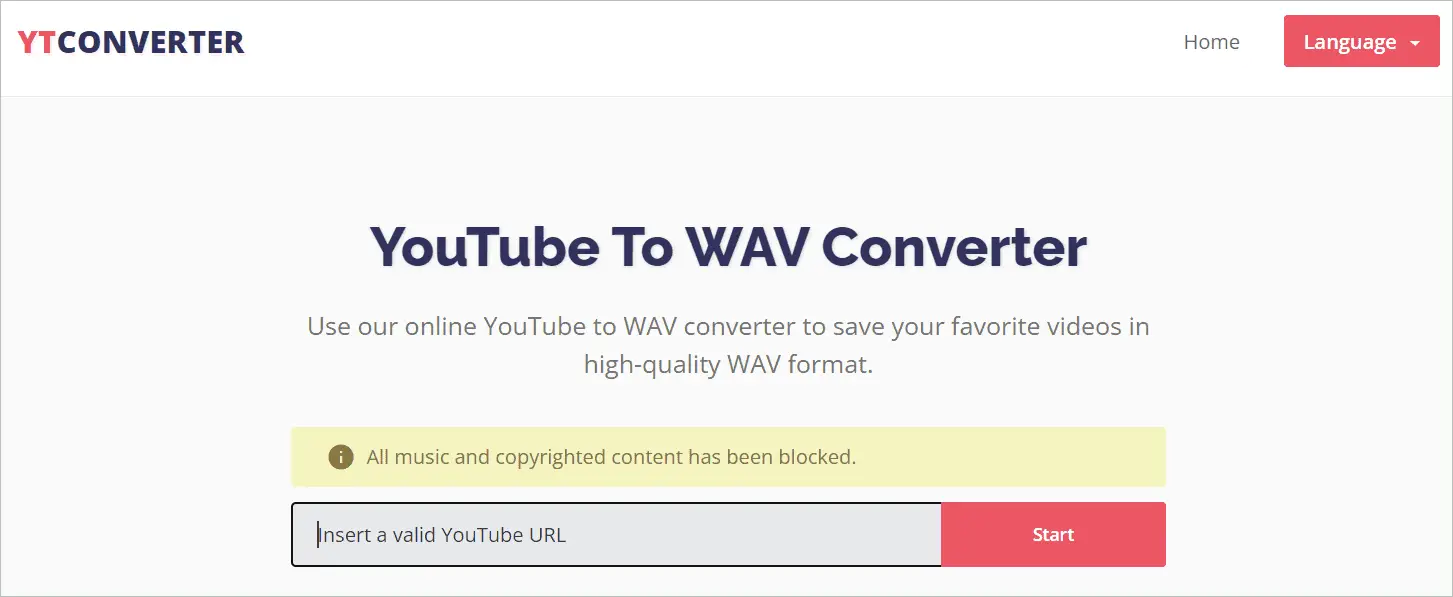 The simple yet convenient YouTube to WAV converter, YT converter, is devoid of any ads or flashy interface. The webpage has a textbox to enter the URL of the YouTube video. Add the link and click the Start button to get your file in WAV format. Several additional features in the site allow converting YouTube to different formats.
Features:
There is no need to install any additional software to perform the conversion
You can use the site to clip, trim and convert with the original video quality in an instant
It enables conversion to different formats like MP4 video formats and MP3 audio formats
You can convert YouTube videos to screenshots or GIFs of up to 30 seconds
Pricing:
YT converter is absolutely free for all users and needs no registration.
8. ByClick Downloader YouTube Video to WAV Converter
ByClick Downloader software hit the market as a video downloader. According to the site, you can take a backup from over 40 sites. It also offers converters (a YouTube to WAV converter, for instance), using which the downloaded videos can be converted to any standard format. In addition, the software can support 720p, 1080p, 4K, and 8K videos.
Features:
While downloading, you can choose the format and quality of the video
You can download entire YouTube channels, playlists, and even Instagram pages
While watching any video on YouTube, a popup message appears asking if you want to download
You can download any number of videos simultaneously
Pricing:
1 year – $7.99
Unlimited – $9.99
9. WinX HD Video Converter Deluxe

WinX HD supports more than 420 conversions presets besides being a YouTube to WAV converter. The WAV conversion software must be downloaded first, after which you can perform the conversions. It can download videos from 1000+ sites and also acts as a simple video editor.
Features:
It has the ability to resize 4K videos to 1080p with the same quality sound.
The software takes up significantly less space, so it's easy to download
GPU-accelerated 4K video converter, compressor, cutter, and editor
Pricing:
Premium license (1 year/3 PCs) – $19.95
Ultimate license (Lifetime plan/1 PC) – $39.95
10. Zamzar Converter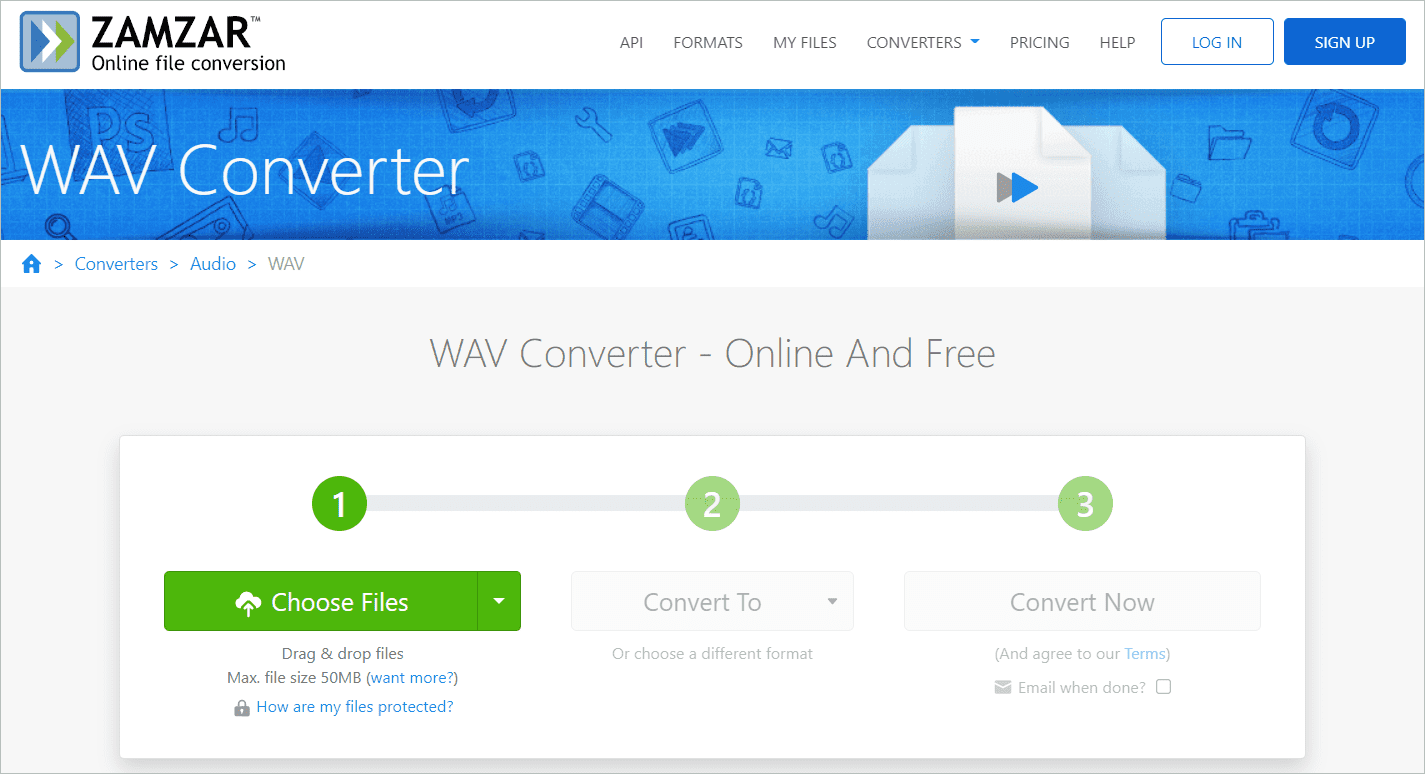 Zamzar YouTube to WAV converter is an easy-to-use online tool that takes three steps to download YouTube videos and reach your converted WAV file. The file to be converted can be either selected by clicking the Choose Files button or dragged and dropped. Once you click the Convert Now button, your WAV file becomes ready to download.
Features:
The online service is secured using 128-bit SSL to encrypt the data
WAV conversions are of the highest standard possible
It supports quick, real-time conversions
Zamzar is an all-in-one video converter that supports many formats common for audio and video.
Pricing:
Basic – $9/month
Pro – $16/month
Business – $25/month
11. Movavi Converter YouTube to WAV Online Converter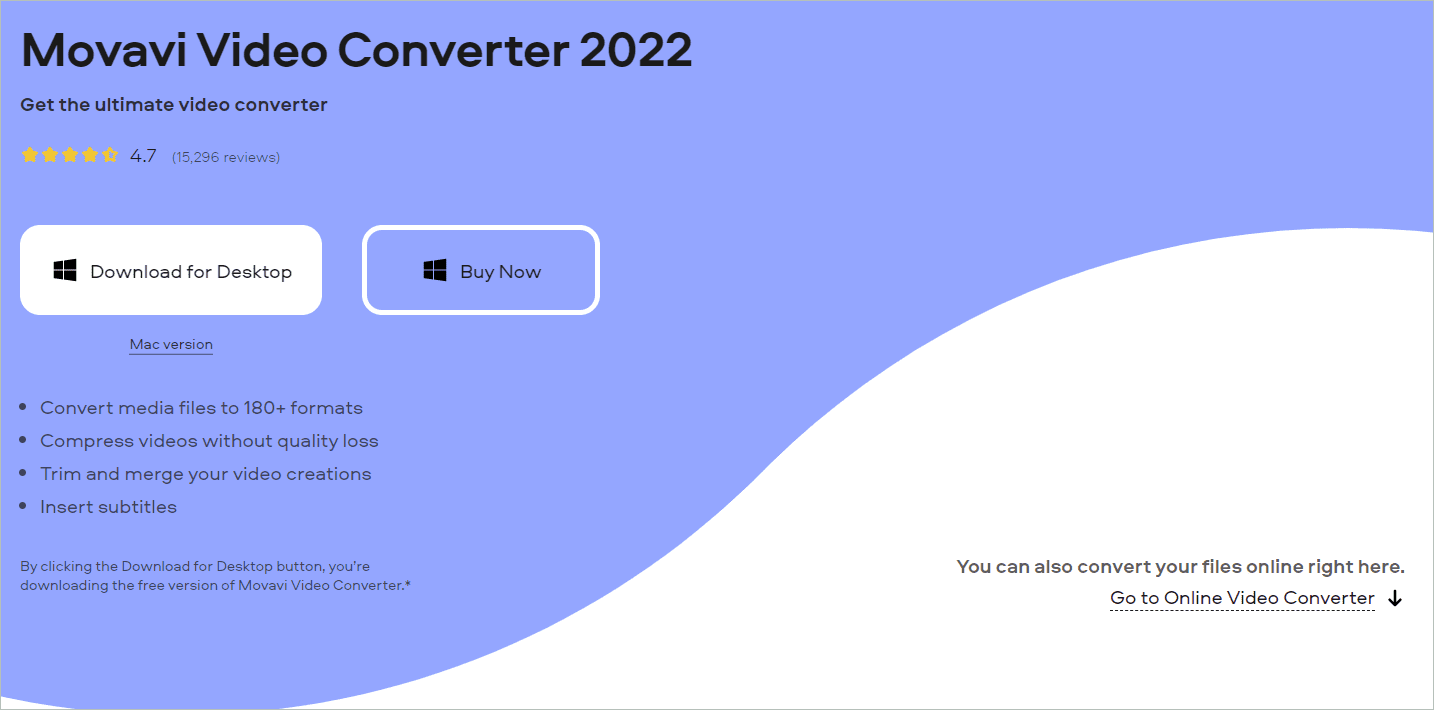 The Movavi YouTube to WAV converter does its job neatly and precisely with a simple interface. The site provides a free downloadable version for the desktop and an online video converter that is handy for quick conversions. In the online version, you can select the media file and simply click the convert button. Your WAV file will be ready in a matter of seconds. When you opt for the paid version, you get a 30-day money-back guarantee.
Features:
Movavi video converter supports more than 180 file formats
It compresses videos from video sites without losing their quality
The tool can also be used to trim and merge your favorite videos
The converted file can be saved on any platform or device
Pricing:
1 year – $54.95
Lifetime – $64.95
Final Thoughts
Most of us started watching videos on the amazing video streaming platform YouTube and then started exploring other apps eventually. But our love for YouTube brings us back to our favorite platform every other day. Today, you can copy the video URL, paste it into a YouTube to WAV converter, and get an audio file within no time.
Our list of online converters and software convert YouTube videos to files with a WAV output format that retains the quality of the files. The online converters let you do the conversions then and there. But you can also download a free or paid version of WAV converter software using subscriptions if you want to go beyond limited features.