If you are a Redditor at heart and act, you will love what we have got for you. Browsing Reddit can be an enriching experience that entertains and educates you. And if you are serious about it, the official app may not offer the best user experience. So getting the best Reddit app for iPhone is the ideal way to enjoy Reddit to its fullest.
The third-party Reddit apps compete with one another to offer the essential features and more to make the Reddit journey tasteful. So whether you want to browse Reddit casually or get involved in serious discussions, Reddit clients give you the perfect platform. But it all depends on your needs and, of course, the budget.
10 Best Reddit App For iPhone
The definition of the best Reddit app for iPhone varies depending on what you use it for. Some users just skim through the forums and subreddits, while others are actively involved by posting comments and joining in conversations. Let us explore some of the best Reddit clients for the iPhone that will make the world of Reddit more enjoyable.
1. Apollo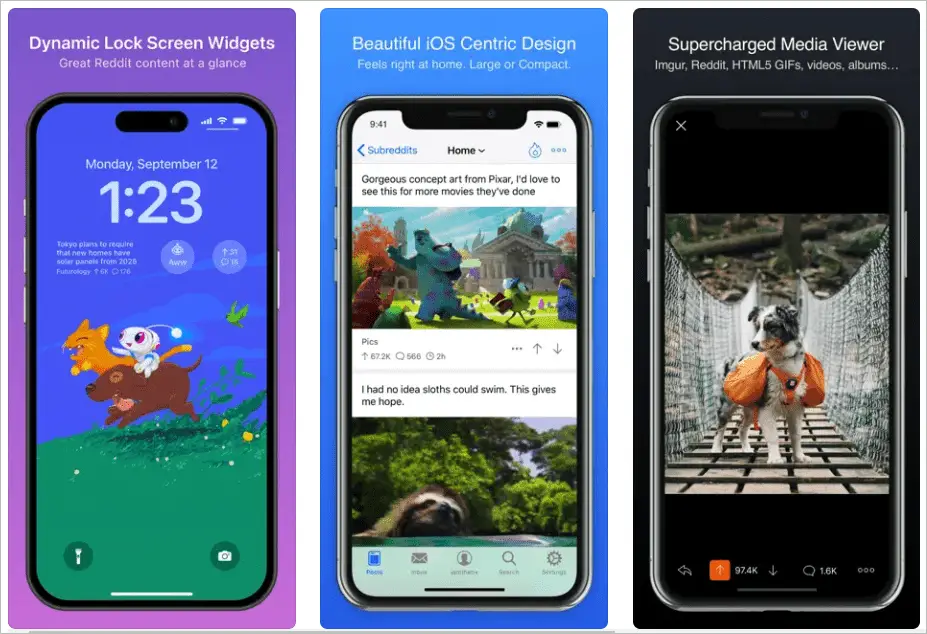 If you ask which is the best Reddit app for iPhone, our Reddit users will vote for Apollo for all its incredible features. The Jump Bar, the Media Viewer, customizable gestures, and more add to the beauty of the app. The user interface showcases multiple tabs, so you can easily navigate to what interests you.
You can add your comments or posts using Markdown composer. It is super easy to scroll through your subreddits and see what new has come up. Apollo for Reddit is specially designed for iOS, so your iPhone will be the right choice for the Reddit app.
Price:
Apollo is free to download. You can also get Apollo Ultra for $0.99 per month.
2. Slide for Reddit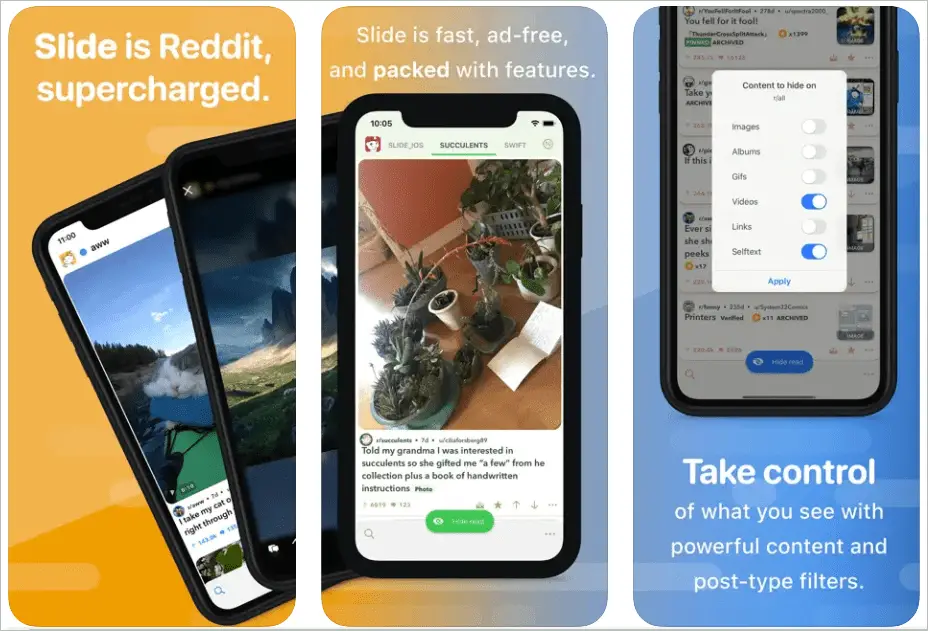 Slide is a Reddit client that packs a plethora of features to impress every Reddit user and is ad-free. Whether you are a power user or not, you will find joy in experimenting with the customization options. And behind the beautiful Reddit app lies a user-friendly interface that has many themes to choose from.
Slide has some exciting features, like sorting comments by 'live', saving a post for later reading using Read Later, and auto-play videos. In addition, you can customize your favorite subreddits with different colors and make them more welcoming. You can even upload images without revealing your identity.
Price:
Slide for Reddit is a free app, but you can have the Pro version for $4.99 and Pro Donate for $7.99.
3. BaconReader for Reddit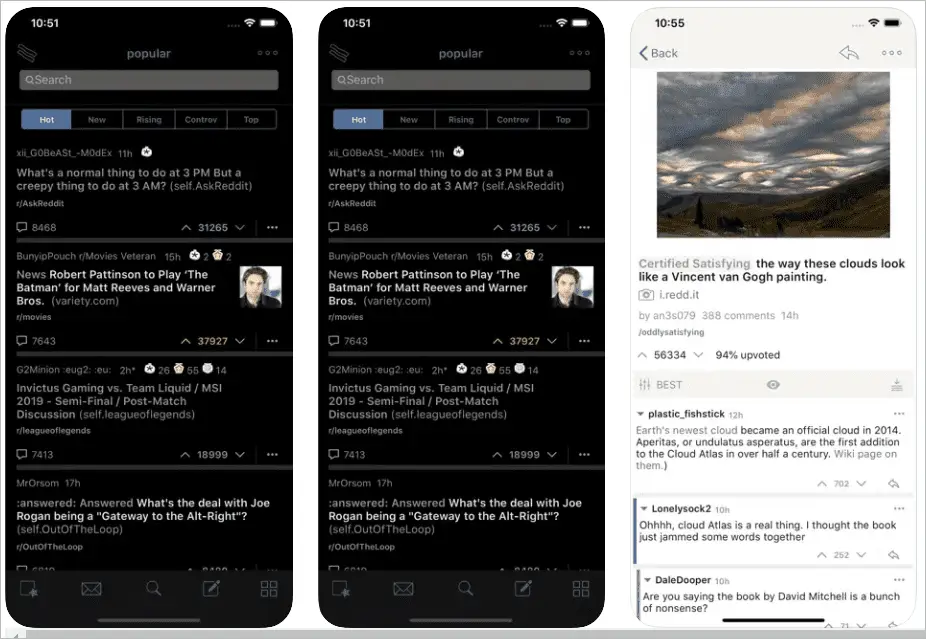 BaconReader is the best Reddit app for iPhone and iPad that comes in an aesthetically attractive outfit. Not just appearance, but features like direct image uploads and multiple account support are incomparable. The features are designed in a way to access your favorite content on Reddit with ease.
You can effortlessly upvote and downvote with gesture support in a few taps. If you want to view more content, you can use the Compact mode. iPhone Plus users have an additional benefit in that they get the dual-pane view. With the advanced search function, both new and experienced users can enjoy Reddit browsing.
Price:
BaconReader is a free app, but you can upgrade to the Pro version at $1.99.
Download BaconReader for Reddit
4. Narwhal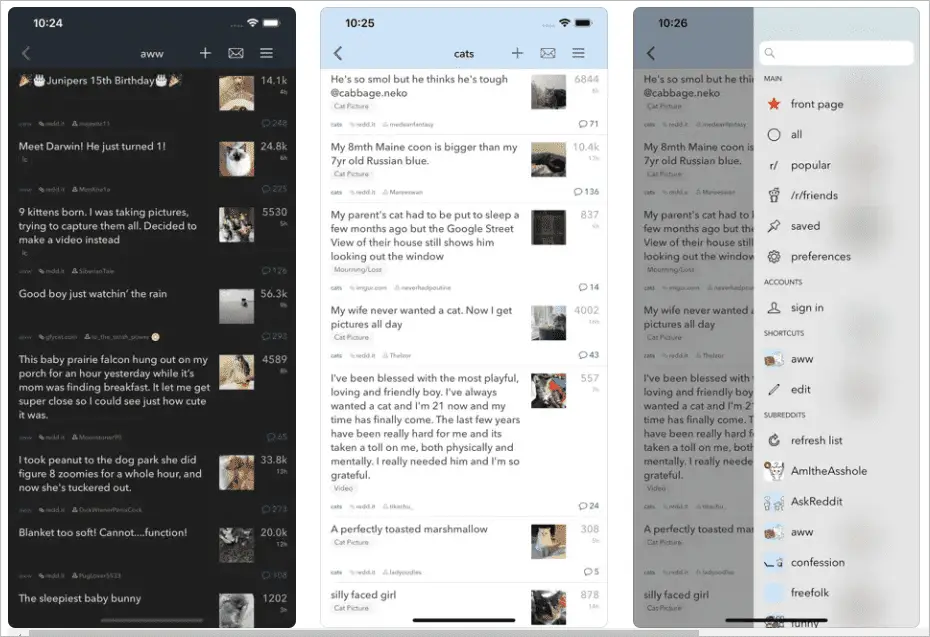 Narwhal is also one of the apps for iPhone and iPad that makes browsing Reddit a unique experience. This gesture-based app can easily take you to your desired subreddits. A simple swipe is all you need to vote or post comments. In addition, the app works faster when compared to others.
Narwhal is a simple app with all the basic features you want in a Reddit client. You can save links to your Reddit account, view comment replies, add new posts, and more at lightning speed.
Price:
Narwhal is free, but to enjoy some additional features, you can upgrade the Narwhal app at $3.99.
5. Comet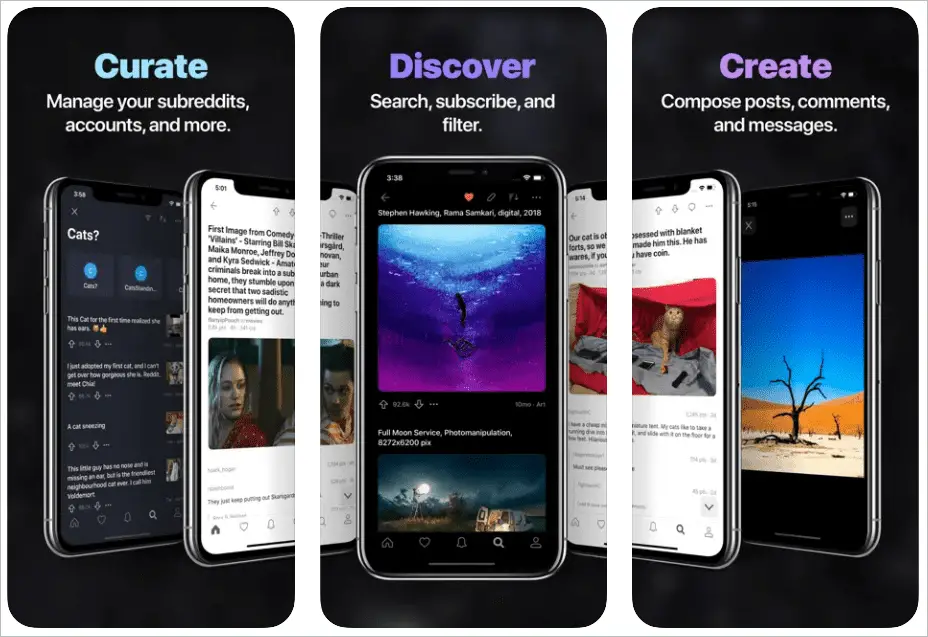 Comet is the best Reddit app for iPhone that modern Redditors will love. It has all the ingredients to make it an intuitive yet beautiful app. You can scroll through any and all subreddits as long as you wish. The post layouts are so refreshing that you will not feel like leaving the interface.
The enhanced search in the Comet for Reddit lets you search for your interested subreddits anytime. The markdown editor makes composing posts and comments easier. There are five pretty themes, so you will never get bored of the interface. A single account will let you access Reddit content across iOS devices.
Price:
Comet comes free, but you can make in-app purchases if you want.
6. Reddit
If you want to go the official way, you have the official app with the same name. As the Reddit app says, you can dive into anything here – support groups, gaming communities, or anything that excites you. The interface is pretty much like the browser version, so you will feel an air of familiarity.
There are many interesting things, like auto-playing GIFs, infinite scrolling, etc., to keep you glued to the original app. You will also find some exclusive features unavailable in the other Reddit clients mentioned here. Overall, you will feel at home if you have used Reddit in a browser for quite some time now.
Price:
The official Reddit app is free, but you can get the Pro version for $6.99 or pick other packages.
7. Readder for Reddit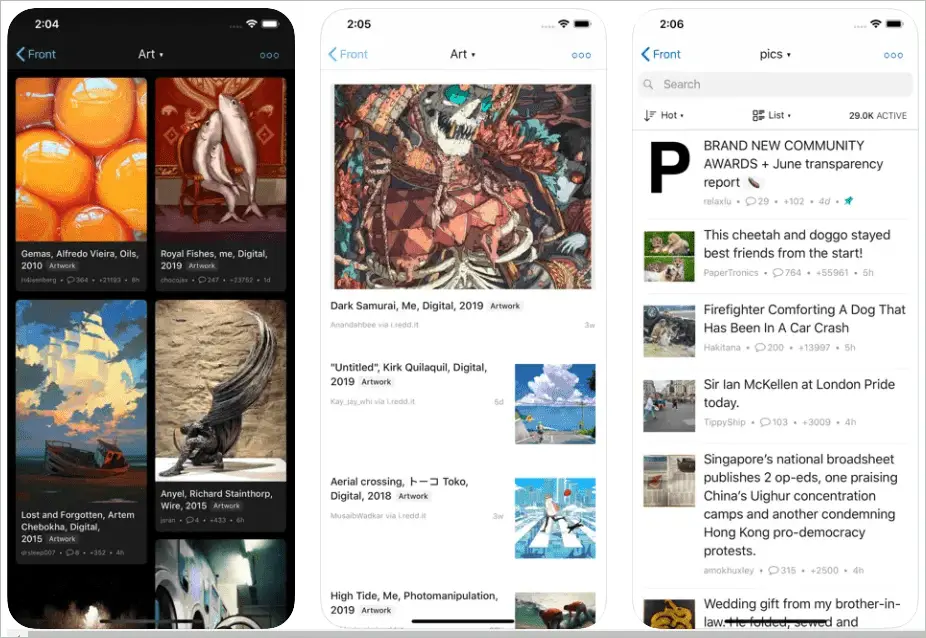 Readder lets you do everything you can do with Reddit. It is the best Reddit app for iPhone, with more features than you can explore in a day. A one-time IAP would open unending possibilities to use Reddit in the best possible way. Protect the app with a passcode and keep it secure from anyone who wants to peek.
Multiple display modes, 3D support, multiple Reddit accounts, adjustable font size, and content filters are some of the options Redditors like about the app. A simple swipe lets you go to different links. With the easy-to-use UI, visiting your favorite subreddits and posting comments will be a great experience.
Price:
The free app allows premium features starting from $2.99.
8. Reno
If you are an Instagram user, you can instantly connect with the interface of Reno as they look much similar. Reno is a Reddit client for iOS with many features that make browsing Reddit convenient. You can access the different tabs by tapping the buttons available. And this way, you can visit all your links one after the other.
The clean interface is easy to navigate, giving users no room for confusion. A unique feature is attaching a thumbnail picture to any link of a picture or GIF you share. This hints to others as to what to expect. With more features on their way, Reno developers are making it the best Reddit client available.
Price:
Reno is a completely free app to use.
9. MultiTab for Reddit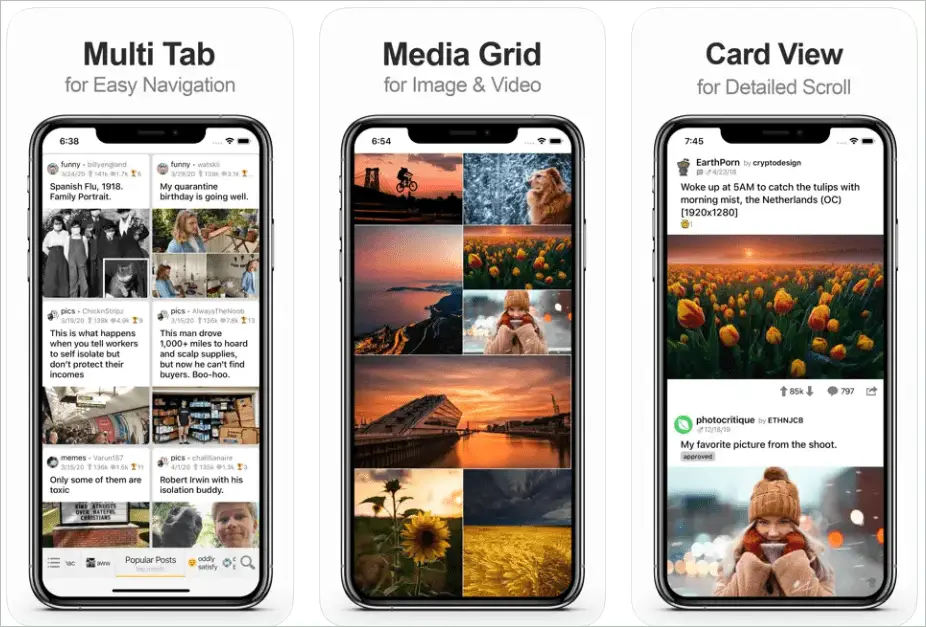 MultiTab series of apps offer the much-needed multi-tab experience for social sites. The best Reddit app for iPhone should definitely have this feature, and MultiTab opens each feed in a new tab. It helps in effective media browsing and batch download of images and videos.
MultiTab has a full-screen image viewer for the best experience with images and a flexible content layout. For better content reading, you get separate pop-ups for messages and comments. The different modes like the dark mode enable the flexible browsing you prefer.
Price:
MultiTab is a free app, but you can make in-app purchases to use the app more efficiently.
10. Resurfer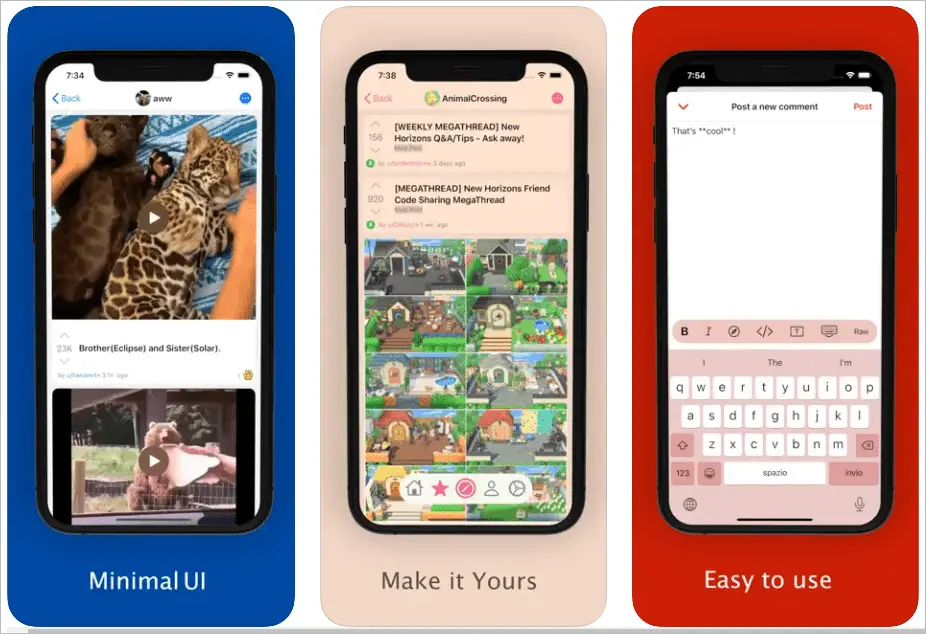 If you support minimalism, you would love what Resurfer has to offer. But that doesn't mean it has only the basic features needed for a Reddit app for iOS. With the application, you can use the markdown editor to create attractive posts, scroll through subscriptions, comment and reply to links, save the content you like, visit a subreddit, and more.
Resurfer is a customizable Reddit client which allows users have different font sizes, auto-play GIFs and videos, change themes, comment on any post and use custom app icons. Overall, if you really get into the app and make some tweaks, you can indeed have a personalized experience.
Price:
Get Resurfer for free or pay $2.99 for Resurfer Plus.
Final Thoughts
Third-party apps for Reddit can be convenient and fun, given their focus on enhancing your Reddit experience. The best Reddit app for iPhone lets you quickly navigate through your subreddits, view recent replies, and much more on the small screen of your device. Some iPhone apps may not be as popular as others, but they all have their own specialties.
Most Reddit clients featured here are free to use and available in the App Store. Opting for a paid version gives you more features like support for multiple accounts, previews of images and videos, and many others. You may choose the best iOS Reddit app that goes with your intention.