Remember the feeling when you had too much food and felt too full and lethargic? The same is the case with your PC if it is overloaded with duplicate copies of files. Sometimes, you need the service of the best duplicate file finder for Windows 10 and 11 to find and remove duplicate files safely. Many reliable tools available do the job efficiently and even offer more.
So, are the duplicate files harmful? A few Identical files may not be, but if you have hundreds or thousands of them, they can eat your PC's health. They take up a lot of space, making no room for additional downloads of files and apps. Also, it slows down your computer to a large extent. If you don't know how to free up disk space, get a program to find duplicate files and improve the overall PC performance.
17 Best Duplicate File Finder For Windows 10/11
The best duplicate file finder software for Windows 11 and 10 has the best features necessary to unearth even duplicates hidden in the darkest corners of your PC. The tools in our list of the best duplicate finders do deep scanning and help remove the files and folders unnecessarily lingering on your PC. So, here we go.
1. XYplorer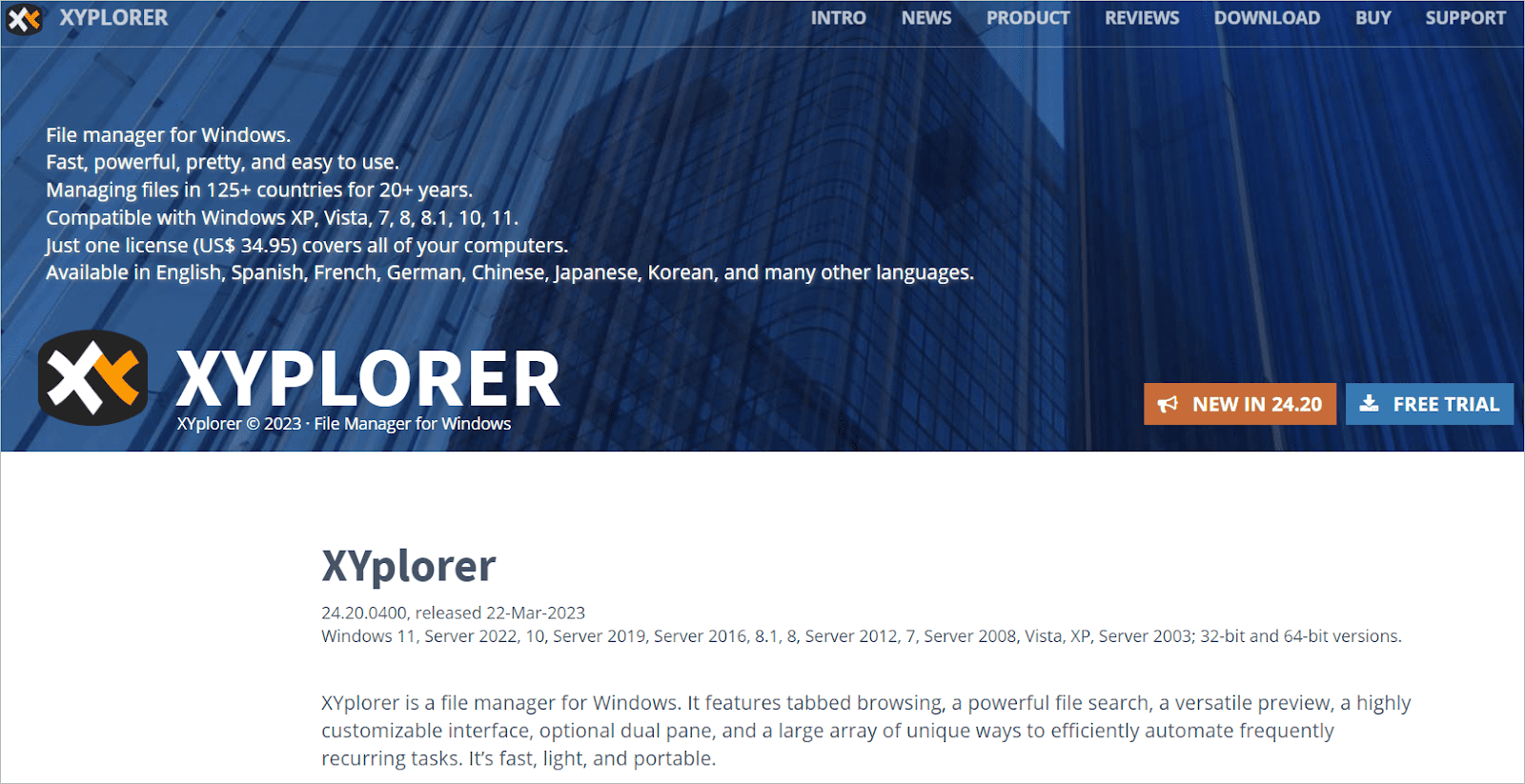 XYplorer is basically a file manager but also does the job of the best duplicate file finder. With a user-friendly interface, it makes searching for duplicates easy. Its duplicate detection feature performs a deep search, making it difficult for duplicates on your device to escape the tool. It is a fast tool that is also light and portable.
Features:
You can customize the tool for your requirements
Makes bit-by-bit comparisons to discover duplicate files
You can group different types of duplicates and manage them
It is functional with many usability enhancements
Price:
You will get a 30-day free trial. The paid version starts from $34.95
2. EaseUS DupFiles Cleaner
EaseUS DupFiles Cleaner is a great tool to speed up your computer by removing duplicate files. The tool is simple, and even beginners can download and use it on their PC. It can scan any file type, including videos, images, documents, audio, and more.
Features:
Precise removal of duplicate files safely
All types of duplicates are detected in seconds
Finds duplicates in external hard drives
The smart algorithm compares the contents and the filenames to detect duplicates
Price:
You can go for a free trial or get the Pro version for $39.95
Install EaseUS DupFiles Cleaner
3. dupeGuru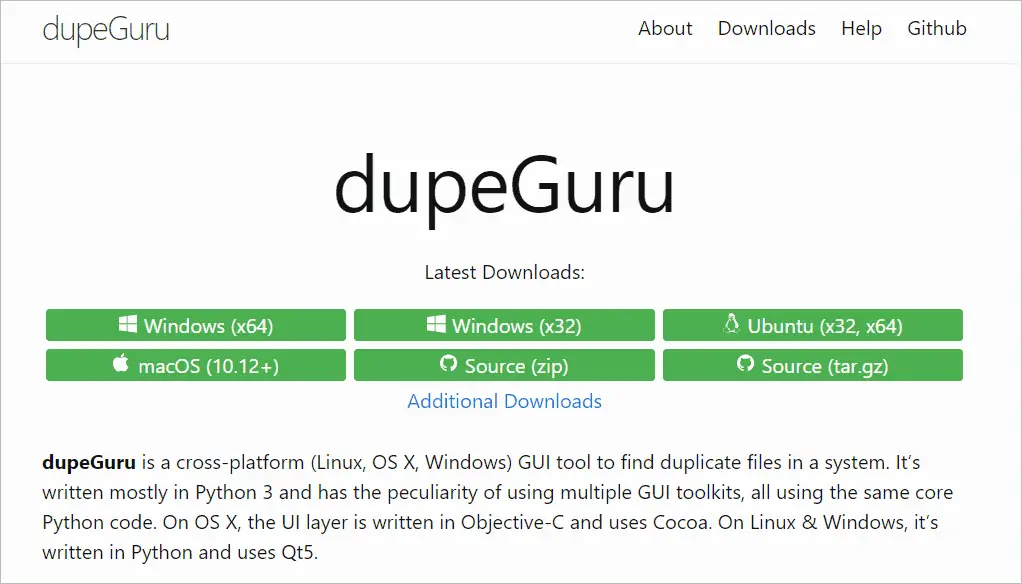 dupeGuru is the best duplicate file finder you can use cross-platform. It can scan not only filenames but also the file contents to find if there are duplicates. Even the files with the same content but different file names will not exist on your system after they are subjected to the tool's fuzzy matching algorithm.
Features:
Finds duplicate files within minutes
Good to find image duplicates that are similar but not the exact same
You can change the scanning engine settings on the Preference page to specify what kind of duplicates you want
Has a system in place that prevents you from accidentally deleting important files
Price:
dupeGuru is a free duplicate file finder.
4. Quick Photo Finder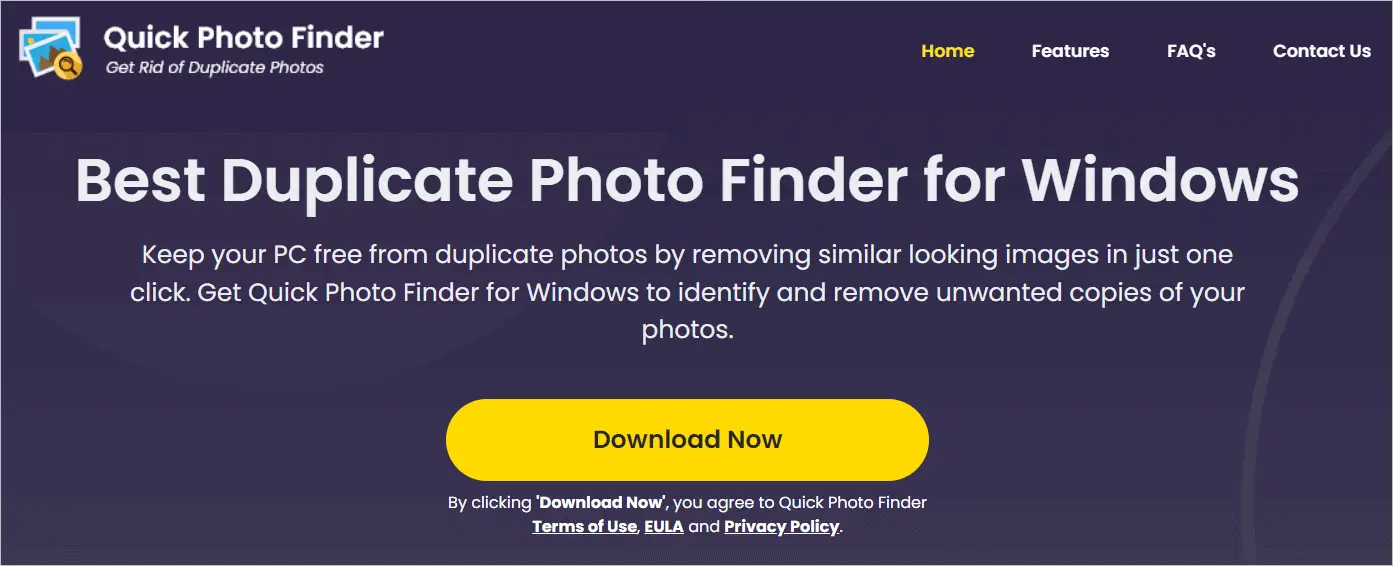 Quick Photo Finder is a duplicate photo finder specifically designed to find all the duplicate images from your collection. You can find the exact copies and similar images and decide which ones to discard. Get them out of your system with a single click and keep your photo gallery organized.
Features:
Supports any image format, like png, jpeg, gif, and more
The intelligent algorithms do a deep scan to find twin pictures
Gives scan results in organized groups to better identify the unwanted images
Automatically selects the duplicate images for quick removal
Price:
Quick Photo Finder is a free tool.
5. Auslogics Duplicate File Finder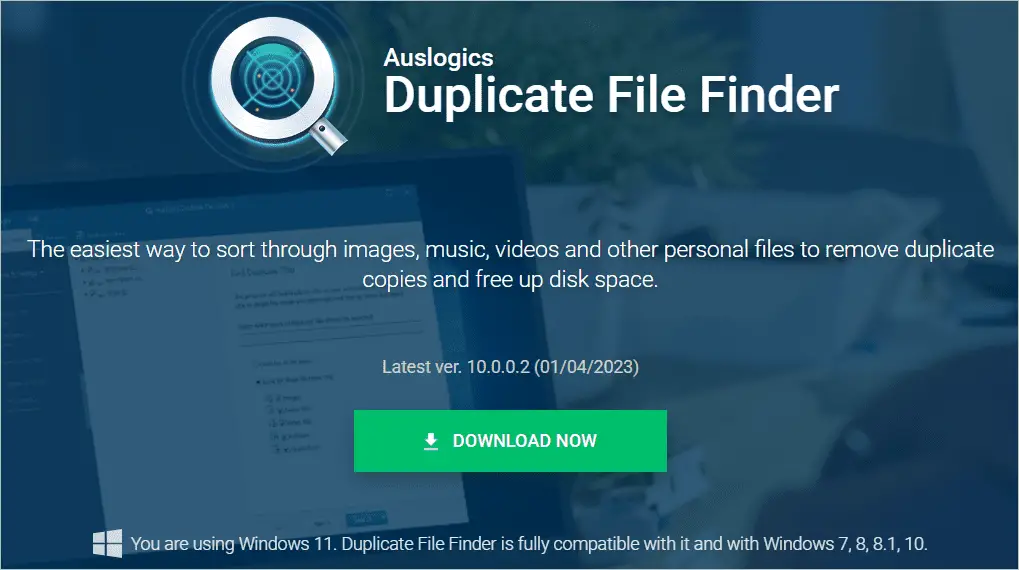 Auslogics is the best duplicate file finder application, which takes care of all your personal files like music, videos, images, and others. You can identify and remove unnecessary duplicate files to free up your disk space. As a result, your folders will look neat and organized with only the essential files.
Features:
The smart algorithm never gives false search results as it compares both file names and contents.
Scans particular file types as specified by the users
Scans external devices too
Price:
Auslogics Duplicate File Finder is a totally free tool.
Download Auslogics Duplicate File Finder
6. CCleaner

The CCleaner software cleans your PC by getting rid of unwanted duplicate files from your system within no time. It gives a lot of importance to your privacy, and hence its working is very secure. Identifying and deleting identical files makes the system attain optimum performance. If you know how to use CCleaner, then it can be the best maintenance tool that manages everything on your PC.
Features:
The interface is user-friendly, enabling faster navigation
A unique feature lets you customize your search to locate duplicate files
Besides duplicate files, it also removes cookies, temporary files, and more
A backup is created before scanning to avoid data loss.
Price:
CCleaner allows a free trial.
Pro: $29.95
Pro Plus: $39.95
7. Duplicate Files Fixer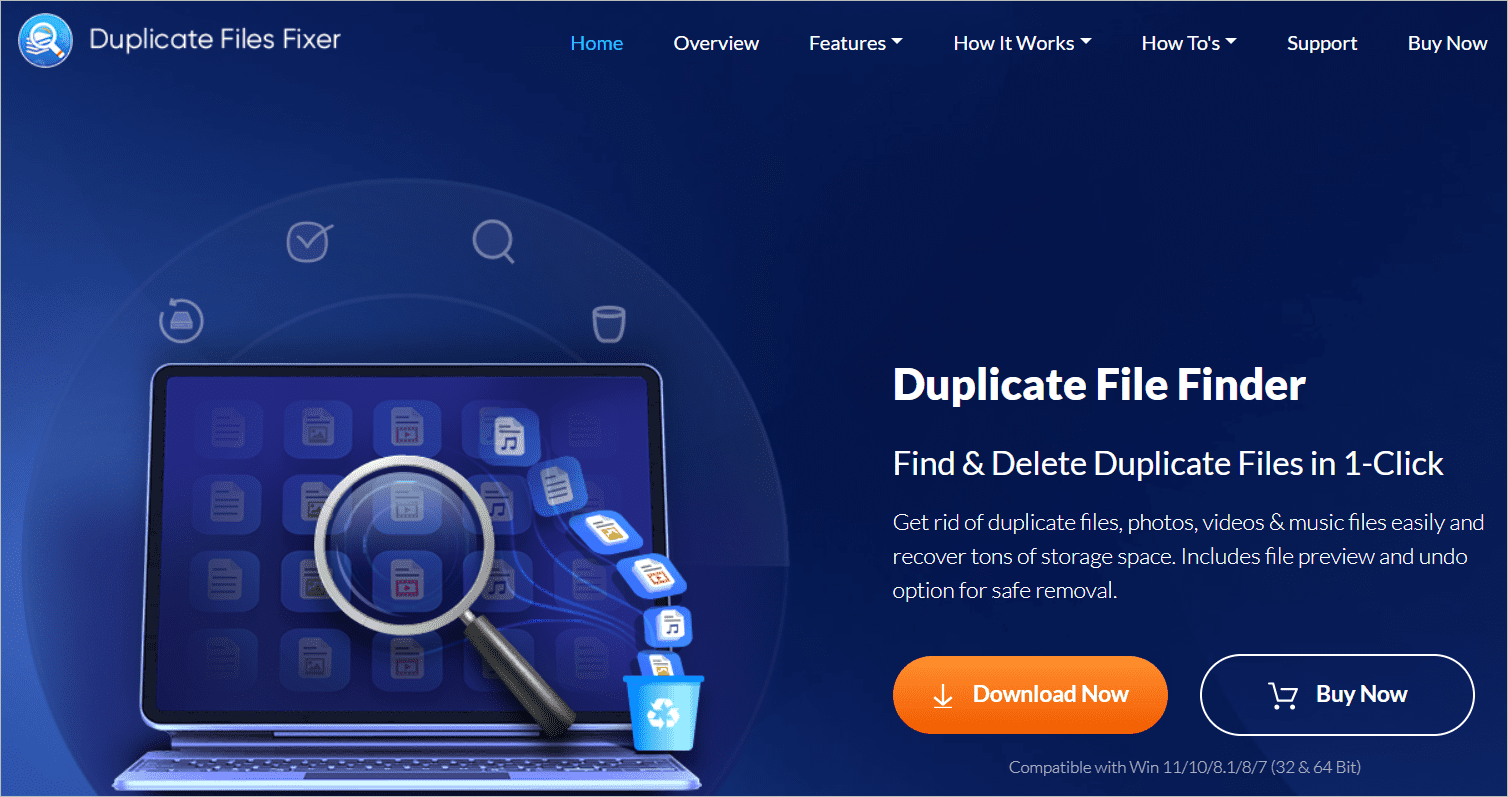 Caption:
The best duplicate file finder ensures the safe removal of duplicate files, avoiding accidental deletion. Duplicate Files Fixer shows a file preview, so you can be sure which ones to delete. It also supports an undo option as an extra safety measure. Apart from Windows, it also removes duplicate files from Android, Mac, and cloud storage.
Features:
You can give different parameters to instruct the tool on how to search
Works with audio, documents, photos, and videos
Scans external drives and HDDs
Auto-selects the files so that you can detect and remove duplicate files in a single click
Price:
You can choose from the free and paid versions. The paid version is $39.95
Download Duplicate Files Fixer
8. AllDup
The freeware tool AllDup searches efficiently for identical files on your system and helps remove them fast. You can search among pictures, videos, music, and text documents and delete those that have more than one copy. You can also preview the files before deleting them. The search engine uses different criteria like file name, file size, file extension, file date, file content, and file attributes to detect duplicates.
Features:
Finds pictures that are not exactly the same but are similar
Deletes, moves, or copies the duplicate files
Deletes hard links
Identifies duplicate content even if the file names are the same
Price:
AllDup is free to install.
9. Easy Duplicate Finder

Easy Duplicate Finder is the best duplicate file finder and remover to regain your disk space occupied by duplicate files. It uses smart technology to locate the duplicates, whether they are on your Mac, PC, or cloud storage. The interface is easy to use, letting users drag and drop files.
Features:
Enables advanced file management using different search methods and scan modes
Preview all file types before removing
Easy one-click removal of files
Enables emergency recovery of files with the Undo button
Price:  
The price of the tool ranges between $39.95 and $69.95, depending on the number of computers.
Download Easy Duplicate Finder
10. Duplicate Cleaner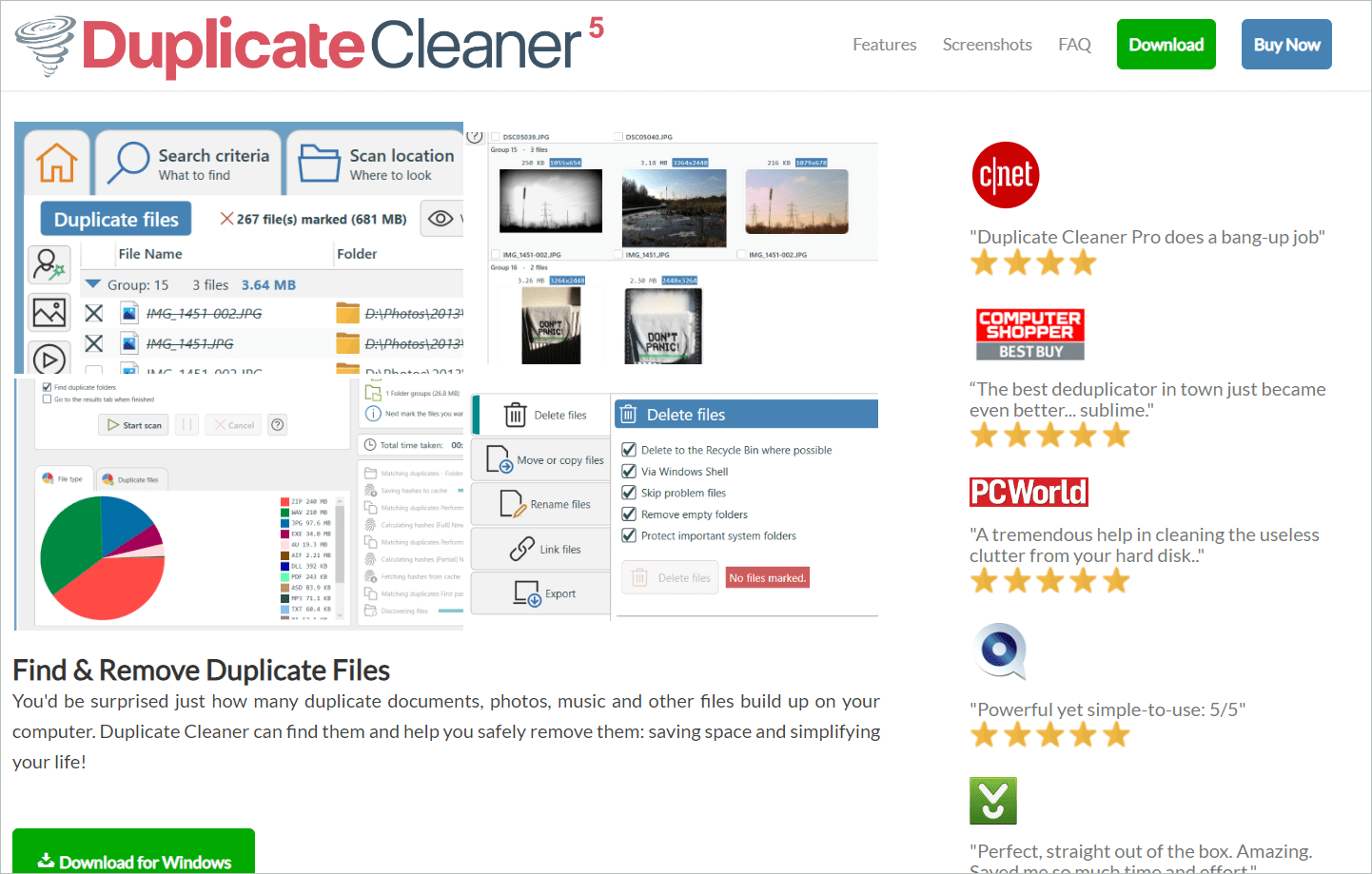 Safely removing duplicate files on your computer and simplifying your life is what Duplicate Cleaner does for you. It is an all-in-one solution that sorts out your images, finds duplicate movies and videos, and uses Selection Assistant to mark the files to delete. In addition, the simple interface lets you input parameters like file type and size to search accordingly.
Features:
Different scan modes make searching easier
Ability to scan for duplicate files in ZIP folders
Scans edited files also for precision
Works with all file types
Price:
Get Duplicate Cleaner Pro 5 for $39.
11. Wise Duplicate Finder
If you are looking for the best duplicate file finder and file management tool, go for Wise Duplicate Finder. The software compares parameters like filename, contents, and file size and helps you find duplicate files. So whether you are bogged down with duplicate videos, photos, or documents, the tool is the ideal choice to eliminate them.
Features:
Supports multiple languages
Enables recovery of deleted files if needed
Identifies empty folders to remove them
Price:
You can get a free download or upgrade to the Pro version at $22.46 for one computer or $29.96 for three computers.
Download Wise Duplicate Finder
12. Duplicate File Detective
Your duplicate files might be on external storage devices, hard drives, or any other – Duplicate File Detective can effectively identify them. It is your choice whether to zip, move or eliminate them. It is an excellent tool that does more by speeding up file searches, bettering storage, and reducing the mess.
Features:
Replaces deleted identical files with the links to the original files
Performs file content analysis
Report scheduling and support for email delivery
Best suited for organizations
Price:
You can try it for free and move to a paid version starting from $60
Install Duplicate File Detective
13. Ashisoft Duplicate File Finder

We call it the best duplicate file finder tool because it finds not only duplicate files but also duplicate folders. While the duplicates are listed, you can also view their previews. It finds twin files of any format residing on your SSD, HDD, or cloud storage. The intelligent algorithms work very well to scan the nooks and corners of your device to bring the duplicates to light.
Features:
The special scan mode compares files in Target and Master folders
The Selection Assistant marks files by dates, folders, groups, and more
The image viewer gives a preview of the files
Price:
For one PC, you can buy Ashisoft Duplicate File Finder for $3.32 per month. The price varies with the number of PCs.
Download Ashisoft Duplicate File Finder
14. Anti-Twin Classic
Anti-Twin Classic is a simple application that locates redundant files on your hard disk. When you find them, delete them straight away or move them to the Recycle Bin. The Compare file content option compares the file's contents to find similarities. An interesting feature checks the new files before they are saved.
Features:
Byte-by-byte comparison of the file content
Brings out similar pictures, even if they are not the exact copies
It works with MP3 files, pictures, and more.
Price:
You can install the tool for free.
15. Fast Duplicate File Finder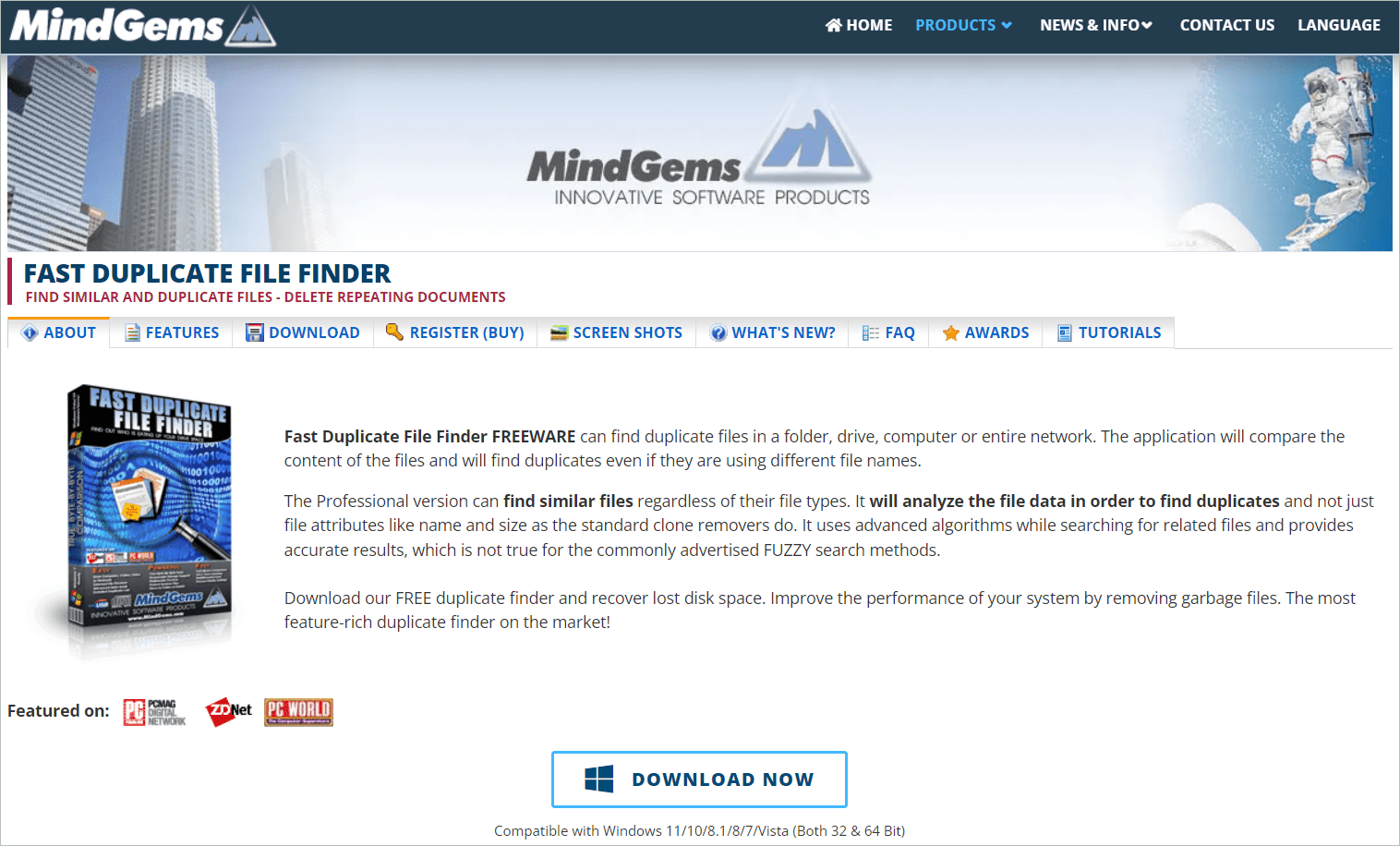 You can use the best duplicate file finder called Fast Duplicate File Finder to unearth duplicates even from the entire network. That's something we liked about the software. It does this by carefully comparing the file contents rather than just filenames or sizes. So if you have loads of duplicate files, it will eliminate all of them, freeing a lot of disk space.
Features:
Uses advanced algorithms to search for duplicate copies
Analyzes the file contents to give accurate results
Supports files like TXT, audio, video, image, binary, Excel, and PDF
Price:
It is freeware.
Download Fast Duplicate File Finder
16. WinExt
WinExt is not just a tool you can use to get rid of duplicate files. It does much more, like monitoring Windows activity, fixing Registry issues, etc. When you are on a duplicate hunt, you can specify the parameter for scanning, like size and type. Once the files are found, you can move or delete them.
Features:
Scheduled and automatic scanning of files
An extra tool identifies empty files and folders
Full comparison for big files
Allows customizing the scanning process
Price:
You can select the Free Edition or the Pro Edition starting from $19.99 per year for a PC.
17. Duplicate Sweeper
Duplicate Sweeper is the best duplicate file finder to sweep out all your duplicate files in one go. It swiftly recognizes duplicate pictures, audio, videos, and documents from cloud storage services like Dropbox and Google Drive. Then, all you have to do is manually or automatically mark the files and remove them.
Features:
Uses advanced search algorithms to identify duplicates
The handy viewer gives a preview of the file before deleting
Duplicate files are moved to Recycle Bin, making it easy to reverse your decision if needed
Price:
You can have a free download to scan your PC or get all the features for $20.
Final Thoughts
If you thought deleting the duplicate files manually was easy, try the best duplicate file finder, and you will never look back. If you have hundreds of folders and files, manually searching them for duplicates may take work. The duplicate file finder software does marking and deleting for you automatically.
Most of our duplicate file finders are not limited to finding duplicates. They also have other features that do deep scanning based on your criteria and give many options as to what to do with the duplicates.