Felt jealous of your friend who posted a beautiful pic collage on Instagram recently? Well, now it's your turn to show off. Instagram can be fun if you have the right tools and apps. An Instagram collage app is just what you need to combine all your photos to create magic on your Instagram profile.
Picture collages are interesting; you are not looking at a single photo but many at once. How amazing is it if you can share your whole vacation photos in a single snap? The apps to create collage also allow customizations on the collages before you share them on Instagram. So, your ordinary photos can be converted into a picture collage full of life.
15 Best Instagram Collage App For Android And iOS
An Instagram collage app for your iOS and Android devices perfectly captures your dream moments into a single photo frame. Not just that, add funny stickers, texts, and more using the photo editor to enhance your Insta content. Here are the best Instagram collage creators you will love exploring.
1. PicJointer
If you are out on holiday, have this Instagram collage app ready on your phone. You will need it to assemble hundreds of photos you would click. Use the basic and natural filters to touch up your photos to make them Instagram-ready. The editing tools will make the collages distinct and creative.
Before making the collage, you can work on the pictures to zoom, mirror, pan, or rotate to make way for the best combinations. The hundreds of collage layouts make each collage different with its unique styles. Once the collages are made, you can customize them further, like adding stickers.
Price:
The app is free to download, but you can make in-app purchases starting from $2.99.
2. Unfold
The Unfold app stitches not just pictures but also videos together. Your collages look filmy to make your Instagram feed beautiful. With over 150 unique templates to choose from, your collages will look entirely different from where you started. Turn heads on social media with your stunning picture collection.
Don't mix your photos just like that. Instead, use the filters and effects to give new lives to them. You can then add text in stylish fonts and use advanced text tools to convey your message. Unfold is not just about managing your photo collection; you can also make a Bio site.
Price:
You can have a 7-day free trial, after which you can get a subscription.
3. Collage Maker
Collage Maker is an Instagram collage app that is an all-in-one solution for all your photo and video editing needs. A whopping 20,000 and more layouts are waiting for you to build a collage in no time, including your memorable pictures. It is also an app that combines videos into a collage.
You can crop, rotate and move your photos in the grid and make the placement right. There is much to explore, from exclusive stickers and trendy collage sizes and styles to stunning effects. Try the famous animated collage with a single tap, and you will love it instantly.  
Price:
The Collage Maker offers a free version. But you can upgrade the free Collage Maker app starting from $2.99.
Download Collage Maker for iOS
4. Layout from Instagram
Remix your pictures in the best photo collage app, Layout, to get the collage of your dreams. Share it with your friends and see how it becomes a hit. Choose photos from your personal library or use the built-in Photo Booth and try various combinations before fixing one.
You can combine nine pictures at a time to make the best Instagram stories collage ever. The faces tab comes in handy in finding photos quicker by recognizing people's faces. Finally, use Instagram filters and other tools to beautify the collages before sharing them with your followers.
Price:
Layout is the best free photo collage app.
Get Layout from Instagram for Android
Get Layout from Instagram for iOS
5. Story Art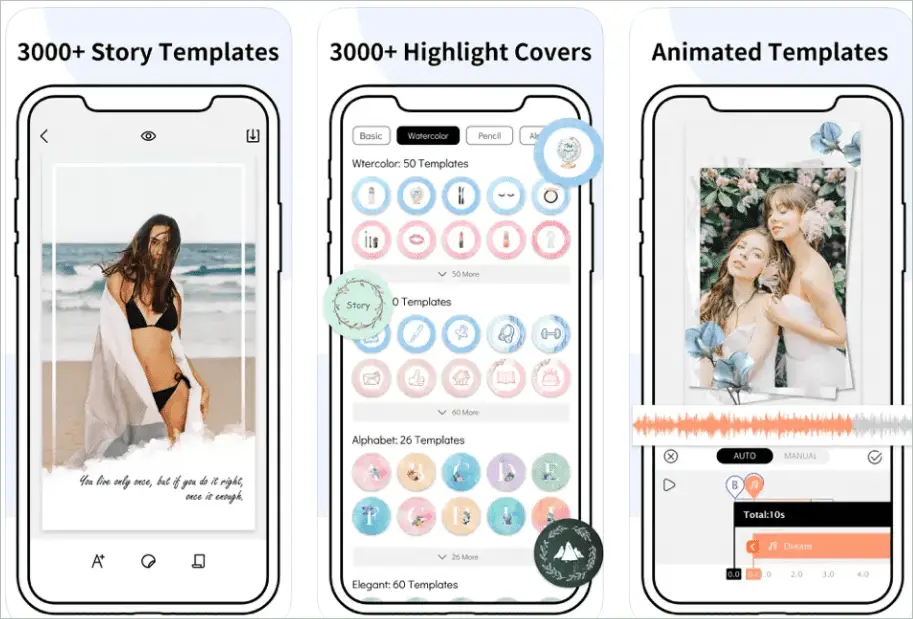 If you are not just interested in making collage using the Instagram collage app but also getting creative with your pictures, Story Art is for you. It has over 3000 story templates for Instagram in different styles to suit your moods. For example, play with the animated templates if you want to be silly.
Story art lets you get your hands on some of the best professional filters for your stories and main feed. In addition, the different fonts allow you to type in unique fonts. You can get the photos for your collages from your personal collection or take instant photos using the camera. Then, add stickers and music and make them attractive.
Price:
You can use the photo collage maker app for free or opt for subscriptions starting from $3.99.
Download Story Art for Android
6. PicCollage
PicCollage is your best pal to celebrate all your occasions in style. You get more than 3000 designs to make a photo collage stand apart. You can add multiple pages to the collages and include more pictures to be just to your umpteen photos. Then export them as photos or videos for extra fun.
Add some animation effects during editing to give life to the raw photos. You can even add videos to the collage and edit them, like trimming and muting. Other interesting things you can do are make cutouts, draw doodles on your collages, and more.
Price:
The app is free to use, but in-app purchases start from $1.99.
7. A Design Kit
A Design Kit contains all the elements required for an Instagram collage app and more. It has over 200 collage scans, like scrapbooking, that you can easily do on your iOS device. The realistic brushes let you draw on your pictures to give more beauty to your collages.
The collection of stickers is too much that you will want to use each on your collages. In addition, the fonts and designs will add a tinge of modernity to your collages, making them appealing to onlookers. Textured backgrounds are yet another feature of the modern app.
Price:
The free version of the app has all the features, but you can also upgrade to the paid version.
8. GoDaddy Studio
Formerly known as Over, GoDaddy Studio is your content creation assistant to grab attention on social media platforms. You can depend on it entirely to create amazing collages of your photos and videos, even if you know nothing about choosing the right templates.
Turn your everyday photos into something that will project you as a pro. If you are promoting your business on Instagram, GoDaddy Studio will be your companion in creating brand value. Use the tool to make collages for professional ads and stories to attract attention like never before.
Price:
GoDaddy Studio is a free app, but you can go for a subscription anytime. The minimum you must pay is $9.99.
Get GoDaddy Studio for Android
9. SCRL
SCRL is the best Instagram collage app to tell your story to millions. The app lets you layer your videos and photos on different frames to get the best layouts possible. With an array of fonts, stock images, and templates, the collages will make for the best Instagram stories.
SCRL features a freeform canvas where you can use up to ten frames to beautify your different layouts. In addition, you will get over 500 trendy templates to create brilliant animated Instagram Reels. Once you are done enhancing the look of your collages, you can instantly share them with your Instagram audience.  
Price:
You may use SCRL for free or get the Premium version for more features.
10. StoryChic
Storychic has managed to top the Instagram story editors within no time. You can use it as a story art maker with its collage templates creating the perfect base. There are over a thousand templates available to mix your photos in different styles.
StoryChic features several photo frames, different font styles, advanced text tools, and more to make your Instagram feed attractive. It lets you add various effects and filters to your collages, making them different from the initial mix. You can also change themes whenever you wish. Experiment with the different themes to give a personal touch.
Price:
You can download the app for free and also opt for in-app purchases.
11. Mojo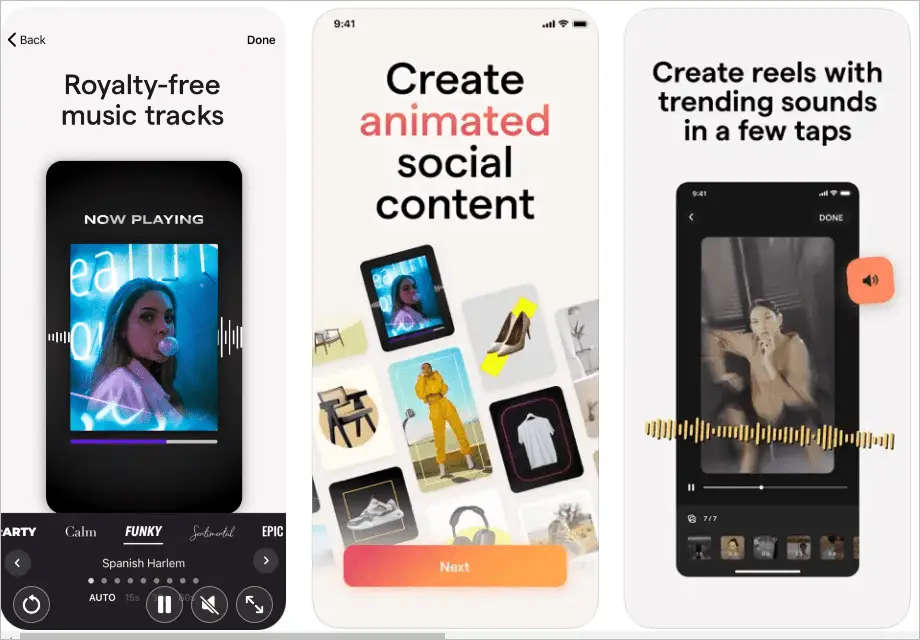 Use Mojo, the incredible Instagram collage app, to create engaging Instagram Reels, stories, and more. It is popular as a social content maker app that offers everything you need, including unique text styles, animated templates, background music, and much more. Whatever the occasion, club your pictures using Mojo collage maker.
If you are using Mojo for more professional use, you can better establish your work online. You can use photos from your photo library and directly upload them to the app to make amazing collages.
Price:
Mojo is available for free download. However, you can make in-app purchases starting from $9.99.
12. Grids
Get Grids, and you can end your longing for the most beautiful Instagram feed. If you have large photos, break them into square pics before uploading them to get a fresh look. You can select a grid size and add pictures of your choice to make the best collage you have ever made.
Thankfully, Grids app lets you use your high-resolution photos as it is. It even crops photos for you. Once your collage is ready, you can easily share it on Instagram without saving it on your device. Make attractive highlight covers for your stories and take your Instagram journey to the next level.
Price:
Use Grids for free or get paid plans starting from $1.99.
13. Puzzle Template – PuzzleStar
If you have come across Instagram profiles with breathtaking puzzle grids, you know how trendy they can be. PuzzleStar is an Instagram collage app that allows the creation of puzzle collages for Instagram posts. You will find dozens of puzzle templates, each carefully crafted for different uses here.
Influencers can use the tool to optimize their profile with different themes. Even if you are a casual Insta user, you can create attractive profiles to gain followers. You can add photos to make stunning collages, plus adjust the font style and size.
Price:
The free app can be upgraded with paid packs starting from $3.99.
Download Puzzle Template – PuzzleStar for Android
Download Puzzle Template – PuzzleStar for  iOS
14. Storyluxe
Storyluxe has over 700 video and photo templates with incredible backdrops and filters to make your content appreciable. It is an app popularized by celebrities and influencers, so you can believe what it offers. In addition, you can add custom texts to your collages to make them speak.
Storyluxe has some 16 designer fonts to change the look and feel. In addition, you can apply some amazing photo filters to enhance your collages. After you make your dream collages, export and share them on Instagram to get numerous likes.
Price:
You may use the Instagram collage maker app for free, but for unlimited access, get paid plans starting from $3.99.
15. Adobe Express
Adobe doesn't need an introduction to people who are into the editing of videos and photos. You can use the Adobe Express Instagram collage app or make collages online in a few steps. Choose from the adorable collage templates and add your pictures to get stunning photo collages in minutes.
Adobe Express offers many customization options, like adding filters, using different fonts, and more to make collage creation exciting. The templates are all designed by professionals, so you will get the best ones to mix your images like a pro. You can get pictures from the app's library or add your own to create enticing collages.
Price:
You can use Adobe Express for free or upgrade to a paid version.
Download Adobe Express for Android
Download Adobe Express for iOS
Final Thoughts
Collages speak a lot more than the single pictures you post on Instagram. If there are more pictures than you would like to post, combining them in a collage is the best way to avoid missing any. An Instagram collage app lets you do this and more. You cannot land one of the best collage apps if you fall for the aesthetics. Price and features are important factors in deciding which app works best. The article will guide you right to make way for priceless Instagram collages, including photo and video collages.