In this time of digital boom, it makes complete sense to meet and spend time with your loved ones online. Sites like rabb.it allows you to watch your favorite content on video streaming platforms like Netflix and Amazon Prime Video. When Rabbit was discontinued, users started looking for the perfect Rabbit alternatives to watch movies and TV shows together.
Rabb.it alternatives are plenty, and similar to Rabbit, they allow you to stream videos and listen to music. Whether you want to play online games with your friends, watch videos from YouTube, or watch movies together, they provide the perfect ambiance. Depending on your device, you can select the best Rabbit replacement for a watch party with your best people.
22 Best Rabbit Alternatives For Your Watch Parties
Rabbit was a video streaming service that had millions of fans. So, if you are looking for Rabbit alternatives, you are not alone. Alternatives to Rabb.it enables you to watch videos with others virtually even if you are far away. The benefit is watching content and videos with others in perfect sync. So, here is the list of websites like Rabbit for users who want to watch the best content online with dear ones.
1. Metastream

Rabbit alternatives like Metastream are the perfect platforms to enjoy your favorite media with friends and family. You must create an account and sign in to use the service, but it is a quick process. When you start a session, you will get a friend code to share with your dear ones.
Features:
Uninterrupted playback for up to 50 people
You can search for your media and add the link to the queue
Supports many streaming services like Netflix and Hulu
Has advanced features like timestamp markers and real-time chat
Price: Metastream is free to use
2. Teleparty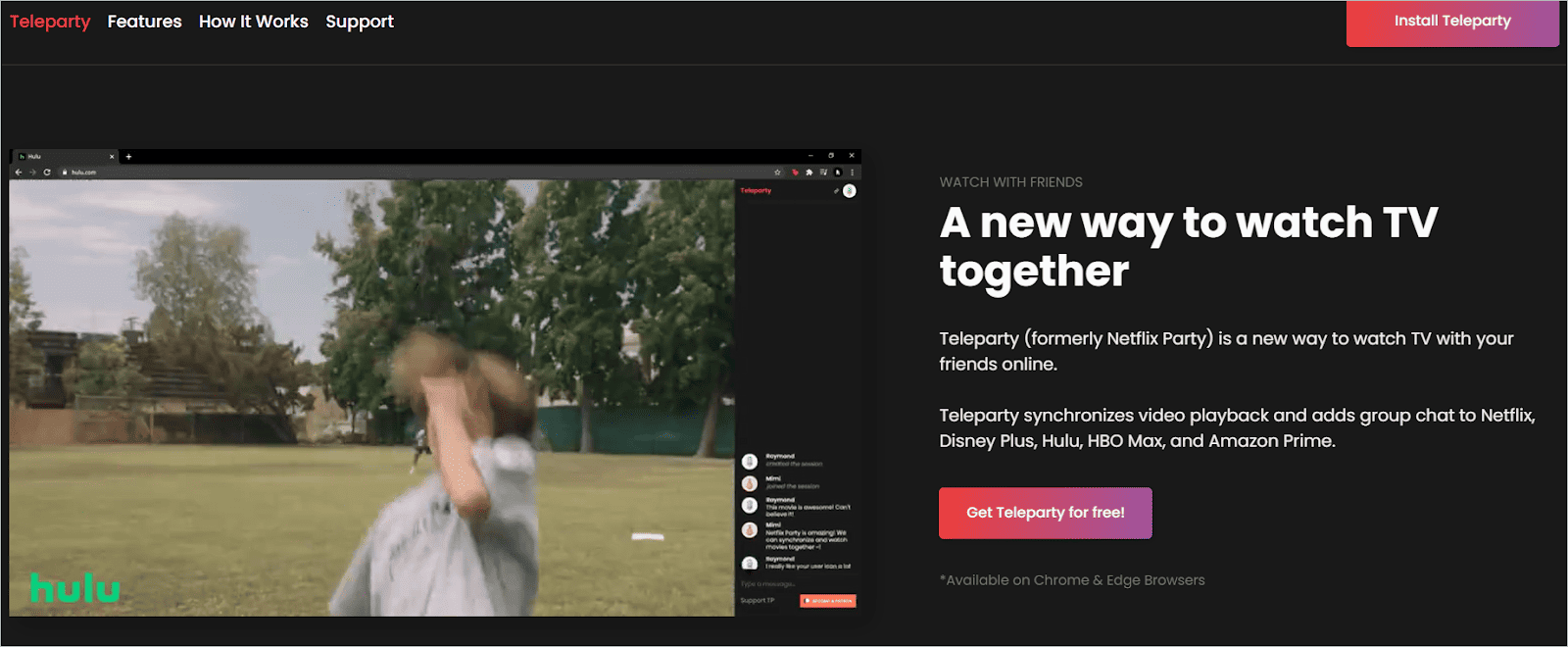 Explore a new way to watch videos together with your friends with Teleparty. Formerly known as Netflix Party, the platform lets you host a watch party on Netflix, YouTube, Disney, HBO, Hulu, and Amazon. You can easily install the tool and pin it to your browser to stream videos and invite friends.
Features:
Supports fast buffering and HD video quality
You can use it on desktop and mobile devices
Great options to customize, like nicknames and fun user icons
Price: The Teleparty extension for Chrome, Edge, and Opera is free to install.
3. Synclounge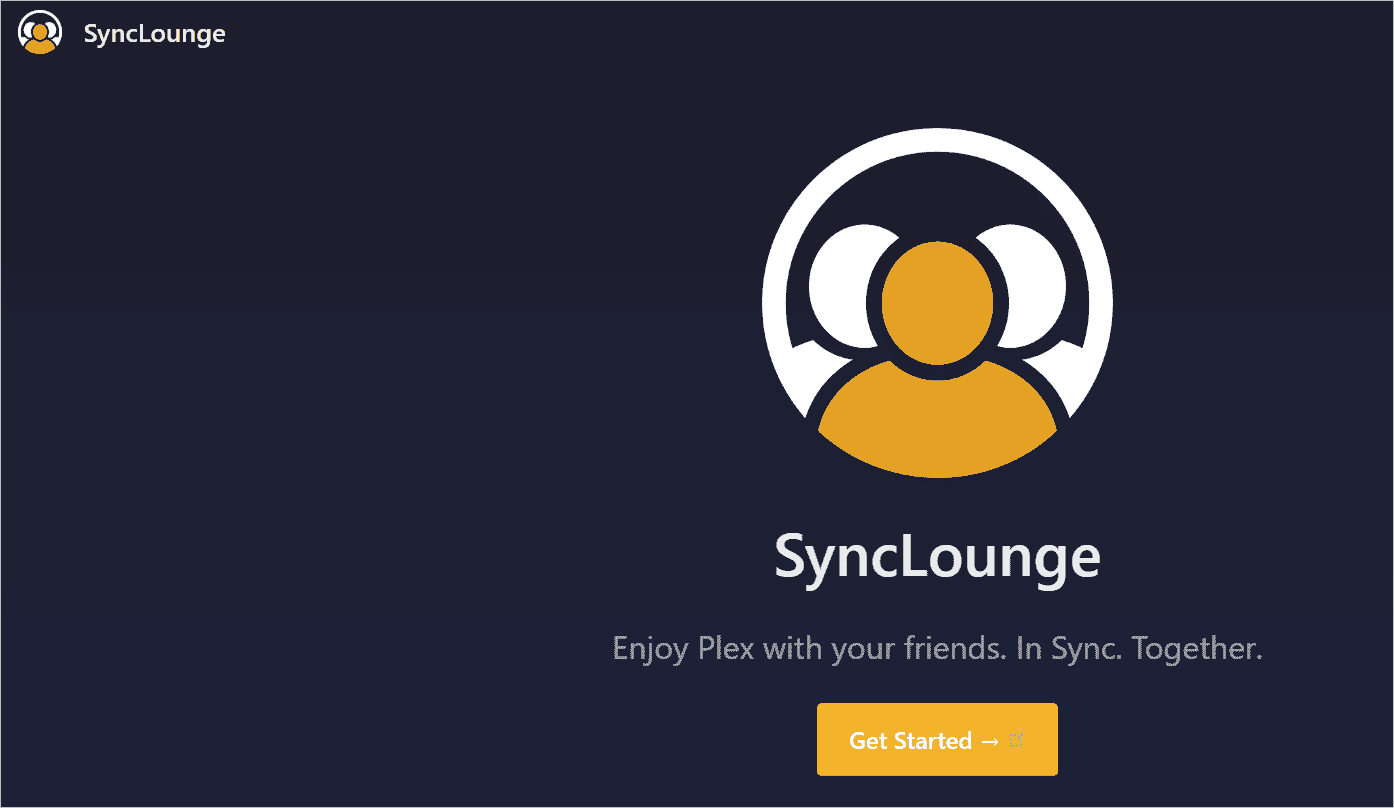 Synclounge is one of the excellent Rabbit alternatives exclusively designed for the Plex audience. The open-source app has its own server, so the playback is synced for maximum convenience when you watch with your friends. Connect your Plex library with the app and enter your 'private room' to watch movies and videos.
Features:
Allows chatting with friends and family
The synced playback is of the highest quality
You get chat support to help resolve any issue that pops up
Price: Synclounge is a free application.
4. Hyperbeam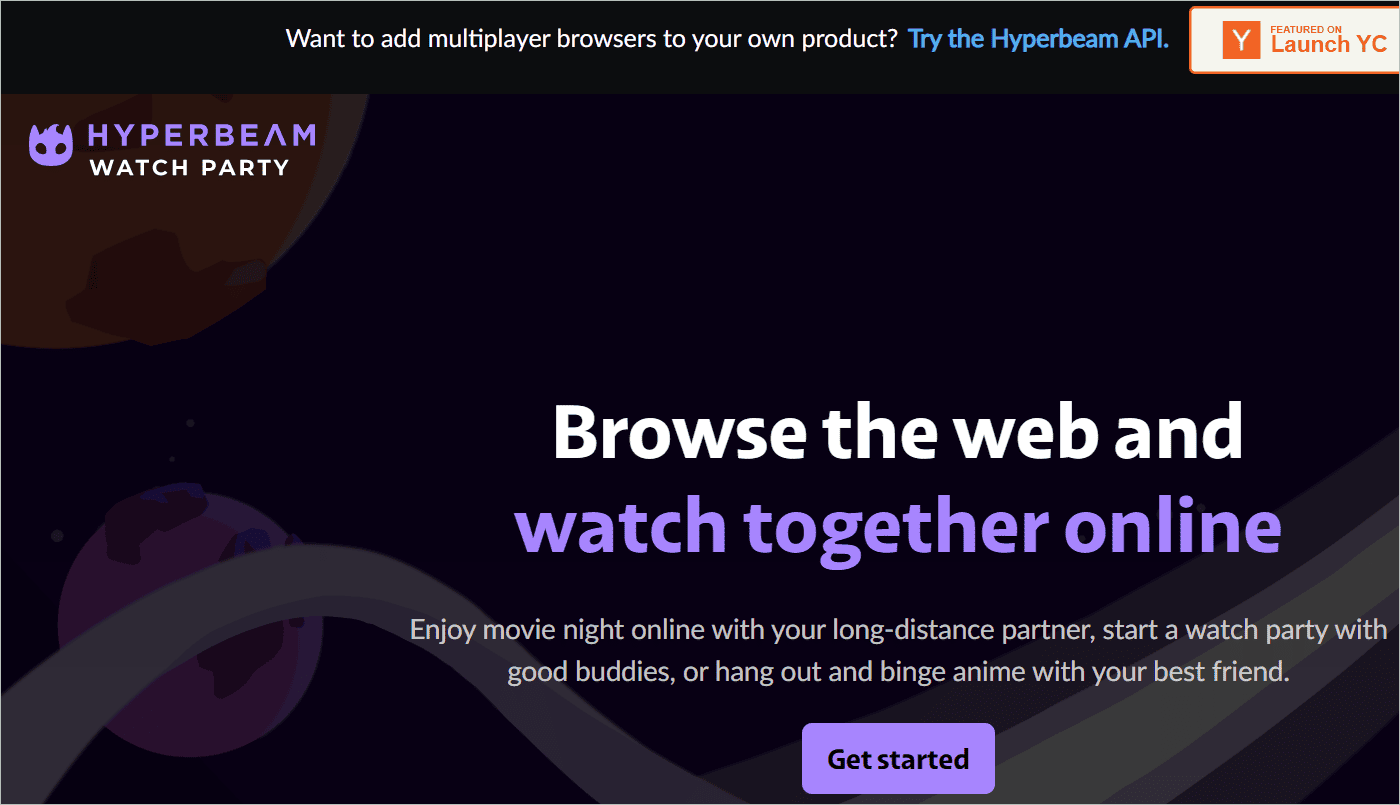 Hyperbeam offers the best watch party experience with your friends and family, where you can watch content online together. You have a virtual room where the watch party happens. You can share a multiplayer web browser with people who are invited to the party. Browse any website of your choice to get your favorite content. The browser control can be with anyone sharing the online space with you.
Features:
Has its server, so internet speed is always guaranteed
The synced content is of superior quality
Chat feature available to chat using text, GIFs, and emojis
Enables video and audio chat with your friends
Save the sites you want to visit again
Price: Hyperbeam is absolutely free to use.
5. Watch2Gether

Watch2Gether is one of the best Rabbit alternatives where you get to do many things with the people you care about. Whether you want to watch content together, explore together, pay together, or listen together, the app is all yours. All you must do is create a room and share the link. Then, wait for others to join and have a gala time together.
Features:
You can experience perfectly synced audio and video
Integrated chat rooms for endless chats
Watch content from Vimeo, YouTube, SoundCloud, Dailymotion
Lets you create playlists
Supports webcam
Price: You can use Watch2Gether for free or upgrade to the paid plans.
Watch2Gether PLUS: $2.90/month
Watch2Gether PRO: $7.90/month
6. Twoseven

If you miss your movie nights with loved ones staying away, organize one virtual with Twoseven. There is no limit to how many people can join you. It is all about having fun watching together. You can chat while you are together using text messages. Unlike Rabbit, audio messages are not supported. But that doesn't take away the fun factor. The important thing is that you are watching perfectly synced videos as if in a movie hall.
Features:
Auto sync features keep the synchronization of videos just right
Enables live chat using webcams
Supports YouTube, Apple TV, HBO Max, Netflix, Amazon Prime, and more
Price: Twoseven is completely free.
7. StreamParty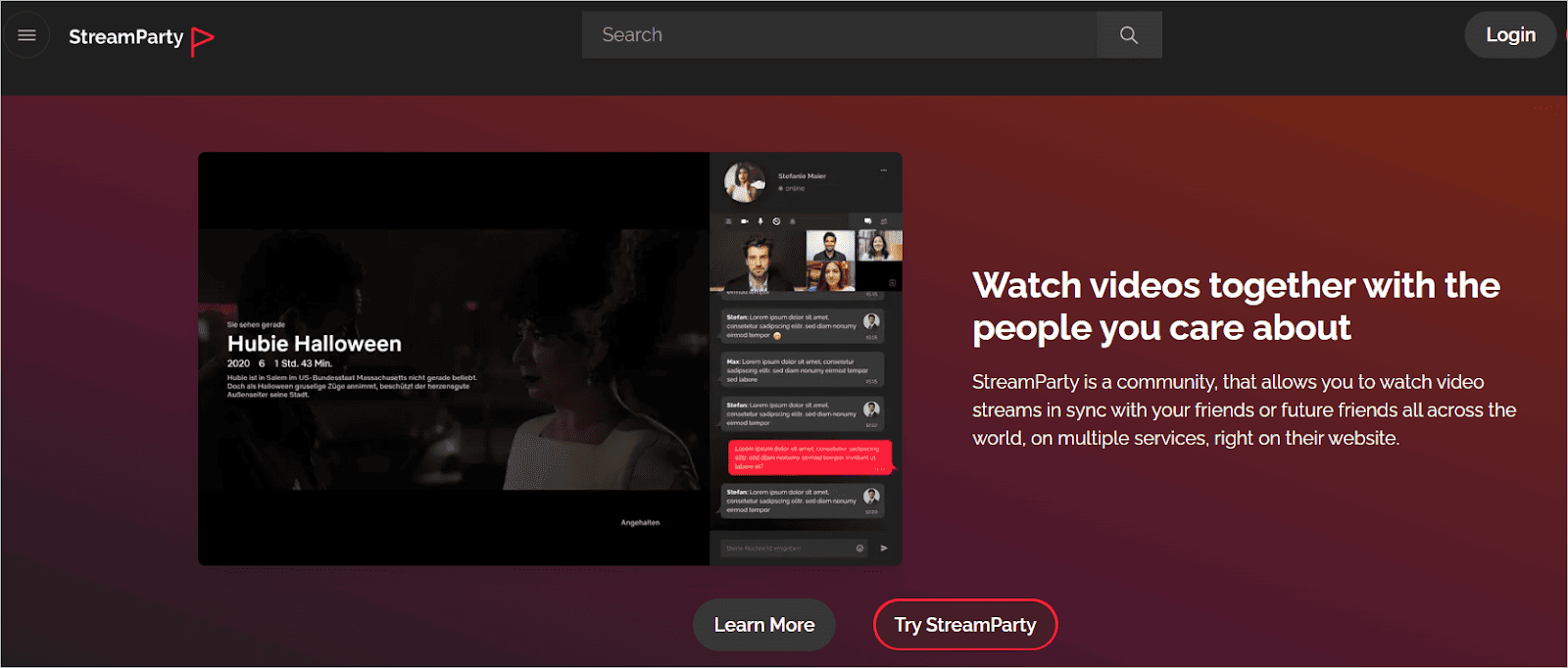 Join the StreamParty community to watch video streams in one of the trending Rabbit alternatives. It supports various services, so you don't have to venture out of the platform for quality content. You can get it as a browser extension or log in to the site. So, the next time you miss hanging out with friends, use StreamParty to watch shows or videos in real time.
Features:
Supports streaming services like Netflix, Amazon Prime Video, Disney+, and many others
Even if you skip or pause, the videos are synchronized automatically
Integrated chat and video chat
Allows meeting people who share your interests with public StreamParties
Price: You can stream free video using StreamParty or go for the paid plans.
8. Kosmi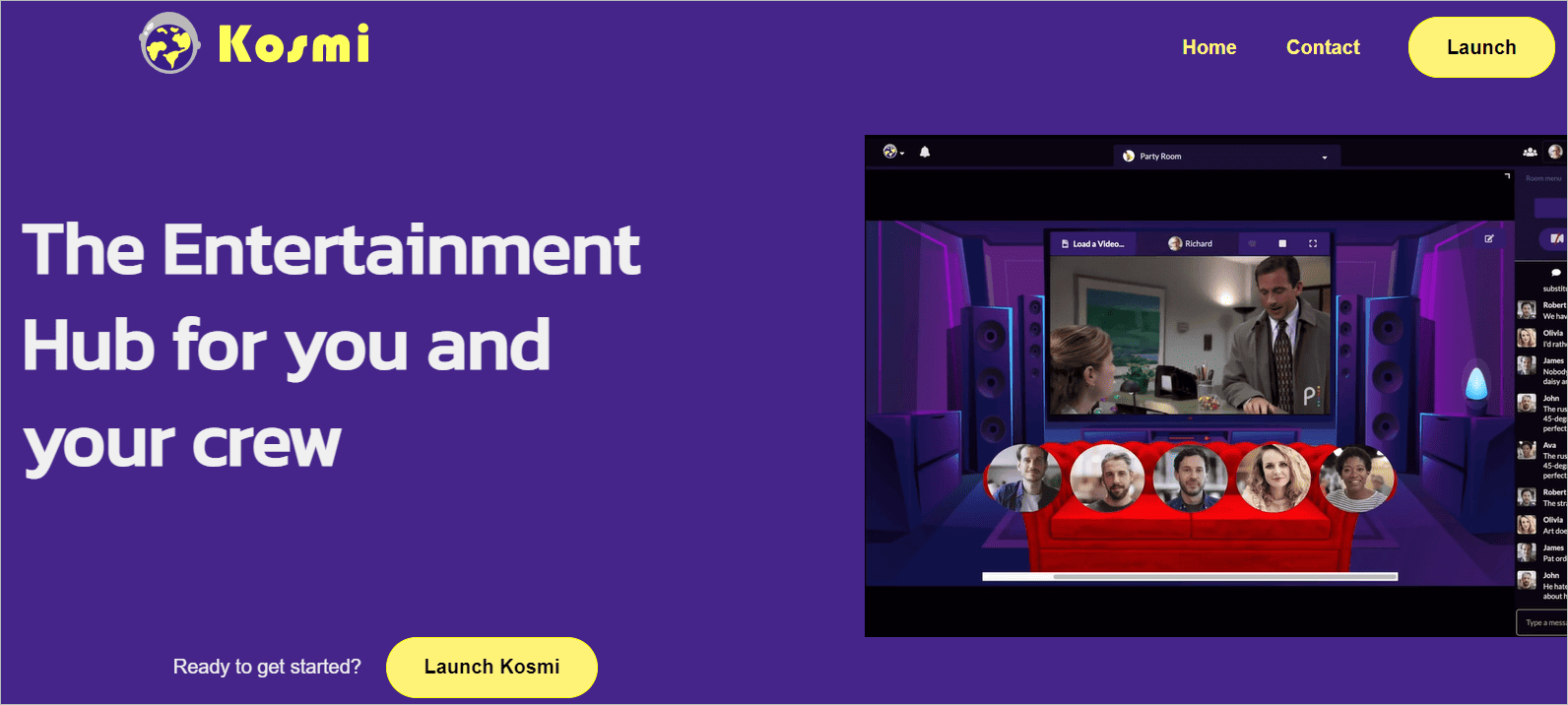 Kosmi is an entertainment hub where you will find everything you need to keep you and your team engaged. Videos, games, music, and more await you to unlock the world of ultimate enjoyment. So join your room and invite your friends to binge-watch your most cherished content. Once Kosmi becomes a habit, you will no longer complain about long-distance friendship issues.
Features:
Supports various services like Netflix, Pluto TV, Twitch, HBO Max, and many more
Allows creating shareable links without sign up
Supports screen sharing, shared browsing, file sharing, link sharing, and native integrations
Allows customizations of private rooms
Price: You are free to create your room in Kosmi
9. Rave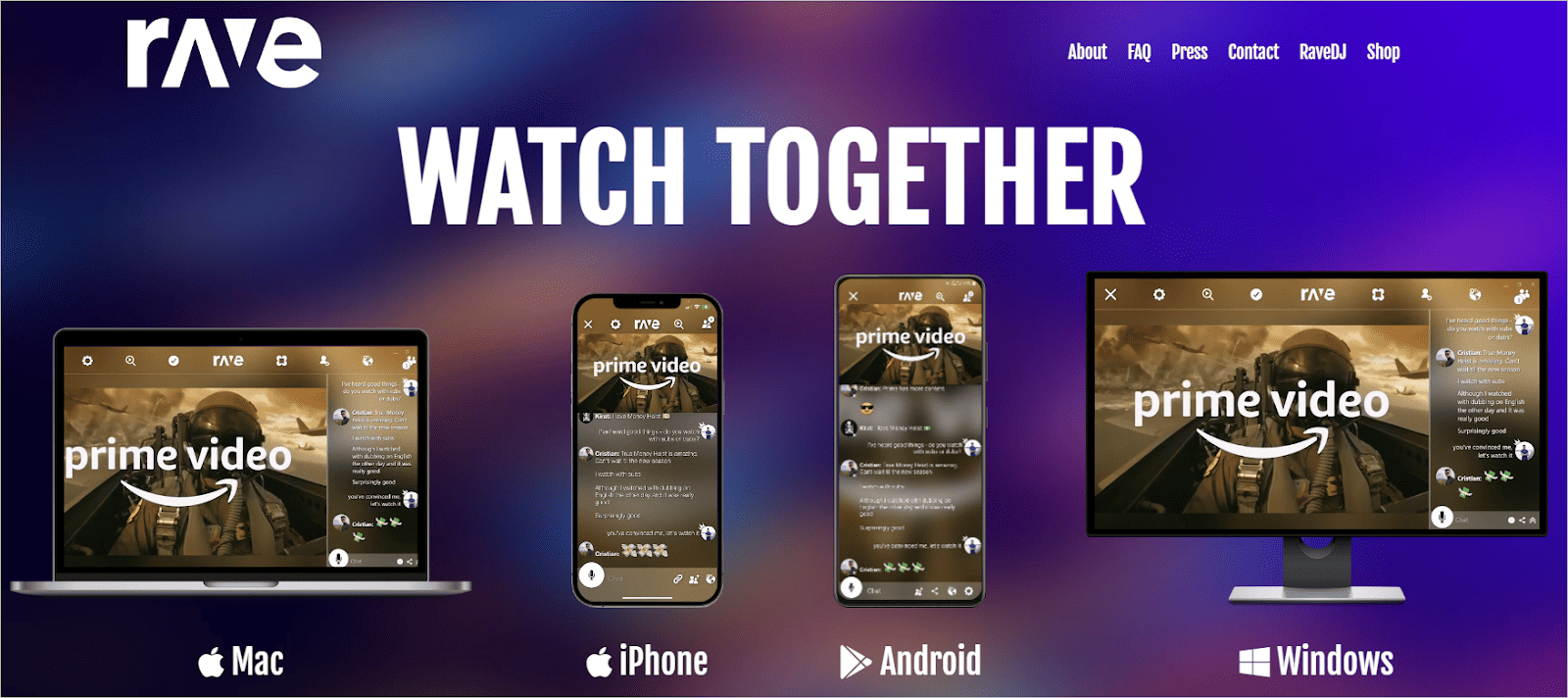 Rave differs from other Rabbit alternatives because it is available for iOS and Android devices. It promises a shared entertainment experience where you can virtually meet and talk with friends and family. While at it, you can also watch your favorite videos, movies, or shows just like you would if you met in person.
Features:
Supports Disney+, YouTube, Netflix, Amazon Prime Video, and many more
Supports text and voice chats
Allows sharing videos on Google Drive and sharing them for online watch parties
Allows mixing music with RaveDJ
Price: You can use the free version or upgrade to Rave Premium.
10. Airtime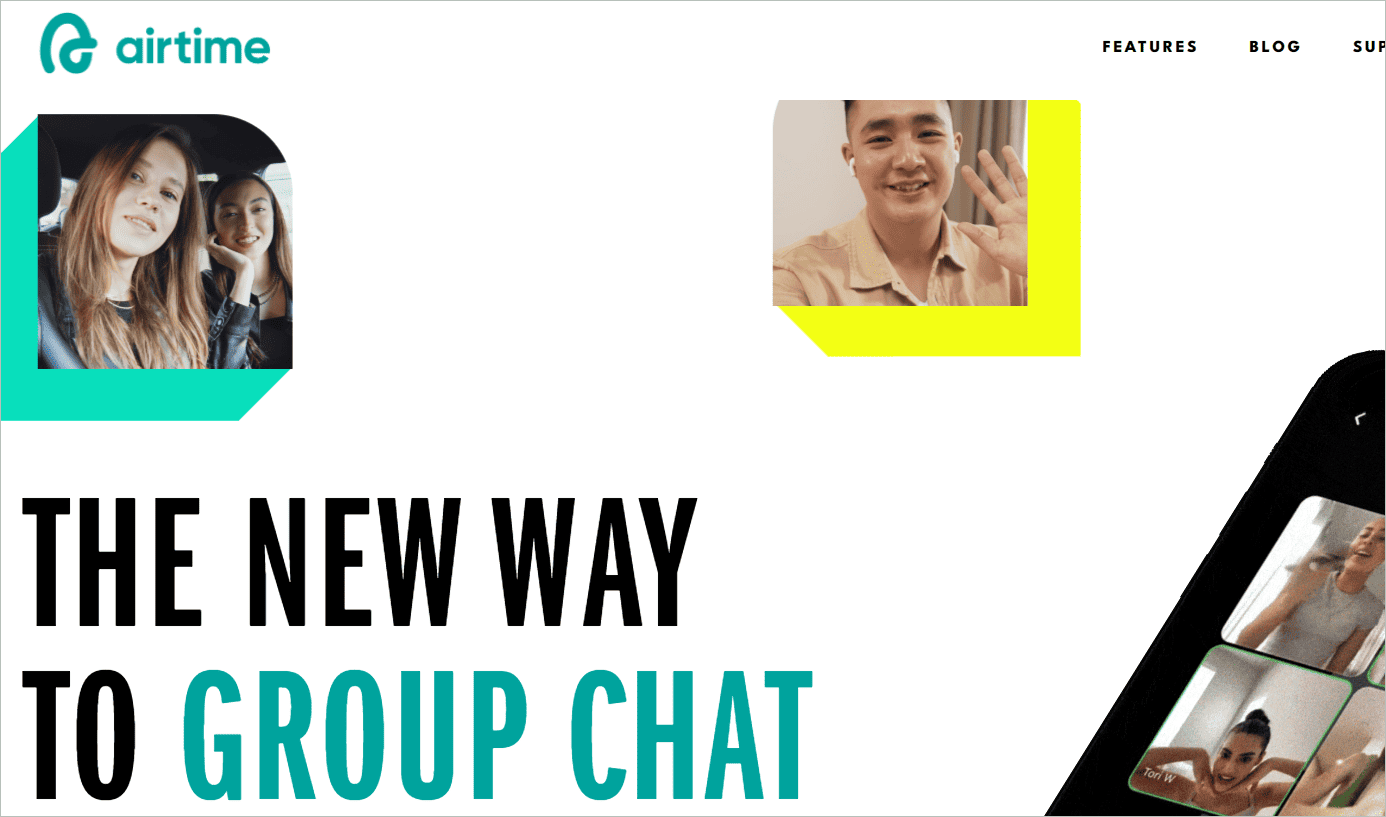 If you only want to connect with your friends, Airtime is your trusted partner. It enables audio, video, and textual communication through the mobile app or the web. Listen to music, watch videos with your favorite people, and play social games. You can also create live rooms or find them to connect with people with similar likes.
Features:
Unlimited sessions and room members
Allows sharing links, screens, and files
Features party games to enjoy with friends
You can customize notification and privacy settings
Price: Airtime is a free app
11. Scener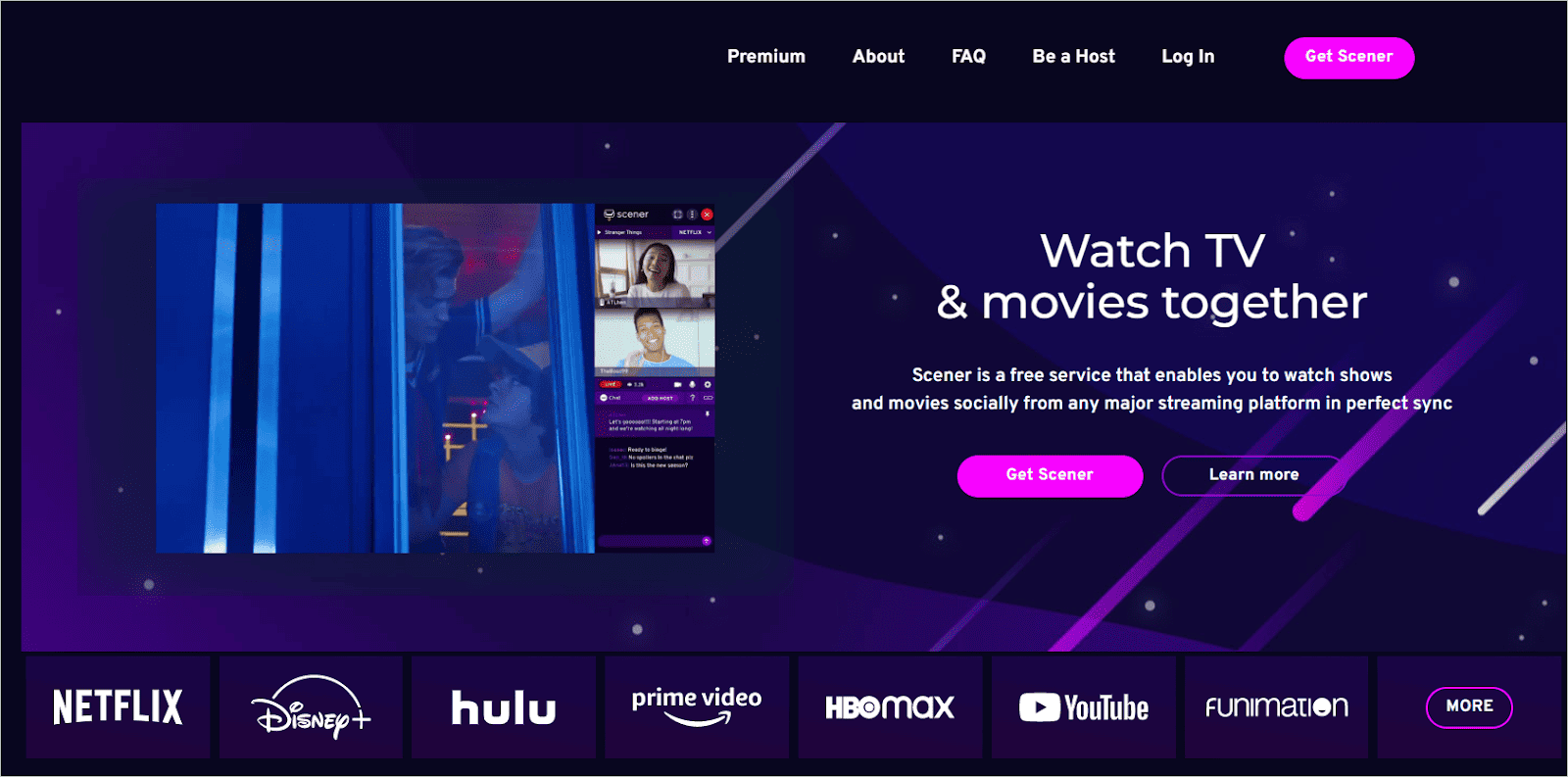 Watching your favorite movies and shows socially can be addictive if you have Rabbit alternatives like Scener. It is the best place to stream movies, whether you want to watch with your dear ones or host a public watch party. The platform asks for a valid subscription to the streaming service you want to use. Then, you can get the Scener Chrome extension to start the fun.
Features:
Allows text, audio, and video chat for real-time interaction
You can invite any number of people to your watch party
Supports Hulu, YouTube, Disney+, HBO Mx, and more
Price: Getting Scener is free.
12. CyTube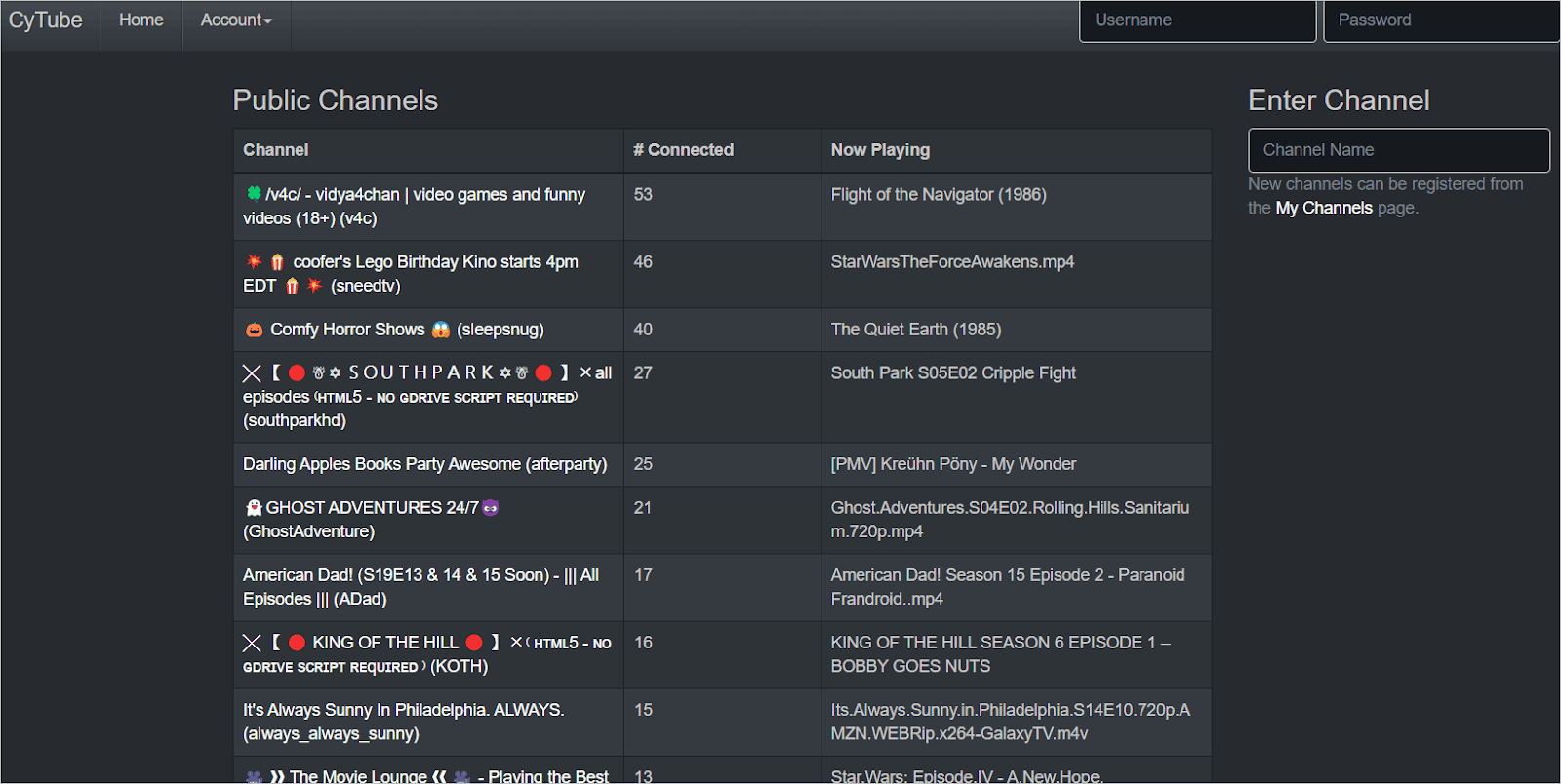 CyTube can be called a group video-watching site that offers plenty of options regarding quality content. In addition, it features brilliant media synchronization and support for audio messaging. This makes way for better interaction via chat.
Features:
Lets you watch YouTube videos without interruption
Integration with cloud services like Google Drive
Integrated chat to talk to your friends and family at anytime
Features unlimited public channels
Price: You can login and use CyTube for free.
13. Kast
When Kast bought Rabb.it, it was hoping to be one of the top Rabbit alternatives, and it has become successful in every sense. Like Rabbit, it lets you watch shows, movies, and TV with your friends from afar, right from the comfort of your home. Millions of Kaster's stream content from Kast TV or share their screens for a watch-together experience.
Features:
Enables streaming directly from the cloud
Allows 100 people to watch together, where 20 can share their screens
Premium HD-quality videos
Supports party chats with animated GIF support
Ad-free experience
Price: Kast is free, but you can get Kast Premium for $6.49.
14. Syncplay
Share the joy of watching videos together with Syncplay. It keeps the player in sync, so there will be no lag in the videos played on all your devices. The shared videos can be watched in real-time, but they cannot be saved on your device. Like other alternatives to Rabbit, you can create a private room and invite friends to join you there.
Features:
User-friendly interface for easy navigation
Supports video and audio chats
Price: Syncplay is a free application.
15. Hubs
The virtual world platform Hubs from Mozilla is like many Rabbit alternatives but delivers more than many others. It is better suited to workplace setups where you have lectures, meetings, and many other events regularly. You can come together online in a more fun way in the virtual space provided by the platform.
Features:
Lets you create Hubs by choosing avatars and environments
Supports 3D audio and media sharing
Provides a customization toolkit
Price:
Early Access Hub: $20 per month + tax
Business: Custom price
16. SyncTube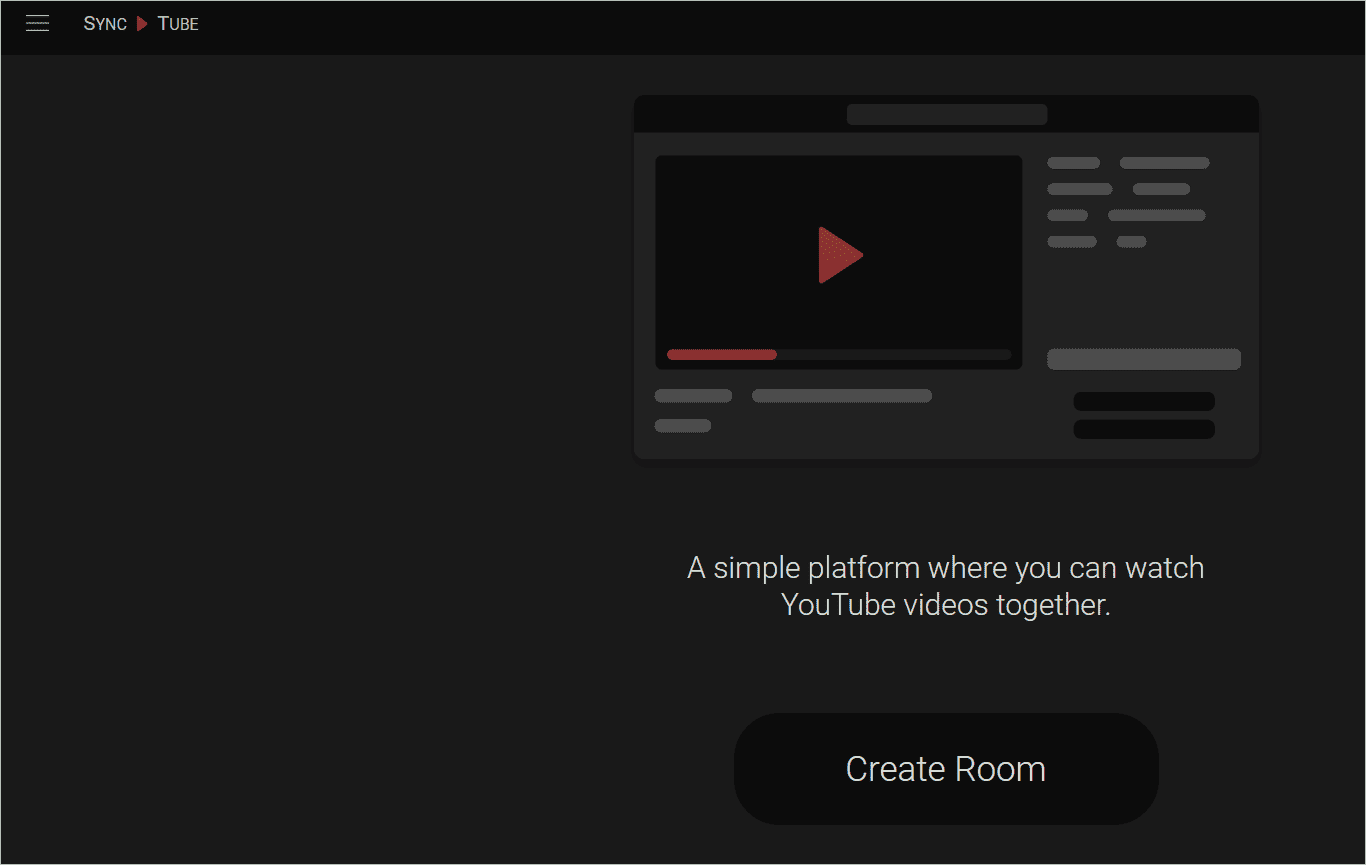 If you want to watch synced YouTube videos at their best, SyncTube is your platform. Users can chat using the chat feature where text messages are supported. The factor differentiating SyncTube from Rabbit is that users cannot browse the web together here. But they can still have a lot of fun watching together.
Features:
Supports streaming services like YouTube, Vimeo, Soundcloud, and more
You can customize your private room
Allows creating playlists
Price: You may use SyncTube for free.
17. TurtleTV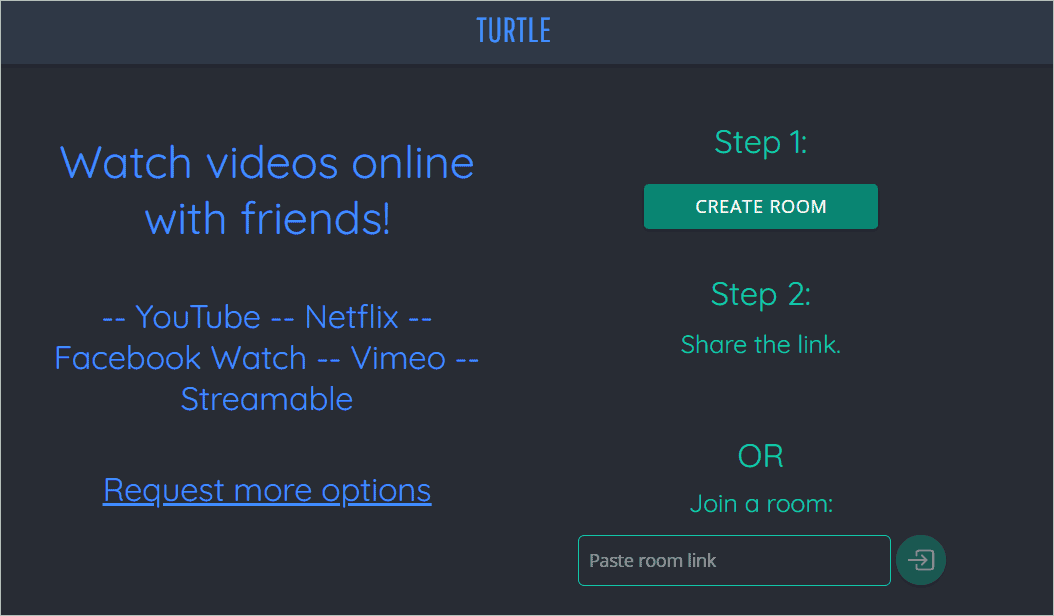 Rabbit alternatives make watching videos online with your dear ones fun, and TurtleTV is no different. It supports many streaming sites. You can choose the one where your movie or video is streaming. The first step is creating a room. Then, you can share the link with others and enjoy watching it together.
Features:
Supports YouTube, Netflix, Vimeo, and Facebook Watch
No registration required
Price: TurtleTV is free.
18. Parsec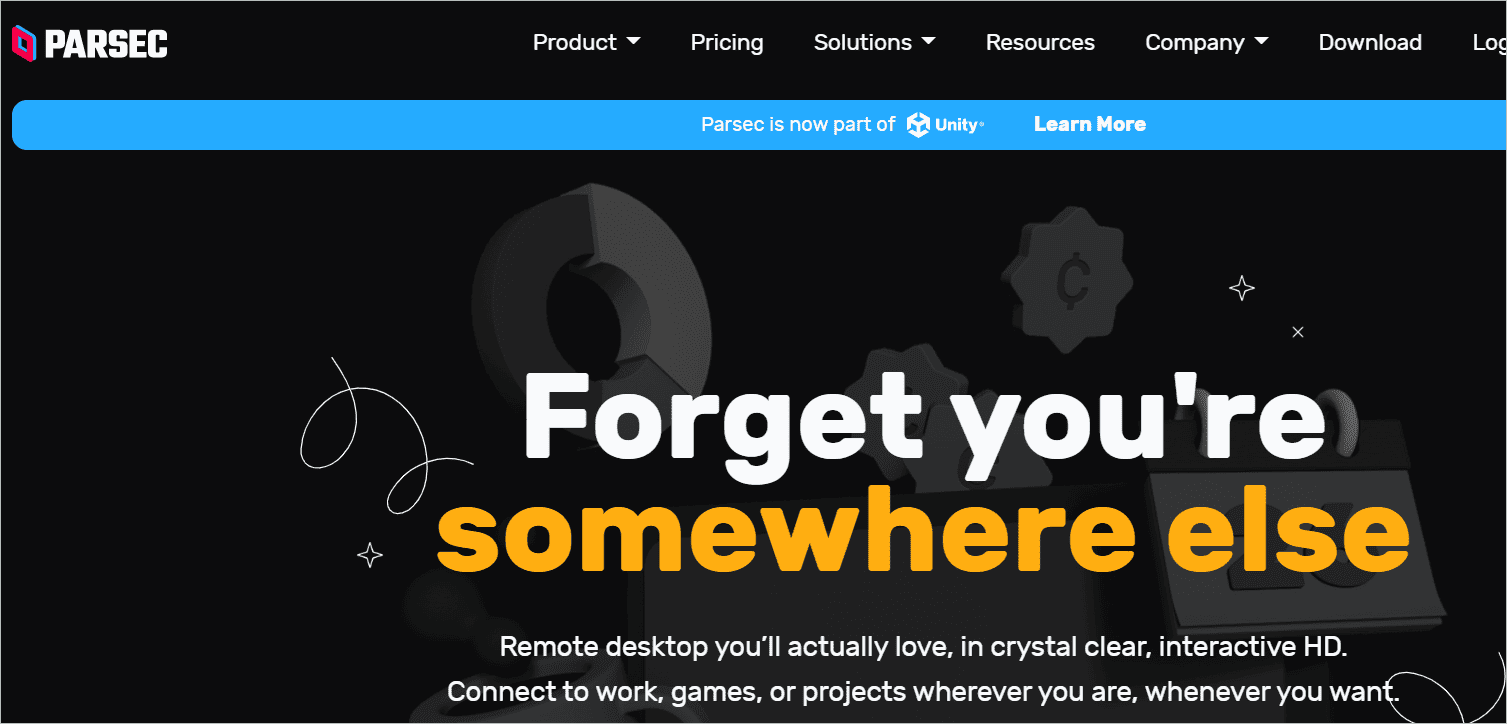 If you want to watch the same content remotely, you can use Parsec. Parsec is a remote desktop in interactive HD. It makes working from anywhere easy. The platform is crafted mainly for gamers who want to play virtual games with friends who are far away.
Features:
Has private and public rooms to share content
Real-time playback without interruption
Supports collaboration with anyone in the world
Price: Parsec has three paid plans.
Individuals: $8.33 per user per month
Teams: $30 per user per month
Enterprise: Custom price
19. OpenTogetherTube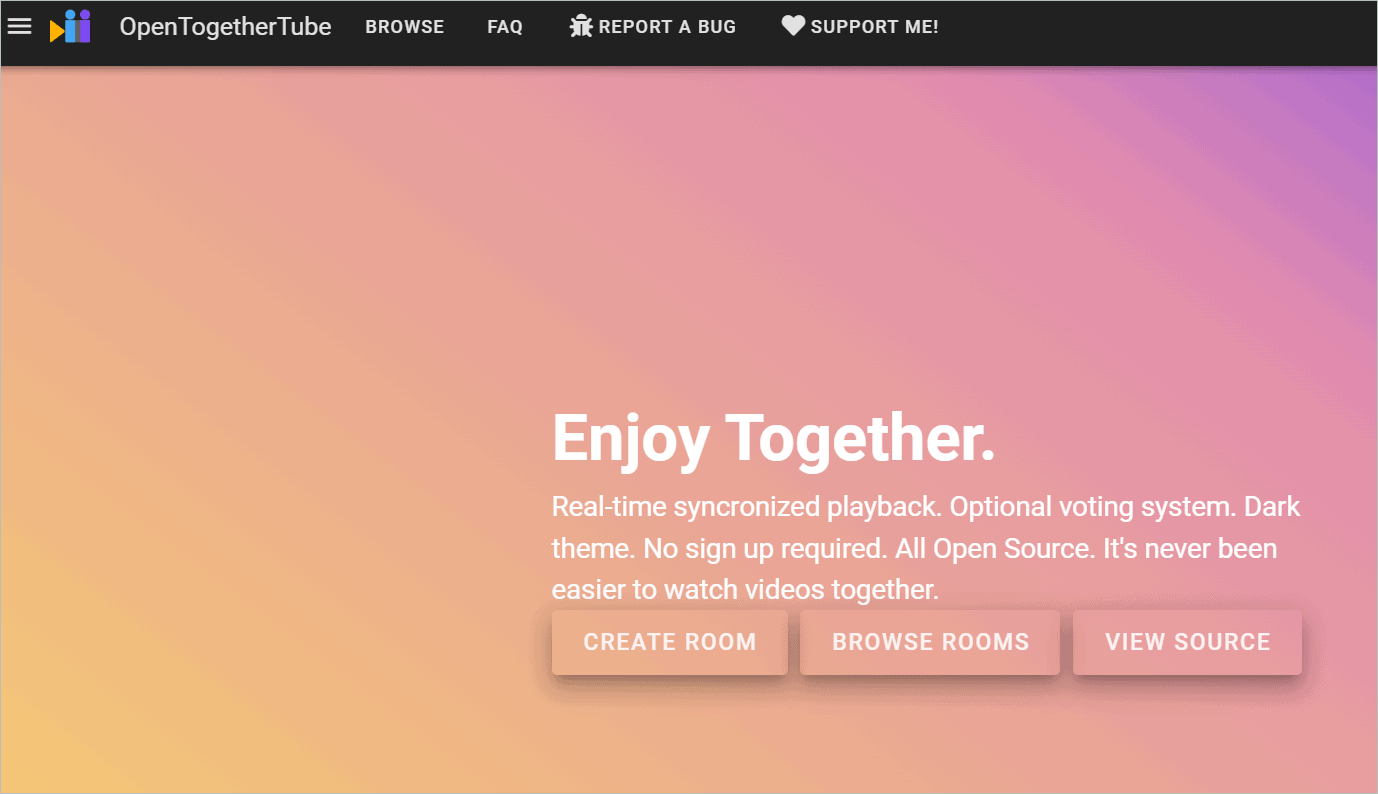 The self-hosted platform OpenTogetherTube makes distance disappear with its watch-together functionality. It is open source and one of the best Rabbit alternatives that let you access videos and watch them remotely with friends and family. In addition, the video synchronization platform makes perfectly synced videos for smooth watching.
Features:
Allows creating permanent rooms with custom URLs
Features a dark theme
Has a voting system to decide what to play
Allows adding your playlists to the video queue
Price: OpenTogetherTube is free, but you can also become a sponsor or donate to it.
20. Synaptop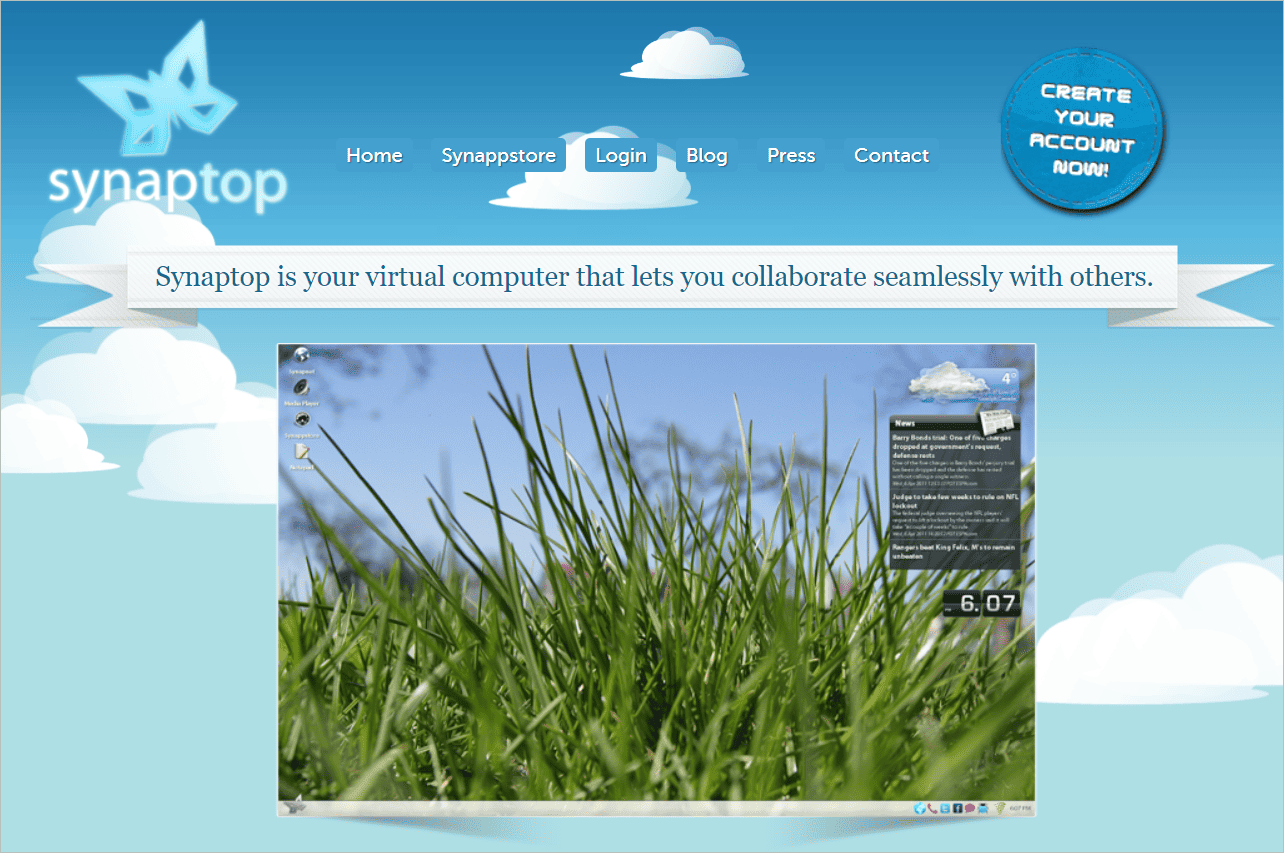 ynaptop makes socializing easy and fun with its excellent online platform. It is your virtual computer where all the collaborations occur. You can use it on your PC, tablet, or smartphone to work or watch together with others on many applications. It is well-suited for study, work, and entertainment.
Features:
Supports video conference
Supports many useful apps
Integrated with many social networking tools
Price: Synaptop is a free tool.
21. Caracal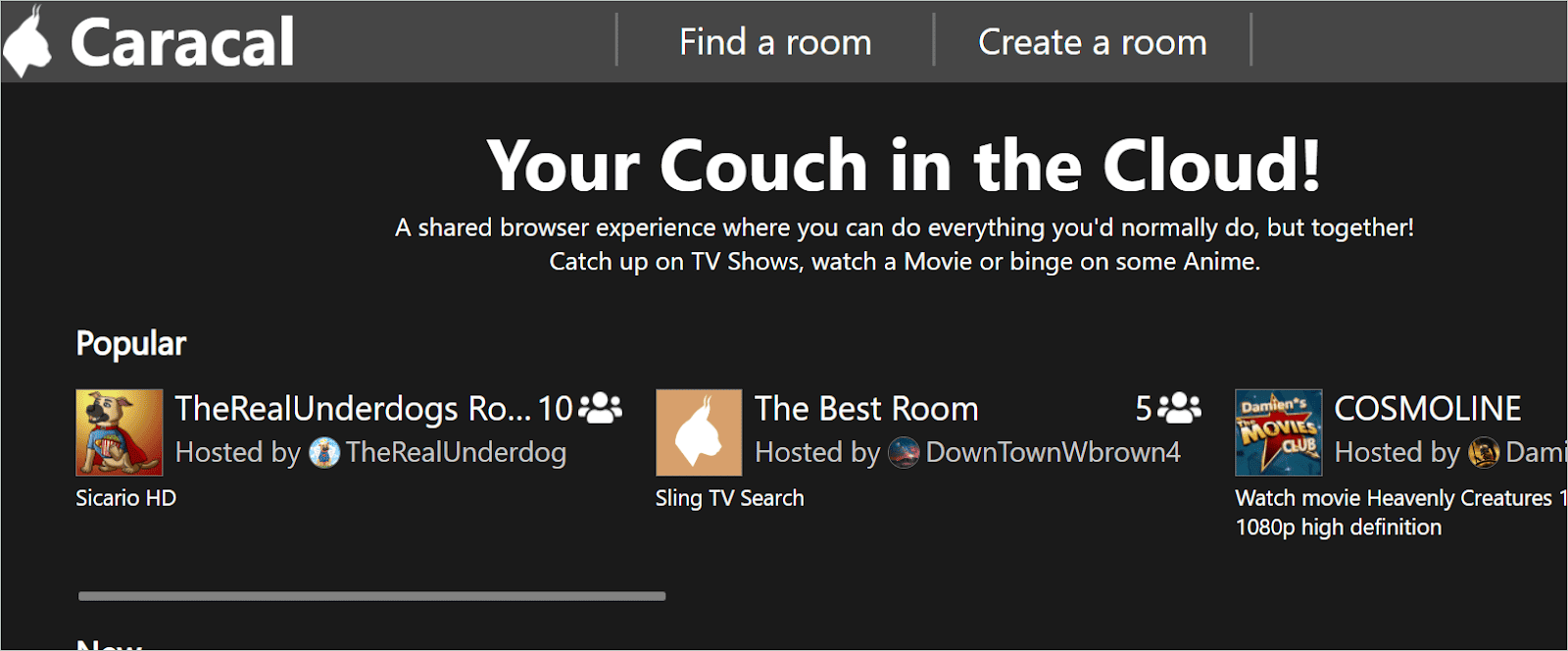 Caracal is one of the Rabbit alternatives that offer a shared browser experience. Place your couch in the cloud and watch online with friends as it runs in the cloud. This takes away the hassle of streaming by yourself. So whether you want to watch shows, movies, or anime, do it the Caracal way.
Features:
Stream content from any website
Saves bandwidth by running in the cloud
Lets you create or find a room for watch parties
Price: You can sign in and subscribe to Caracal
22. Explorii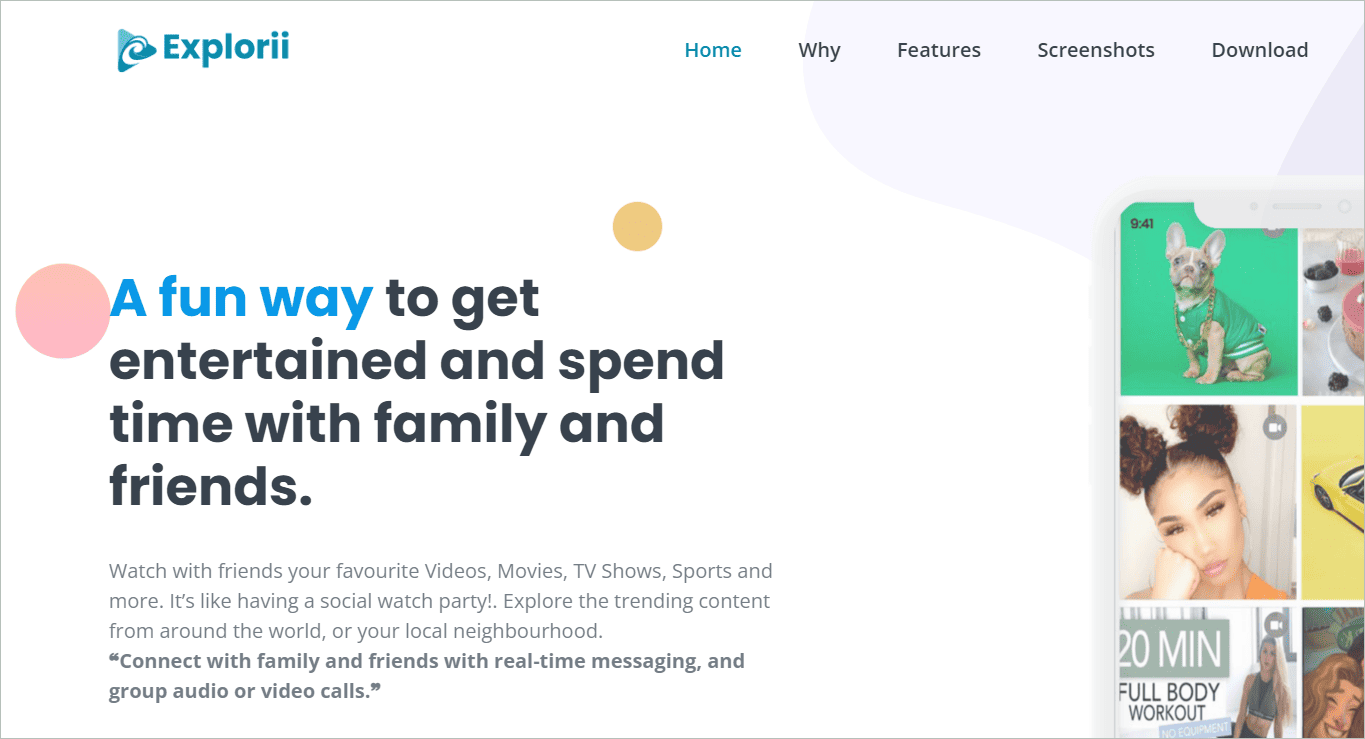 With Explorii, you can spend time with your loved ones and get entertained. Sports, TV shows, movies, whatever is your interest, you can find everything on Explorii. In addition, it lets you do real-time messaging and calls and be in touch with the people you care about.
Features:
Play content from any streaming websites
Automatic creation of public and private watch together rooms
Features unlimited text messages, emojis, stickers, and group video and audio calls
Price: Explorii is free for all.
Final Thoughts
Rabbit used to be the ideal platform for users to watch their favorite videos and other content with their friends. But the list of Rabbit alternatives offers various options in terms of watchable content. All you have to do is decide on the platform and start streaming.
Most sites like Rabbit support streaming sites like Netflix and YouTube. These features unending video content for total entertainment. Whether or not you need a subscription depends on the platform you choose. So, come, and have super fun at the best online parties.