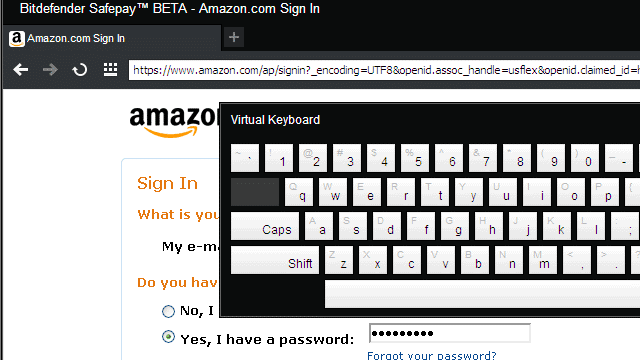 Surfing the web to find videos or games to pass time is never a real concern for most people. When money comes into play, however, we tend to take a step back and question whether everything is working properly and setup correctly. A web site can look like the real deal only to be an imitation, or bills can be paid as they should only to find someone was tracking your keystrokes. These are things we should be worried about and not take lightly.
Use Bitdefender Safepay to create a sort of sandbox for logging into web sites with sensitive material. Whether you're ordering clothes online or paying a phone bill, use Safepay's browser to ensure a secure connection is established and no one can track your keys as you type.
What does Bitdefender Safepay do?
Safepay is still in BETA but provides an overview of threat levels on your system and alerts you of any potential risks you could fall into. Securing Wi-Fi connections, it provides comfort in knowing your data reaches the intended destination. It works with other antivirus programs so there's no need to replace working solutions with Safepay. Simply add it to an existing protected system to ensure online banking and shopping is secure. Protect against phishing, malware, or unprotected websites with options to disable particular shields at any time.
Before we start using Safepay let's see how to get it installed.
Setup Safepay
Download the correct installer file here that corresponds to the OS architecture you have installed.
The first setup window asks for anonymous reports to be sent to Bitdefender before continuing the install.
Click "Finish" to proceed to the final step in the install process.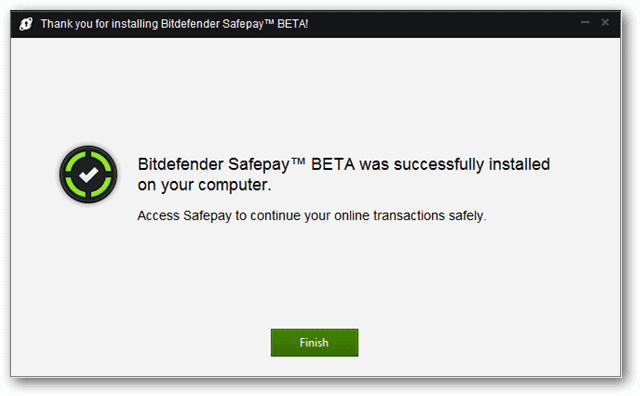 Create a new account with Bitdefender under the login button or choose another service to login with, like Google.
We've chosen Google to login with to complete the install. Safepay will need access to some basic information like your name, photo, and country. Click "Allow access" to finish the install.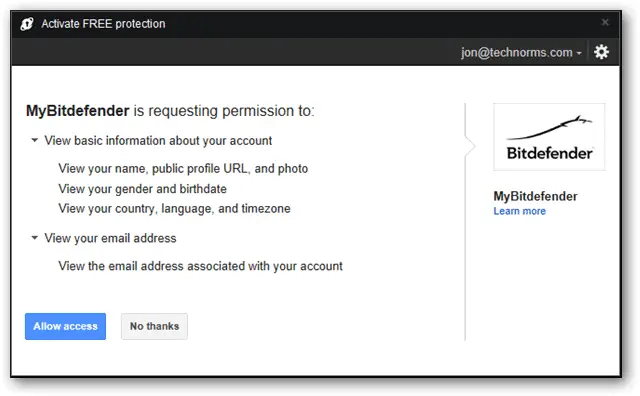 Using Bitdefender Safepay
The browser Safepay uses is what launches every time you open the Desktop shortcut. The functionality is different than regular browsers we're used to, especially the fact that every launch initiates a system scan. This scan ensures no malware is running in processes or other locations that could potentially cause issues when logging in.
If this scan is taking an absorbent amount of time, as mine did (around 30 minutes), click the red computer icon at the top of the screen to return to regular computer functions until it's complete.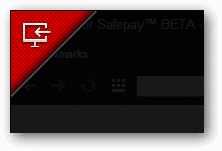 When the scan is done it will specify if malware was detected. If you don't know whether it's complete, click the return to Safepay window again on the top of the screen.
Press "OK" to exit this prompt and be presented with a browser. As mentioned above, the browser doesn't function as most others do. There are only a few basic settings and options. Because accessing secure sites is the purpose of Safepay, the browser automatically opens to saved favorites.
Click the plus sign in the center of the screen to add a new favorite.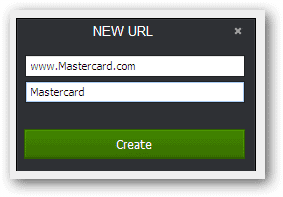 Alternatively, access a website and press the favorites button between the print and settings icon.
Confirm a new favorite with the "Create" button so it shows on the menu.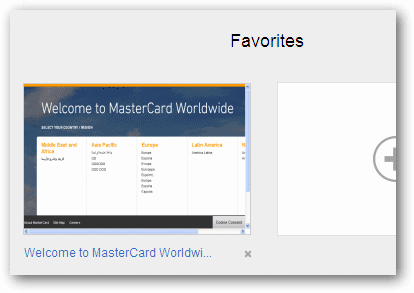 Now that we have favorite, we can click on it to open a regular window as you would in any other browser.
Enter a username/email in the login field and notice when you tab over or select the password field, a virtual keyboard is presented so strokes are done via clicks on-screen vs the physical keyboard. This is great for times when a keylogger may be installed or someone is monitoring strokes through another method. If the virtual keyboard is used, these malicious programs, if installed, can only focus attention on the fact that you've clicked on the screen, not what keys were pressed.
Manually bring up the virtual keyboard for other login fields with the keyboard icon next to the URL field. Also next to the URL field, but to the right, is a settings icon. Click this to open just a few basic settings like a manual proxy server or what to scan websites for.
You can choose to disable scanning for fraud or SPAM websites, among others, from this same window.
Pros:
Great protection for free
Options are kept simple to accommodate every user
The virtual keyboard provides true anonymity when typing
Cons:
While options are simple, they are slim
Bugs are likely in BETA
Launching Safepay doesn't require a password for added security
Conclusion
Use Safepay if secure logins just don't seem secure enough for you. While it doesn't have many advanced options, remember it's still in BETA and will likely update soon. Ensure auto-updates are enabled from the bottom of the settings window to be sure you get the most recent releases.