Adobe Acrobat Reader is the most popular free PDF software around. If you want advanced features, you'll have to shell out $299 (or more) for the Adobe Acrobat Document Cloud. For the casual user, that's a lot of money to pay for any software.
Most new PCs already include the free version Adobe Acrobat's Reader, but if yours does not, you can always remedy the situation, and not by scoring a deal on the Pro Adobe Acrobat Reader either. The field is ripe with impressive PDF viewer alternatives, many of which are free. While they may not include all the bells and whistles you like, they should be adequate for most users.
in this article, we've outlined five of the best PDF-handling alternatives for Adobe Acrobat Reader.
See Also: PDF to JPG: Our Top 8 Resources to Convert PDF Docs into JPG Images
Top PDF Readers
Wondershare PDFelement Pro
Wondershare PDFelement Pro is an all-new PDF viewer that allows you to do anything and everything with your PDF files. Yes, it's much more than a simple PDF viewer. It's an all-inclusive software to work with your PDF files which will provide extensive editing abilities like editing text, change fonts, add images and links quickly and easily.
The most advanced feature of this PDF viewer is that it comes with the OCR (Optical Character Recognition) feature that allows you to transform any scanned PDF into an editable and searchable PDF document.
Not only that, you can even combine multiple files into one.
If you just need basic features in your daily work, they provide the standard version to meet your requirements at just an affordable price of $59.95.
Its professional version comes at $99.95 for one PC. If you want more than just a PDF reader that can replace Adobe Acrobat Reader and some other advanced programs, Wondershare PDFelement Pro, fits best.
You can check out the difference between Wondershare PDFelement Pro vs Wondershare PDFelement Standard version.
You can read our complete review of Wondershare PDFelement Pro and Wondershare PDFelement 8 Review
Check it out: Wondershare PDFelement Pro
Nitro Reader 3
One of the best programs out there for viewing PDF files is Nitro Reader. A free PDF viewer, this program offers everything you'd need – PDF creation, previewing PDF files and a very cool split-screen feature that allows you to view two files at once.
A free and pro version for $99 are available. However, the free version should suffice for most users.
The program also lets you drag and drop any file onto the Desktop icon for Nitro to instantly create a PDF document. Also, click-to-sign and extended collaboration options are available.
Check it out: Nitro Reader
PDFescape
For a PDF viewer that is also an editor and form filler, check out PDFescape. This alternative to Adobe Acrobat Reader is free and lets you do everything you could ever want to a PDF file – create, annotate, edit, fill out, password protect, share, save and print it.
Additionally, there is no download required to use the software because it's completely cloud-based.
The one drawback to this software is that it only lets you upload 10 PDF files to their servers as you use their service, with none of the files allowed to be any bigger than 10MB.
After you upload your file, you'll find basic PDF options good for casual users – annotations support, PDF creation and the option to send files directly. If you do not wish to download a dedicated PDF software on your computer, PDFescape would be the perfect option for you.
Check it out: PDFescape
Foxit Reader 6
For a quick and lightweight version of Adobe Acrobat Reader, check out Foxit Reader, another free option on our list. It has some cool features, like PDF markup and commenting, advanced security and improved multimedia insertion.
Additionally, this program lets you run JavaScript within an open PDF file.
We also can't forget how this program lets you view multiple PDF files using multi-tab display, as well as allowing multiple views. Additionally, the software lets you create, collaborate, share and password-protect your PDF file.
Check it out: Foxit Reader 6
PDF-XChange Viewer
For a free PDF viewer that includes a long list of cool features, look no further than PDF-XChange. This PDF software is not one to shake a stick at. Other than offering PDF viewing and editing options, it offers support for 256 bit AES encryption, page markup, and text extraction.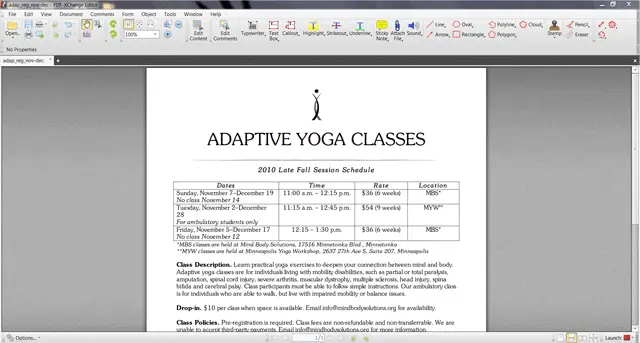 One of the coolest features of PDF-XChange, however, is the option to apply custom stamps to your file. Embedded multimedia support and the option to type directly onto any PDF page are also included. It is not possible however to create new PDF files with this software.
Check it out: PDF-XChange Viewer
Conclusion
Always remember there are software alternatives to consider for your PDF activities. It's easy to get caught up in the most well-known titles and software giants, thinking they're the only option, but these five impressive alternatives are pretty good. They're all either free or much cheaper than Adobe, and all have a chance at persuading even the most diehard Adobe Acrobat Reader fan.
For another Adobe Acrobat Reader alternative that may already on your computer, check out our post – The Complete Guide to Using Google Chrome As Your PDF Reader With Added Perks
Update (27th August): Clarified a sentence that gave the impression that Adobe Acrobat Reader is priced at $299, instead of the Adobe Acrobat Document Cloud desktop software for Windows.
Further Reading:
Top 8 of the Best PDF Editors For Windows