Your mobile phone can be a major distraction while working on the PC. For example, when you receive a text from a friend, you turn your attention away from the computer and focus entirely on your phone. A texting app for computer is what you need to connect your mobile device to the PC. It enables focusing on the task on your computer without any distractions.
With a desktop application for messages, you get text messages delivered directly on your computer, and you can quickly read and reply to them without losing too much time. You also save a lot of money – text messages are expensive, but text messaging apps are free! In addition, you can learn to send text from computer to keep your phone away for some time.
12 Texting App For Computer For Faster Communication
Android devices are convenient for checking messages but not at the cost of compromising your productivity. A texting app for computer brings your Android messages right on your computer screen. You can check various other articles at technorms.com. To help you out, we've created a list of desktop apps and web services that you can use to send and receive messages from your PC without your phone.
1. Pushbullet
Pushbullet is more of a notification service than anything else. Pushbullet lets you connect multiple Android devices to your computer and keeps you notified of any updates to these devices in real time.
If you receive any notification on those devices- like incoming calls, WhatsApp messages, emails, and texts- the same notifications will be sent to your browser/desktop. It also lets you share links between devices.
Check Pushbullet
2. MightyText
The MightyText texting app for computer is like a remote control device that lets you send and receive texts, photos, and emails from your PC or even a tablet. An interesting thing about the app is that you will also get low-battery alerts. You must install the MightyText app on your Android phone and then sign in to your Google account.
Next, get the Google Chrome MightyText extension or use the MightyText website to sign in to that same Google account. The app on your Android phone will now send texts to your PC through the MightyText server, and you can read these texts through the extension or on the MightyText website. 
To install MightyText for free, click here.
3. Google Voice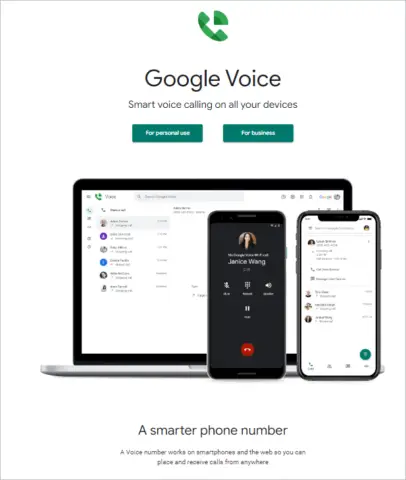 Besides letting you make calls and sending voice messages, Google Voice also has a useful text messaging service. You must sign up for a Google Voice number first and get your friends to deliver messages to this 10-digit phone number. Any messages delivered to this Google Voice number will appear in your Gmail account. Many use this as a business texting app.
To learn more about how to set up Google Voice, visit Google support pages.
4. MySMS
The texting app for computer, MySMS, is available for Android and iOS, though it does not support SMS for iOS. MySMS can be installed on Chrome, Windows desktops, or Macs and offers a bunch of features. You can receive SMS and reply to them from your PC – but these messages will be charged against your plan (unless the person you are sending the SMS to has MySMS installed as well).
You can get MySMS here for free.
5. AirDroid

Sending SMS messages and regular texts will be exciting with the AirDroid texting app for computer. The popular option comes for free, but you can choose the premium subscription to enjoy features not available for the free model. Cross-device chat sync, backup, content management, and the capability to transfer files are the features you can access in the free version. 
Adding to these features, the premium version enables the transfer of large files and folders. So it doesn't come as a surprise that business owners choose this desktop solution for multiple business purposes.
6. Pulse SMS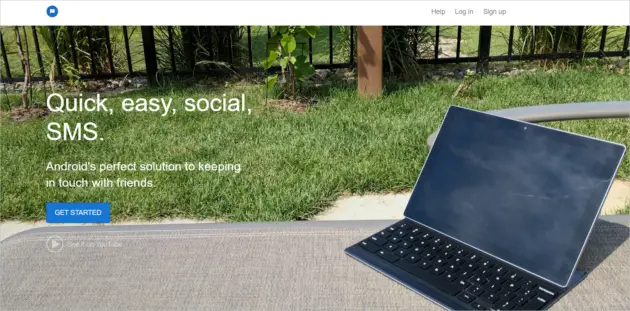 Pulse SMS is a texting app for computer and also a desktop SMS app. You can use it for multiple devices using its web messenger or browser extensions. Like many other apps for texting, it lets you send and receive direct messages, SMS, and MMS (Multimedia Messaging Service). 
The desktop interface also enables you to archive conversations and schedule messages with a few easy clicks. Even though there is a free version of the Pulse SMS app, the paid model can be expensive.
7. Join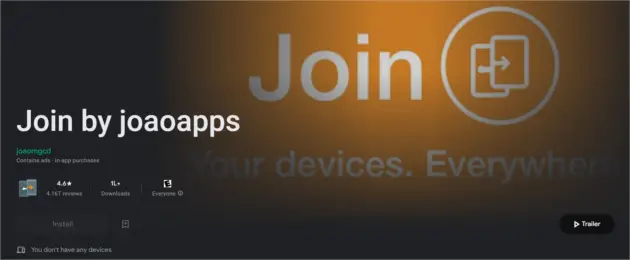 Using Join can be as easy as installing the app on the phone and the extension on the browser. Apart from its primary task of sending and receiving SMS messages, it allows sharing your clipboard, transferring files, sharing your location, and even taking screenshots with the screenshot tool. The desktop texting solution comes with a 30-day free trial, after which charges apply.
8. OpenPhone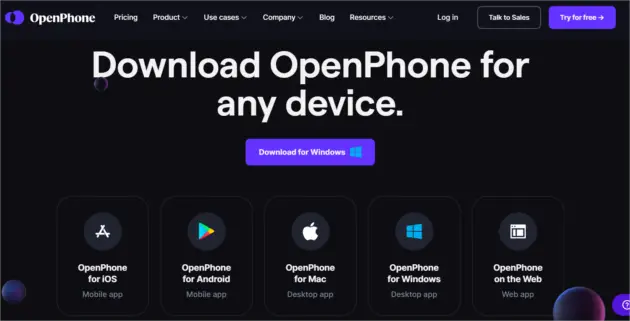 The new business standard OpenPhone takes communication to the next level with its top-notch features. OpenPhone is a VoIP provider that supports professionals. You can use it as a business texting service for communicating with business managers and clients. Calling options, auto-replies, text message templates, chat mirroring, and repeat text messages are only a few features that make it stand apart.
9. Microsoft Your Phone
Your Phone texting app for computer is the best choice for PCs with Windows OS and Android devices. The free desktop texting app lets you send messages from a computer and show notifications. Installing the latest version of Phone app allows making calls to start conversations. As Microsoft provides it, given some of the best features and functionalities, it is worth trying.
10. SimpleTexting
 
SimpleTexting is a computer texting software that makes messaging and contact management effortless. It is bulk SMS software, but if you want to indulge in two-way conversations, it caters to that also. All the names from your contacts list can be uploaded to the software, and you can start chatting instantly. 
Sending mass text messages is an attraction of the software, and so is messaging for customer service and SMS marketing. Suitable for iOS and Android devices, the advanced texting tool offers a free two-week trial. 
11. TextSpot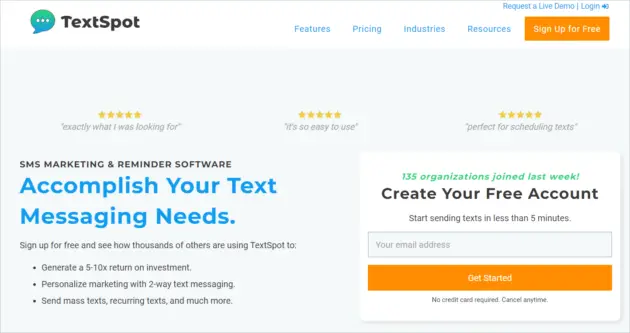 TextSpot is a dedicated software helpful in sending SMS messages from your PC. Thanks to its advanced features, the texting app for computer is a perfect fit for both personal and business users. TextSpot is an ideal choice for workplace communication with its additional features. 
You can choose price ranges up to a few thousand dollars per month. The lowest price gives you only 50 texts per month, while you can get up to 5000 if you are ready to pay more. This browser-based software allows sending bulk text messages for SMS text message marketing, recurring messages, and MMS.
Log into TextSpot
12. Pinger Textfree Web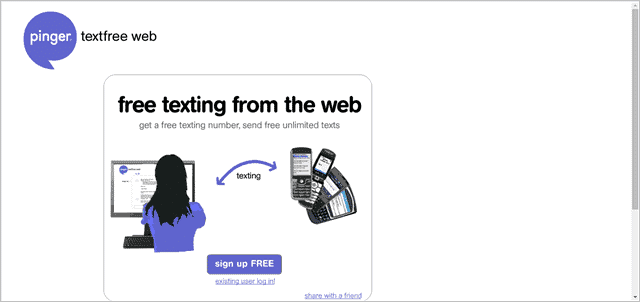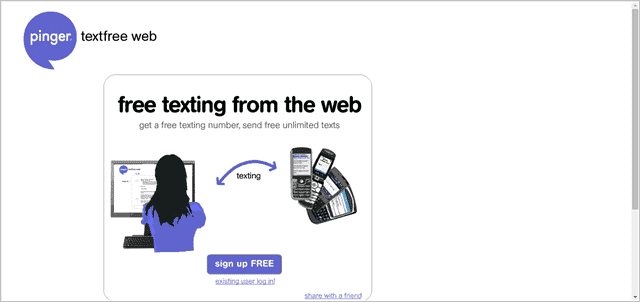 The Pinger Textfree Web service lets you send texts to any phone number for free. Unlike the MightyText app, however, you don't get to keep your old phone number if you use Textfree Web. Instead, you have to sign up for a new number (for free) on their website. All texts you send will be from that number – in other words, you don't need your phone (at all) to use Textfree Web.
Click here to sign up for the service.
Final Thoughts
There is no fun typing on the tiny keyboard of cell phones if you need to send texts often. Getting even one texting app for computer out of these apps for a desktop will save you from this difficulty apart from saving you a lot of time and money. Also, you will have access to your message history on your PC, so you can store and see important text messages whenever you want.,
The post gives you ten desktop messaging apps that you can use to check messages without picking up your phone. When you see the messages on your computer, you can reply faster and go back to your work.
(Updated on 7th Nov 2022)