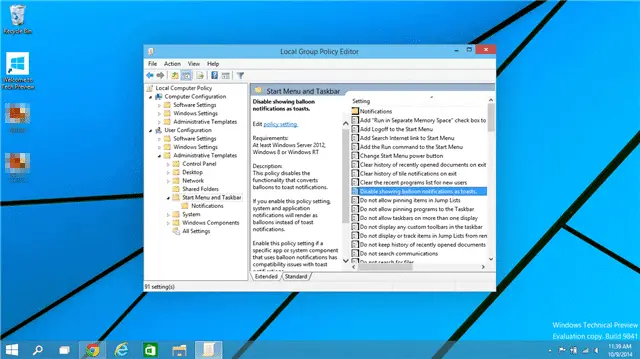 If you're used Windows for the last decade, you're familiar with balloon notifications. They became a staple in the right-hand corner of your screen, just above the taskbar, letting you know when key events needed your attention in Windows. In Windows 10, these were replaced by toasts, showing you in the top right-hand corner when something needed your attention.
Depending on which you prefer, you can use one or the other. Windows 10 eliminates balloon toasts all together, and if you want to enable them, here's how.
See Also: Windows 7 and 8 Collide to Create a Brand New Windows 10 Start Menu
Enabling Balloon Toasts in Windows 10
In order to enable balloon toasts in Windows 10, you'll need to use the Group Policy Editor. In Windows 8, many users were frustrated that they didn't have access to the Group Policy Editor because of what version they used.
For now, in the Windows 10 Technical Preview, you have access to the policy editor. Will this change for final release? We're not sure, yet. Microsoft hasn't said one way or another, but we'll let you know as soon as we hear something.
When you're ready to enable balloon notifications in Windows 10, open the Run command.
You can do this by using the keyboard shortcut "Windows Key + R."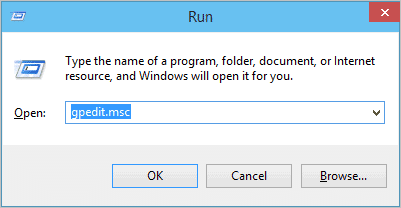 Type in the following:
gpedit.msc
You'll want to navigate to the following area within the Group Policy Editor in Windows 10:
User Configuration\Administrative Templates\Start Menu and Taskbar
Locate the entry for "Disable showing balloon notifications as toasts."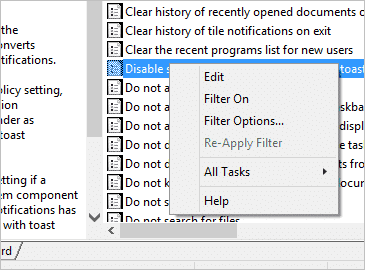 Click on "Enabled," then "Apply," and finally "OK."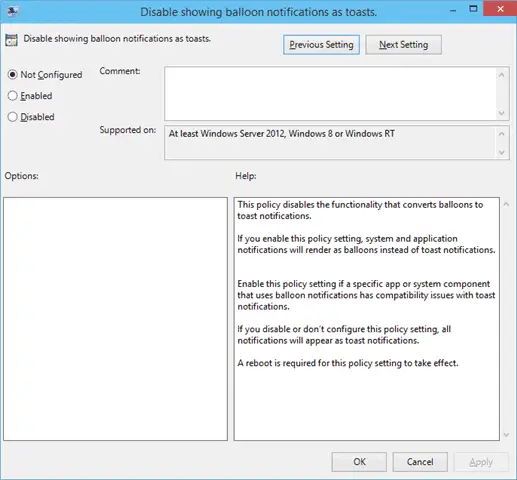 This will turn on balloon notifications, which will replace toast notifications in Windows 10 going forward.
If you want to turn toast notifications back on, disabling balloon notifications in the process, simply follow the above steps and choose "Disabled" before savings your settings.
You'll now have the familiar balloon notifications alert you to changes to your system, installations and other key issues you should pay attention to in Windows 10.
Conclusion
If it's not broken, why fix it? Microsoft has made key changes to Windows between 7, 8 and 10. They're currently trying to find a way to integrate the features users want from 7 and 8 into 10, this is one of them.
While toast notifications can be more prominent and make you pay more attention to important issues with your PC, when you've been used to balloon notifications for over a decade of working with Windows, it can be hard to deal with such a change. If that change isn't for you, this is a handy way to turn on balloon notifications and keep this tiny piece of nostalgia from Windows of the past.