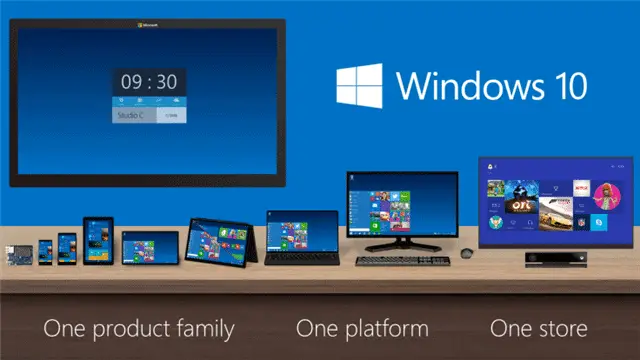 What were we expecting? Windows 9? Windows Threshold? "We Messed Up 8 So Bad Let's Name This OS Anything Else". Microsoft has skipped over Windows 9 and introduced Windows 10 to the market at its unveiling. Windows 10, described by Microsoft as its "most comprehensive platform ever" is poised to finally integrate the Windows family into one.
Let's look at what Microsoft announced today, along with what this means for those who were holding out hope for a speedier delivery of the next version of Windows.Windows 10 is slated to be released by end of 2015.
What is Windows 10?
[youtube http://www.youtube.com/watch?v=84NI5fjTfpQ&w=640&h=360]
Windows 10 looks like Windows 7; if Microsoft's introduction today shows us anything. With their technical preview, we can see many steps being taken in what looks like the OS is going backwards from what Windows 8 and 8.1 are. If that's true, it's a collective sigh of relief to those frustrated and disappointed with the current version of Windows.
One of the biggest leaps forward with Windows 10 is the concept that every device and PC runs a different concept of what the OS should be. This means that when you use Windows Phone, you're getting an optimized version of the OS for your phone. When you log on to your PC, you're getting the best desktop or laptop experience possible. This is one of the areas Windows users felt the most frustrated with when Windows 8 was released. They felt forced to use a mobile-based version of Windows that translated poorly to the desktop and laptop experience.
For those who loathe Windows 8 and 8.1 with a fiery passion, you're in luck. Microsoft is combining the Windows 7 Start Menu and the Windows 8 Start Screen into one experience, giving users what they wanted from the start. Access to the advanced features of Windows 8 but with the Start Menu.
A better, integrated universal search, featuring results from the Internet, along with multitasking features are to be added to Windows 10. This feature is being compared to OS X's Expose which gives users the option to set up different environments for work, home, and play.
The Charms Bar, both a blessing and a curse, for Windows 8 and 8.1 users, is being rolled into Windows 10 with several improvements for those using a touchscreen or keyboard shortcuts. Microsoft wants to make the Charms Bar seamless for users.
Modern apps, another blessing and curse for Windows 8 users, will make an appearance as desktop windows, similar to how desktop software works now.
Microsoft's Insider Program will open tomorrow, allowing tech enthusiasts and some curious consumers the chance to preview Windows 10. While this will be an idea of what Windows 10 will be, this will be a great way to see more features, see how functionality works, and potentially impact the future of the OS before its release next year.
As of now, Microsoft has stated that Windows 10 will be available in late 2015. This news is a bit of a shock to some who thought Microsoft would push Windows 10 out sooner to appease those frustrated with Windows 8. It seems that this time around, under Satya Nadella's guidance, Microsoft is doing what it can to make Windows 10 the perfect response to consumer frustration with Windows 8.
Microsoft also let consumers and those watching the event know that they can expect more major announcements about Windows 10 after the beginning of the new year. Until then, consumers will want to stay up to date with us at TechNorms as we cover the changes, good and bad, to the Windows OS and platform.
Conclusion
Will Windows 10 save the reputation of Microsoft and its OS? So far, I think so. It seems that under Nadella, Microsoft finally gets that it has to listen to its consumer base when it comes to how frustrating the Windows 8 experience is. If Windows 10 can erase the mistakes Windows 8 did, along with the jump in how to use it, it could bring people back to the Windows fold.
Can Windows 10 change the stigma associated with Windows 8? Hopefully. It's just a shame consumers have to wait another year to get relief from the debacle Windows 8 brought with it.