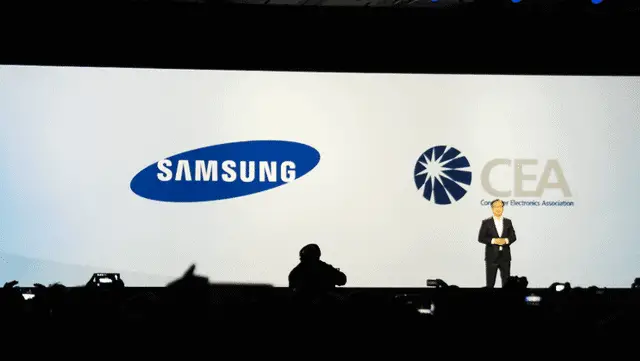 Samsung. It's the crown jewel in many ways at just about any tech conference. CES is no exception. Everyone expects big things, year after year, from Samsung, and this year – for the first time in gosh knows how long – the South Korean company seemed to let everyone down. They seemed a bit messy at their press conference at the Consumer Electronics Show.
We've taken a look at what Samsung did announce, briefly touch on their keynote address by CEO BK Yoon and try to decipher exactly what they're doing at this year's CES.
Samsung Press Conference Recap
With expectations set high, Samsung's press conference lacked the razzle and dazzle CES tends to offer. After the tone set by LG's press conference earlier in the day, and along with the thousand or so people they crammed into the room, you would've thought Samsung was ready to show us the Galaxy S6. So, as you can see, we were excited.
Tim Baxter, President and COO of Samsung, was first up and starts with… You guessed it! 4K TVs!
This sounds familiar…
There's no denying TVs are hot now. Smart TVs are everywhere, and every company who's ever made a television is trying to outdo one another. Samsung is no different and they offered the mind-boggling statistic that they want to reach as many as 60 percent of the TV market with 4K televisions in the coming years. We'll touch more on TVs in a bit.
Baxter threw around a lot of numbers and data at the crowd during his presentation, and honestly, if they had presented anything worthy of why they have that market share, it might be worth continuing to talk about the introduction. But it's not.
Portable 1 TB SSD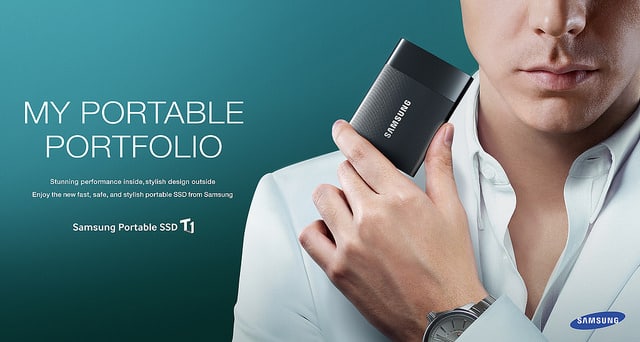 This product is perhaps, the most exciting – and dare I say innovative? I'm starting to detest the word – thing to come out of Samsung's press conference was this gem of a portable hard drive, no bigger than a business card. Portable 1 TB SSD, need we say more? It can fit in your pocket, in your wallet, it's tiny with a lot of space and its lightning quick.
Televisions
Joe Stinziano, EVP of Samsung Electronics America, came out to give the talk about TVs. Samsung is introducing what they call their SUHD or Super UHD. It's 4K, that's all you really need to know.
I think they threw the S out there not so much to be super but to remind you its a Samsung product as the bezels get smaller and smaller obscuring the brand name. Oh, I'm sorry chamfered bezels, to be honest, I don't know what that means or why it matters.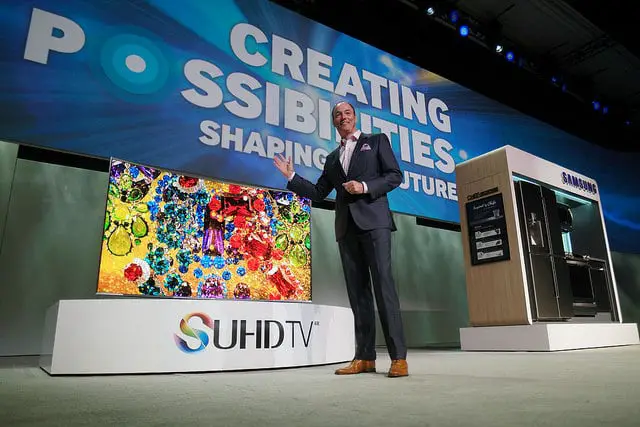 The big push here wasn't so much the technology behind Samsung's 4K TVs (which sadly, for now, is lacking behind LG and other competitors) but was the push towards its UHD Alliance. This UHD Alliance is supposed to partner together to bring more 4K content to Samsung, and by proxy, consumers. It's also apparently supposed to help consumers forget that Samsung's TVs, for the most part, are still utilizing slowly outdated LCD technology as opposed to OLED, which has been proven to have superior display quality.
Samsung's Smart TVs will be powered by Tizen for what it's worth and use a Quick Connect feature to let you go back and forth between your television and mobile devices. Gaming may be coming to Samsung Smart TVs with better quality, controls and more.
Samsung Audio Lab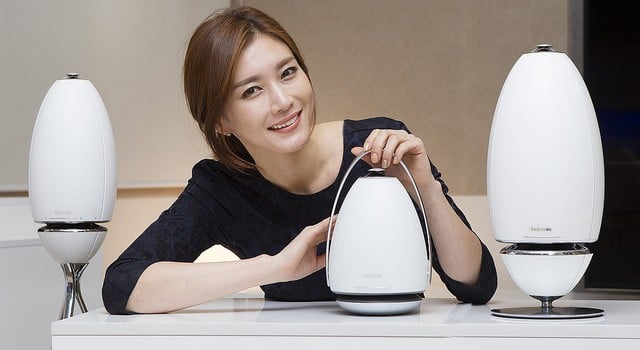 Samsung is throwing its hat into the audio ring, opening its Samsung Audio Lab. This is a state of the art research center for audio development ranging from mobile products to TVs and everything in between within the Samsung family.
Samsung announced it's WAM7500 and 6500, omnidirectional speakers. Ideally, this connects into the Internet of Things (IoT) concept that's the unofficial theme of CES 2015. These speakers' pair with Samsung's Multiroom App 2.0 to give you total control over how, when and where you listen to music as you go through your day.
Milk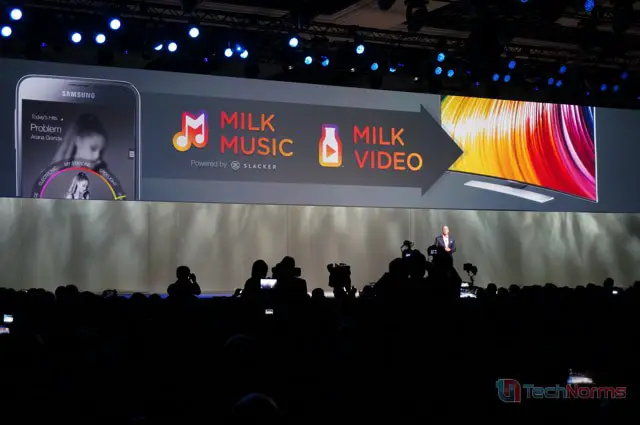 Milk Music is being expanded into Milk Video to pair with Samsung's offerings in TV and now audio. There will also be a VR version, working with David Alpert, EP of The Walking Dead, to bring new content to the device through Milk Video.
Appliances
When CES hands out Innovation Awards, as they do every year, you'd expect these innovations to come from truly remarkable products, applications and services. This year, you'd be almost wrong.
Samsung won an Innovation Award this year for its oven. Yes, you read that right. It's oven.
This oven allows consumers to bake two things at once at different temperatures and times, allowing them to take full advantage of the space in the oven. For some, this is innovative; for me, well, my mom will just send me cookies and I'll stay out of the kitchen.
What else?
Virtual flame technology comes to ovens
Second generation of ChefCollection
ChefCollection tablet (yes, again, you read that right)
Powerbot robot that is controlled by remote
Conclusion
And that was the Samsung press conference. For all of you coming here, or who showed up at the press event, looking for a new phone – the Galaxy S6 (which apparently will be available to partners and not on the show floor this year) – or a new tablet or a robot that acts as both an oven, vacuum and smart TV, like many of us, you were sorely disappointed.