Since the launch in 2015, Apple Watch has evolved significantly and all watches from Series 1 to Series 5 have seen huge improvements in features and performance. One thing that has remained consistent through the years is that Apple launches each Apple Watch in 2 sizes. As such, questions about different Apple Watch size and the right size for you are always raised. 
Out of these 5 series of Apple watches, only Series 3 and 5 are currently available while Series 1, Series 2, and Series 4 have been discontinued. When buying an Apple Watch, there are other factors to consider besides the size – different styles for the band and materials being the primary ones. This guide only aims to help you choose the correct Apple Watch size.
What are the different Apple Watch sizes? When considering Series 3 and Series 5, the Apple Watch comes in four sizes: 38mm, 40mm, 42mm, and 44mm. However, which size is best for you? We do an Apple Watch size comparison and try to answer these questions here, along with our own observations about currently available watches. 
Apple Watch Size Guide
Although Series 1, 2, and 4 have been discontinued, you may find these watches available at lower-prices on e-commerce sites. However, our focus is on the officially available Series 3 and Series 5 Apple Watches. 
Series 3 Apple Watches have two types: Series 3 GPS + Cellular and Series 3 GPS. 
Series 3 GPS + Cellular comes in 4 types of models: Apple Watch, Apple Watch Nike +, Apple Watch Hermes, and Apple Watch Edition where all these varieties differ in their design in major terms, the rest of the things may or may not be a little bit tweaked here and there. Series 3 GPS has two types: Apple Watch and Apple Watch Nike+. 
Series 5 Apple watches also have two types: GPS + Cellular and GPS only. 
Series 5 is the latest and most advanced version of the Apple Watch and has some incredible features, unlike the older versions. The Series 5 GPS + Cellular version comes in various forms including Aluminium, Stainless Steel, Titanium, and Ceramic. The GPS version comes only in Aluminum form. 
Series 3 renders you two choices of size: 38mm and 42mm. Series 5 watches have two slightly bigger sizes for you: 40mm and 44mm. In the next section, let's see how these sizes go with your preference. 
Series 3:
Apple Watch 38mm vs 42mm
When doing a comparison of the Apple watch 38mm vs 42mm, we took an objective look at their dimensions and differentiating factors. As a general expectation, the larger one is suited for men and the petite one goes well for women. But that is not something that you should be bothered with – just pick the one that works best for you.
Both the watches, Series 3 38mm and 42mm are almost the same in terms of their features. The primary difference is in their size and available display area. Those who prefer larger displays should definitely opt for the 42mm Apple Watch with a 740 sq mm display area. The 38mm watch is a price-conscious choice – you can have a decent display while saving a few bucks. 
If spending an extra $30 is not that much of a financial burden on you, Series 3 42mm is definitely recommended due to some picky reasons: 
A larger display makes it easier to view any content.

Tapping and selecting elements get much easier when the display has more space on it.

Less chance of tapping the wrong application which is beside your target app.

A bigger display means more texts on screen at a time, hence less swiping and scrolling.
The 38mm Apple watch starts from $199 whereas the 42mm base model will cost you $229.
Although the difference in size is just 4mm, displays on these models have a noticeable difference. Usability and clarity wise, the 42mm Watch is superior. 
Check out Apple Watch Series 3 on Amazon
Apple Watch Size Comparison: Series 3 and 5
Size and dimension details about each Series 3 and Series 5 Apple Watch. Note that the height, width, depth and weight vary based on the material of the Watch.
| Apple Watch Feature | Apple Watch Series 3 (38mm) | Apple Watch Series 3 (42mm) | Apple Watch Series 5 (40mm) | Apple Watch Series 5 (44mm) |
| --- | --- | --- | --- | --- |
| Display Dimensions (Pixels) | 272x340 | 312x390 | 324x394 | 368x448 |
| Display Size (sq mm) | 563 | 740 | 759 | 977 |
| Retina Display | Yes | Yes | Yes | Yes |
| Height | 38.6 to 39.2mm | 42.5 to 42.6mm | 40mm | 44mm |
| Width | 33.3 to 34.0mm | 36.4 to 36.5mm | 34mm | 38mm |
| Depth | 11.4 to 11.8mm | 11.4mm | 10.74mm | 10.74mm |
| Weight | 26.7 to 42.4g | 32.3 to 52.8g | 30.8 to 40.6g | 36.5 to 47.8g |
| Display Area to Size Ratio (Higher is better) | 14.81 | 17.61 | 18.9 | 22.2 |
Series 5: Apple Watch 40mm vs 44mm
Series 5 Apple Watches are in vogue currently. Its top-notch features like an Electrical Heart Sensor, Compass, Fall detection, and enhanced battery life can push any Apple user to buy one. It is of no surprise that just like Series 3, Apple Watches come in two sizes for Series 5 as well: 40mm and 44mm. Everything from features to the material options is alike except for some of their dimensions and the display size. 
The 42mm Apple Watch has a 759 sq mm display area while the 44mm one has 977 sq mm of the total display area. Both 40mm and 44mm watches have a Retina display and the difference in pixels will be hardly visible to the naked eye. However, the bigger watch packs way more pixels for just a 4 mm size difference. The display on the 40mm watch and the 44mm watch is 394×324 pixels and 448×368 pixels respectively. 
Between these two models, the bigger Apple Watch has some obvious advantages that we stated earlier as well – a big display means less swiping and scrolling, more text at a time. More space also makes tapping applications easier and you don't hit the wrong app. 
When you are ready to shell out $399 for an Apple Watch Series 5 model, a difference of $30 between the 40mm and 44mm should, in our opinion, be a secondary factor in the decision. The primary factor should be knowing which size suits your wrist and how comfortable you are with the display area of these models. 
Our recommendation leans towards the 44mm Series 5 Apple Watch – this is derived not only from looking at the numbers but the experience of Apple Watch users on our team. When it comes to a display as small as the one on the Apple Watch, every mm matter.
Check out Apple Watch Series 5 on Amazon
If you are confused between Apple watches Series 3 vs Series 5, check out this link to help you decide which series goes well with your requirements, budget, and style. 
Apple Watch Band Sizes: How to Choose? 
Apple has kept this simple, fortunately, and there are only two options. A medium band size that fits 150-185mm wrists and a large band size that fits 180-210mm wrists. The best way to choose one is to take a measuring tape and measure your wrist size to identify the one that fits. 
Do consider how you currently wear a watch and how tight should an Apple Watch be on your wrist. The tightness of the band is an individual choice and it depends on the material of the band as well. We'd just recommend not to wear it so tight that it leaves an imprint on your skin or interrupts your blood circulation. 
How To Decide The Right Apple Watch Size For You? 
Now that you know about your options, you can use any of the options below to decide on the right size of Apple Watch for you.
1. Download the Apple Store App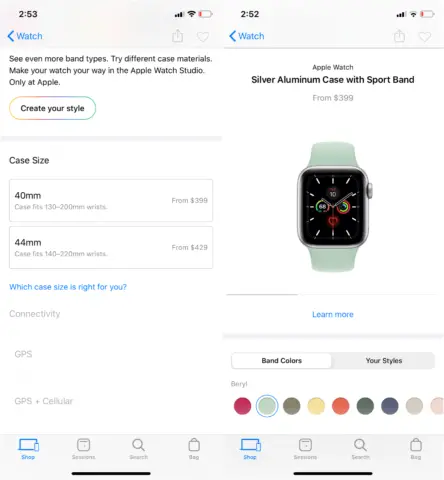 The Apple Store app also has an option for displaying the original sized Apple Watches on your device, which you can then just set against your wrist to get an idea if the actual sized watch works for you. It's free to download and can also be used to buy your favorite model quickly and easily.
To try out the original sized Apple Watch on your iPhone: 
Open the Apple Store app. 

Go to 'Shop by Product' and select Apple Watch.

Select any of the Apple Watches 

When you see the pricing with its type and model name, scroll down to see the 'Case Size' section. 
Below the available case sizes listed there, you should have a question – "Which case size is right for you?" Tap on it. 

You should see the actual Apple Watch case size displayed on the screen. 
You can compare sizes to see which suits your hand well. The app also serves you the option to customize your watch look and color according to your mood and style. 
Just pick up the band color and other choices available in the app if you don't like the ones available. The app is a great way to make a choice on your Apple watches size when you don't want to step out of your home and comfort.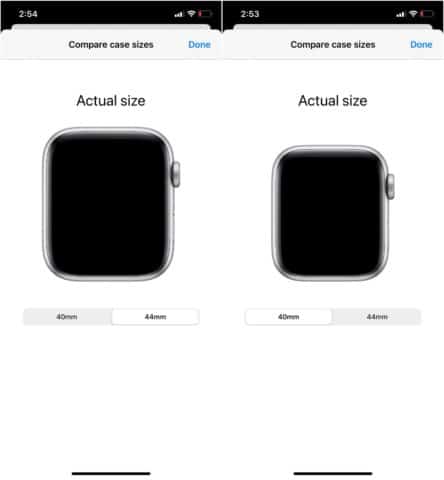 Now that you know about your options, you can use any of the options below to decide on the right size of Apple Watch for you. 
2: Visit the Apple Store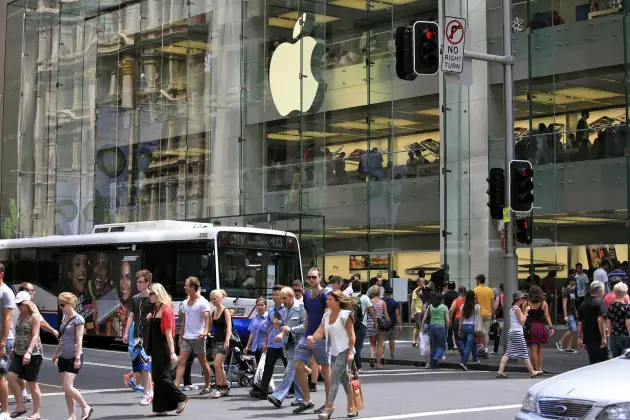 The best way to try the Apple Watch is to make an appointment to go to an Apple Store in person. You can walk in and try it on. Not as convenient as the above option, but it is the most accurate. Besides, you can also get hands-on with the different watch bands and get your pick. 
Tip: You can find cheaper versions of most Apple Watch bands on Amazon, including the Sports band, the sports loop, the leather loop, the stainless steel band or even designer bands. Needless to say, the quality and durability of each of these items would vary.
3: Take A Printout
To see how the Series 3 Apple Watch would look on your wrist, you can use this printable cutout, courtesy of WonderHowTo. Download it and print it at 100%. The result is a little silly, but it'll show you the Apple Watch at a different size and with a strap.
Don't have a printer? You can also fold up a dollar bill in the shape of a 38-mm Apple Watch with these instructions from Time.
While it can't give a sense of the weight and quality of the Apple Watch, the printout is a fun little project that can show you what it'll look like on your wrist. There is no printout for the Series 5 models. 
Final Thoughts
Of all the options, I liked the Apple Store app the best. It was the most convenient and showed the different sizes well enough right there on my phone.
I would definitely recommend trying one on in person in the Apple Store, especially if you're serious about buying one. That's the best way to get a sense of the weight and quality of the watch, as well as the size.
Until then, definitely check out one of the other options we've listed.
References: Apple Watch Series 3 and Series 5 specs as seen here and here respectively. 
(Article Updated on 7th January 2020)