Ways to Add Removable Storage to Galaxy S6
The Galaxy S6 has been touted by many to be Samsung's best offering yet. The phone is fast, handles beautifully thanks to some nice software upgrades and looks good to boot. Samsung made several cosmetic improvements to the S6, making it stand out from its predecessors. Cheap plastic parts, for example, are thankfully missing from the S6. For once, a Galaxy smartphone looks and feels as expensive as it is.
However, despite all the positives, Samsung did take a major step back with the S6: the phone does not have a memory card slot! It seems Samsung is following Apple's model of selling smartphones with increasing amounts of storage at different price points. The Galaxy S6 is available in 32GB, 64GB and 128GB storage variants – and you shell out more if you want more storage.
So what happens when you run out of storage? Do you delete all your old stuff to make room for something new? You could. Or, alternatively, you could make an investment, add removable storage to your Galaxy S6 and keep all your data.
Yes, it's possible to add more storage to your Galaxy S6 and we'll show you how. Here are some of the best ways to add removable storage to your Galaxy S6. You'll get these on any major online store like Amazon or a major local electronic store.
Also Read: Ring in the New: Samsung Galaxy S5 vs. Galaxy S6. Here's Whats Changed
Connect Any Flash Drive or Hard Drive with S6 Using OTG Cable
The Samsung Galaxy S6 comes with a UFS 2.0 port, which supports USB OTG (On-The-Go). USB OTG technology allows the S6 to read data from any hard drive or flash drive connected to it with a USB OTG cable. This means that if you buy a USB OTG cable (available at Amazon and all other major retailers), you can use any flash drives or external hard disks you have lying around to connect to your phone and transfer data back and forth between them, just like you do with your PC.
This method gives you as much storage space as you want. You can carry around as many flash drives and hard disks (removable storage, in other words) with you as you want.
Please note that we recommend you only use flash drives and hard disks that are made by reputable brands to avoid damaging your phone's battery. Not sure which flash drive to use with your phone? We have a few suggestions for you here that you could try out:
The SanDisk Wireless Flash Drive, as the name suggests, is a flash drive that can connect wirelessly to your S6 (and a range of iPhone and Android devices). It runs for up to 4 hours on a single charge, which means you can watch at least a couple of movies between charges. Don't worry, you don't need an internet connection to access the wireless flash drive and you can simultaneously connect up to 8 devices to it at one time.
If you don't want to use the wireless flash feature, you can plug it in like you would a regular flash drive, via the USB port. The SanDisk Wireless Flash Drive is available in 3 storage variants: 16GB, 32GB and 64GB.
A handy feature of this drive is the card reader they have tacked at the end. The storage they offer isn't actually built-in storage, but the size of the card the drive has inserted in it. Want more storage? Remove that card and insert a new one. To run the flash drive, you need SanDisk app installed on your phone.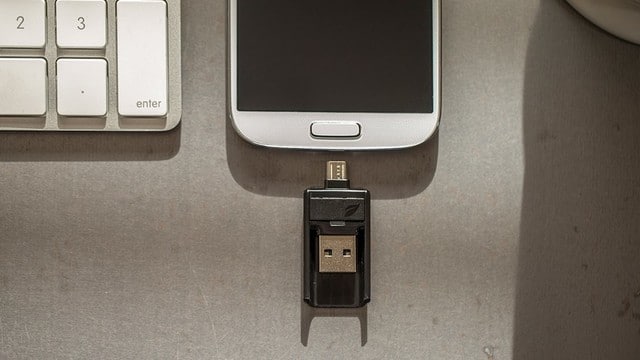 The Leef Bridge 3.0 is another flash drive that you can attach to your S6. It has a 3.0 USB port at one end and an OTG port at the other end. All you have to do is connect the drive to your phone, transfer files onto it and then connect it to your PC (or any other device) and moves your files.
The Leef Bridge 3.0 has been specifically designed for Android devices, so it works very well with the S6. Data transfer speeds are high and you can watch HD videos without buffering. The Leef Bridge 3.0 is available in 16GB, 32GB and 64GB variants.
Not satisfied with the limited storage that flash drives offer? You can go all in and invest in a hard disk instead. The Samsung Wireless Mobile Media Streaming Device is a 1.5TB hard wireless hard disk that works just like the SanDisk Wireless Flash Drive does.
The Samsung Wireless Mobile Media Streaming Device can connect to your S6 (and 4 other devices at the same time) wirelessly. It has 7 hours of battery life, which should be enough juice to keep you entertained on long drives or journeys.
A cool feature of this device is that it lets you charge your phone too! So it doubles as removable storage as well as a power bank for your phone. A few drawbacks of this device include the fact that it's not exactly light on the wallet and it won't support any other mobile platforms save for Android.
Don't want to shell out a lot of money on flash drives or hard disks? You could try out the iKross Micro-USB SD card reader instead. The iKross device is capable of reading SD and MicroSD cards and can be plugged into your phones OTG slot.
If you have a few old SD or MicroSD cards lying around, you can get a lot of removable storage for your S6 with the help of this device. The iKross reader is small and lightweight too, so you may find carrying this device more convenient than lugging around a hard disk.
Final Thoughts
The easiest way, we feel, to get the most removable storage on your S6 would be to invest in an OTG cable. It's a one-time buy which you'll be able to use in the future too, since more and more smartphones are coming equipped with OTG technology.
Which of the above methods do you like best? Did we miss any? Please share your thoughts in the comments below.
Further Reading: Samsung Galaxy Note 4 Review: This is the Best Note Yet