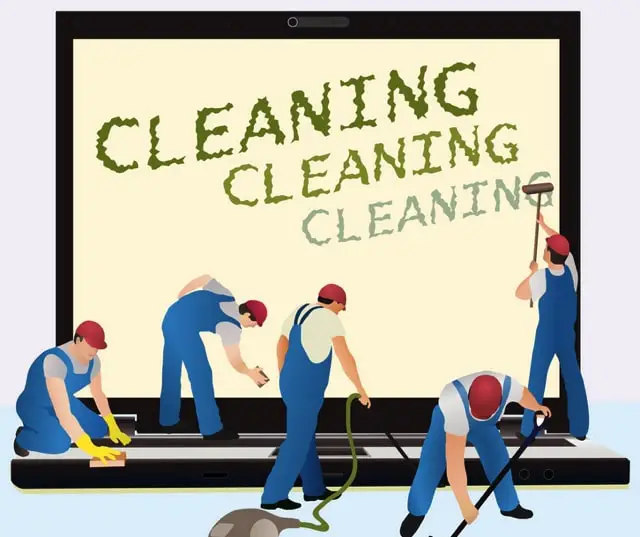 Getting Rid of Bloatware
Bloatware, also known as crapware, has been a big problem for laptop users for a while now. Laptop manufacturers insist on selling laptops stuffed to the brim with useless bloatware, despite strong protests from consumers.
While some manufacturers have begun to tone down the amount of bloat they ship their new laptops with these past few years (they know we don't like it), it's still a problem for millions of new laptop owners. We think that bloatware is something that you – as a new laptop owner – should concentrate on removing as soon as possible.
Why is Bloatware Such a Problem
Bloatware is a term used to describe a group of computer programs that are essentially useless, for various reasons. These programs occupy precious hard drive space, slow your boot up times drastically, occupy a large portion of your internet bandwidth for updates, clutter up your system tray and desktop space and also use your RAM.
Did we mention the annoying notifications they keep sending you? You can see why you would be better off without them.
Examples of Bloatware are programs that give you a free trial for a set time and then stop working entirely. They then keep sending you annoying notifications for several months, asking you to pay to unlock everything – all this when you've never even opened the program once, let alone used it.
Another example of Bloatware are games (that are not worth playing) full of advertisements and demo versions of full programs.
Avoiding Bloatware
If you haven't bought a new laptop yet, you can avoid bloatware by reading the sales brochure of the manufacturer you're about to purchase from. Manufacturers are paid to include bloatware in your laptop, so they give bloatware a positive spin by including it in the sales brochure and praising it (as if it's a gift).
You should be able to avoid bloatware by purchasing from lesser known brands (they are in no way inferior) or purchasing expensive models of laptops from manufacturers like Alienware, Dell and Asus.
Bloatware isn't always something that comes pre-installed on your laptop – you can pick it up while you download and install new programs too. Websites like CNET will include bloatware with every program you download from them.
The key to avoiding bloatware is being vigilant during the install process. Make sure you're installing just the program you want, and not the dozen other programs that came with it.
Removing Bloatware: Automatic and Manual
You can remove Bloatware from your new laptop for good in a few steps. You can either get a utility o remove all the bloatware in one go or you can choose to uninstall programs manually one at a time. If you choose to uninstall manually, you will be able to keep a program or two that you think you might need.
If you want to have all the bloatware in your laptop removed automatically in one go, we recommend you get a program like PC Decrapifier or Decrap. PC Decrapifier is free for personal use, but you need a license to use it for your business or for commercial use. Decrap, on the other hand, is free for both commercial and personal use.
Both programs scan your laptop to find common bloatware shipped by top manufacturers, like Toshiba, HP, Asus and Dell. They will then give you the option of uninstalling bloatware with a couple of clicks.
Manually uninstalling bloatware from your laptop doesn't involve you having to download and install third-party utilities, though it is a much slower and sometimes tedious process. To start removing programs from your laptop manually, navigate to the control panel and go to the add/remove programs sub option. Here, you will find a list of all programs installed on your laptop – you can choose to remove any one (or all) of them.
New laptops that are being shipped with Windows 8 and Windows 8.1 often have bloatware in the form of Windows Store apps. Thankfully, these apps don't affect boot up times, so it's okay if you leave them where they are. If you still don't want them, though, you can remove them easily by right clicking on them and clicking on uninstall.
Not Sure If a Program is Bloatware?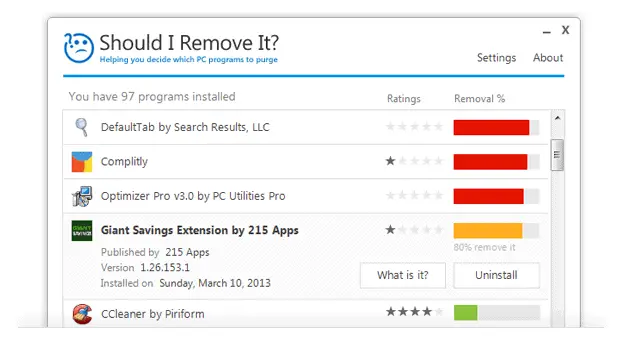 If you're not sure which program to remove and which to keep (some programs can seem quite useful on the surface), we recommend you try out the Should I Remove It? utility. Should I Remove It? will scan your computer for programs and then generate a list with all your installed programs on it. This list will contain info about how other users worldwide have rated a program (1-5 stars) and how many users (in percentages) have chosen to remove that program from their machines.
If you don't want to download a utility to tell you which program to remove, you can always try a quick Google search. You will find more information about that program, user guides and even ways to remove it quickly for your brand of laptop.
Also Read: Speed Up Your PC by Removing Unwanted Programs and Bloatware with Should I Remove It?
Drastic Measures: Reinstall Your Windows OS
Some users claim that the only way to get rid of all bloatware in your system is by reinstalling Windows entirely. It gives you a blank slate, they claim, and it is how Windows was meant to be used. We can't say that this method doesn't work, but it is time-consuming and not for everyone.
We also wouldn't recommend going for this method if you've been using your laptop for a while, as you've probably gathered a lot of useful programs that will be lost along with the bloatware when you reinstall Windows.
Reinstalling Windows can be done with a Windows DVD or by downloading a copy from the Microsoft Recovery Site. Please note that you may need your product key while installing Windows (it should be printed on the Windows DVD or on a label on your laptop).
The Bottom Line
Removing bloatware from your laptop for good is worth your while, we assure you. Not only will your laptop run more efficiently, you will also be able to get rid of useless programs trying to trick you out of your hard-earned money.
What utilities have you used to remove bloatware from your machines? Share them with us in the comments below.