With the Samsung Galaxy S7 shipping with Android Marshmallow, more users are beginning to see a better way to take and handle screenshots. Marshmallow introduces some much welcome tweaks to how Android phones take screenshots, edit them, and share them.
Android has also introduced the much-needed scrolling screenshot feature, which allows you to take a long screenshot of something on your phone.
Let's look at how Marshmallow works for screenshots on the Samsung Galaxy S7.
Also Read- 7 Reasons That Make Samsung Galaxy S7 Superior to iPhone 6s
Taking Screenshots On the Galaxy S7
Just like previous versions of Android, you still take screenshots with the power button and the home button. Hold them down for a second, and the S7 will take screenshots the way you're used to.
The first time you take a screenshot on the Samsung Galaxy S7, you'll be introduced to the changes screenshots take in Marshmallow.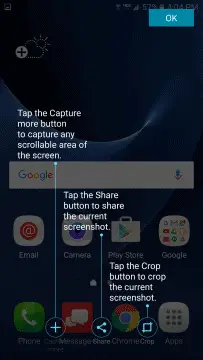 The three options you have with every screenshot you take include:
Capture more is the scrolling screenshot feature Android users have been waiting for.
By clicking "Capture more" after taking a screenshot will take an additional screenshot below the original image. You can capture an entire website page, continuously, for viewing later or sharing with someone.

Share allows you to share your screenshot instantly via messages, social networks, email, and more.
Swipe right to access more apps capable of sharing what you've taken a screenshot of. You'll find the most commonly accessed apps at the top, followed by everything else below that.
Crop is another new feature that lets you crop a portion of the screenshot you've taken to keep just what you want and not an entire screen.
You'll find the screen takes on a grid factor, you can drag the grid elsewhere and determine what you want to screenshot on the screen.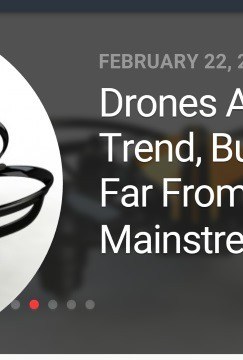 Images will automatically be saved in a Screenshot folder on your phone. Unfortunately, you can't decide where screenshots are saved by default, yet. I'm hoping this feature is added in the future to Android in general.
Option 2: Using Google Now On Tap to Take Screenshots
The Google Now On Tap feature is hit or miss, depending on whether you actively use Google Now or not.
In order to enable Now On Tap, long press your home button, then click on "Get started."
This will allow you to set up Google Now, which turns on what's supposed to be an easier way to take screenshots in Marshmallow. Click "Yes I'm in."
Now, whenever you long press your home button, you'll automatically take a screenshot and open the Share menu.
However, if you don't share the image, it won't get saved to your phone and it'll be lost forever. In all honesty, it's not that great of a way to take screenshots like what Marshmallow itself offers.
Conclusion
Until you start taking screenshots on your phone, you don't know how beneficial it can be. I take screenshots every day, either to share something with someone else or remind myself of something later on.
Learning how to use all the features screenshots in Android Marshmallow offer is key to getting the most out of the feature on the Samsung Galaxy S7.
(Image Credit: Răzvan Băltărețu via Flickr)