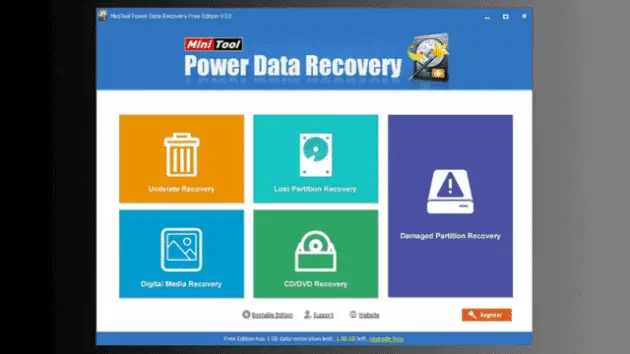 Flash drives were built to last, in general. They are some of the most stable, long-lasting storage media developed so far. However, they are far from infallible. Sometimes, software bugs and discrepancies can occur, and a flash drive can be corrupted, or you may experience a malware outbreak which also corrupts the drive.
Other times, it's a purely human error, such as accidentally deleting files that you didn't mean to.However, when these accidents happen, you may lose very important things such as pictures from once-in-decades family reunions, or worse, photos and videos from a once-in-a-lifetime event, such as a wedding.
Thankfully, there are nifty tools available to help in such a situation: Data Recovery Software. However, not all Data Recovery Software are built the same. Most are intimidating at best, others will help you recover a file, but with restrictions, especially for the free versions.
But there's one data recovery software that's not only generous with their free version, it's also so user-friendly, that a person who knows how to work their Facebook settings will be able to manage this.
MiniTool Power Data Recovery 7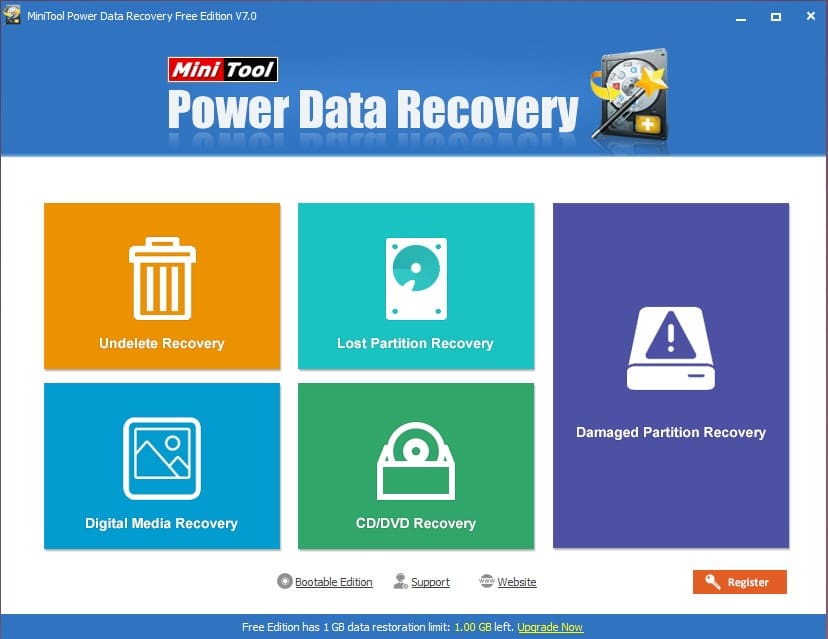 MiniTool Power Data Recovery 7.0 Free is different from other freemium software in that it lets you recover up to 1GB of data, for free.
Above and beyond 1GB, though, you have to purchase a license. With the beauty and simplicity of the interface, though, the price tag may be worth it.
The Great
Aside from the very user-friendly and easy-to-navigate interface, Power Data Recovery is also very effective.
While testing the software I was pleasantly surprised to find a video, that I didn't know that my SD Card had, was recovered.
I vaguely recall adding the video to the SD Card, but I also remember formatting the card after. As you can see in the screenshot below, the SD Card only used up 55.2MB. The recovered file's size, however, is 701 MB. How cool is that?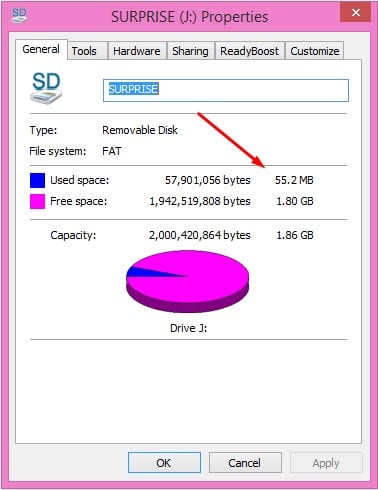 I also tried to retrieve photos and an audio file. The photos were recovered perfectly, and there was even a photo of a mug I didn't recognize. If you ever wanted to spy on your significant other, I heartily suggest grabbing their SD cards and flash drives and go look for deleted content. But I am half-kidding and digressing.
The Process
On the whole, the process was straightforward. You chose any of the icons on the splash screen. If you're unsure about which feature to choose, mouse over any of the icons, and you'll get tips on what each icon does.
It's not only simple and user-friendly, the guys who made this app made sure that the end-user won't lose their way figuring it out, too.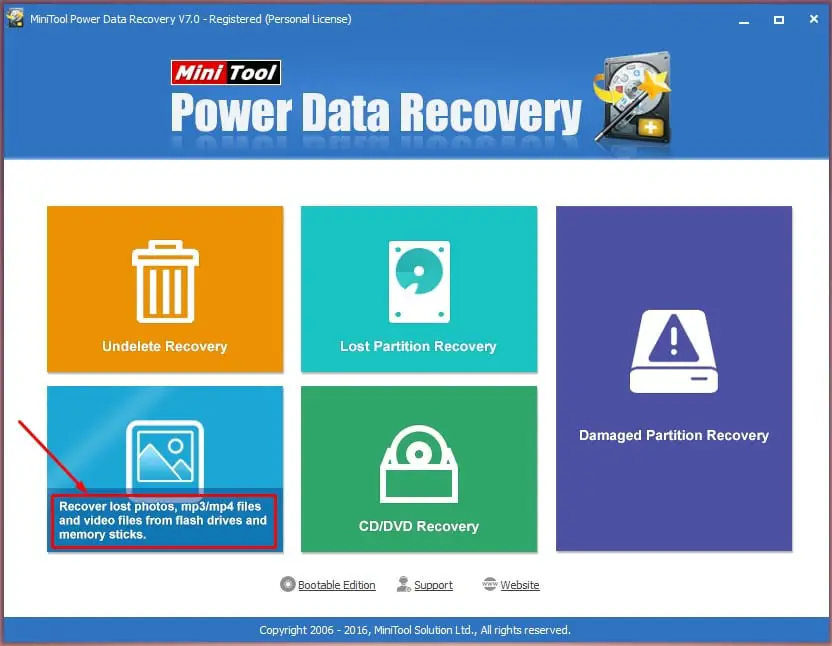 After making your choice, the app will take you to a drive list, where you can choose the drive you're scanning to find the deleted or corrupted media.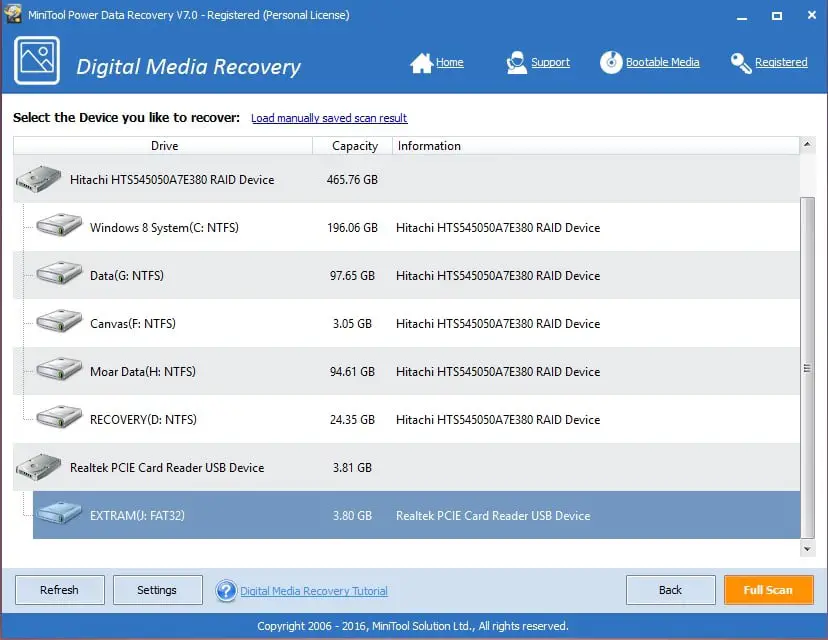 If you feel lost at the drive labels, especially since, in this case, Power Data Recovery used the drives' brand names to label them, go to Windows Explorer > This Computer, to check the drive letter of the MicroSD Card or USB Flash Drive.
As in the screenshot above, the drive's name will also appear. In my case, the only removable media that's on my computer is "EXTRAM," which is also labeled similarly on the data recovery tool. Once you've figured out which one to recover data from, hit "Full Scan."
The screenshot below shows the scanning process for a 32GB MicroSD Card.
I had a "theory" that the larger the capacity of the drive, the longer it would take for the data recovery tool to finish scanning it. And I was right.
However, one thing that let me rest easy in using Power Data Recovery was that I felt like the app was so stable, it wouldn't crash, even in the middle of a rather time-consuming deleted file scan.
After Power Data Recovery finishes scanning your drive, it will show you a list of the files recovered:
You can then select the files, then hit "Save," the orange button on the bottom right of the screen.
You will be then led to choose where to save your files:
Choose your location, and then you're good to go.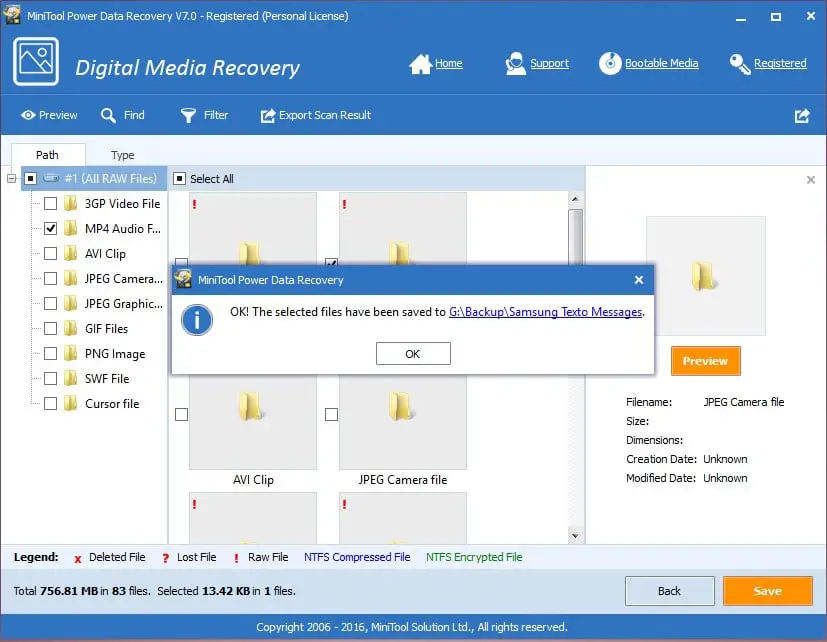 My Experience With Power Data Recovery
Having used other data recovery tools before, I instantly saw and "felt" the difference in MiniTool Power Data Recovery 7.0. For one, I wasn't as confused as when I first took Piriform's Recuva Data Recovery tool.
I once had to recover the wedding photos and videos from a friend's corrupted 32GB USB drive, back in 2014. I used the Piriform Recuva Data Recovery tool, Glary Undelete, and Puran File Recovery. I recall being most satisfied with Recuva's comprehensiveness but was happier with Glary Undelete's simplicity on the GUI front.
Puran File Recovery is also simple and easy-to-understand. but after using MiniTool Power Data Recovery, I repeatedly wished that I had this to work with at the time I needed it for those files. The simplicity, the comprehensive file types that it was able to recover, plus the effectivity of Power Data Recovery convinced me that it's the best among those I've tried.
On the note of my apprehension at the stability using other tools, I will admit this: Using the other tools gave me that foreboding sense of "fear" that at one point, they may freeze during scanning, and I could lose not only the data on the damaged drive but I may put my own hard drive at risk too.
MiniTool's Power Data Recovery 7 had a very stable performance, making me feel confident enough to leave my computer alone as it scanned for recoverable files on my 32GB MicroSD card. It took a while but completed without any hiccups.
The Not-So-Great
Sadly, nothing's perfect on this planet, and neither is MiniTool Power Data Recovery. While I didn't come across anything specific that can be called a major If there are three things I will say that are not-so-great on this, it's:
Too many prompts for whatever.
When you fire up the application, you have to go through the User Account Control center and let it through. The UAC prompt appears for every launch of the Power Data Recovery 7. They should fix the permissions for the application or you might have to take matters into your own hands and disable UAC for the application.
When you click the close button to exit, there's another prompt asking you if you *really* want to exit the app. It's a little redundant, and could get annoying at times.
There was one file that Power Data Recovery was not able to recover properly, an audio file.
While that was a little disappointing, I chalked it up to the fact that once a sector in a storage drive has been filled with new files, previous data could be overwritten. Since this was an already-deleted file, no doubt it had already been overwritten, and thus, may have rendered the recovery ineffective.
The free version limitations, and the relatively high price tag for the premium version.
While 1GB is a very generous limit for the free version, the $69.00 price tag for the personal license could seem rather steep. The other tools that I mentioned earlier have a certain price-based advantage and one, actually, is completely free. Despite that, for the unbeatable user-friendliness of Power Data Recovery, especially if you regularly need such a software, getting a Personal License is quite reasonable.
The Comparison
I used the Power Data Recovery Free as well as one with a Personal License. Since the data that I tried to recover wasn't huge, I could have managed with the free version. The personal license could really be useful in case I need to recover important documents, files or photos from a damaged hard drive, as in situations like these, the pricing of the software is often not the primary concern.
Of course, based on your need you can go for other advanced licenses as well. Here's a comparison of all the types of licenses, their supported environments and how you can use each of them.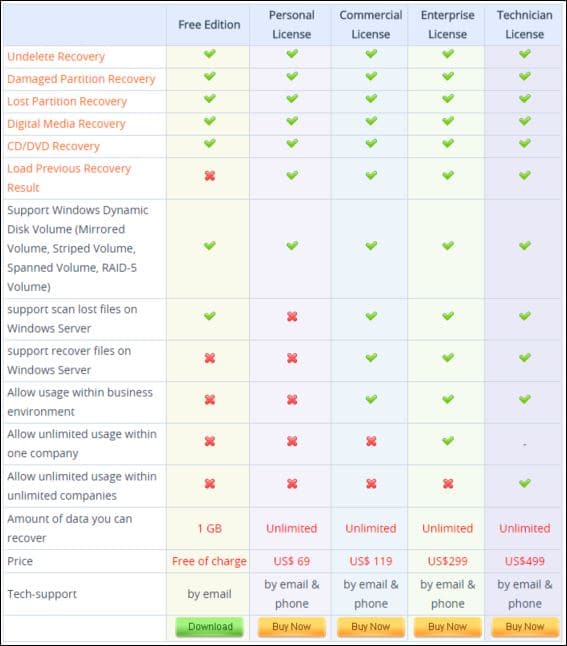 The Wrap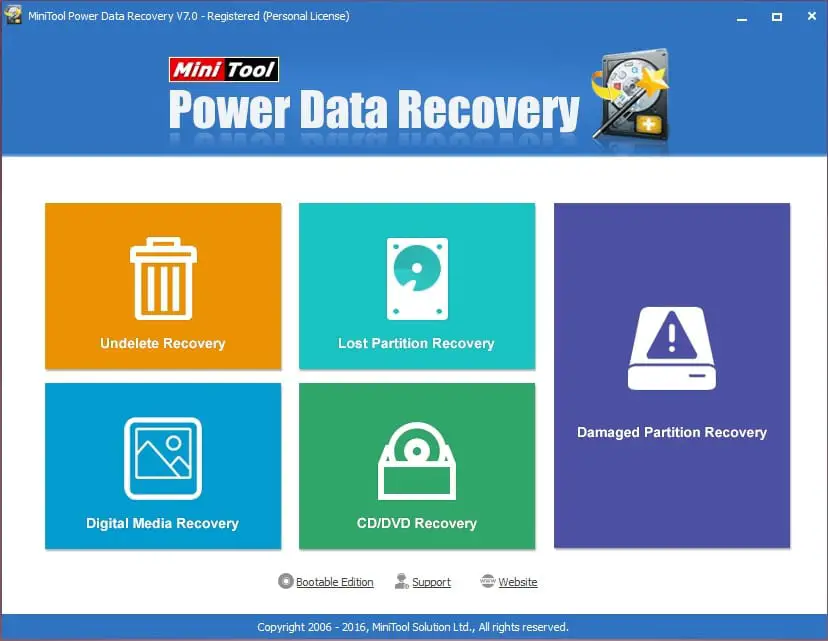 On the whole, I was very impressed with my experience of MiniTool Power Data Recovery 7 Personal, as well as the free one. Aside from the price, I really have no qualms with it. Yes, my only regret is the fact that I didn't even get to use the freemium version when I needed it for my friend's corrupted files.
Moving forward, though, I have a good mind to get the word out that I could recover people's files. I might even consider buying a commercial license and make a killing providing data recovery services. Who knows?
Get Power Data Recovery for Windows
Buy Personal License for Power Data Recovery for Windows | Get the Free Trial Version
Power Data Recovery for Mac
The software we reviewed was based on Windows platform. If you are on OS X and are looking for a parallel product for recovering data on a Mac, MiniTool has a tool for Mac as well. Now, you might want to try it before buying but the restrictions on the free version make it quite pointless. You can barely recover 1 MB of data in the free version. It is difficult to even test out the tool with that restriction. Anyways, you can get it for Mac from the links below.
Buy Personal License for Mac Data Recovery | Get the Free Trial Version
Disclosure: MiniTools offered us a Personal License for the Power Data Recovery software for Windows to enable us to test out the paid product thoroughly. This is a regular practice and does not impact our product reviews in any manner. The review is based on our personal experience with the product.