Microsoft's pre-beta Build release of Windows 8 has influenced users to start using Windows 7 in detriment of the older XP version.
As expected, Windows 7 usage has increased almost 2% in only just one month. At the same time, the usage of Windows XP has decreased in almost the same increment, leading to believe that most XP users have jumped to Windows 7 in preparation for the new OS.
Windows 7 to Overtake XP As Most Popular OS
According to statistics shared by Net Applications, an Internet metrics company, usage of Windows 7 has accelerated in the past month, reaching 32.42% in September from 30.60% in August. Experts expect that in the next couple of months the number of users of Microsoft's most recent product will increase in such number that it will manage to overtake the most profitable OS made so far, Windows XP.
The user numbers of XP have been dropping lately, mostly at the same rate as the number of Windows 7 users has increased. It's also expected that the number of users of XP will drop under 50% in the next few weeks, effectively bringing it closer and closer to Windows 7.

Meanwhile, Windows Vista has also been losing users, but at a smaller rate than XP, decreasing from 9.40% to 9.09% over two months, users who most probably turned their attention to Windows 7 as well.
As Microsoft has released the Windows Developer Preview belonging to the Milestone 3 stage of the development last month, over 500.000 people rushed to check it out in the first 24 hours, curious to see what the IT giant has in store next.Although, as it was revealed in last month's BUILD, Windows 8 is only a codename for the new Operating system, a branding strategy and a commercial name for the new Microsoft project have not been announced, increasing interest in the already hyped OS.
Statcounter Reports that Win & Is Already Ahead Of XP:
Windows 7 now accounts for 40.21% of all global desktop operating system usage across the world. Windows XP usage slipped to 38.64% in the month of October according to StatCounter. The drop in XP usage has been consistent since Windows 7′s launch but October marks the first time that Windows 7 has passed Windows XP usage, an important milestone for Microsoft after two years of Windows 7 sales.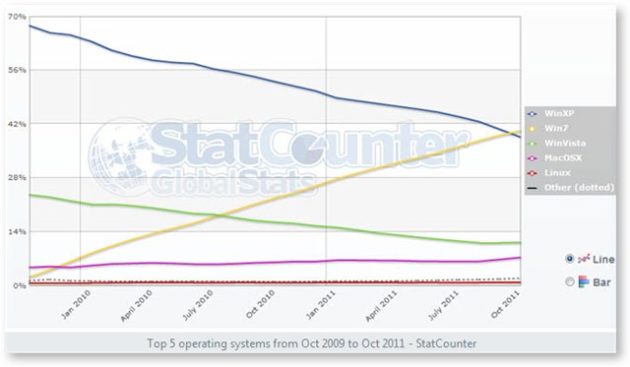 Many things can be said about Microsoft's systems, but the numbers show that over 92% of computers use their products, whether it's XP, Vista or, the most recent, Windows 7. Only 6.45% of the Globe's computer users work on Mac, and only 1.11% have bothered to decipher Linux.
Computer users like stable operating systems, and up until Windows 7 was announced, XP was the most secure system out there. As the new Windows 8 OS was announced and was available for testing in its beta phase, users have accepted Windows 7 as a secure and stable OS and shifted towards it, as it's happened before with other Microsoft products.
See Also: