Fall is right around the corner. With fall comes the latest major update to Windows 10 – the Windows 10 Fall Creators Update. Coming off the heels of the spring Creators Update, Microsoft wants to further capitalize on the improvements to the OS for the year.
The original Creators Update changed the way Windows update works, added 4K and 3D functionality, as well as improved a variety of background functions to increase the stability of Windows 10.
Let's look at what we know about the Windows 10 Fall Creators Update and what you can expect from the next version of Windows 10.
What to Expect in the Windows 10 Fall Creators Update
Note: As with the release of latest updates, features, services, and more be not make it to the final release version of the Windows 10 Fall Creators Update. Keep that in mind as you continue reading.
Cloud-enabled Clipboard
If you copy and paste like a pro, you've probably wished this functionality was part of the Windows 10 ecosystem. With the Fall Creators Update, it will be. A Clipboard app, if you will, will be used to copy and paste items between linked devices running Windows 10.
This will be tied to your Microsoft Account, so it will only be available if you use one account across multiple Windows 10 devices.
Also Read: How To Share a Clipboard Between Any Computer and Smartphone
Cortana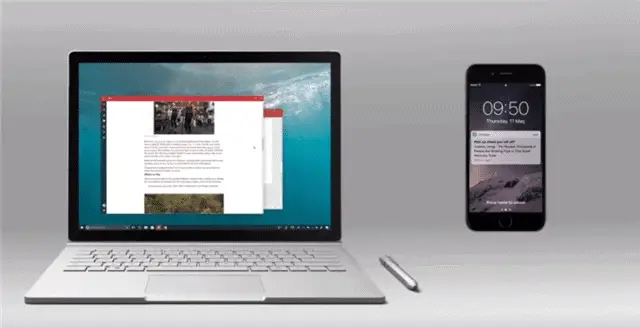 Like most of the fluidity of Windows 10, Cortana sees updates as frequently as most other major areas of the OS. The Fall Creators Update is no exception. Cortana will finally have its own dedicated settings within the Settings app much to the delight of those of us who use her and get frustrated with changing settings here and there.
Cortana will also allow you to pick up where you left off between devices link on a Microsoft Account. One of the nifty features finally coming to Cortana is the ability to lock, restart, and shut down your PC with a voice command. It also looks like you'll be able to remotely lock your PC from a linked phone or device if necessary.
Also See: Cortana Gets a Ton Of New Features in the Latest Anniversary Upgrade
Input
The following input improvements have been rolled out for the Windows 10 Fall Creators Update:
Support for Emoji 5.0
A brand-new Emoji panel
Updated functionality and stability improvements for Touch Keyboard and Shape Writing
The handwriting panel has been improved
With a pen, you can scroll websites and lists
Microsoft Edge
Microsoft Edge is always evolving. While it's still not – and many doubt – whether it'll ever be, Microsoft continues to add features and functionalities to its browser. Here are some of those changes in the Fall Creator Update:
You can now ink PDFs within the browser
The table of contents of PDFs will render within the browser
PDF support of forms now works
A variety of improvements to EPUB rendering and view
Copy and paste functionality has been improved
Semi-transparent icons will show up for inactive tabs
A read-aloud mode has been implemented
Reading progress will be synced across devices when logged into a Microsoft Account
Favorites functionality has been improved
Fluent Design System elements will be incorporated into the browser
Microsoft Timeline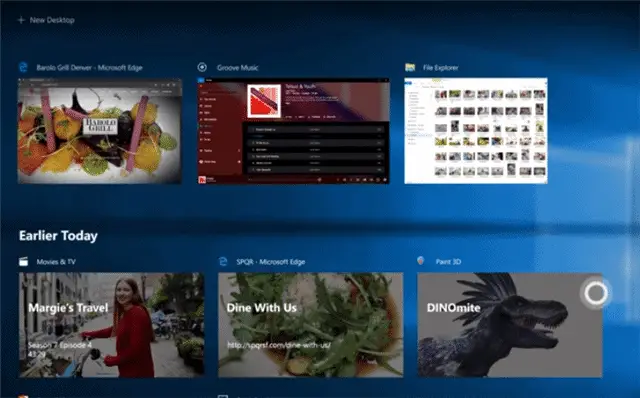 Microsoft Timeline is a visual search timeline that allows users to go back to applications they have worked on. When opened, this will open a given program in the same state it was closed.
For example, if you were working on a specific email in Outlook and closed the program as is, the next time you open it, that email will be right where you left it to continue working on it.
My People Hub
The My People Hub should finally be released in the Windows 10 Fall Creators Update after being teased as part of the original Creators Update. This functionality was originally part of the Windows Phone series and will come to Windows 10 to manage contacts, interact with them and more.
Think of WhatsApp on steroids and that's what My People Hub is shaping up to be for the Windows family of devices. You'll be able to talk to contacts, Skype them, share with them, and more all from its Windows app.
OneDrive Files On-demand
Depending on how you use Microsoft OneDrive, you may or may not store all files on the cloud, on your PC, or on both. Many users choose how to store files based on the amount of hard drive space they're working with offline.
With the Windows 10 Fall Creators Update, OneDrive will add on-demand or placeholder functionality allowing you to see and instantly download files if they're not being stored on the cloud and on the PC, you're working with. While this functionality technically already exists, the improvements to it should make downloading those files quicker and more efficient than before for users working between multiple devices.
While this functionality technically already exists, the improvements to it should make downloading those files quicker and more efficient than before for users working between multiple devices.
Windows Settings App
The Settings app has seen many changes, improvements, and more since the release of Windows 10. The Fall Creators Update is no exception. Here are some improvements you'll see its functionality for users:
About section will give critical information about system health
Remote Desktop functionality is added to the app
Game Monitor options are added
Video Playback options are added
New Update Activity Monitor shows statistics about Windows Update for the given month
Cosmetic changes have been made to the app, consolidating some areas and building out others
Options for control your computer with your eyes and third-party software have been added
Easier linking between Android and iPhone devices has been integrated
Windows Shell
The Windows Shell, or the main way you interact with Windows 10, see some notable improvements in the Fall Creators Update. Here are some of the updates you can expect:
Resizing the Start Menu, in general, is more intuitive and smooth
You can now resize the Start Menu diagonally
New context menu icons in the Start Menu
A brand-new Action Center design using the Fluent Design System
Toast notifications now float in the bottom right-hand corner of the screen
An acrylic backdrop is used for the Start Menu and Taskbar
You can share contacts from Share UI
Taskbar Icon offers Power Throttling option for users
Can enable Spatial Sound (on compatible PCs) from Taskbar
You can share files via the Content Menu
Windows Story Remix
Windows Story Remix has been teased since 2016 and allows users to create vivid stories with photos, videos, and more. Integrating with Groove Music and Remix 3D, users will start with a base story the app will put together based on what you've imported into it. From there, the sky's the limit with creativity, design, and customization.
Other Notable Updates to Windows 10 with the Fall Creators Update
Here are a handful of other updates to Windows 10 with its next major update:
iTunes finally comes to the Windows Store.
Project Neon, now known as the Fluent Design System, comes to Windows 10. This design language will further allow developers to create apps and more on the Windows platform.
The Windows Store will feature downloads for Fedora, SUSE, and Ubuntu to be run on the Windows Subsystem for Linux
Windows will throttle inactive programs for the first time in its history
Windows 10 will now run on ARM64 architecture
The Fluent Design System changes are integrated throughout the OS with more to come
Your Microsoft Account password can be recovered from the lock screen if necessary
A variety of battery life improvements are being implemented
A variety of security improvements are being implemented with Windows Defender and more
Conclusion
So far, the Windows 10 Fall Creators Update is shaping up to be a behind the scenes and feature-rich improvement to the Windows 10 OS. While no official date has been released, yet, it's only a matter of time before Microsoft more aggressively pushes out a final build. What will make it into the Fall Creators Update? Time will tell and TechNorms will be here to cover it all!
What will make it into the Fall Creators Update? Time will tell and TechNorms will be here to cover it all!
Further Reading: How to Prepare Your PC Before New Windows 10 Updates Roll Out