When consumers think of going green, they often imagine solar panels, recycling everything they use and using less energy. They do not think of the simple ways they can use less when it comes to technology. When Microsoft developed Windows 7, they wanted to do their part to be an environmentally friendly way. That is where the Windows XPS file format and the XPS Viewer came into play.
The Windows XPS Viewer is a printer-free way of saving documents, accessing them and working with them without printing them. This saves paper, allows you to have access to your documents no matter where you are and gives you the chance to work with them in ways you would if you had printed them.
What is an XPS File or XPS Document?
If you are wondering what the XPS file format is, here is a quick brief for you. XPS is an acronym derived from XML Paper Specification. This file type contains all the relevant information about the content of a document including its layout, structure, and appearance. This not-so-popular file type was meant to be a brilliant alternative to PDF, but it never caught on.
With the everyday use of the Portable Document Format file in our working schedule, PDF has overshadowed the importance of XPS files. However if you are one of those rare people who use this file format regularly, will find this article informative as a step ahead to create a paperless working environment. 
Let us take a look at how the Windows XPS Viewer works.
What Is The Windows
XPS Viewer
?
The Windows XPS Viewer is a program that allows you to view and work with XPS file formats. As mentioned above, XPS stands for XML Paper Specification. It can be used in a variety of formats and can easily be created from just about any Windows-based program. Even if you no longer have the software on your computer, you can still open and work with the XPS files you create.
You can do the following with XPS files:
Save copies

Search through the files

Zoom in or out

Digitally sign

Set up permissions
How To Install Windows
XPS Viewer?
For the most part, the XPS Viewer is installed with every version of Microsoft Windows. However, while tinkering and playing around with your system, you may have inadvertently turned it off or uninstalled it. You can still get it in a fraction of second by going into your Settings and doing a little work.
Go to Settings. You can find the settings app right from the Start menu.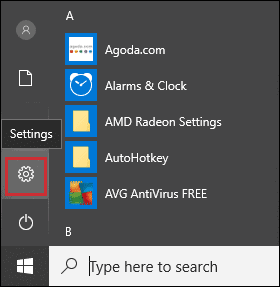 Next click on App Settings.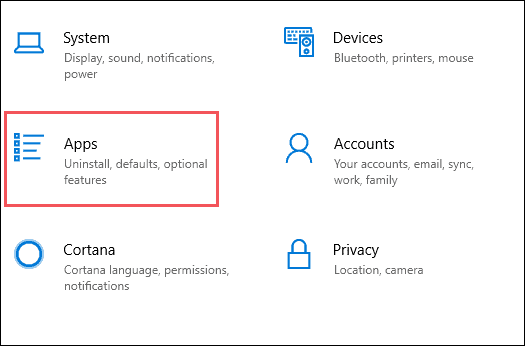 When in the App settings, click on Apps & features that is on the left-hand side. Next, click on Manage optional features.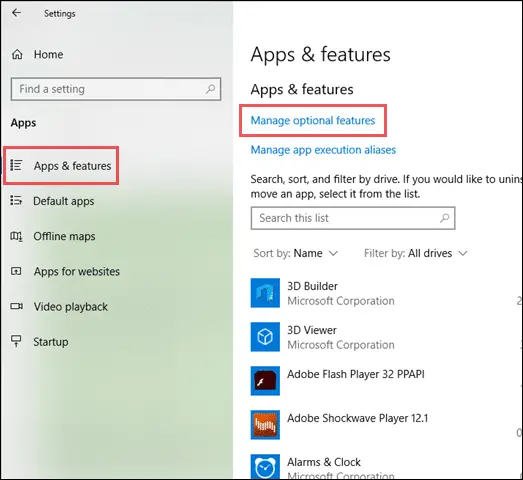 From there, you want to look under the Programs and Features header. Click on "Turn Windows features on."
Now, when you click on Add a feature to install XPS viewer on Windows 10, this will list all the optional features available on your system. 
Scroll down to XPS Viewer and click on it. Now you can see the install option available. Click on Install.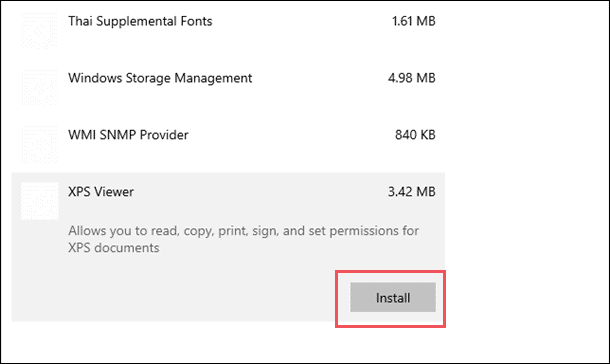 Windows will then install the app and when finished, you will be able to work with XPS files.
Note: The same steps can be followed to enable the XPS Viewer in Windows 7 and Windows 8. But since Windows 10 has a very different interface, the exact steps as visually depicted in the above screenshots might differ. 
How To Open an XPS File? 
How to open XPS file? It is no big deal. If you have the XPS Viewer installed, it will automatically open the XPS file. There is nothing you need to do to make that happen. The XPS file is automatically associated with the XPS Viewer.
How to Use Windows
XPS Viewer?
When you don't have any files opened in XPS Viewer, the UI looks something like the following image. 

The XPS Viewer interface is like any other program in Windows. At the top left, you will see the toolbar. It includes some options like File, Permissions, Outline Pane, and various ways to View document.
Under the File menu, you will find the common options for the document here, such as Open, Save as…, Print… and more.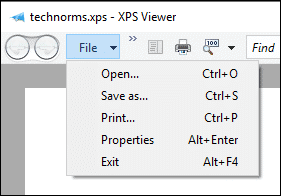 The Windows XPS Viewer is utilized to view, search through, and set permissions. You will see the Permission option once you click on the '>>' sign. Click on Permissions to set the permissions for the open XPS file. 

The XPS file format does not support all the features that PDF files do. For example, you can password protect PDF files, but you cannot do so for XPS documents.
Similar to PDFs, XPS files offered the ability to digitally sign the document.  But it has been observed that "signature" functionality is missing since KB4074592 update and those who are veteran users of XPS Viewer, they might notice this missing feature. 
On Technet, you may find some appropriate solutions mentioned by some users. You can try those if you want to restore the signature feature in your XPS Viewer.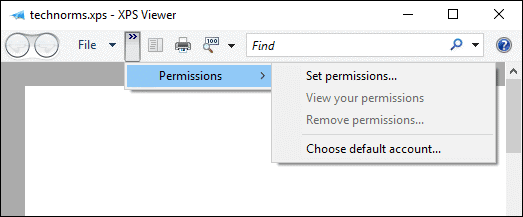 In the top-right section of the Windows XPS Viewer, you have a toolbar, a search area, and the help guide.
At the top right hand of the Windows XPS Viewer, you will see a search box. If you type in what you are looking for and click enter, you will be given the results back of what you searched for. You can also click the question-mark button to access the help files for the Windows XPS Viewer.

These are the basics of the Windows XPS Viewer. For now, it is a very easy way to work with documents without having to print them out.
You can also change the view of your XPS file whether you want it to get displayed 100%, or you want to acquire the full screen, the choice is yours.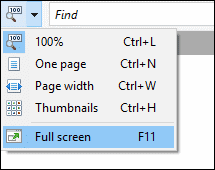 How Often Will You Use The Windows
XPS Viewer
?
Most Windows 10 users have no idea it comes with a built-in XPS Viewer. In fact, many consumers do not even know this file format exists because they are so used to working with PDFs when it comes to the types of things XPS does.
XPS is a worthy alternative to PDF but since many do not use it, it may not be the most compatible way to share documents. If more users become comfortable with the format, it may become a more widely accepted way to work with documents without wasting paper to mark them up offline. 
Till then, you might want to convert XPS to PDF and make use of it in a format you are more comfortable with.
Worthy Mentions For People Who Need Good XPS to PDF Converter
How to convert XPS files to PDF? It's easiest if you have tools like Zamzar and UnitePDF. These online tools are your ultimate lifesaver when you have an XPS file and you want an immediate PDF format. 
Zamzar: Convert XPS to PDF
You don't need extra software on your PC when you can just utilize this excellent online XPS to PDF converter to convert your XPS files. Zamzar supports 1200+ file formats and has a fast conversion time. Beyond XPS, it serves multiple formats like PDF, EPUB, Word, DWG, GIF, WAV, and many more. 
To convert the XPS file to PDF, click on the Add Files button, select your conversion format from the list and finally hit on Convert Now. Once your file is ready, you will get the download link of the converted file. 
UnitePDF
When you convert the XPS file to PDF on UnitePDF, it has a very basic UI but gets your job done in no time. To use this online XPS to PDF converter, click on Choose File or drag and drop your file that you want to convert. Next, click on Convert File, and then, in the final step, there is a download link ready for you. Make sure your file size is not more than 20MB.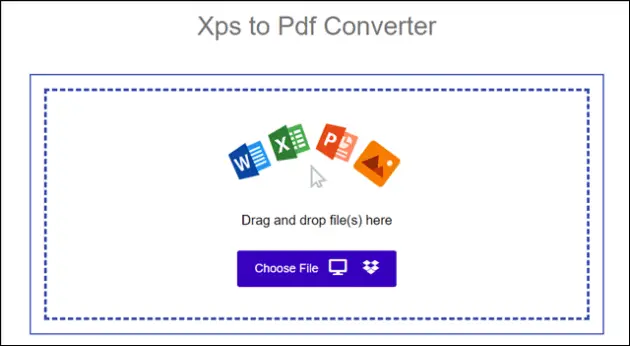 You can also use XpsConverter if you are looking to convert XPS documents from Microsoft XPS (MSXPS) to standardized OpenXPS, and vice versa.
(Article Updated on 16th November 2019)