From doodling to drawing to painting, art has no age limit to learn. For the kids, it is a way to unleash their creativity and for the grown-ups it is something to pursue as a hobby/career. From increasing your motor skills to exploring your creativity, art has its own language. With smartphones and drawing tablets in our hands, the best way to access art anytime is through the best drawing app for Android users.
Drawing and painting are not new to any of us. Is it your favorite pastime too? Passing leisure time with getting your hands on some artwork, is not a bad idea, after all. If you are looking for the best drawing app for Android, we've got you covered. 
See Also: 30 Best Offline Android Games That You Can Play Without an Internet Connection
For the Love of Art:
Best Drawing App For Android
Most of us have a hidden artist inside us. With our list of best drawing apps for Android, we are trying to help passionate artists by introducing them to all the available options, to help them bring their imagination to life. These tools are not only free, but some of them provide you with an easy guide or tutorial, as well. 
1. Sketch – Draw and Paint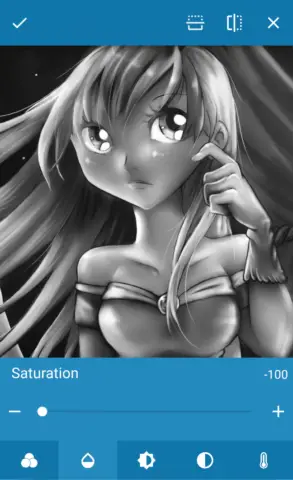 When you are hunting for some best digital painting software, missing out on this drawing app for Android is something you should not do. SketchBook gives you a delightful user experience while having fun with your drawing and photo art. With editing tools that include a number of brushes, zoom to work with fine details, etc, creative people would love it.
Using this tool, you can use +10 paint tools and show your creative side to your friends and family. The gradient fill tools add an extra layer of beauty to your art. It also has a layer editor with infinite layers to help you shape your drawing the way you want. 
Download SketchBook here
2. Artecture Draw, Sketch, Paint
Now you can sketch, draw, and paint with Artecture artistically without any pro knowledge. It carries all the necessary and realistic tools like pencil, marker pen, oil brush, oil blend brush, oil real brush, etc. It has various options for symmetry with vertical, horizontal, and concentric. You can extract images in formats like .jpeg, .png, .bmp.
The best drawing app for Android, Artecture, gives you 30 unique options to choose from when it comes to high-quality realistic tools. 
Download Artecture Draw, Sketch, Paint here     
3. Magic Drawing 2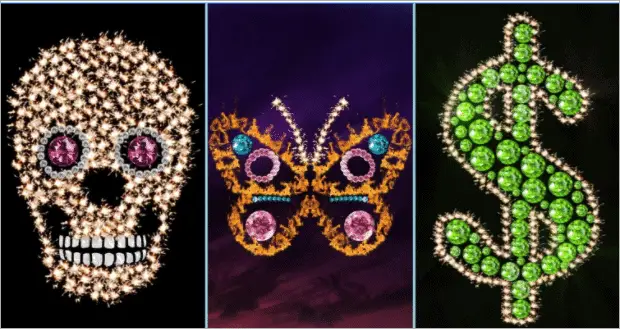 Magic Drawing creates magic in your art. This is not just another drawing app for Android, but it's a beautiful animation app. Now you can give life to your art using animated brushes, glittering diamonds, shining stars, sparklers, and much more. Moreover, you can save the animated drawings as live wallpapers for your Android device using Magic Drawing.
Download Magic Drawing 2 here
4. Animate It
Are you a fan of animation? Then your search for a handy animation tool ends here with Animate Free. The best drawing app for Android is simple to use, with an easy interface where you can move body parts using your hands. The Android drawing app is useful for all, including professional animators, game developers, and much more who are passionate about animation.
Download Animate Free here
5. Doodle Magic Mirror Draw! Kids
With various best drawing apps for Android options for artists and professionals, this particular painting app for Android is aimed towards kids. Kids will have fun with mirrors modes, bright color glow as compared to other similar apps. You can paint on the photo right from the Camera or Gallery and even trace on them with neon colours. You also get a fun Kaleidoscope mode with Doodle Magic, Mirror Draw, and other similar features.
Download Doodle Magic Mirror Draw! Kids here
6. Sketchbook by Autodesk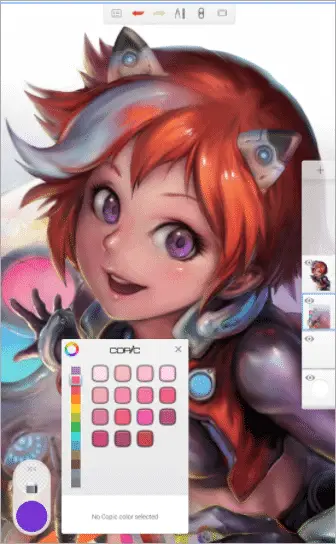 Sketchbook by Autodesk is one of the best drawing apps for Android available out there. The beautiful app is designed considering all types of skill level people and is absolutely free. It is voted as one of their favorite apps by many aspiring artists.
It has efficient features within it including Symmetry and proportional transformation tools, six blending modes, 2500% zoom, etc. With Gallery File recovery and DeX support, it also includes Synthetic as well as smudge brush sets, more layers, gradient fills tools and much more.
Download Sketchbook – draw and paint here 
7. PaperColor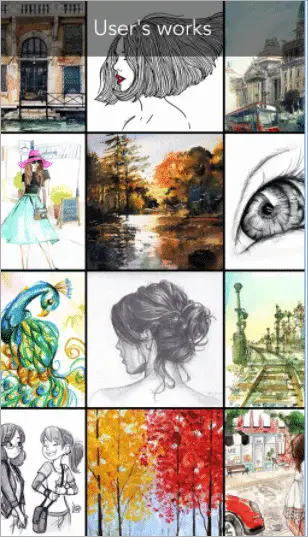 PaperColor android drawing app is one of those apps which gives life to your art and makes it more real and beautiful. The app is easy to use with different styles of a paintbrush. With Exquisite drawing tools, PaperColor is good and fun to use for learners also who are just new in the world of drawing.
The Basemap feature helps you learn quickly as you can select a picture as a base for new artwork, set it to translucent and then draw on it.
Download PaperColor here
8. Dotpict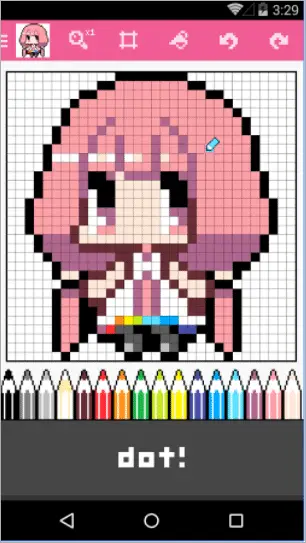 Doctpict is one of the more unique apps you can find in our list of best drawing app for Android. With this app, you actually do pixel art.
You get to work on a grid that you can zoom in and move throughout to make scenes and people just by filling in the pixel boxes. The app has features like undo and redo, auto-save, etc. You can give the app a try and easily experiment with the pixel art.
Download Dotpict here
9. Learn How to Draw
You can now enhance your drawing skills with the How to Draw app. You can explore different styles of drawings. The app serves a self-teaching purpose where you draw, learn, and elevate your skills. 
While having fun drawings for cartoon characters, animals, dragons, and much more, the app includes an easy-to-follow step guide to make sure you draw it rightly and aptly. Start drawing from a few lines and expand it to a beautiful piece of art. People who really want to learn drawing with dedication, they should definitely check out this one of the best digital art apps. 
Download How to Draw – Easy Lessons here
10. Adobe Illustrator Draw and Photoshop Sketch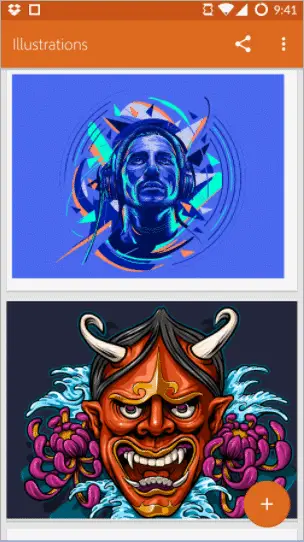 Don't get confused by the name of this app. Adobe Illustrator Draw and Photoshop Sketch are two different drawing apps by Adobe. Adobe Illustrator Draw has drawing features with different pens and layers along with editing features like zoom in up to x64 to work on the minute stuff in your drawing.
You can export your creation after completing it and share it with your friends. You can use Adobe Illustrator Draw with Photoshop CC, Illustrator CC, Capture CC, Photoshop Sketch. Photoshop Sketch helps you experiment with photographs with various unique features.
Who had thought Adobe would come up with the best drawing app for Android, as well. 
Download Adobe Illustrator Draw here
Download Adobe Photoshop Sketch here
11. MediBang Paint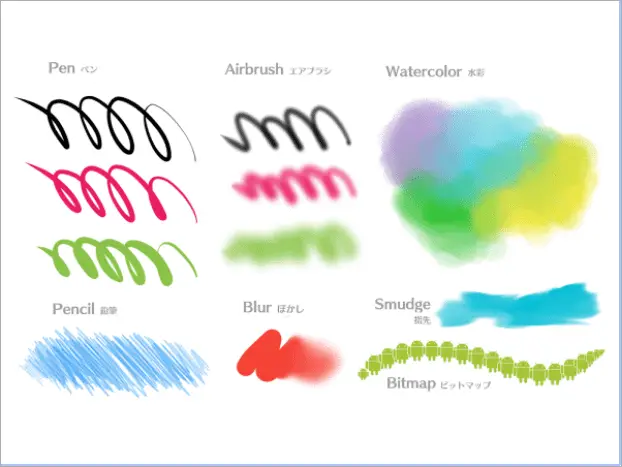 MediBang Paint is a powerful digital painting and comic creation app that is very simple but offers various nifty features.
The best drawing app for Android has unique tools, including many different brushes, cloud fonts, and helpful comic creation tools. One interesting thing about MediBang is that it provides you cloud storage so that you easily backup your work and gives you the ability to work from anywhere.
Download MediBang Paint here
12. ArtFlow: Paint Draw Sketchbook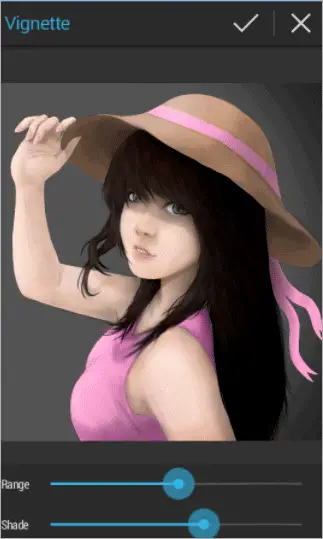 Artflow is one of the more advanced apps compared to other Android art apps on our list. It is about using your skills at a different level as it has a large number and types of brushes (80+), and tools that include smudge tool and gradient fill. You can paint, sketch and draw with ease thanks to a fast and fluid brush engine. ArtFlow aims to replace your physical sketchpad and become the ultimate art studio. 
You can export various types of files, including PNG, PSD (photoshop image) and JPEG. It has pressure-sensitive pen support as well as pressure simulation for touch (not supported on all devices). The app is suitable for all the ages who want to be an expert in the artistic world.
Isn't ArtFlow the best drawing app for Android? Well, we vouch for it! 
Download ArtFlow here 
13. Ibis Paint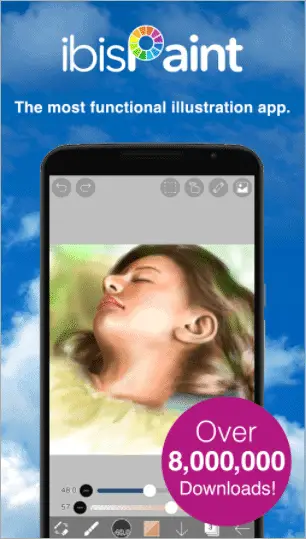 Ibis Paint is an Android drawing app for people who want to have some fun while drawing. You get to express yourself via your paintings. It has 142 types of brushes, which include dip pens, felt tip pens, and much more. It also supports layer functions, which include individual layer opacity, alpha blending, etc.
You can share your artwork on social networks like Twitter and Facebook. One thing which you will definitely like is you can record yourself drawing in the form of video so that you can show or yourself you can see how you created your art in its final form.
Download Ibis Paint X here
14. Draw Something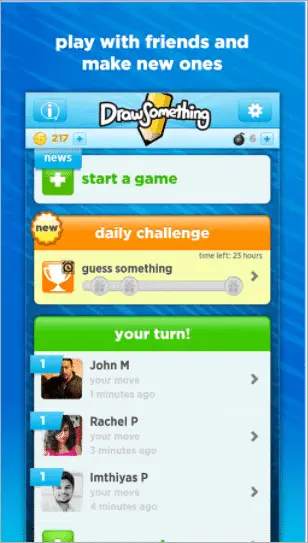 Draw Something Classic takes a gamification approach and one of its kind in our list of free drawing apps for Android. The game makes you draw things leaving your partner guessing what you did draw. Then your partner draws something, and you guess what he has drawn.
It's overall a fun app. With Draw Something Classic, you get to connect with other people socially. This best drawing app for Android is not for creating something serious but for having fun with your friends and family.
Download Draw Something Classic here 
15. Learn to Draw 3D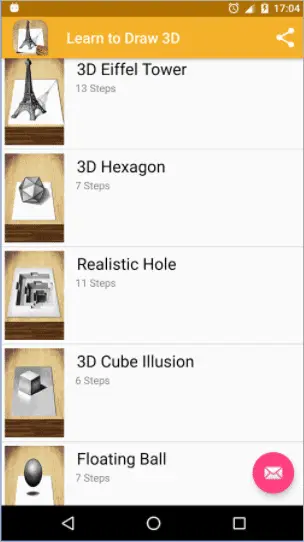 As the name implies, Learn to Draw 3D is aimed towards teaching you how to draw in three dimensions, which include lessons like how to draw 3D Hexagon, 3D Cube, 3D Hole, 3D Heart, and many interesting shapes.
Each drawing is broken down into various steps, which allow you to draw conveniently. This best drawing app for Android is not like the others we've listed; it aims to make you an expert in drawing 3D objects with basic learning techniques. Not only this, but you can also learn how to draw a 3D Eiffel Tower on 2D paper step by step.
Download Learn to Draw 3D – Animated here
16. Drawing Desk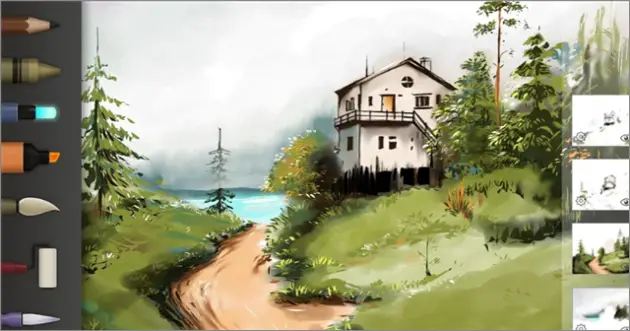 Drawing Desk classifies as the best drawing app for Android since it can be used without the internet, as well. Interesting, isn't it? There is a vast library of birds, rivers, trees, toys, including beautiful picturesque nature-based sceneries. So, you can pick whatever you like and start coloring.
If easy drawing apps is what you want, Drawing Desk is the answer. The interface is quite simple to operate. The app also enables you to share your sketches across various social media handles. What more? Don't like the color you last used? Click on 'undo' and alter your action.
Download Drawing Desk here 
17. Face Drawing Step by Step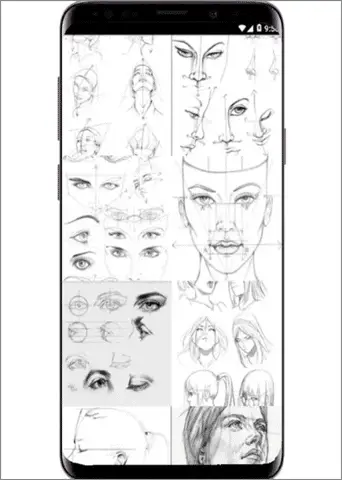 Do love absolutely love to carve out pencil sketches? How about getting your hands on making faces? This best drawing app for Android fulfills your wish by enabling you to draw human faces by providing tutorials. 
Whether you are a beginner or expert, perfecting the art of sketching faces doesn't come easy to anyone. This is where this app comes in. By providing step by step guides, lessons, tutorials, and tips, you can follow the artist and similarly create your own. 
You get to draw various popular anime and manga characters, as well. So, are you ready to experiment with drawing faces that include realistic details? 
Download Face Drawing Step by Step here 
18. PENUP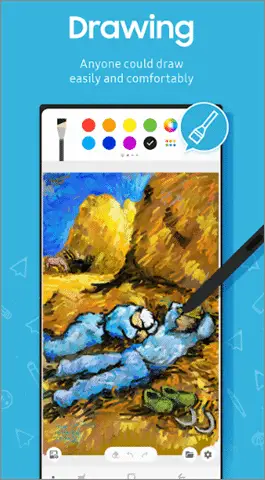 PENUP is the best drawing app for Android and a source of pure joy. It enables you to put your imagination on the display of your smartphone device through your creations and drawings. You use a virtual pen and start sketching smoothly. The pen point is so clean and sharp that it makes your strokes come out flawlessly.
After you are done outlining, the app allows you to take the paintbrush and color your pictures. A default color pad is available. You can also mix them up, customize, and create your own colors. You can also have pictures added as a background to your drawing. 
Download PENUP here
19. Easy Drawing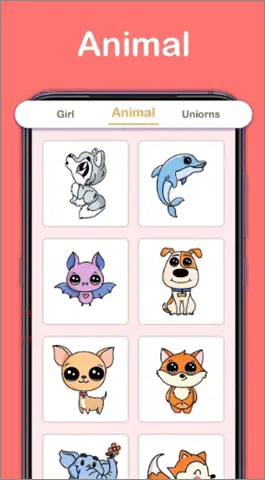 If you are a painter who wants to enter into the professional niche of web designing, you must get your hands on this best drawing app for Android. Similar to Adobe Illustrator, Easy Drawing enables you to make absurd art, animation, and 3D paintings. 
The techniques concerning how to use the app efficiently are easy to understand. You get a variety of options when it comes to brushes, color pads, and fonts. So, what are you waiting for? Get hold of this painting app for Android and learn how to create great graphics and animation.
Download Easy Drawings here 
20. PicsArt Color Paint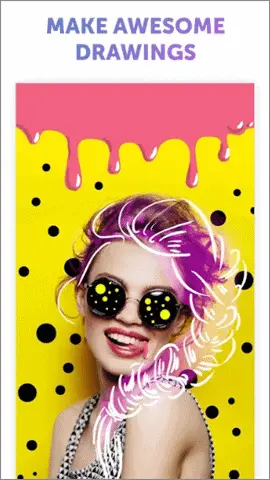 Yet another best drawing app for Android, PicsArt Paint Color, has made it very easy for everyone to sketch stunning arts and graphical illustrations. You can avail of all the fancy functions with only a few clicks. These functions add special effects to creations, a feature not present in most of the digital art apps we've listed.
You can choose from the multiple readymade brush options available. You can customize the brush pads and make your own colors. There is a text tool too. So, you can add words to the drawings you make. Whatever you make gets saved automatically on the app.
Download PicsArt Color Paint here here
Final Thoughts
Like they say, "Every artist dips his brush in his own soul, and paints his own nature on his canvas." Art has no limitations. The list doesn't end here for creative and artistic people, but we have tried our best to provide you with the best drawing app for Android. When it comes to Android art apps, it include choices that help you in creating sketches, trying your hands at animation, making human faces, and 3D drawings.
Some of the apps that we have listed enable you to have fun with your family and friends by getting together for some artistic games. You get a massive number of brush options and tools to help you create an incredible work of art. What more? You can customize colors too. So, ready to pour life into your imagination and make the world a little more colorful. 
(Updated on 7th April 2020)
Also, check: