iPhones XS and XS Max are both big, bold and beautiful devices. However, with a glass body, they are vulnerable to cracks and scratches. What would be a better way to protect your lovely device than to put a cover on it?
There are literally hundreds if not thousands of design choices out there today. We have gone through them all, yes, didn't leave out even a single one, (scouts honor) and have come up with this ultimate list.
If you are looking for the best cases for iPhone XS that will add a dash to your personality too, then look no further and just dive in.
See More: 10 Feature Rich iPhone Apps To Help You Take Awesome Selfies
This cover for your iPhone XS is a sure winner.
It has a hybrid design made of rigid back and flexible bumper. The case comes with a long-lasting clarity that is also resistant to yellowing. It provides Mil-grade certified with Air Cushion Technology.
Spigen Ultra Hybrid iPhone XS Case 
Spigen Ultra Hybrid iPhone XS Max Case
One of the best cases for iPhone XS, this one is also called the 'Queen of Diamonds'.
Its crystal clear inlaid diamond design is smooth to the touch and mesmerizing to the eye. It does full justice to its name.
The slim protection and superior grip with the protective glass slipper of the iPhone era have protective air-pocket corners. It includes a free screen protector film.
One great option as a case for iPhone XS is this, with a timeless carbon fiber look. It also has gloss detailing and the slim protection is grip-friendly. With a Mil-grade certified air cushion technology and precise cutouts for quick and easy access, you are sure to like this.
Spigen Rugged Armor iPhone XS Case
Spigen Rugged Armor iPhone XS Max Case
If you want to make a fashion statement with your iPhone case then you should probably check this option out very seriously.
It has a 360-degree coverage that features a shock-absorbent TPU bumper and scratch-resistant Polycarbonate back plate. The front cover includes a touch-sensitive built-in screen protector that promises to prevent scratches and cracks.
It has cushioned corners that offer augmented drop protection for accidental drops and falls.
But best feature surely is its glitter design that compliments your personal style and is designed specifically as one of the best cases for iPhone XS and iPhone X.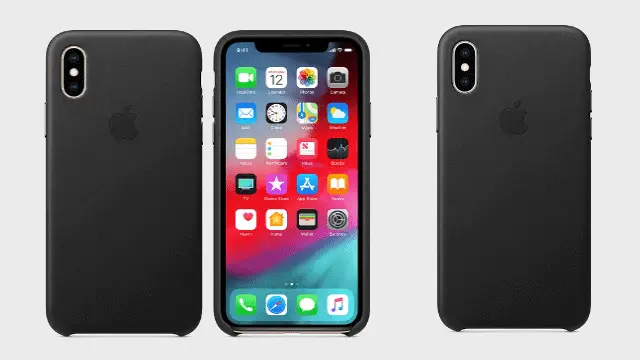 This is an iPhone XS cover that has a soft microfiber lining on the inside and helps protect your phone. With a silky, soft-touch finish, the silicone exterior feels great in your hand.
It offers you a range of colors to choose from Nectarine Orange, Red, Lavender Grey, Blue Horizon and many more!
Apple Cell Phone iPhone XS Case
Apple Cell Phone iPhone XS Max Case
The Otterbox Strada is a simple, classy and stylish case for iPhone XS then this one is probably for you! Soft to the touch, in addition to a vertical card holder to secure your card or cash, its slim profile is sure to woo you.
It includes OtterBox limited lifetime warranty (see website for details).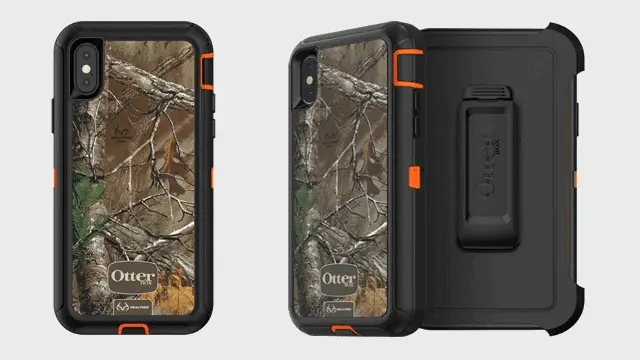 With names like Blaze Orange, Real Tree, Pale Beige, Coral Baton Rouge, Dark Lake, Dress Blues, Silver Pink, Red Plum, Winsom Orchid, Night Purple, Stormy Peak, and Maritime Blue, you are sure to be enticed with its huge array of color and design choices!
This iPhone XS case offers a multi-layer defense, that has a solid inner shell and soft outer cover. It has a belt-clip holster included that doubles as a kickstand for hands-free media viewing.
The port covers promise to keep out dust and debris. Sounds good?
OtterBox Defender iPhone XS Case
OtterBox Defender iPhone XS Max Case
Mujjo is the creator of the world's first leather wallet case It has been mentioned in Forbes, New York Times, and Harper's Bazaar.
This case for iPhone XS can prove to be a perfect gift for any occasion and even for yourself! It is integrated with card pocket holds designed to hold 2-3 cards.
Its a true beauty with its full leather-wrapped case profile with Mujjo's signature on the full-grain vegetable tanned leather.
The super slim profile accentuates iPhone's beautiful design and the raised bezel offers great protection to your screen. It is soft to touch tanned leather that breaks in & acquires a unique patina.
It comes with a 2-year factory warranty.
This classy looking case for your iPhone is crafted with fine cloth and high-grade PU leather, with a card slot. The soft fabric inner protects your iPhone X's glass back from scratches and offers you a wrap-around shock protection.
This case for iPhone XS has some great features! A comfortable grip, with a textured, non-slip surface; Air-Guard Corners that are specially designed to give added cushioning.
It is made with a lightweight and flexible material that protects your phone's glass back and is easy to install/remove. Moreover, it has a screen and camera protection when placed on a flat surface.
This iPhone XS skin is constructed of high-grade Polycarbonate and TPU materials and its transparent back cover offers invisible scratch-resistance! The edges ensure phone screen and camera lenses are recessed and protected against contact with surfaces.
Supcase Unicorn Beetle Style iPhone XS Case
Supcase Unicorn Beetle Style iPhone XS Max Case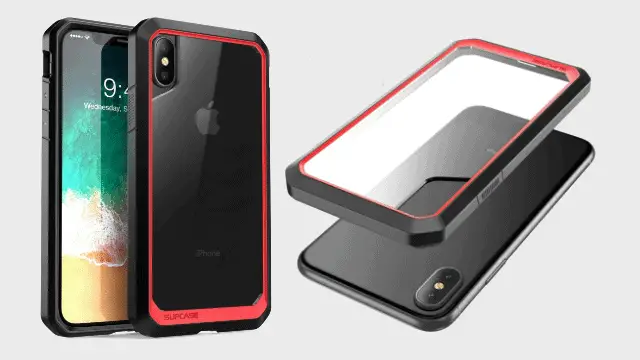 This skin is compatible with Apple iPhone XS and X but not for Apple iPhone 8/8 Plus.
The slim, form-fitting, minimalist design with transparent back and defined edges with a smooth finish is a choice case for your iPhone.
It is made with a shock absorbing and high-grade TPU and PC materials. All the features, buttons and sensitivity are accessible and easily operated through the case.
An elevated bezel provides extra protection for your screen from shattering!
Supcase Unicorn Beetle Series iPhone XS Case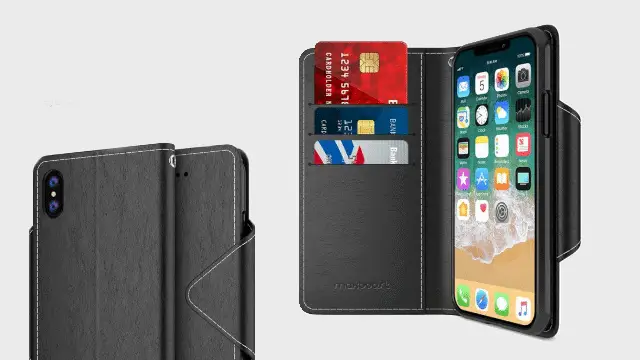 A no-nonsense look is assured if you choose to buy this case for iPhone XS.
It is multi-functional and perfect for on-the-go use, with its many features. A 3-card slot, a side pocket for money or more cards, and with a magnetic lock design, it is very convenient.
With precise cutouts for speakers, camera and other functional ports it allows you easy access to all ports and functions, without any trouble.
The max boost wallet case can switch to a horizontal position and act as a stand; perfect if you prefer it so for entertainment or streaming.
It has Black and Rose Gold color options, as well as the four corners and front and back protection.
Maxboost Wallet iPhone XS Case
Maxboost Wallet iPhone XS Max Case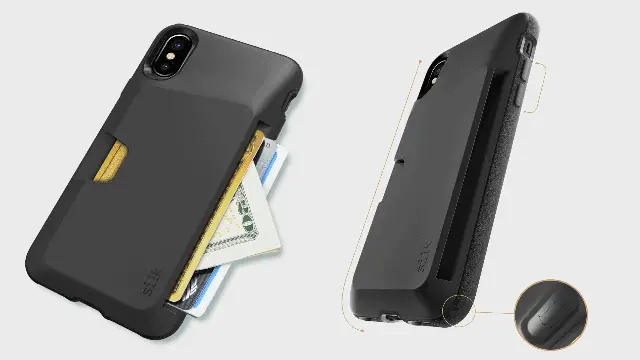 When the name is Black Tie Affair, you know that this iPhone case is designed for a strict corporate convenience look.
Although it does give a choice of subtle statements in terms of color choices, for example, there is Blue on the Green and Red Rover. There is also an offer of a 'Flavour' of the month.
If you are from the young startup corporate niche, who is seriously looking at big money, then you can always choose a custom design!
It features a three credit cards plus cash slot, can be wireless charging compatible, as it charges through the case.
The best part is the high-grip textured sides, with protective air-pocket corners just like airbags, only these are for your iPhone. As a bonus, you get a free screen protector film!
Waterfield Ranger Case for iPhone XS
Black or chocolate, as the case is named, this is for a Ranger look!
If you feel life is an adventure and you are lassoing your goals with ease, then this is the case for your iPhone XS that you should be flaunting.
Offering you the richness of a well-worn leather look, both Black and Brown would do well for you, even if you are a cowboy or cowgirl and aren't afraid to hitch it up on your mean waist belt.
Conclusion
So now that we have presented you with a comprehensive list of cases for iPhone XS and XS Max, we do hope it has proved to be helpful. So go ahead and choose the one that suits your personality the best.
Further Reading: Get The Screen Flash Feature On iOS and Android for Brighter Selfies