When you buy something, you usually look for the best deal from the best store. With the help of our list of best price tracking apps and services, you will not miss the chance to buy your favorite item when its price goes down.
Usually, notifications are set to either be generated when lower prices or when items drop to a specified price target. Amazon Price Trackers are a great way to monitor prices and get the best deal at the right time. Unlike a coupon extension or website which works only when you are ready to buy something, these trackers intimate you about the best possible deals with historical data at hand, throughout the year.
Many times the price fluctuates over time and you end up regretting buying a product earlier, at a high price. That is why you need to check out this list of best Amazon price trackers.
See More: Shop Till You Drop: A Guide to Finding Great Deals Online
1. CamelCamelCamel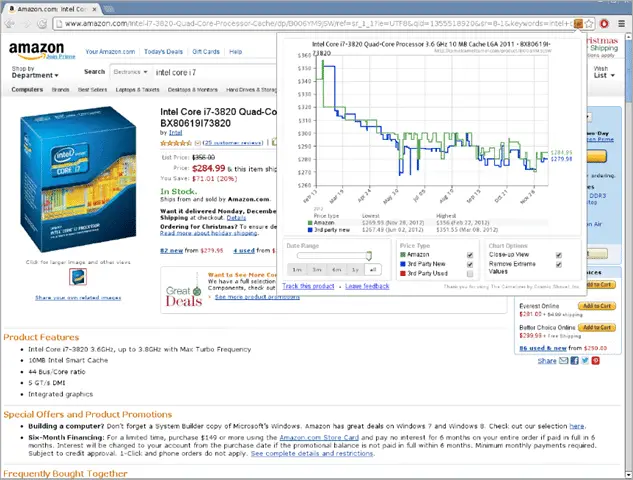 CamelCamelCamel is one of the most trusted and popular online price tracking services. This is true especially for products on Amazon price tracker. It monitors millions of products.
If there is any variation in the price of products that you are interested in, it sends you an alert notification.
It provides you with a price history chart of the past month. This helps you to decide whether it's the best time to buy a product or not. It is widely known to be the best Amazon price tracker.
You have CamelCamelCamel extensions for Google Chrome, Mozilla Firefox, and Safari that allow you to view the price history. Thereby you can do this without exiting from the online retailer's product pages.
How to use CamelCamelCamel
To use all you have to do is visit the product page and click on the Camel button from the toolbar. You will be asked to signup and login to your account. Then you can search for your product through the search bar by entering Amazon URL.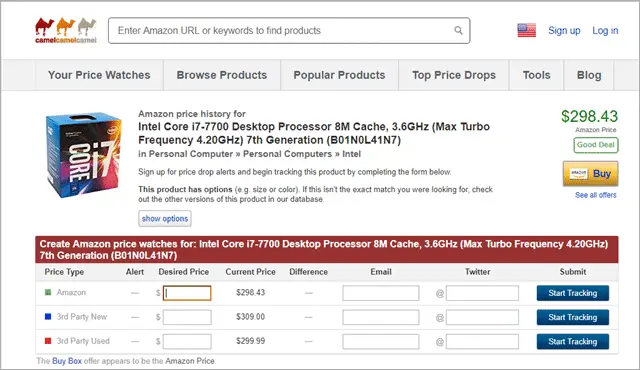 The graph that comes up will show the price range on the left side and the date range at the bottom.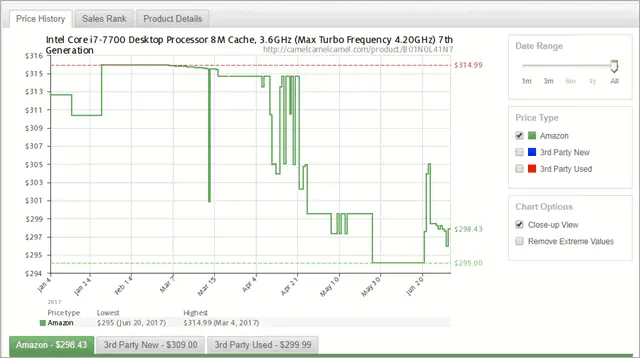 You can customize this graph according to your specific needs.
2. PriceDrop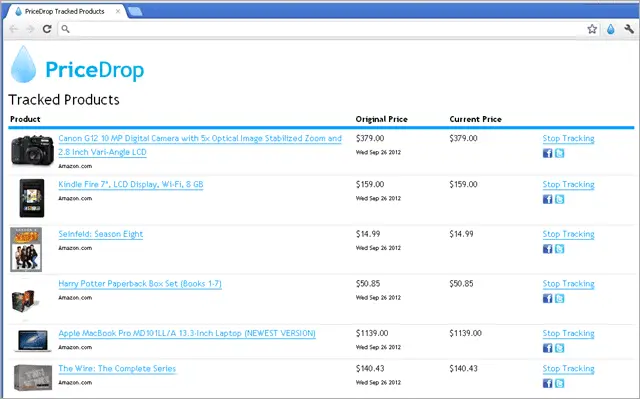 PriceDrop is an extension that you can install in your browsers like Firefox and Google Chrome. This will get alerts on particular products from Amazon or Best Buy Shops drops.
It constantly watches for future price drops to make your shopping more cost-effective.
It is the fastest real-time amazon price tracker as it checks for changes every 18 hours. It supports Amazon.com, Amazon.co.uk, Amazon.ca, Amazon.fr, Amazon.de, Amazon.it, Amazon.es and Best Buy.
How to use it
Install the extension in your browser
Go to the product's page you want to buy on Amazon and Best Buy
3. SlickDeals – Another good Amazon Price Tracker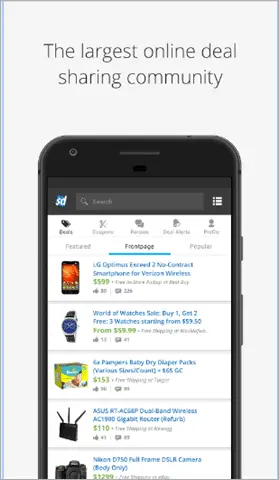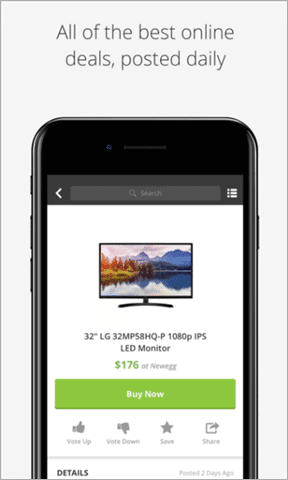 SlickDeals is an online community which informs you about great discounts, coupons, and deals that are going around the web. It has millions of users who are passionate about getting good deals, especially on this Amazon price tracker.
You will find all kinds of deals on the site; and it is posted, rated and reviewed by the community.
You are sure to get the best price deal, thanks to the efforts of teamwork and experienced deal editors of the community.
It also has a web-based price tracker which watches price stats for any product on Amazon, IKEA, Newegg, and other similar shopping sites.
It allows you to track any item not just on Amazon but also on other online retailers. It has its app on iTunes and Google Play Store for the mobile user.
4. Zingsale
If you want an alert when the price of the product that you desire goes down, then Zingsale is here for you.
It is a free Amazon price tracker and a price alert service. This is designed to save your money and make your shopping cost-effective and cheap.
It has a simple interface with a detailed categorization of products. You can track multiple products at the same time.
How it works
You just have to sign up for free.
Add products you need to your ZingSale Alert list.
ZingSale will monitor the prices of all the products you want to buy.
You will receive a notification via email when the price of something you want goes down.
5. ShoppingNotes
ShoppingNotes is a shopping bookmark site with a price watch engine. It is the simplest price tracking service on this list of Amazon price trackers.
You can easily bookmark any product you want with the image and its price. Then just customize all the bookmarks on one page.
It has a price tracker to alert you about the price variation of the product that you are tracking.
How to use it
Use your email address and just enter the product page URL.
The moment the price drops, you will get an email about the same.
6. Shop It To Me – A great option of Amazon Price Tracker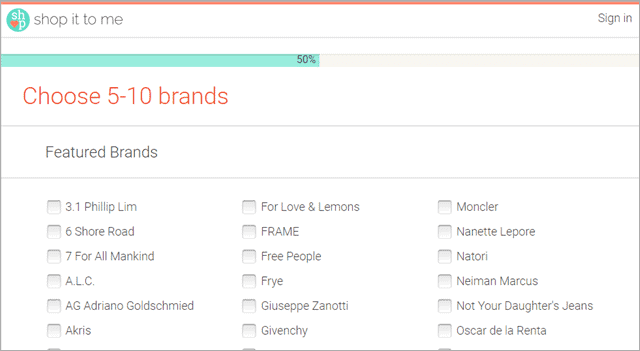 Shop It To Me is a free online service designed especially for clothes, accessories, and shoes. Input the brand name and size and you will be notified when your item will drop down in price.
This is best if you are very interested in buying designer clothes, accessories and shoes. You don't have to scroll through so many items; just the brand of your choice and size.
It searches over thousands of brands like Nordstrom, Neiman and Marcus, J. Crew to your favorite item to its best cost and size.
You can change the brand, style, and size anytime. It works with more than 150 leading online retailers and has more than four million members.
7. Notify Price
As the name suggests, Notify Price alerts you when the price of your favorite product drops down. Just enter the product URL and your email id.
It will email you an alert when the price goes down. The advanced options get more accurate results such as the kind of price drop, where it is and the price that you want it at.
8. Price Pinx
Price Pinx is a free service that alerts you about the price drop for any product you want. You can create alerts and track prices for Amazon too.
You can enjoy shopping without the need of scrolling down long web pages looking for the perfect deal. Price Pinx integrates with your online shopping experience by using a bookmarklet.
You can create a price alert with just a single click. The site will constantly monitor the price for you. It will alert you the moment the price goes down.
9. Pricegrabber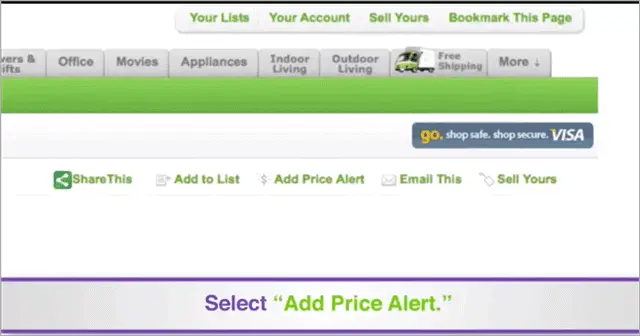 Price Grabber is a price-comparison shopping site. This website was founded by Kamran Pourzanjani and Tamim Mourad. It is a good option for Amazon product price tracking.
It has multiple partners including merchants, retailers, and sellers to provide you with a huge amount of data and a variety of products.
The company went through many stages, and finally, Connexity (formerly Shopzilla) bought it in June 2015. It also has a tool which notifies when an item's price varies.
You need to register to use this service. After you sign up, the search bar will help you get results for your desired product.
10. Price Watch – An Amazon Price Tracker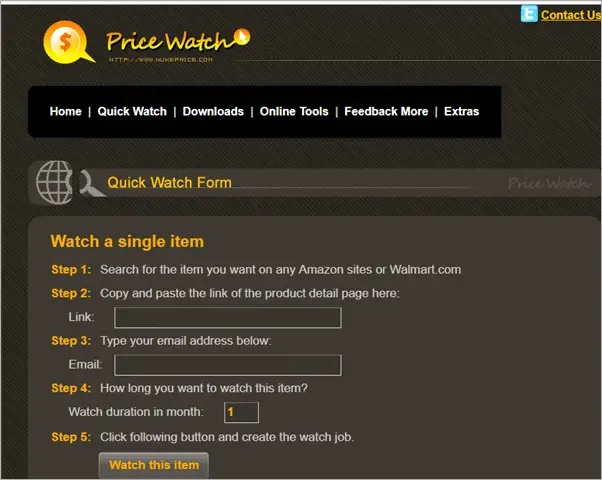 Price Watch has a huge collection of online retailers to give you the best shopping experience at your desired price.
It monitors the price of the products on Amazon and Walmart. Whenever any changes occur in the product price, it alerts you via your email.
You don't have to do much; you just have to provide the product link and your email address.
You can download it for your Windows and Android phone. It doesn't have an app for iPhone.
11. Cheap Shark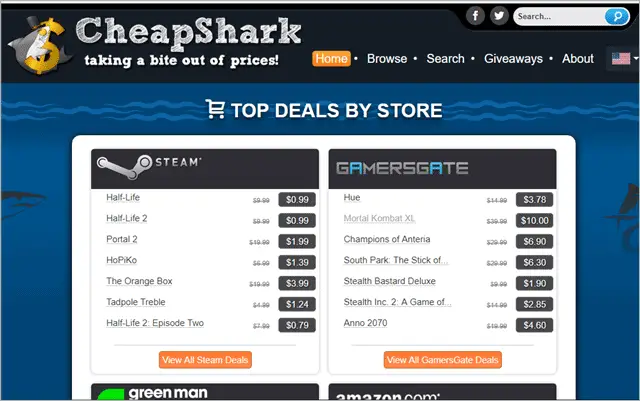 CheapShark has made it easy for gamers to find the best price for their favorite games. It has only a summation of great game deals with a price tracker.
CheapShark brings the ultimate best deals for you by collecting a huge amount of data from digital game stores including Steam, Amazon, and GreenManGaming. The website categorizes the list by store and you can filter each deal to get an accurate search result.
Starting with just six stores, CheapShark has reached a significant level with deals from several official distributors without compromising on quality.
It shows the cost of each game and all the past fluctuations in the price of that game.
When you search for your favorite game, it gives you the past and present details of the cost of that game and gives you the choice of buying it from your desired retailer.
If you want to wait for the price to drop, you can sign up to get a notification when its cost goes down.
12. Price Jump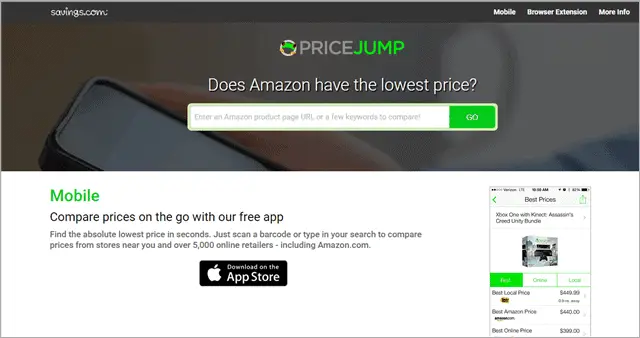 Price Jump by savings.com is an online price comparison service designed to compare price at Amazon and other similar sites. The site tells you whether Amazon has the right price or some other retailer has the best deal compared to Amazon.
Price Jump:  Does Amazon have the best price? Get this answer by dropping the product URL into the website search box, or just type the relevant keywords of your product.
Price Jump Mobile: There is an app for iPhone users where you get the lowest price while shopping in-store. You scan a bar code and instantly you are able to compare real-time prices from Amazon as well as 5000+ online retailers and local stores nearby.
Price Jump Extensions: for Google Chrome and Mozilla Firefox.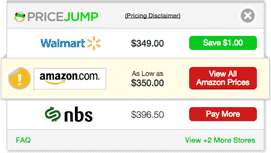 The aim of PriceJump is to get the best deal at the lowest price right in front of you, not only from Amazon but all competitive online retailers and websites.
13. Pinterest – Amazon Price Tracker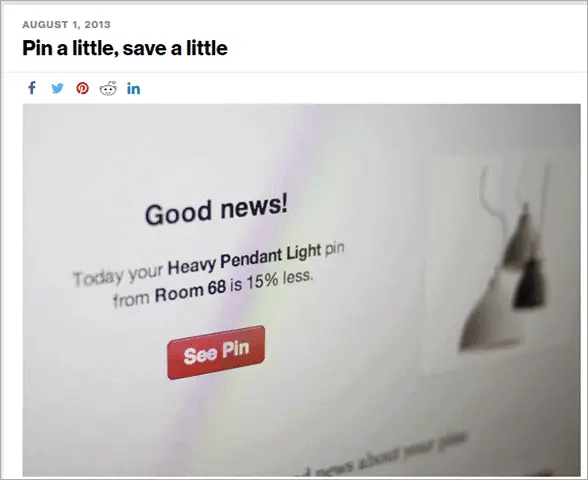 Pinterest is popular for multiple reasons especially to shop for fashionable clothes and accessories, and home materials among other things.
You get a variety of matches that fit in your collection.
However, for people who are obsessed with shopping, Pinterest has made it easy by introducing its new feature page which includes your wish list items along with their detailed pricing.
Once you pin an item to your wish list, you will be notified via an email alert the moment it decreases its price.
It monitors a good number of specific websites. For example for clothing, it has Modcloth, Neiman Marcus, Nordstrom, Overstock, REI, Sephora, and Shopify shops.
For recipes, it tracks Good Housekeeping, Leite's Culinaria, Martha Stewart Living, and MyRecipes; and for movies, it monitors Flixster, Netflix, and Rotten Tomatoes.
14. Slice – Automatic Price Tracker
Slice Price Tracker is the best in the list of price history tracker services as it not only alerts you about the right time to buy a product, you also profit after you buy something.
That means it helps you after your shopping also. Slice tracks your spending history and if finds you are eligible for some price adjustments it alerts you immediately via your email.
You can sign up with app entering your email id. It also has apps for iPhone and Android users.
Read some reviews about Slice from their official site
15. Keepa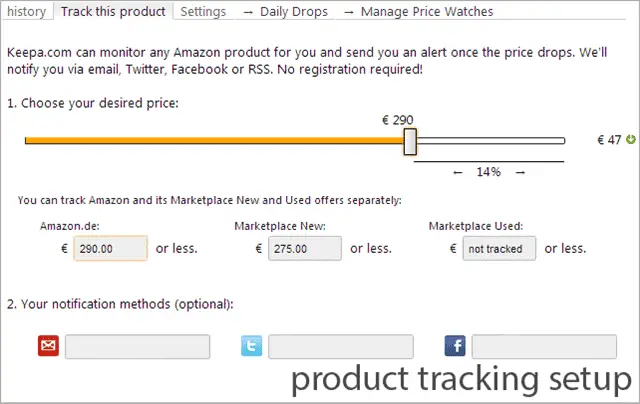 Keepa is an advanced Amazon Price Tracker with a clean and elegant interface. You just have to spend a few minutes to save on prices significantly.
The service offers a detailed price history graphs that are helpful to monitor the ups and downs of the price of a product.
It has an alert feature to notify you about any Price Drop or availability. To make an extra layer of effortless shopping, Keepa displays a history graph on each Amazon page.
You get great deals and an overview of recent price drops in Keepa.
They make sure that you get the recent information by maintaining a huge and constantly updated database. Keepa is optimized for FireFox and Chrome.
16. PriceSpy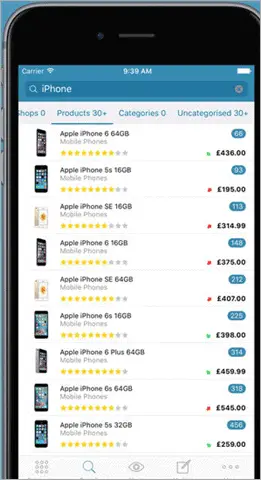 PriceSpy is another good Amazon Price Tracker to add to your list. It has all the possible categories of products including Beauty and Health, Camera & Photo, Computers and Accessories, Home and Garden, Games and Consoles, Sports and Outdoors, KIds and Toys, Phones and GPS.
All you have to do is search for your product in the search bar and get a good deal. You can also filter products that meet your needs. You can make a collection of your favorite products.
Moreover, it is a comparison service which lets you compare the price of products and get the best deal for you in the bucket.
It is web service but also available for Android, iPhone.
17. Lootr
Lootr is a simple Amazon Price Tracker which helps you get the best price drops and set the alerts for your desired item.
You can check the trending price drops and you can also filter it by day wise, week wise and month wise. Just search for your product in the search bar and you are done.
As you can see in the image that you can also search products by category including Beauty, Arts & Crafts, Toys, Cameras and much more.
18. PriceAlarm
PriceAlarm is a service that provides the best comparison of price from Amazon and eBay shops along with a Price Tracker.
The features include Item Search which allows you to search for your product through the whole database of Amazon and eBay.
Price Comparison is there to get you the best offer with just one click.
Price Tracking allows you to track the price and helps you find the best time to buy the product. Each Price drop gets registered and you can find the best shopping bargains.
Conclusion
Have we missed out on any apps to add to the list? We tried to compile a list so that you don't miss a single great deal and you will be alerted when the price of your favorite product drops.
Further Reading: Penny Pincher: 5 Ways to Save Money Shopping Online This Holiday Season