Laughter, they say is the best medicine. So if you need a dose of laughter often, here are the best comedies on Netflix that offer you a perennial supply of giggles.
What makes people laugh? Some might need intellectual stimulation, while some would want visual fun and still may prefer mindless slapstick humor. Surely comedies are challenging to compare.
Here, we have scoured the vast expanse of Netflix comedies and curated a list of the best comedies streaming on Netflix now.
From silly buddy comedies to sex comedies, from big splashy commercial comedies to all-time greatest classics and esoteric indies to dark comedies; they are all covered here.
See More: 12 Christmas Movies on Netflix That Everyone Can Enjoy
The Best Comedies on Netflix – Movies
1. The Ballad of Buster Scruggs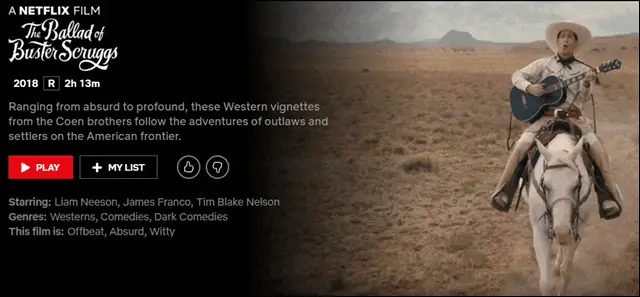 Year- 2018
Cast- Liam Neeson, James Franco, Tim Blake Nelson
Plot- "The Ballads of Buster Scruggs" showcases six stories of life and violence in the Old West and is one of the best movies on Netflix now. Each of these characters is individually captivating and funny.
Made by the best in the funny movie business currently, the Coen Brothers, this is beautifully shot. It showcases the best cinematography in a tightly written plot.
Watch The Ballad of Buster Scruggs
2. Burn After Reading
Year- 2008
Cast- George Clooney, Frances McDormand, Brad Pitt
Plot- An expelled CIA official loses his memoir to unscrupulous gym employees, who use it for their personal gain.
As the gym's manager Ted Frets, "No good can come of this," events get out of hand, in a series of hilarious encounters.
Watch Burn After Reading
3. Hot Fuzz
Year- 2007
Cast- Simon Pegg, Nick Frost, Jim Broadbent
Plot- A top London cop is assigned to investigate an inactive town, which suddenly starts to stir a series of horrifying accidents.
The creative genius behind 'Shaun of the Dead' successfully try their hands at the cop genre with Hot Fuzz. The result is a critically mocking and a thoroughly entertaining parody.
Watch Hot Fuzz
4. Happy Gilmore
Year- 1996
Cast- Adam Sandler, Christopher McDonald, Julie Bowen
Plot- In Happy Gilmore, Adam Sandler stars as a hockey player. He somehow winds up in the world of professional golf, where his angry outbursts are inappropriate. It is his wicked sticking to his goals that makes him a superstar.
He is adamant on winning the PGA tournament. He desperately wants to save his grandmother's house with the cash prize. Happy Gilmore is one of the funniest movies on Netflix.
Watch Happy Gilmore 
5. A Serious Man
Year- 2009
Cast- Michael Stuhlbarg, Richard Kind, Fred Melamed
Plot- "A Serious Man" blends dark humor with profoundly personal themes.
With every aspect of his life unfolding, a Jewish Physics professor reaches out to three religious scholars for guidance and help.
This Oscar-nominated Coen brothers film is funny, anxiety-producing, thoughtful and one of the best comedies on Netflix.
Watch A Serious Man
6. The Incredibles Jessica James
Year- 2017
Cast- Jessica Williams, Chris O'Dowd, Lakeith Stanfield
Plot- Burned by a bad breakup, a struggling New York City playwright makes a connection with a divorced app designer she meets on a blind date.
This film makes a basic storyline feel fresh because of the brilliant acting done by Jessica Williams and is one of the best comedies on Netflix.
Watch The Incredible Jessica James
7. Don't Think Twice
Year- 2016
Cast- Keegan-Michael Key, Gillian Jacobs, Mike Birbiglia
Plot- Six talented but struggling improv comics see a sudden shift in their group's dynamic after one of them lands a greatly desired gig on television.
This movie takes a sugar-coated approach to the life of a comedian. There a guaranteed tear behind every smile and laugh. Don't Think Twice is one of the best movies on Netflix today.
Watch Don't Think Twice
8. Monty Python and the Holy Grail
Year- 1975
Cast- Graham Chapman, John Cleese, Eric Idle
Plot- King Arthur and his Knights start on a bizarre, economical expedition to search for the Holy Grail. This a journey of them facing many silly obstacles.
One of the best comedies on Netflix, this film is a cult classic and you will laugh at this hilarious setting.
Watch Monty Python and the Holy Grail
9. Baby Mama

Year- 2008
Cast- Tina Fey, Amy Poehler, Greg Kinnear
Plot- When straightlaced Kate learns she cannot conceive, she decides on a unique action plan. She hires a very childish Angie to be her surrogate. This invites hilarious situations as both women prepare for motherhood.
Interestingly, Baby Mama was number one at the box office in its opening week.
Watch Baby Mama
10. The Trip to Spain
Year- 2016
Cast- Steve Coogan, Rob Brydon, Marta Barrio
Plot- Comedians Steve Coogan and Rob Brydon hog on local delicacies and celebrity impressions. All this fun is as they reconcile for a crazy road trip through Spain in this superb Netflix comedy.
The "The Trip to Spain" is witty and irreverent. The balance between banter and personal drama is well calibrated. Most conversations feel relevant as they are always tinged with existential curiosity.
Watch The Trip to Spain
11. In Bruges – A Popular Choice for The Best Comedies On Netflix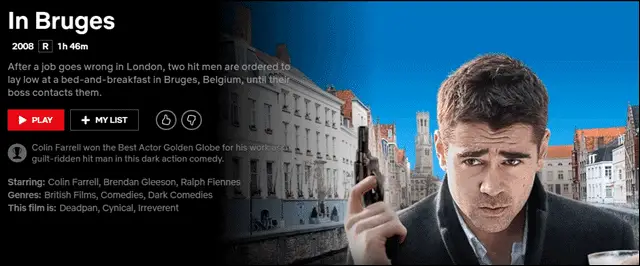 Year- 2008
Cast- Colin Farrell, Brendan Gleeson, Ralph Fiennes
Plot- Guilt strikes two hitmen in London for doing a job wrong. These two, Ray and his partner then wait for orders from their cruel boss, in Bruges, Belgium.
What follows is witty dialogues and neat performances, "In Bruges" is an enthralling blend of dark comedy and crime fiction elements.
Watch In Bruges
12. Catfight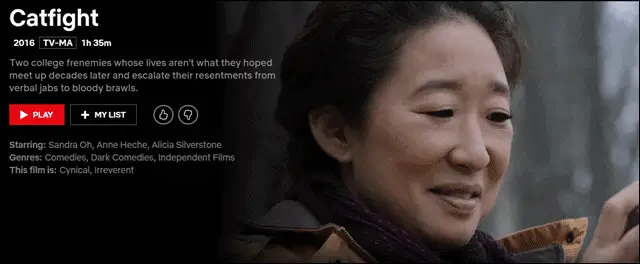 Year- 2016
Cast- Sandra Oh, Anne Heche, Alicia Silverstone
Plot- Two college frenemies, Verica and Ashley cross paths at a party. Just meeting is reason enough for their long-buried rivalry to come to life again.
As a cruel commentary on the world of today, Tukel's movie provides both thoughtful entertainment and intellectual content.
Watch Catfight 
13. Billy Madison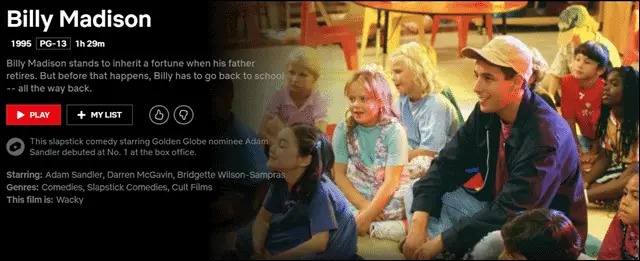 Year- 1995
Cast- Adam Sandler, Darren McGavin, Bridgette Wilson-Sampras
Plot- In this slapstick comedy, Billy Madison stands a chance to inherit a fortune. This is when his father retires. But before that happens, the condition is that Billy has to repeat grades 1-12 at school.
If you've ever had the desire to live the third grade again, this film is the next best thing to your imagination.
Watch Billy Madison
14. Bruce Almighty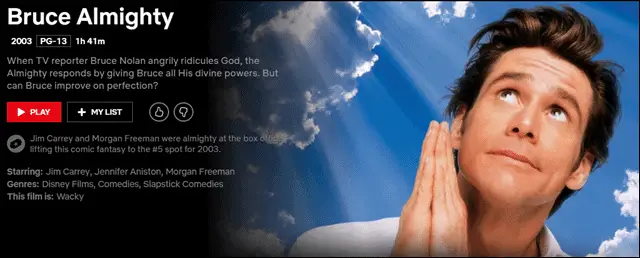 Year- 2003
Cast- Jim Carrey, Jennifer Aniston, Morgan Freeman
Plot- Imagine telling God he is not doing his job right! TV reporter Bruce Nolan is infuriated and gets mad at God. God responds by bestowing Bruce with divine powers and makes him God-Like.
As entertainment, "Bruce Almighty" gives good value: it is wacky, light, quick and diverting.
Watch Bruce Almighty
15. Pee Wee's Big Holiday
Year- 2016
Cast- Paul Reubens, Joe Manganiello, Jessica Pohly
Plot- Pee Wee is a workaholic. One day an unexpected meeting with a mystical stranger changes his life. This incident points Pee Wee towards his destiny and thus begins his first ever holiday.
Pee Wee's Big Holiday is a fun, whimsical family comedy and a timeless delight.
Watch Pee Wee's Big Holiday
16. Friday

Year- 1995
Cast- Ice Cube, Chris Tucker, Nia Long
Plot- Two homies, Smokey and Craig, smoke a dope dealer's weed. They then try to figure a way to get the money they owe to the dealer. They have until by 10 p.m. for the same night.
Watch Ice Cube and Chris Tucker doing roles that are bound to give goosebumps in this fantastic hit that is almost like a cult-movie on Netflix comedy.
Watch Friday
17. Dumplin'

Year- 2018
Cast- Danielle MacDonald, Jennifer Aniston, Odeya Rush
Plot- Here is something different to watch. To prove that she fits into the beauty standards put up by the society, Texas teen Willowdean Dickson participates in a local pageant. Is it any coincidence that it is run by her mom?
Brilliantly directed by Anne Fletcher, Dumplin' is an inspirational film for women of all age groups. The movie reinsures your faith in self-love despite what society says.
Watch Dumplin'
18. Ghostbusters

Year- 1984
Cast- Bill Murray, Dan Aykroyd, Sigourney Weaver
Plot- Three former parapsychology professors go into business as the 'Ghostbusters'. This is a unique ghost removal service that has never been before. Fear is replaced by laughs as they end up facing one killer demon in a cellist's apartment.
"Ghostbusters" is an excellent mix of fun elements, special effects, and comedy. It is one of the funniest movies on Netflix.
Watch Ghostbusters
19. The Interview

Year- 2014
Cast- James Franco, Seth Rogen, Lizzy Caplan
Plot- When a TV host and his producer get to interview Kim Jong-un. He is a fearful dictator but he is an ardent follower of their show. The CIA steps in and orders them to kill the dictator.
"The Interview" is a controversial comedy which should inspire other comedy writers to make mysterious, spooky and the most original movies imaginable.
Watch The Interview
20. Empire Records – Try This Option For The Best Comedies On Netflix

Year- 1995
Cast- Anthony LaPaglia, Debi Mazar, Maxwell Caulfield
Plot- Empire Records is a cult-comedy film about a music store. It is a classic story-line where the small shop is probably going to be taken over by a chain store. This is about its fight of survival.
With a great soundtrack and a great cast, the film is very amusing. It is a remarkably enjoyable celebration of the everlasting optimism of youth. Surely one of the best comedies on Netflix.
Watch Empire Records
21. Bachelorette
Year- 2012
Cast- Kirsten Dunst, Rebel Wilson, Isla Fisher
Plot- Three friends are asked to be bridesmaids of one of their batchmates. The trouble is in the past, they have always ridiculed her.
Highlighting the fact that humans are flawed, this Netflix comedy has some fast jokes and is realistically refreshing.
Watch Bachelorette 
22. Swingers

Year- 1996
Cast- Jon Favreau, Vince Vaughn, Ron Livingston
Plot- Mike leaves his past relationship with a girl in New York. He is now in Los Angeles to pursue his career as an actor.
Unable to forget her, he feels abandoned and is constantly sad. That's why his friends try to up his social game by taking him for bar-hopping in hidden clubs.
Watch Swingers 
23. Swiss Army Man

Year- 2016
Cast- Paul Dano, Daniel Radcliffe, Mary Elizabeth Winstead
Plot- Hank is deserted on a stranded island wondering if he'll ever be able to go home. Things change for him when he begins to talk to and becomes friends with a corpse. He has found him on the shore.
With a creative concept and never seen like before cinema, "Swiss Army Man" is a cultural phenomenon that is fun and profoundly affecting.
Watch Swiss Army Man
The Best Comedies on Netflix – TV Shows
1. The Office (U.S.)

Year- 2012
Cast- Steve Carell, John Krasinski, Jenna Fischer
Plot- This hit comedy chronicles the shortcomings of dissatisfied office workers, They are led by deluded boss Michael Scott. This is at the Dunder Mifflin paper company.
Balancing the funny with the heartfelt, you'll approve of "The Office" if you've ever hated your boss, your job or both. The Office is one of the best comedy tv series on Netflix.
Watch The Office
2. New Girl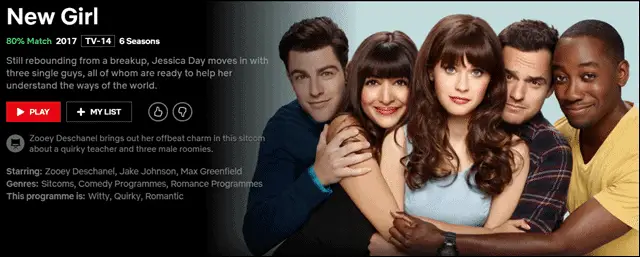 Year- 2017
Cast- Zooey Deschanel, Jake Johnson, Max Greenfield
Plot- Still trying to get over her breakup, Jessica Day moves in with three single guys. They help her understand the ways of the world.
"New Girl" is an emotional and funny TV series which will bring an instant smile to your face. Without catering to cheap tricks, forced laughs, and irritating punchlines, New Girl is definitely one of the best comedies on Netflix.
Watch New Girl 
3. Parks and Recreation – Best Comedies on Netflix

Year- 2015
Cast- Amy Poehler, Rashida Jones, Aziz Ansari
Plot- In this Emmy-nominated Netflix comedy, a man who works with the rural Parks and Recreation Department is full of energy and ideas but decelerated by bureaucracy.
Constantly buoyed by strong character work and an overarching optimism, "Parks and Recreation" has carved its spot among the most quirky and well-loved comedies.
Watch Parks and Recreation
4. Orange is the New Black

Year- 2018
Cast- Taylor Schilling, Kate Mulgrew, Laura Prepon
Plot- An affluent New Yorker ends up landing in a women's prison when a past crime catches up with her. In this TV series which won the prestigious Emmy awards.
With an engrossing plot and a story that will leave you captivating, "Orange is the New Black" mixes humor with brutality and is one of the best comedies on Netflix.
Watch Orange is the New Black
5. Arrested Development

Year- 2018
Cast- Jason Bateman, Portia De Rossi, Will Arnett
Plot- It's the Emmy winning story of an affluent family that lost every single thing they had and are suddenly penniless. Their son has no choice but to take care of them by keeping them all together.
With very well-defined and real characters, "Arrested Development" is a brilliant comedy with no obvious formula other than being masterfully written.
Watch Arrested Development 
6. Lovesick
Year- 2018
Cast- Johnny Flynn, Antonia Thomas, Daniel Ings
Plot- In his search for true love, Dylan finds Chlamydia. Along with friends Evie and Luke, he gets in touch with all the girls he's had physical relationships with, to disclose the bad news to them.
With a funny plot line, brilliantly written characters, and exciting twists – the youth-oriented show "Lovesick" will leave you laughing hysterically and is one of the best comedies on Netflix.
Watch Lovesick
7. Cheers
Year- 1992
Cast- Ted Danson, Rhea Perlman, George Wendt
Plot- Sam Malone, an ex-baseball player is now a bar owner. He operates a salon that's always filled with strange customers and even more bizarre working staff.
This hugely successful Emmy-winning Sitcom has a stellar cast. It is perfect since it has something for everyone. You will have a tough time choosing your favorite character.
Watch Cheers
8. Unbreakable Kimmy Schmidt

Year- 2019
Cast- Ellie Kemper, Jane Krakowski, Tituss Burgess
Plot- A woman who has lived in a cult for 15 years is rescued. She lands in New York City. She must experience a world she didn't think existed anymore.
This brilliant show shines through in its originality and tactfully balances humor and satire. This absolutely endearing show is one of the best comedy TV series on Netflix.
Watch Unbreakable Kimmy Schmidt
9. Friends

Year- 2003
Cast- Jennifer Aniston, Courteney Cox, Lisa Kudrow
Plot- This hit sitcom showcases the high-spirited problems of six twenty-something friends as they sail through the pitfalls of work, love, and life in 1990s Manhattan.
"Friends," a smash hit, is the recipient of many Emmy and Golden Globe Award nominations, and one of the best comedies on Netflix. The series made stars of its six leads and finished in primetime TV's top 10.
Watch Friends
10. The Inbetweeners

Year- 2010
Cast- Simon Bird, James Buckley, Blake Harrison
Plot- This rib-tickling series depicts the story of four young boys as they try and fail to deal with adolescence and the pitfalls of growing up.
"The Inbetweeners" is a fresh approach to comedy – hilarious, but not over the top stupidity.
It highlights the emotions one goes through adolescence; with broad laughs, likable characters, and candor.
Watch The Inbetweeners
11. Master of None – Best Comic Show for Millennials
Year- 2017
Cast- Aziz Ansari, Noel Wells, Eric Wareheim
Plot- "Master of None" depicts the personal and professional life a thirty-year-old New York actor, Dev.
In a hilarious turn of events, he tries to get into a relationship first. He then gives his career a fresh start with the help of his group of friends.
Watch Master of None
12. Grace and Frankie
Year- 2019
Cast- Jane Fonda, Lily Tomlin, Martin Sheen
Plot- Characters Grace and Frankie find out that their respective husbands are more than just work partners.
The two bond and try to survive through the circumstances together in this Emmy nominated Netflix comedy.
Watch Grace and Frankie
13. Lady Dynamite
Year- 2017
Cast- Maria Bamford, Fred Melamed, Mary Kay Place
Plot- In the TV series "Lady Dynamite," actor Maria Bamford portrays the story of her own life.
The narrative revolves around the disorganized life of a woman and how she loses and then finds herself back.
Watch Lady Dynamite
14. Big Mouth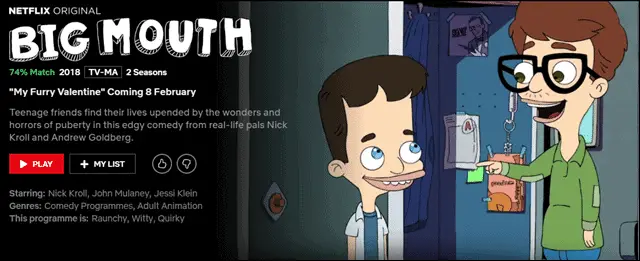 Year- 2018
Cast- Nick Kroll, John Mulaney, Jessi Klein
Plot- Two teenage friends are at a fix as they find their lives change drastically as they reach adolescence.
"Big Mouth" is an edgy comedy, uses a splendid mix of pop-culture with an added layer of maturity. This is one of the best comedies on Netflix.
Watch Big Mouth 
15. Great News
Year- 2018
Cast- Briga Heelan, Andrea Martin, Adam Campbell
Plot- A TV news producer's life encounters embarrassing situations when her mother joins her office for an internship.
With likable characters and a hilarious cast, "Great News" is one of the best comedies on Netflix.
Watch Great News
16. Schitt's Creek

Year- 2018
Cast- Eugene Levy, Catherine O'Hara, Daniel Levy
Plot- "Schitt Creek" is a story of a rich family losing all the money they have and forced to live in a small town.
Sharp and steady pace, a killer cast with fresh faces and offbeat, quirky humor makes "Schitt Creek" one of the best comedies on Netflix.
Watch Schitt's Creek
17. Crazy Ex-Girlfriend
Year- 2018
Cast- Rachel Bloom, Vincent Rodriguez III, Santino Fontana
Plot- "Crazy Ex-Girlfriend" is a commentary on human relationships. The lead character tries to win back her ex-boyfriend who has left her ages ago.
Full of musical numbers and original content, this TV series is funny, entertaining and gives a comforting message to the audience.
Watch Crazy Ex-Girlfriend
18. American Vandal
Year- 2018
Cast- Tyler Alvarez, Griffin Gluck, Jimmy Tatro
Plot- Peter and Sam's first documentary is a success and they take up a new mysterious case at a school in Washington.
"American Vandal" is a crime satire that inspects the fallout of a high school prank which leaves a lot of faculty cars vandalized. It is one of the best comedy TV series on Netflix.
Watch American Vandal
19. Glow
Year- 2018
Cast- Alison Brie, Betty Gilpin, Marc Maron
Plot- Set in 1980s L.A., "Glow" is about the personal and professional lives a group of women who are wrestlers.
A refreshing story, excellent ensemble, stellar writing and witty, this TV series is one of the best comedies on Netflix.
Watch Glow 
20. Trailer Park Boys – One Of the Best Comedies On Netflix

Year- 2018
Cast- Mike Smith, John Paul Tremblay, Robb Wells
Plot- Three friends who are serial criminals try to get their lives together after being released from jail.
Daring topic and a brilliantly written plot, certain hilarious dialogues from "Trailer Park Boys" will stay with you even after you've finished watching the show.
Watch Trailer Park Boys
21. Documentary Now

Year- 2016
Cast- Fred Armisen, Bill Hader, Helen Mirren
Plot- This hilarious TV series mocks high-profile documentaries about fraudulent people and events.
Possessing an unusual sense of humor, this mockumentary – as you can call it – will make you laugh hard.
Watch Documentary Now
22. Shameless (U.S)
Year- 2018
Cast- William H. Macy, Emmy Rossum, Justin Chatwin
Plot- This drama-comedy is a story of six children from a family in Chicago who find it difficult to deal with their alcoholic father.
With lovable characters and an intriguing, crazy plot – "Shameless" is sure to take you on an emotional roller coaster.
Watch Shameless
Conclusion
Irrespective of what kind of comedies you like to watch, you will find your favorite type on Netflix. We have listed the best comedies on Netflix for you above, and here are our preferred picks.
If you're looking for award-winning films, you can watch A Serious Man and Cheers. Watch Glow, Crazy-Ex Girlfriend and Grace and Frankie with your girl gang. Action? Hot Fuzz and In Bruges. Chick flicks, anyone? Bachelorette and Dumplin' and of course Friends you can see at any given point of the day; it will surely leave you in splits.
Further Reading: The Complete Guide to Improving the Streaming Quality in Netflix