When nostalgia hits you hard, all you want to do is curl up on the couch and wallow in it. Do you want to call over an old friend and go back to your childhood phase where you used to watch the old cartoons? This may get you thinking of how and where to watch old cartoon shows? YouTube and Vimeo are options, but you may not always get lucky with those. 
However, some websites allow you to watch animated series, animation shows, anime online series, and old school cartoon shows online for free.
22 Best Sites To Watch Old Cartoons
The internet is a beautiful place and it provides tons of options to get your hands on classic cartoon series. While most of them offer child content without charging anything, some popular choices like Netflix require a monthly subscription. Also, if you want to explore foreign shows, like Japanese and Korean cartoons, you can try out the subtitles sites and watch them with ease.
Our list consists of the top websites that enable you to watch your favorite old cartoons online along with animated shorts and animated series. 
1. ToonJet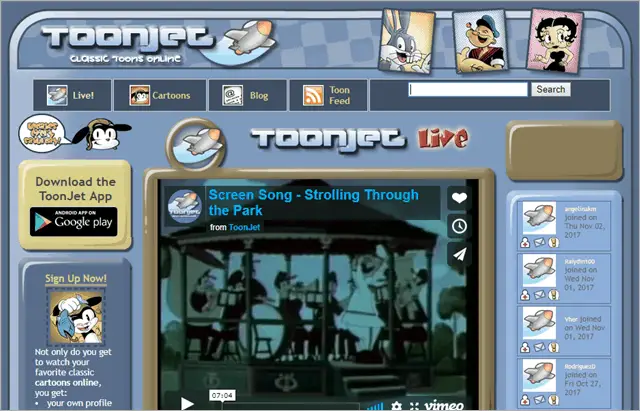 ToonJet is a popular website to search for your favorite old cartoons that you are likely to miss a lot today. The interface is very user-friendly. You can watch shows without any prior registration, but if you do register, you get access to the community. Furthermore, you can share feedback and rate cartoons.
As a registered user, you also get Toonjet's free newsletter and your custom-made profile. You get to watch awesome kid shows like Betty Boop, Felix, Popeye, Superman, and Tom & Jerry.
2. Disney Junior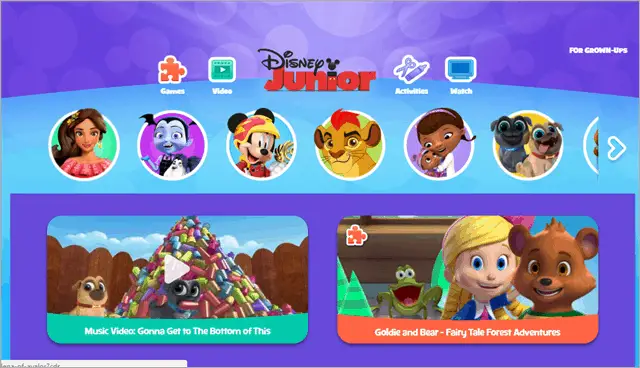 If you are an ardent fan of old Disney and like to watch old Mickey Mouse, then it's the Disney Junior website for you. Everything is free, and the small icons of cute characters are fun to click on.  Furthermore, if you are a fan of a particular character, then you choose to only see all the series that have it.
So pick on your favorite Disney characters like Aladdin, Simba, Mickey Mouse, and Moana and have fun. The old cartoons website also has games, activities, and lots of other entertainment.
3. Super Cartoons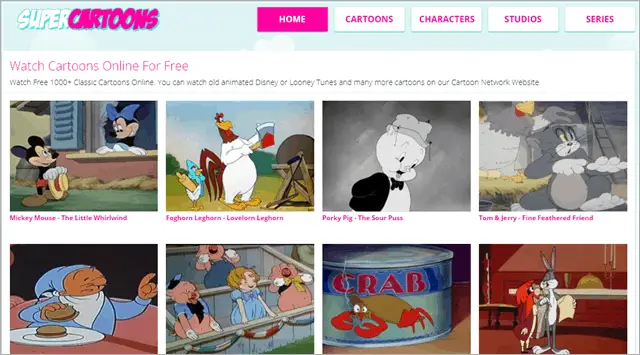 Super Cartoons is one of the best sites to find old cartoons. The interface is simple and easy to get used to. You can watch the cute ones from Disney and Looney Tunes, Pokemon, The Adventures of Jimmy Neutron, Hey Arnold!, among others.
Some of the trendy ones you find on this website are Daffy Duck, Tom & Jerry, The Pink Panther, Grim Adventures, and even Sylvester. Moreover, you can watch more than one thousand cartoons for free.
You have options to choose from Cartoons, Star Characters, or shows by Studios like Walt Disney, Warner Bros, and Universal Studios.
4. Watch Cartoon Online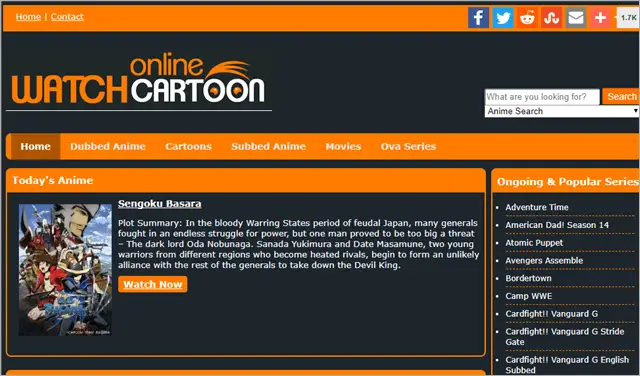 Watch Cartoon Online has a massive resource of dubbed anime, subbed anime, old cartoons, and all the favorite classic ones that you can think of. On the rightmost panel, you see the ongoing and popular series list whereas the main page and middle area cover all recent releases.
Furthermore, you can search for your imaginary friends by their genre. The interface is very user-friendly and helps you find the cartoon you are looking for easily. Users will come across a great cartoon collection on the site and some rare gems as well. 
5. Internet Archive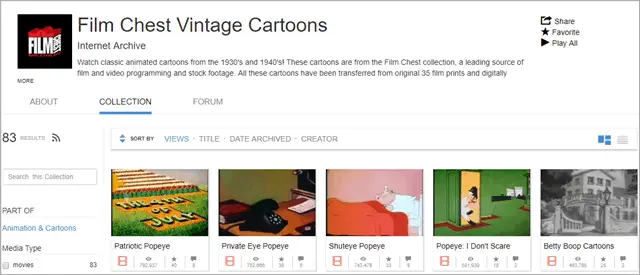 The Internet Archive does what its name says. It has an archive of all the websites created since the start of the internet. The oldest cartoon shows from the 1930s and the 1940s are also a part of this archive.
You can find cartoon episode/s from the Film Chest collection, which is a significant source of film and video programming plus stock footage. In addition, you have the liberty to filter the lists of cartoons search by choosing the year, topic, and subject.
One can filter by the creator's name like Max Fleischer, Castle films, and Norman Marer. So, visit the website, watch the best old cartoons, and have fun.
6. Kids WB
Watching cartoon shows on WB Kids was one of the most memorable times of childhood for many. The site has episodes of your favorite childhood cartoons, including Scooby-Doo, Looney Tunes, Tom & Jerry, Cowardly Dog, and Teen Titans.
The all-time favorite Batman and DC Super Friends are also on the list of cartoons. Besides classic and old cartoons, WB Kids also has games and comics to be the full-fledged pack for you. You will also spot some recently released famous cartoons as well as a movie. 
7. Toonova
Toonova boasts a professional-looking user interface where you can watch old cartoons for free. Apart from having a tremendous resource for best classic cartoon shows, Toonova also has full cartoon movies, popular series, and regular episodes.
On the right panel, you can see the turning cartoons with the number of episodes mentioned. In addition, you may also find some options like Korean drama, read Manga, and dubbed anime. 
8. Boomerang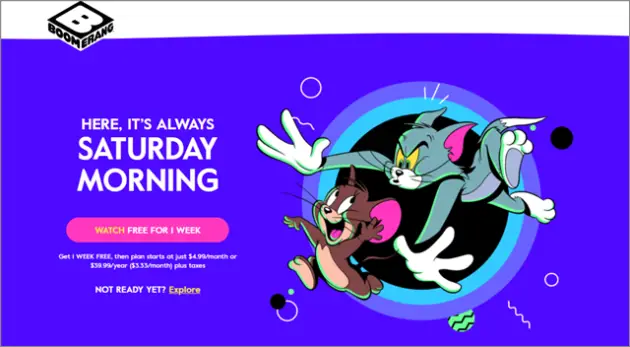 Boomerang is one of the top-notch sites to get your hands on old cartoons and it boasts tons of exciting content for all cartoon lovers. The website is a paid streaming service available only to the United States audiences only and is owned by Warner Bros.
You can watch timeless classics such as Tom and Jerry, Garfield, Scooby Doo, Bugs Bunny, and several others. 

Their app is available for all Android and iOS devices. You can avail of the subscription for $5 per month. Users will also find their favorites like Looney Tunes, Popeye, and The Jetsons. Boomerang includes more than 4000 episodes to indulge in and is a must-visit for all cartoon fans.
9. DC Kids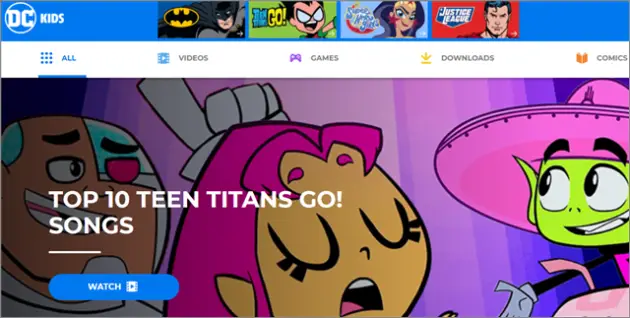 DC Kids is an exceptional source for watching old cartoons and is WB Kids' sister website. The interface and look is similar and you can find a limited number of shows available. The list is updated and refreshed every now and then, so be rest assured to stumble upon new names every few days.
DC Kids is particularly known for hosting spinoffs of the content produced by DC comics. Therefore, the site would appeal to all die-hard DC comics fans. Apart from cartoons and comics, you must check out the website for playing some exciting games specially meant for the little ones.
10. TopCartoons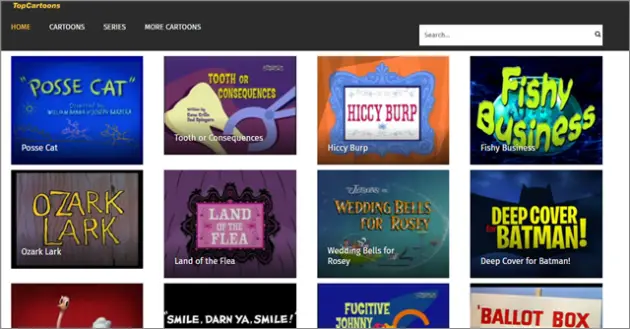 You can go to TopCartoons.tv to watch old cartoons and fun shows from your PC's browser. The best part about TopCartoons is their massive library and the variety in the collection. From good-old classics to new favorites, you will find them all. They have Batman, The Pink Panther, and Top Cat in the most popular section. The other exciting picks include Scooby Doo, The Jetsons, and Merrie Melodies.
The search box on the homepage is highly functional and comes in handy for quickly looking up the database to find what you want. You cannot stream the site's content on TV apps and there are no smartphone apps too.
11. Netflix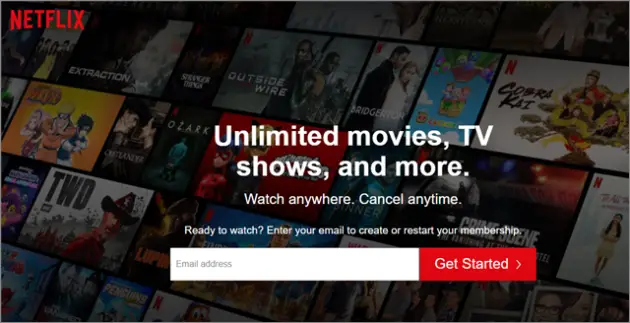 Everyone's go-to streaming service, Netflix, hoards an excellent collection of binge-worthy content and you will find all the old cartoons as well. If you already subscribe to the site, it's time to hunt for old classics and watch cartoons online that are available for U.S. residents. 
We found Super Mario Bros, Inspector Gadget, and Danger Mouse among many other superlative titles. They update their collection quite frequently and the availability also depends on where you reside. 
We came across Sonic the Hedgehog, Duck Tales, Transformers, Noddy, and Hotel Transylvania on the traditional platform as well. The site boasts tons of binge-worthy content for adults as well. 
12. YouTube
YouTube undoubtedly is the best video-watching source to watch cartoons online, but did you know you can view old cartoons on the website too? It hosts content from plenty of official channels and provides full-length cartoons for free. You can get your hands on full episodes of all the classic cartoons without spending a dime. The massive collection of amazing old-school cartoons will leave you spoilt for choice. 

Road Runner, Popeye, the sailor, Mickey Mouse, Superman, or Looney Tunes; which one will you watch first? They also have Woody Woodpecker, Donald Duck, Bugs Bunny, Pokemon, Tweety from the Looney Tunes and Merrie Melodies series of animated cartoons, and some amazing new entries as well. 
Although underrated, YouTube gives you most of the shows available with Cartoon Network from the yesteryears. Simply search well and you'll be good to go.
13. Amazon Prime Video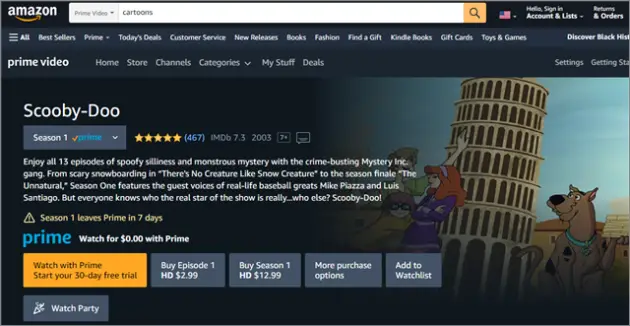 Amazon Prime Video includes all the most-loved old cartoons and you will be surprised to see some rare gems with them as well. If you've bought the streaming service's monthly or annual subscription, it is a good idea to watch cartoons online. If a particular cartoon is there in the library, but about to leave in the near future, the site mentions it explicitly. Watch Thomas the Tank Engine and SpongeBob SquarePants online and relive your childhood memories.
The subscription fees vary depending on your location. If you are a U.S. citizen, pay $13/month or $120 per year to get full access to the streaming service's content. Enjoy watching Popeye, Dora the Explorer, and a dozen other classic favorites. 
14. Cartoons On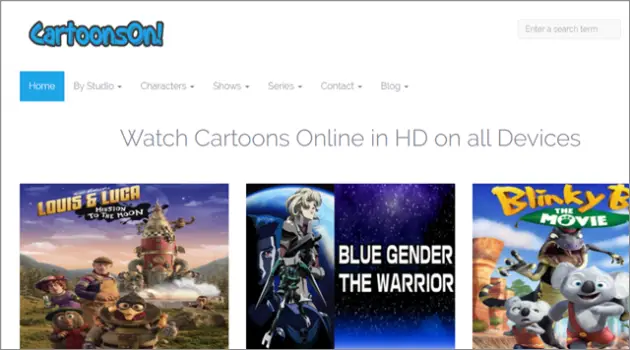 Cartoons On is one of the best free sources to view your favorite old cartoons online. All the content is streamed in HD quality and the massive library will leave you impressed. Cartoons On's expansive collection keeps viewers hooked to the site without having to look elsewhere for meeting their needs. You will find both new and old ones, including some rare picks.
The interface is user-friendly and easy to navigate while you watch cartoons online. You can get access to the entire content on your smartphones as well. The website has divided cartoons into categories, so you can hunt according to the name of the show, channel, cartoon characters, genre, year of release, or by entering the name of the series. You can trust Cartoons On to satisfy your cartoon cravings. 
15. Go Go Anime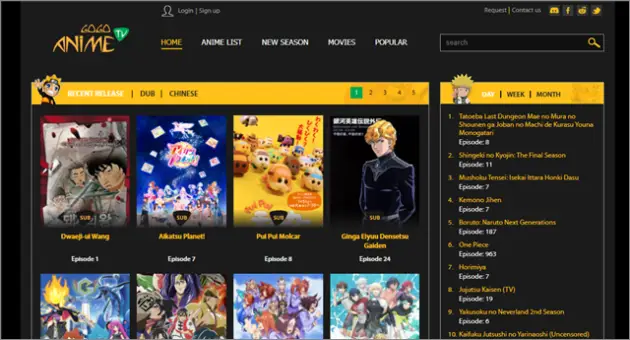 Talking of old cartoons, we cannot have a list without mentioning a couple of top websites for getting your hands on the best anime cartoons and series. Go Go Anime is a popular and secure choice that offers all its content for free and is the best way to watch cartoons online. The site's layout is gorgeous and we particularly loved the dark-themed background. On the homepage, you will see some recent releases and popular picks belonging to the anime and cartoon niche.
To hunt for your favorite cartoon shows, simply go to the search bar and type in what you are looking for. You will see the results appear in alphabetical order. You can also skim through the 'anime list' to stumble upon interesting choices. It is the best place to get a list of all the worth-a-watch anime under one roof. Everything on the site is dubbed in English. 
16. KissCartoon
KissCartoon boasts the most exquisite-looking interface among all the names we have here. The colorful layout straight away takes you to the cartoon series they have, along with the number of episodes mentioned on the thumbnail itself. You can pick the old cartoons you wish and watch cartoons online. The choices available are plentiful and you will end up spending more time on the site than you planned. 
You can use filters to search through the impressive cartoon library. The categories are genres, movies, series, newly released, and ongoing content. KissCartoon includes advanced search options as well. Since you get high-quality cartoons and an excellent playback speed, you have to bear with the incessant advertisements. You do not have to sign up. Simply visit the site and watch old cartoons belonging to the fantasy, sci-fi, comedy, and adventure genres.
17. Cartoonito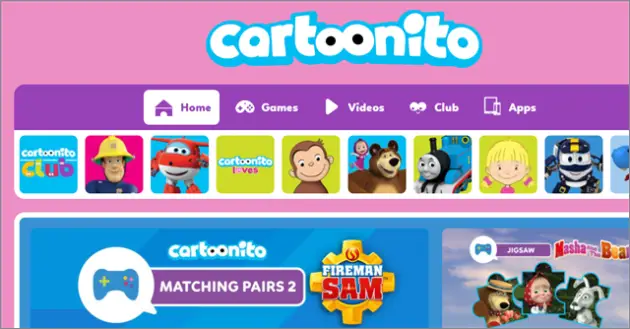 An all-in-one entertainment website for children of all ages, Cartoonito will keep the young ones glued to their devices. The site has new and old cartoons for kids in a colorful display that especially appeals to the little munchkins. Cartoonito consists of useful learning material that can be used to teach kids interesting life concepts. There are animated cartoons, songs, and a bunch of other exciting activities that you can do with Cartoonito.
You can play cartoon games and access all the site's content for free. There is no sign up required to enjoy Cartoonito's offerings. The website's educational flair combined with light entertainment makes it one of the best online cartoon-viewing options for the younger lot. Another unique feature about Cartoonito is their club that has fun skits, plays, and jokes performed by the little ones, for the little ones.
You can leave your children in front of the PC screen without worrying about them hovering on to anything not meant for their age.
18. Cartoon Network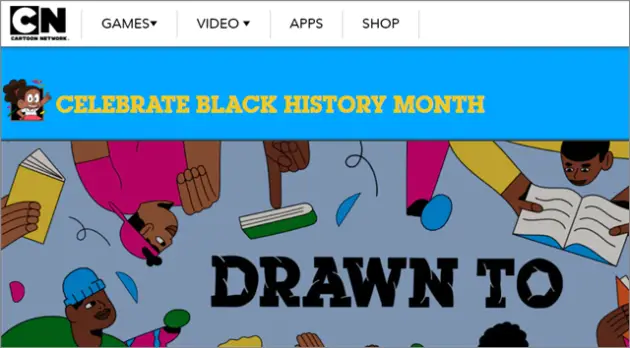 Mentioning anything to do with watching old cartoons without having to speak about Cartoon Network will not be right. The most-watched cartoon TV channel offers its golden content to online viewers for free. You can stream all your favorite cartoons and series of the yesteryears and every other show that was aired on the channel. Cartoon Network uploads fresh content on their website daily. Currently, they have over 30,000 cartoon videos and the number is only increasing as we write.
The website feature, which stands out the most, is its advanced filter options. Users can type in the name of their most-loved character in the search box and the results will display all the shows with the character. The site does not include any pop-up ads, thereby making it one of the best. Go to the website to view all the films, shows, and cartoons produced by Cartoon Network and get your hands on content that will be thoroughly enjoyed by all generations.
19. Nickelodeon – rugrats
Yet another favorite cartoon channel we've grown up watching, Nickelodeon has a website that makes cartoons available for free. Users can access everything that's available with them without signing up and in HD quality. They boast a vast array of new and old cartoons and all that is a part of the TV channel. It is the best online platform for young ones to find content meant for them and even indulge in playing some fun games.
Search for what you want and view TV shows, series, and your all-time favorite cartoons. Nickelodeon is an excellent source for keeping the children engaged in activities. The colorful display and vivid interface keep them entertained. You can listen to the radio on the site as well. Nickelodeon includes content produced by the channel only.
20. Anime Planet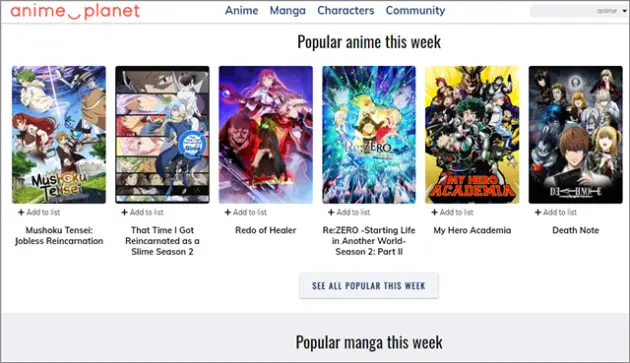 Anime Planet is one of the best sites to watch old cartoons and the most popular anime series. You will come across a superlative collection here and we love the site display. The names of the anime are laid out in colorful thumbnails with cute poster-sized pictures. Skimming through the library is made easy with different category headings. Anime, Manga, and Characters are the top three sections where you'll find most of the content. They also showcase the popular anime for the running week, which is an excellent way of deciding what's trending at present.
You can use the search bar to look for series by tying in the names of your favorite characters. The website provides manga recommendations as well. You can watch any show right as you visit Anime Planet or if you wish to view them later, sign up with the site and start creating lists. The interface is easy to navigate and includes a separate list of the newest additions to the website.
21. Fox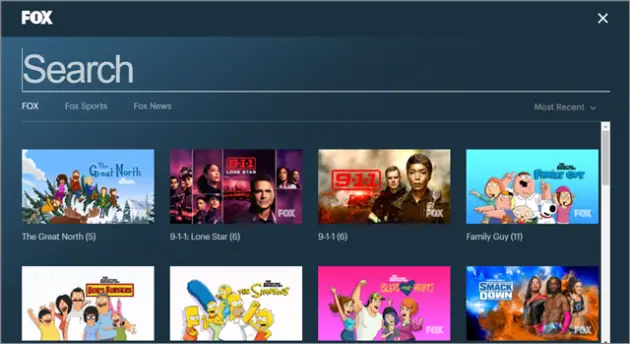 We are sure you have resorted to Fox's TV channel for meeting your entertainment needs. Their official website consists of all the content that is a part of the channel, including tons of new additions. The site allows users to watch old cartoons, shows, and series for free during the first hour only. After 60 mins are over, you will have to buy the subscription. Users particularly have a great time hovering from one page to another on Fox and everything you spot is in HD quality. 
Surfing Fox is fun and you will also come across all the latest cartoons on the website, which are currently airing on the channel. Their library boasts a limited number of cartoon series, but the archived collection is fantastic. They have not missed out on any popular name, thereby ensuring dedicated users stay with them. The Simpsons, Bob's Burgers, The Great North, or Family Guy, which one will you binge-watch first?
22. Hulu
The last entertainment website to make it to our list is Hulu. It offers high-quality content and you can watch tons of old cartoons, acclaimed series, and the most popular TV shows of all time. All of the legal streaming source's content is accessible with simple clicks, which makes Hulu a go-to option for many. There are certain regional barriers. People residing in the United States, UK, and many other countries get full access. In case Hulu is not available in your region, you can use a VPN to avail of the site's offerings.
Hulu boasts an excellent film collection as well. Each visit to the website will leave you spoilt for choice. From new releases to classic favorites, you get it all under one roof. The website also produces original content that is worth watching. The collection of cartoons is decent and you can get your hands on all the past and current seasons. The first month is free and you have to pay for the subscription after 30 days are over.
Conclusion
Watching old cartoons online is an exciting trip down memory lane. You can make the younger generation watch what you've grown up watching and make them a part of your childhood. The evergreen content that was created in the yesteryears does not seem to fade away. Thanks to the internet, the above-listed websites provide all your classic favorites for free and in HD quality. 
You can also check out anime, the most popular cartoon series of all time, the shows that are currently airing on the entertainment channels and so much more. Some websites go a step further and provide fun activities and games for children. These are ideal for kids looking for a break from their daily study routines. So, watch your favorite old cartoon shows online and let the cartoon industry strike nostalgia. 
(Article Updated on 20th April 2021)