Proxy servers' main aim is to allow access to those websites which are geographically restricted for your location. It also serves as an intermediary in the flow of your internet traffic and helps you to hide your real location.
Proxy sites help you bypass content blocks. For example, if you are physically sitting in New York and you want to access some data that is only available in the United Kingdom, then you would need a proxy server to view it.
What Is The Difference Between A Proxy Server And a VPN?
There is a difference between a Proxy Server and a VPN channel. Although their primary purpose is somewhat similar, that is to hide or show your location differently; it has very different security implications.
If you already know the difference between these two, you can directly jump to the list below.
Proxies are best if you are doing low-risk tasks like accessing location-restricted YouTube videos or bypassing IP-based restrictions. It only hides your IP address and does not encrypt your internet traffic data as the VPN does.
While using a proxy server, your data is available to hackers or your ISP. It's easy for some malicious Javascript element to reveal the true identity. Hence it's advisable to follow good Windows 10 security practices.
Moreover, Proxy servers are application-based (web browser or other proxy-compatible apps), unlike VPN that is set up on the whole device. This includes its operating system, online games, and any application running on your computer.
Finally, the entire internet traffic is encrypted by the VPN, and you can use it while doing work that involves high risk and intense privacy concern.
See More: How to Set Up a VPN Connection on Android and the Best Android VPN Apps
15 Best Proxy Servers Available Today
1. Hidester
Hidester allows you unblock websites with its free proxy servers across the US and Europe with no interference. The SSL saves you from the malicious scripts and also from hackers attempting to steal your identity on public WiFi connections.
When you are on public connections, it adds an SSL layer to all the non-SSL websites for safe browsing. That is why Hidester makes it easy to avoid being snooped on. It is one of the best proxy servers on the web today.
Furthermore, you are safe from the government, multinationals, or even cybercriminals. If you choose their proxy list that is thoroughly tested, you can control the overall online privacy.
2. Hide Me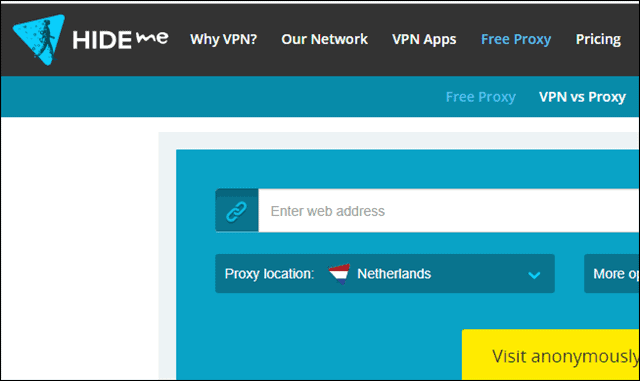 Hide.me is another option to keep you anonymous throughout the web. In the URL box, enter the website link and select your preferred location from the drop-down menu.
Locations covered by Hide Me are Germany, Netherlands, and the U.S. Whenever you want, you have the option to enable and disable the cookies, scripts, and encryption.
Moreover, all the online downloading clients also support it, so it gets easy to use Hide Me by anyone.
It does not store any IP addresses or logs and supports all the major protocols, including PPTP, L2TP, IPsec (IKEv1 and IKEv2), OpenVPN, SoftEther, SSTP, and SOCKS.
3. Proxy Site
Proxy Site is a perfect way to protect your online privacy and keep others away from checking on you. The gigabit network quickly allows you to view web pages and surfing is protected by SSL encryption.
If your boss or government has blocked you from accessing your favorite websites, you can bypass those filters with the Proxy site. These proxy servers are available in the U.S and Europe.
The URL box gives you options to particular websites within the proxy like YouTube, Facebook, and Reddit.
Know more about Proxy Site here
4. VPNBook
The UI of VPNBook is quite straightforward, with no glitters and extras. VPNBook offers the perfect way to unblocking content from websites like YouTube and Facebook.
The 256-bit SSL encrypted traffic helps you bypass government censorship. Furthermore, it is a web-based proxy that needs no software installation.
This best proxy server offers locations to choose from via VPNBook are the US, UK, and Canada.
5. Whoer VPN
The thing that sets Whoer a bit apart from other contenders is the fact that you can choose this as the best proxy server for yourself. Or, you simply can manually pick one from seven locations.
Unfortunately, you can not get rid of the ad box at the top of the webpage asking you to go for the paid version that $4.00 per month.
Whoer website has an important note written that a web proxy does not encrypt your traffic. Hence, to get full anonymity on the web, you will have to go for a VPN too.
Know more about Whoer VPN here
6. Megaproxy
Secrecy is a way more advanced with Megaproxy. Firstly, it comes with some unique set of options than other web proxies.
Secondly, you can disable or enable the browser and OS user-agent identification, anytime. Thirdly, you cannot submit forms or login into remote websites, nor you can download files more than 200K.
Although the service is free, it has limitations in these set of services. You cannot stream media, download movies, block JavaScript. Every 5 hour, you can only view up to 60 web pages/images.
You can easily opt for this as the best proxy server.
Know more about Megaproxy here
7. Luminati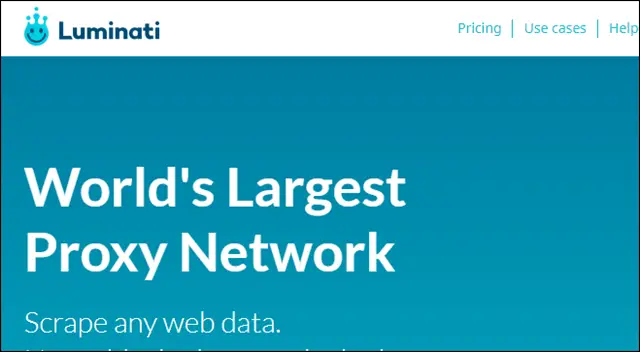 Luminati, as a proxy server, has millions of residential IPs. You have the option to switch between shared proxies, data-center private proxy, residential IPs and, or mobile IPs.
Besides, there is a 99.9% network uptime with a real-time network status monitor. Luminati also represents an advanced state of proxy servers.
If you want to cover your tracks and gett access to some blocked content quickly, Luminati is one of the best proxy site.
8. Zend2
Have you noticed that many proxy sites do not support YouTube and Facebook, and that's where Zend2 comes in.
It is much like any other proxy servers you find on the web. The only exception is that it gives you the liberty to watch YouTube videos.
Besides, you can also enjoy all the benefits of some popular social networks. You can grab all the benefits without worrying about any incurring charges.
Zend2 offers the ultimate solution to stay safe on the web. It also helps to avoid anyone who can cause you harm, like stealing your identity.
9. Hide My Ass
Hide My Asss beats the best proxy servers, by offering a good list of free HTTPS, HTTP, and SOCKS4/5 proxy servers along with an anonymous email service.
You just have to enter the URL, choose the location, and check and uncheck the connection options. These include Encrypt URL, Disable Cookies, and Remove Scripts.
HMA hides both your IP and location. Also, it protects your browsing history from being tracked by your ISP.
Although a proxy site is all good, to stay secure and safe throughout the internet, it's always better to go for a good VPN. (link to the article ExpressVPN vs. NordVPN).
Know more about Hide My Ass here
10. 4everproxy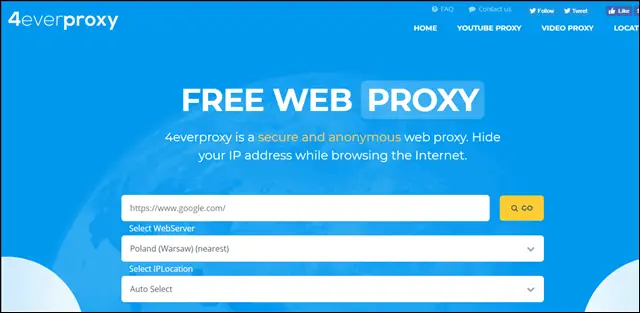 4everproxy lets you enable and disable options like Remove Page Titles, Allow Cookies, Remove Scripts, Encrypt Page, Permanent URLs. All these requests you make are served over an SSL encrypted connection.
Moreover, it's easy to use just like proxy sites. Just enter the website you wish to view and hit Go.
Unblocking geographically restricted YouTube is very easy for 4everproxy. With 1GBps connection, the speed is on really good no matter which best proxy server you are on.
Know more about 4everproxy here
11. FilterBypass
The UI of FilterByPass is simple and straightforward with no extras just like VPNBook. It is an anonymous free proxy site that makes bypassing internet filters easy. Besides, it lets you enjoy unrestricted browsing.
With FilterByPass browsing social networks like YouTube, Facebook, Twitter, and Now Video are sure to work smoothly.
Whether you want to 'Remove Scripts, Encrypt Page, Allow or Disallow Cookies,' just check in the box, and you are done.
Know more about FilterByPass here
12. Proxy Turbo
Proxy Turbo is another good proxy site to unblock your favorite content and videos including YouTube and Facebook. Along with hiding your ISP, it provides SSL encryption to ensure privacy.
It is simple to use Proxy Turbo where it needs you to enter the URL and hit Go. Moreover, if you forget to clear the cookies, Proxy Turbo automatically removes them every 24 hours.
In conclusion, it acts as the middleman, or you can also call it as a barrier between you and the website you click on. It can be an ideal choice as the best proxy server.
Know more about Proxy Turbo here
13. Privoxy
Privoxy has a lot of good options to offer to increase your privacy online. It is a non-caching web proxy with some unique filters. Moreover, this makes sure that it keeps your anonymity throughout the web.
It is a downloadable program that is both for stand-alone systems and multi-user networks. Unfortunately, if you are looking for online proxy options, this one is not for you.
14. Proxify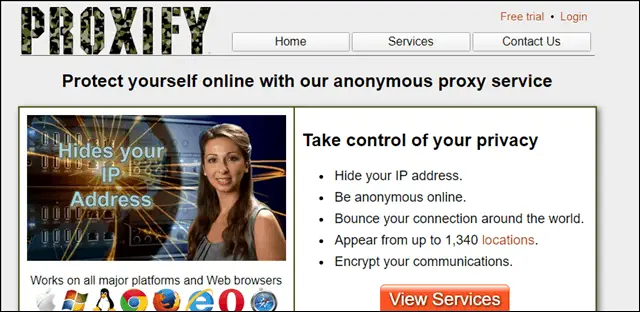 With Proxify, you can appear from up to 1330 locations while keeping your identity a secret. Also, it hides your IP so that you have access to the blocked content.
The connection is encrypted to prevent monitoring of your network traffic.  It has been around since 2003 April and serving its users reliably.
15. Xroxy
Xroxy has a decent collection of IP addresses and a good location database that allows you to access blocked content. The global reach of Xroxy spans from the US to Asia.
It has a failure rate as low as 1%, plus it offers high-speed HTTP(S) and SOCKS proxy IPs. Interestingly, it is almost ten years old on the market, and yet Xroxy happily succeeds to support all platforms.
Furthermore, you have the option to customize every aspect of privacy, including the level of anonymity you want, the proxy type, connection latency, and so on.
Conclusion
If you want to access any geographically blocked content on the web, then this above list of the best proxy servers should make you happy.
For complete online privacy, you must use a good VPN. On the other hand, if you want to watch restricted videos while bypassing geo-filters or keep your location private, then try one of these Proxy sites.
Further Reading: How to Set Up a VPN on Android for Secure Browsing