Solving crosswords is one of the most popular past times and a great way to add some fun to your free time. If solving puzzles excites you and you are good with words, you will surely be happy to know about the best crossword app on your smartphone. They not only delight your brain but also test your vocabulary.
And the best part s that you no longer have to wait for the newspaper for daily crossword puzzles. Thanks to the advancement in mobile technology and an active internet connection, you can solve crossword puzzles, board games, and tough challenges in a matter of minutes. 
32 Best Crossword App Options For Android And iOS
With thousands of puzzles, the best crossword apps are available for Android and iOS users with just a click now. So, whether you're looking forward to the best puzzle games or exercising your brain with creative word challenges with your friends, we've got you covered. The list includes the best crossword app options for downloading on Android and iOS devices. 
1) Wordscapes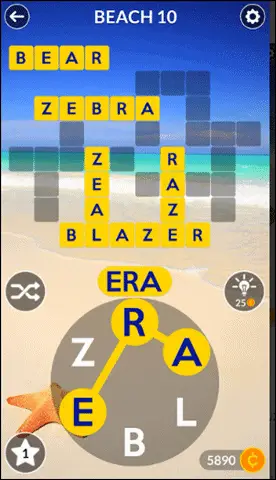 Will you be able to crack all the crossword puzzles? Even with an infinite number of tries, it can be challenging.
This word game twists text, is brain taxing, and fun to do. Stimulate your mind with the best crossword app, and you'll never encounter a dull moment once you get used to this game. Wordscapes is easy initially but becomes challenging as you get going ahead and clear the initial few levels.
Download Wordscapes on Android | iOS 
2) World's Biggest Crossword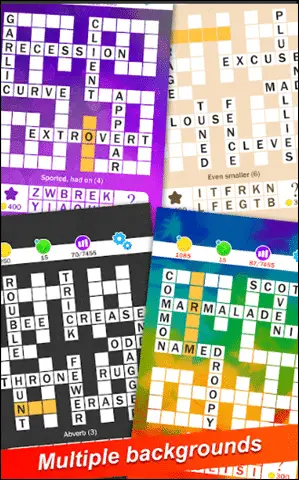 You can challenge yourself with a new crossword daily with the massive collection of unique puzzles found here. The words required to solve the puzzle are applicable and used in our daily lives.
World's Biggest Crossword is the best crossword app for all Android and iOS devices and an excellent means of boosting your vocabulary. There are thousands of unique clues to solve, various quests to complete, and multiple trophies to collect!
Download World's Biggest Crossword on Android | iOS
3) Crossword Light
Crossword Light lets you solve crosswords from around the world on your handheld. It has over 30 unique puzzles, hints, clue listings, and much more.
The graphical interface of the word game app is intuitive and easy to use. The puzzles pose a medium level of difficulty, thus making the ride challenging and fun.
Download Crossword Light on Android | iOS
4) Word Cross
If you're tired of the old-fashioned word search interfaces, you should try Word Cross, the best crossword app. It has all the contents of word scramble games that'll get you engrossed in the game. Easy to play and simple to use, it is suited for people of age groups to brush up their word search skills.
This game is rated as Editor's Choice on Google Play, indicating its popularity and a seal of approval by the Android Play Store.
Download Word Cross on Android | iOS
5) English Crossword puzzle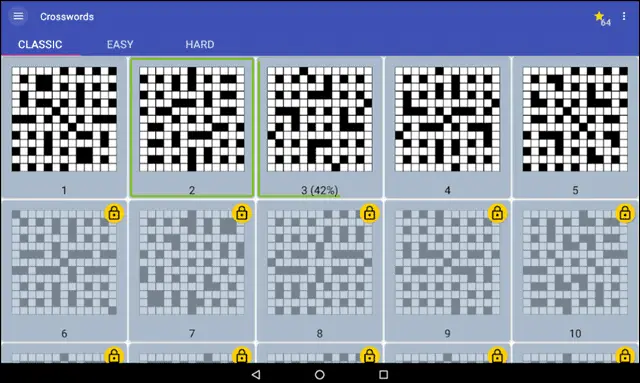 Train your brain daily with the best crossword app for Android and iOS users. Offline crossword levels, unlimited clues, fun, and educational- this crossword puzzle game will help improve your English vocabulary and learn new words quickly.
One of the best ways to pass the time productively; this crossword app is free, has minimal ads, and can be played offline. Its additional feature includes the fact that the grid size will automatically adjust to your device.
Download English Crossword Puzzle on Android | iOS
6) Word Charm Crossword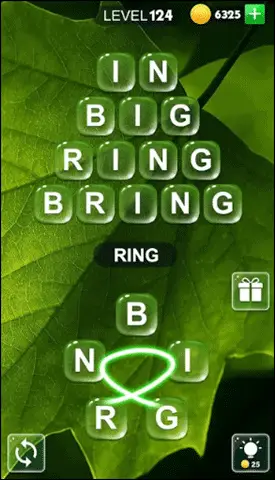 Word Charm is one of the most addictive gameplay of word search games. It comes with superb graphics and a good interactive design. This is easy to play, helps you train your brain, and even learn new words.
One of the more novel crossword game apps for android, Word Charm, is stimulating, fun, and makes the brain think hard.
Download Word Charm on Android | iOS
7) CodyCross: Crossword Puzzles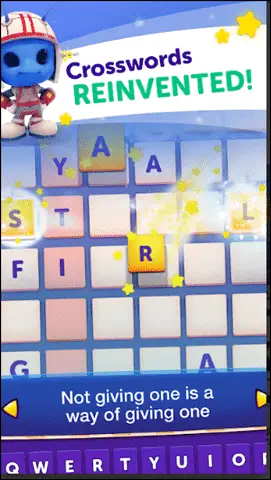 You need to help CodyCross – an alien who has crash-landed on Earth and is now relying on you to guide him through our planet. Travel across space and unravel the mysteries through themed puzzles in this challenging word puzzle.
Solve crosswords, explore stunning landscapes, and use your knowledge in this beautiful word game. It won the best crossword app award in the year 2017 and also makes it to the Editor's Choice list on the Google Play Store.
Download CodyCross on Android | iOS
8) One Clue Crossword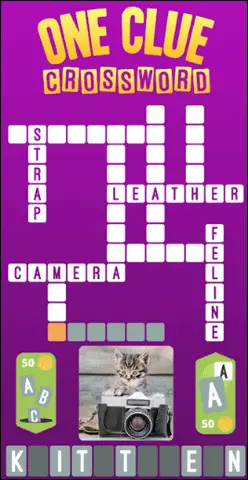 Work your brain every day with picture crosswords. Every puzzle contains a picture instead of written hints. Each word in the problem can be figured out from the picture.
You only need to voice what you see in a few puzzles. But you will need to think laterally in the more challenging cases. It is easy to play, but with hundreds of different puzzles available, you will find it hard not to be glued to it.
Download One Clue Crossword on Android | iOS
9) Crossword Puzzle Free (by ITSG)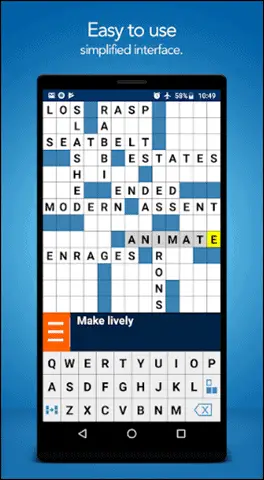 Crossword Puzzle Free is the best crossword app for Android users, which can be played with the entire family. This instructive game will put your vocabulary to the test. So accept this challenge and discover an easy and fun way to learn new words and general knowledge.
Crossword Puzzle Free is a newly designed game for people who are always looking out to enhance their vocabulary. The Android app is an excellent daily exercise for your brain.
Download Crossword Puzzle Free
10) NYTimes Crossword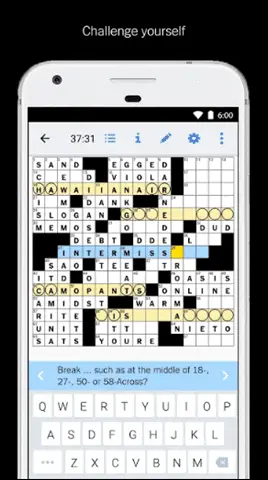 Decode and cherish the same puzzles printed in the daily newspaper in this app The New York Times created.
You can start playing with limitless access to the daily puzzles for a week. Afterward, you can subscribe to complete access to the crossword puzzle on your Android device and at the newspaper's official website – NYTimes.com.
Download NYTimes – Crossword on Android | iOS 
11) Shortyz Crosswords
Concise, fun, and simple, Shortyz Crosswords is the best crossword app for Android devices. The developers did not aim to provide the users with unusual gameplay or unique tactics. You can play various games for free when you download the puzzle app. Each crossword takes only a few minutes to complete, making it an ideal app to indulge in while commuting. 
The paid subscription makes more choices available when it comes to variety. The app also allows you to select crossword puzzles based on various categories and subjects. In addition, you get access to all puzzles from the New York Times and Washington Post. Easy to solve, less time-consuming, and interesting brain twisters make Shortyz a must-have app.
12) Alphacross Crossword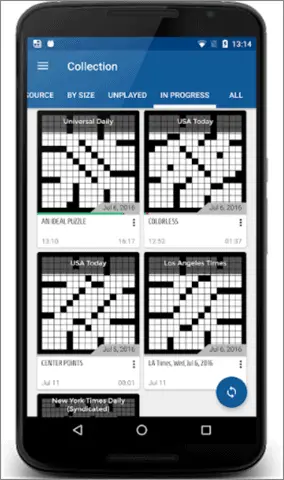 Although not the most robust app in the niche, Alphacross Crossword classifies as the best crossword app because of its easy accessibility. The app sources various puzzles from big names like NYT and LA Times and includes a myriad of crosswords. With a basic interface and no weird mechanics, the puzzles are interesting enough to keep the device users hooked to the screen. 
The user experience levels are smooth and animated. If you think your last move is wrong, Alphacross Crossword allows you to undo and rectify it. The navigation options can be changed as per your preferences, and you can also get your hands on a zoomed-in version of every crossword. The clutter-free display makes the app our personal favorite. 
13) Bonza Word Puzzle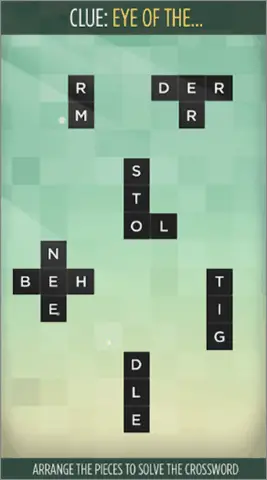 If you are looking for the best crossword app which gives a unique spin to the good old puzzle-style, you must download Bonza Word Puzzle. With every new game, you get a new clue. Your job is to crack the clue and solve all the questions by brainstorming.
The most interesting part about the app is that the puzzles combine crosswords and trivia. There are tons of mini puzzle options available for free, and you can indulge in in-app purchases to explore more.
Bonza Word Puzzle boasts an in-built puzzle creator as well. You can create your puzzles and crosswords and share them with anyone who is a member of the Bonza community. If you wish to move beyond the mundane gameplay style and avail of arcade crosswords, trust Bonza Word Puzzle to meet your needs.
Download Bonza Word Puzzle on Android | iOS
14) 5-Minute Crossword Puzzles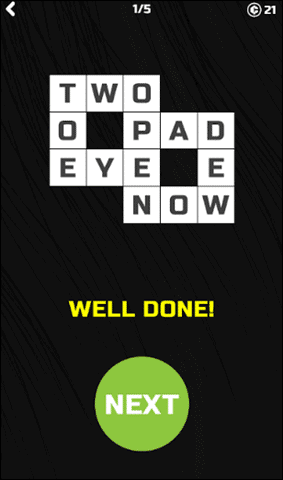 5-Minute Crosswords Puzzle contains a broad set of bite-sized mini puzzles that can be solved on the go. It is the best crossword app for people who do not wish to spend too much time solving a single puzzle. You can also skip puzzles and crosswords you cannot solve. The games are available in three different languages.
Whether new to the game or a champion, you will find a crossword to explore your horizons with! There are additional crossword puzzles with cryptic clues that makes it interesting.
Download 5-Minute Crossword Puzzles
15) Clean Crosswords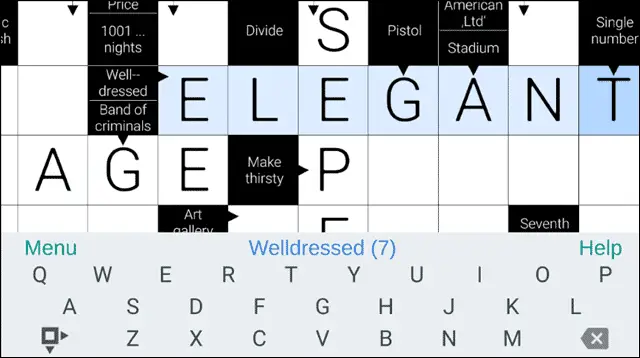 Clean Crossword has distinctive features and is the best crossword app for Android and iOS devices. The clues are posted in the puzzle grid, making puzzles easy to locate and fun to play with for every crossword fan.
Clear interface, good exercise for the brain, and an entertaining game to increase vocabulary. This traditional crossword app makes Clean Crosswords enjoyable and unmissable. 
Download Clean Crosswords on Android | iOS
16) Crossword Puzzle Free (by Redstone Games)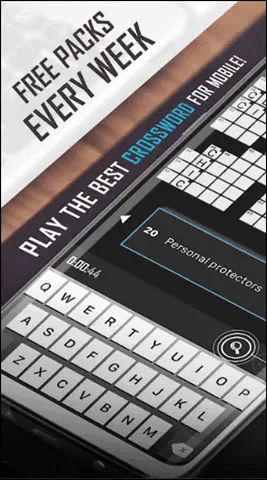 Join thousands of players who indulge in brainstorming sessions all day with the best crossword app for Android and iOS users. Crossword Puzzle Redstone is an entertaining and delightful game app. It can be downloaded for free, and gamers can access it without a subscription.
To use Crossword Puzzle Redstone on any of your devices, you only need to connect, and the game is ready to be played anywhere. Its unique features include ease of use, non-intrusive ads, and a tasty variety of puzzles at different levels and by various authors.
Download Crossword Puzzle Free on Android | iOS
17) WordBrain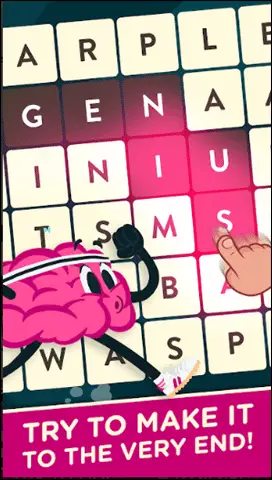 Brain exercising at its best – this word puzzle is for vocabulary geniuses. The initial levels are easy to crack, but the difficulty level rises as you move ahead in the game. One can test the limits of one's vocabulary and find hidden words, slide a finger over them, and see the letters collapse. Do it all in the correct order, and you can clear the grid.
WordBrain is available in several different languages with thousands of levels per language. Therefore, solving this puzzle will not be a smooth ride even for the sharpest word game enthusiasts.
Download WordBrain on Android | iOS
18) Crossword Quiz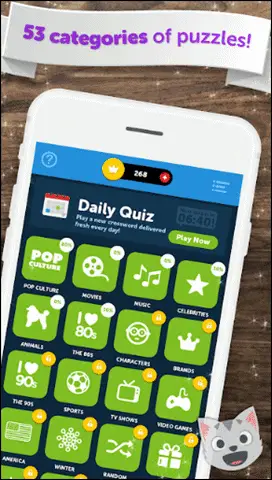 A contemporary twist to a well-loved classic, Crossword Quiz is an exclusive puzzle based on three types of hints: word explanation, emoji combinations, and images.
Put your visual skills, vocabulary, and critical thinking capacity to test in this new variant of a crossword puzzle. The best crossword app for smartphones, Crossword Quiz, tests your verbal and critical thinking and is the most unique product in the niche we have come across.
It keeps your mind sharp, and the difficulty level is mediocre, suiting everyone. The in-app purchases bring you tons of new uniquely-crafted puzzles and exciting milestones to reach. 
19) Crossword With Friends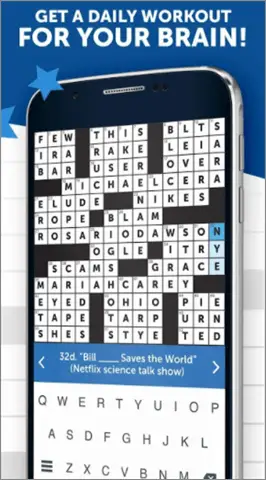 You can indulge in playing this game with your friends, random people who use the app, or against AI. The best crossword app you must download when looking forward to killing time when with a group of peers, Crosswords With Friends is easy and fun. They upload new games daily, so you will never run out of content. The app includes puzzle packs and leaderboards to check out scores. You can ask for hints when stuck, and the clues mostly belong to modern pop culture. 
You solve one part of the crossword and pass the game to your competitor to solve the next part. You can participate in their weekly challenges with your friends. The wonderful interface of the app is traditional. However, it still includes certain social and arcade elements, making it contemporary. 
Download Crosswords With Friends on Android | iOS
20) Picture Perfect Crossword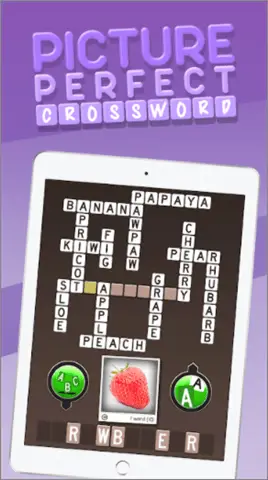 The puzzle game is very different from the other best crossword app options we have listed so far because it uses pictures as clues. So, instead of availing words as hints, you see a photograph and try to solve the crossword. Picture Perfect Crossword is an excellent alternative to the good old traditional approach and the perfect crossword hybrid game you are looking for. 
There are hundreds of fun puzzles to decode and an exciting hint system. Picture Perfect Crossword does not change the overall gameplay experience manifold but provides users with a variety. The app adds new crosswords regularly and comes with Facebook integration. Install the puzzle app if you wish to keep yourself entertained for a few minutes daily.
Download Picture Perfect Crossword on Android | iOS
21) Wordalot – One of The Best Crossword App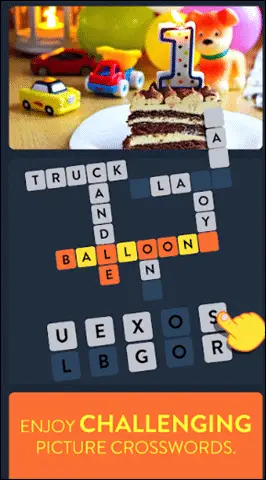 Puzzle your way through thousands of levels; the hints are in the images. The best crossword app for Android and iOS users, this word game is both elegant and straightforward.
Wordalot assures to challenge even the smartest word enthusiast, and it is easy to play. You get to learn new words as you put your vocabulary to the test. So, charge up your detective skills for playing this brain-stimulating game and gear up for a fun, exciting ride using your language acumen. The word game app gets challenging and obsessive in no time.
Download Wordalot on Android | iOS
22) Words Crush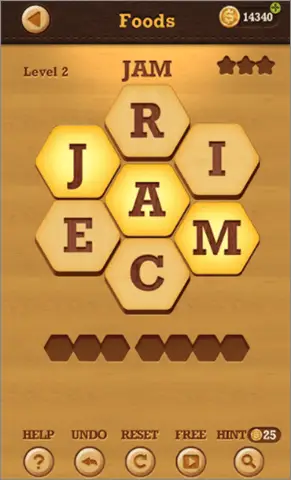 If you excel in spelling, Words Crush is the best crossword app for you. Each level of the gameplay consists of a specific pattern of words or a shape; a honeycomb, for example. The letters that make a word are already placed in a box or any other shape, and you simply have to keep guessing and solving until you crack open all the right letters forming the word. All the encrypted words that you solve make a predetermined pattern.
Words Crush is unique, easy, and fun. It excites all the sleeping enthusiasts who think they can never go wrong and can get pretty challenging. A good way of revising your vocabulary, the app also enables you to learn new words and spellings daily. The faster you crack a word, the more you score, and it cannot get any better.
23) Cryptic Crosswords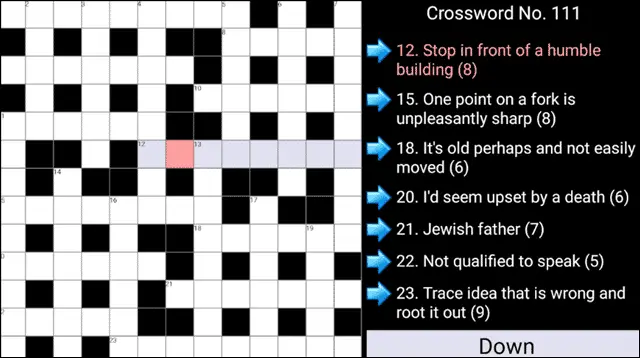 Cryptic crossword is a popular crossword app for Android, and it allows you to improve your word power by solving puzzles quickly. It has listed more than 250 cryptic password puzzles with 24 different features.
It has a comfortable and clean interface that is delightfully challenging too. This crossword puzzle app will make you skillful at your word game.
24) Penny Dell Crosswords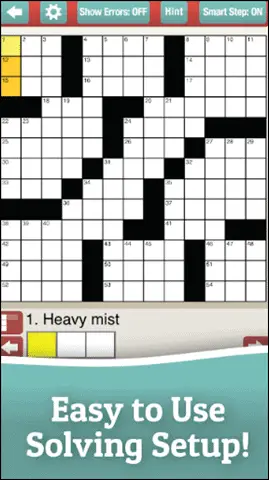 Penny Dell Crosswords includes fun and easy to play puzzles. It consists of Easy, Medium, and Hard crossword levels. In addition, you get to avail of free daily crosswords readily available on your Android and iOS devices.
The best crossword app makes multiple customization options available, so you can go ahead and explore. Engaging puzzles, addictive, and a great way to unwind – Penny Dell Crosswords is an educational, gratifying, and exciting crossword app for Android and iOS devices.
Download Penny Dell Crosswords on Android | iOS
25) Crossword Puzzle Free (by Xpress Mobyte)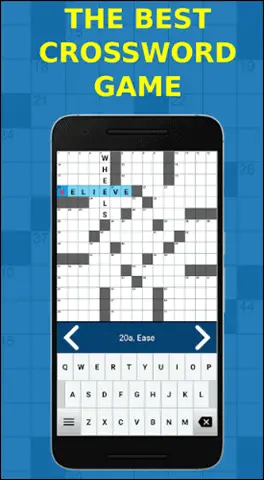 Crossword Puzzle Free has plenty of free games to play and offers you several different crosswords every day, even with no subscription. Join millions of players who apply their brains daily to crack the best crossword game for your smartphone. You can get unlimited help from the AI and reveal any word or letter you are stuck at.
Crossword Puzzle Free is simple, addictive, and will improve your English vocabulary. The word game app is fun, educational, and meant for the entire family.
Download Crossword Puzzle Free
26) Daily Themed Crossword
Daily Themed Crossword is a fun app, with each day connected to a different theme. You can select from various topics available like Movies, Sports, Technology, History, and more!
Thousands of crossword puzzles will be available to you on your Android and iOS phones, so you can play your games whenever you wish to. One of the best crossword apps for android, Daily Themed Crossword, publishes brilliant crosswords every day and is sure to enhance your vocabulary and general knowledge.
Download Daily Themed Crossword on Android | iOS
27) Words Of Wonders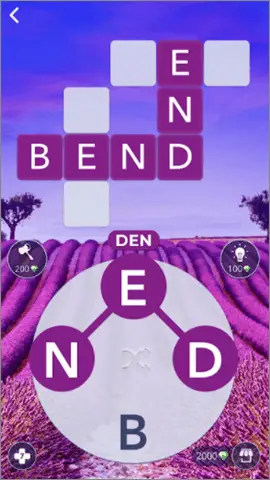 Words of Wonders can be the best crossword app since it boasts the maximum number of downloads on the Google Play Store. The popular word game includes interesting logic puzzle games where users have to think of words they can create from the provided set of letters. You get to choose from the three different modes available. The user interface consists of beautiful designs and background themes. The high-quality graphics and exciting tasks make Words Of Wonders a must-have app for all Android and iOS users.
You will particularly like this crossword app if you are a wordsmith or excellent with vocabulary. However, if you get stuck at any point, ask for hints. The simple game will improve your spelling skills and keep you hooked to your smartphone screen. The gameplay lets you explore various cities, travel worldwide, and discover exciting secrets about the seven wonders.
Download Words Of Wonders on Android | iOS
28) Word Shop
Yet another crossword puzzle app that requires you to use your brains and create words, Word Shop is fun to play. Frequent brain exercise is necessary to keep the organ active, and this crossword app for Android and iOS users get you thinking. The app boasts more than 4 thousand crossword games, which range in difficulty levels of word searching. You have to connect letters with each other to form words and patterns. They have a set of conventional crossword puzzles as well.
Once you reach a high level in the game, you will encounter unknown words that add to your vocabulary. Word Shop will even help you create your own fresh dictionary if you are good with spelling. The well-designed user interface is eye-catching. So, build letter blocks and indulge in productive brain training sessions in your leisure time with the best crossword app in your leisure time.
Download Word Shop on Android | iOS
29) Crossword Jam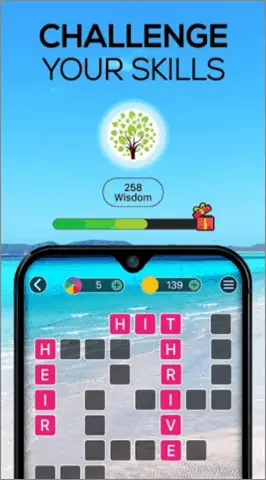 Crossword Jam is one of the best crossword game apps for stimulating your brain and includes a diverse collection of challenging crossword puzzles and anagrams. The app is one of a kind, has been downloaded millions of times, and boasts an excellent rating on the Google Play Store. Players embark on a global journey in the gameplay, travel across places, and challenge their knowledge of spellings and vocabulary. Swipe the letters right and left to reveal the hidden words and keep guessing. The classic puzzle becomes trickier and more challenging to solve as you move ahead in the game.
Based on a typical crossword-style puzzle experience, every new game you play adorns the regular cross-styled grid. Playing Crossword Jam puts your logical skills to the test and is a good way to flex your brain muscles. The game is user friendly, designed for the smartest, and is both exciting and relaxing. There are over 100 hundred levels to cross, and the aim is to find all the hidden words. Once Crossword Jam is installed on your device, you can also play offline.
Download Crossword Jam on Android | iOS
30) Word Life
If you are looking for the best crossword app, which enables you to sit back, relax, and indulge in some exciting brainstorming sessions, you must download Word Life. It includes cryptic puzzles, word games, anagrams, and a selection of puzzles for you to solve. They have more than 6000 levels, so you will never be out of content. In addition, the interface boasts a spectacular landscape view and allows you to enjoy nature's beauty. Combine letters to form words and check if your guess is correct. Unveil hidden words, collect animal stickers along the way with tricky clues, and train your brain.
If you love Scrabble, you will find a slight similarity while playing Word Life on mobile devices. You can play the game with your friends by asking them to join and hunt for clues together. You can also compete against them and fight a wide range of word battles. Customize your experience, win rewards for fresh puzzles, and take your vocabulary skills one notch higher.
Download Word Life on Android | iOS
31) Crossword (US)
The best crossword app with United States-style puzzles, Crossword (US), includes over 540 kinds of puzzles. These original puzzles range in difficulty levels, and you can choose to play various levels of puzzles. In addition, you can indulge in buying the subscription and get access to more individual puzzles, mystery puzzles, word puzzles, and cryptic crossword puzzles. The in-app purchase makes 50 free puzzles available, and you can enjoy your game without being interrupted by advertisements. 
The robust app is available for Android and iOS users and is ideal for people who want to refresh themselves during a quick coffee break. Users can use the zoom-in feature to better view the letters and words and pick from the three available keyboard options. There are some extra features too. You can ask for clues when stuck, and the app highlights your mistakes as you aim to crack the right answers. Some of the settings are open for customization. The crossword app is easy to understand and increases brainpower.
If you are from the United States, do not forget to check out this game primarily meant for you. 
Download Crossword (US) on Android | iOS
32) WordCookies Cross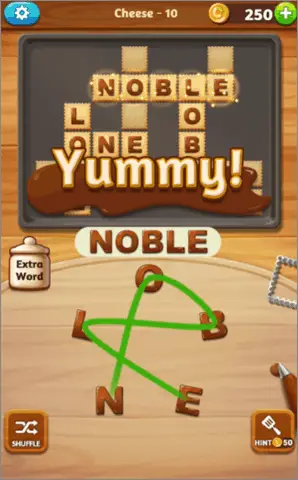 The best crossword app with an exciting and unique theme, WordCookies Cross, will excite all word enthusiasts. The gameplay is a good mix of elements from the old traditional crossword and word scrabble. To become a great baker, you must bake word cookies correctly and quickly. The letters of the puzzles look like cookies, which adds a quirky quotient to the interface and design of the app. Apart from these letter blocks, the crossword puzzle has various levels of difficulty and additional puzzles.
Users can decorate their game letters with glaze. Fill the baking tray with as many word cookies as possible, and do not get hungry. You can also use a combination of different cookies in one single arrangement. They have more than 500 puzzles for you to explore. You can invite your friends and play together. Ensure you do not run out of sugar, eggs, and flour. So, let's play the brilliant, delicious game and bake the best word cookies with a dash of chocolate icing. 
Download WordCookies Cross on Android | iOS
Conclusion
Crossword puzzles are exciting, and they compel you to use your brain. It is an ideal pastime for people who want to indulge in productive activities even in their free time. We have introduced you to the best crossword app options for Android and iOS devices, which are fun to play and teach you new things.
If you have a vast vocabulary, try Wordscapes and World's Biggest Crossword. Looking for a crossword puzzle that would give you several clues as you play along? Try Crossword Light. Theme based? Play CodyCross. Are you running short of time? Then, quickly glance through 5-minute Crossword Puzzles. 
These puzzle games are an excellent exercise for the mind, and you can download them to recharge your energy and train your brain. They differ from each other when it comes to uniqueness, controls, gameplay, difficulty levels, and design. So, install these apps on your smartphone and start guessing the right words. 
(Updated on 20th July 2022)