Nowadays, everyone uses Amazon for shopping. To make your shopping experience better, Amazon has come up with a strategy that will help you quickly create shopping lists so that you can order things faster.
Amazon has merged the shopping list features of its voice assistant Amazon Echo with the main website and app (not just the Alexa app). Amazon is leaving no stone unturned to make sure they make it easy for you to order from Amazon.
Among Amazon Echo's growing list of features, the latest and the most intuitive one is that it lets you make and manage shopping lists. The virtual assistant shines in its ability to create lists to help you stay organized across all your devices.
How To Add Items To The Alexa Shopping List
The following are five different ways to create an Alexa shopping list on Amazon.
1. Voice Commands
Using your voice to add items to your Alexa Shopping List is effortless and the easiest way to create a list of groceries or anything else you might need.
You have to say, "Alexa, add tomatoes (for example) to my shopping list," and your job is done.
Amazon added this feature a few months back and has been improving it ever since. It gives you the ability to add multiple things to your shopping list at once, using your voice.
By just saying out the list of multiple products you want to add, your shopping list will be updated. For example, you can say, "Alexa, add bread, butter, and cheese to my shopping list," and it will be done.
You can also ask for your shopping list, and Alexa will read out all that you currently have in there.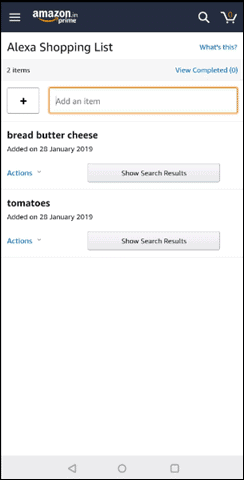 2. Adding Items Through The Alexa App
You can add anything to your shopping list using the Alexa app on your phone.
Here's how it's done:
(i) Open the Alexa app and tap on the menu button in the top left corner of the screen.
(ii) Select "Lists" and select any list you want or create a new one.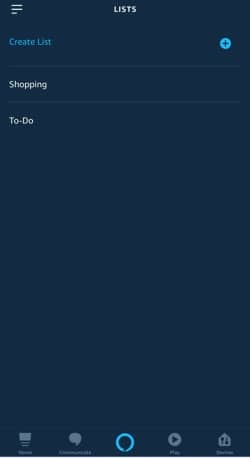 (iii) Tap on the text box next to the plus (+) icon.
(iv) Type any item that you wish to add and to your shopping list and hit the plus icon.
For example- 'Milk' is added in this list above.
3. Manage Alexa Shopping List via Amazon Website
You can also add things to your shopping list from Amazon's website in any web browser.
The Simple Steps:
(i) Go to Amazon.com
(ii) Sign in to your account
(iii) Go to the Homepage and click on "lists" on the upper-right corner of the screen
(iv) Click on the "Alexa shopping list."
(v) Click on the text box at the top where it says, "Add an item."
(vi) Type in the item and click on "Add to shopping list" on the top-right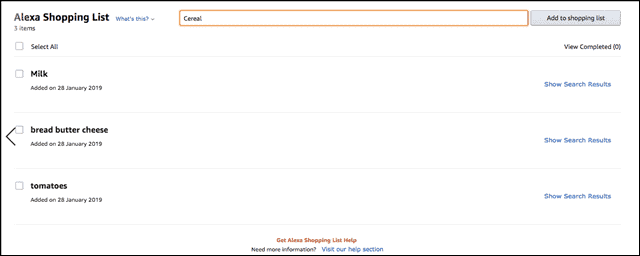 The item will be added to your shopping list and will also appear on your app, as well as Echo.
4. IFTTT (If This Then That)
Why IFTTT? Amazon Echo works well on its own, but by connecting it with IFTTT, you can significantly expand the assistant's capabilities.
All sorts of tasks can now be automated by using IFTTT through your Amazon Echo shopping list.
Creating an IFTTT account through Amazon Alexa Channel is required: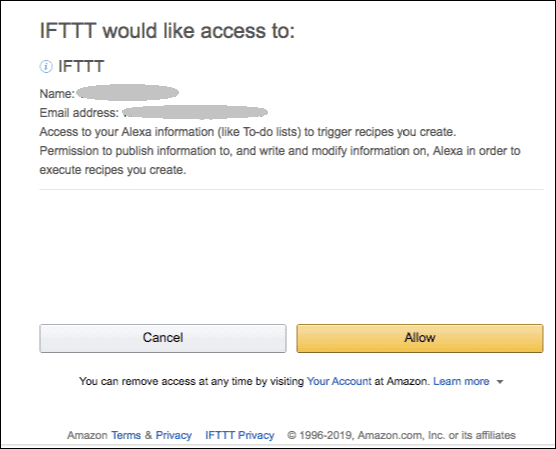 IFTTT enables you to perform certain actions whenever you add something to your shopping list or each time you ask Alexa to read out the shopping list.
For example, you can send your shopping list to your email.
A lot of other recipes/applets have been created by Amazon and other users, which is accessible to you as well.
Here are a few which require performing actions to your existing shopping list –
Conclusion
We've listed all the methods via which you can add items to your Amazon Echo shopping list. You can use voice commands, do it through the Alexa app on your phone, or even directly through the website from your desktop.
Do not forget to try to integrate IFTTT with your Amazon Echo to automate simple tasks and take convenience to the next level by expanding the capabilities of the voice assistants. If a certain 'trigger' occurs, then a particular 'action' will take place. For example, emailing the shopping list, as already shown above.
The best part about Amazon's ecosystem is that everything that is stored on your Echo is also stored in the cloud and synced with other devices. So, once your shopping, grocery, or any to-do list is updated on Alexa, it's available to you on mobile, web, and desktop devices.